coffee chocolate crispers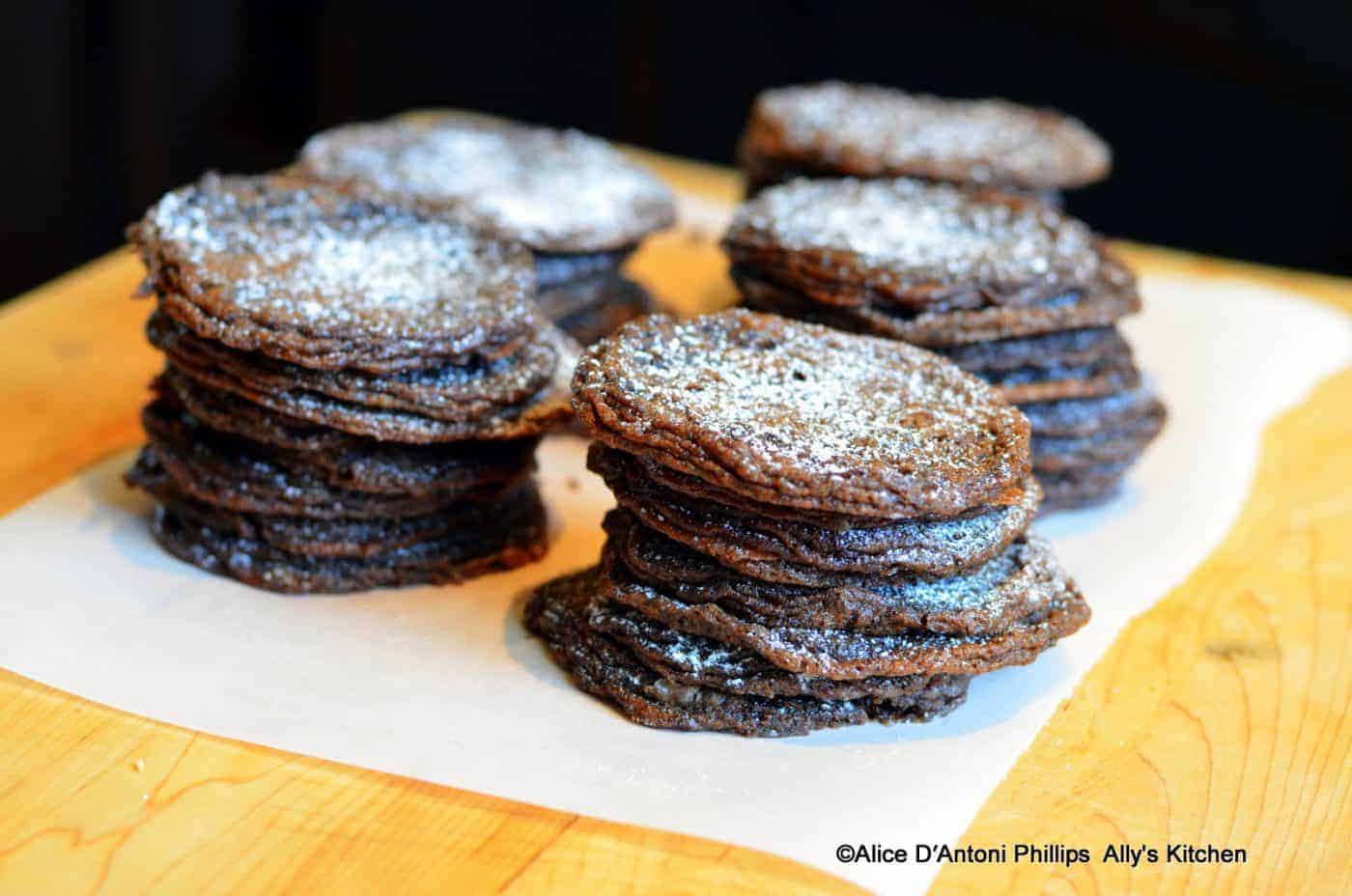 Check the tower of coffee chocolate crispers in the first photo.  Now, check the cookies in the second picture.  This arrangement was not intentional.  As I added more cookies to the tower, it toppled.  Now, what's significant about this is that not one cookie cracked, crumbled and broke!
Chewy crispers~~you get both of those palate pleasures when taking a bite, and you don't have to fret that the cookie will shatter.  This creation just happened, not sure why since I have no science of pastries, but I'm sure my good friend Jenni at Pastry Chef Online can give me the low down~~she's like my go-to Alton Brown!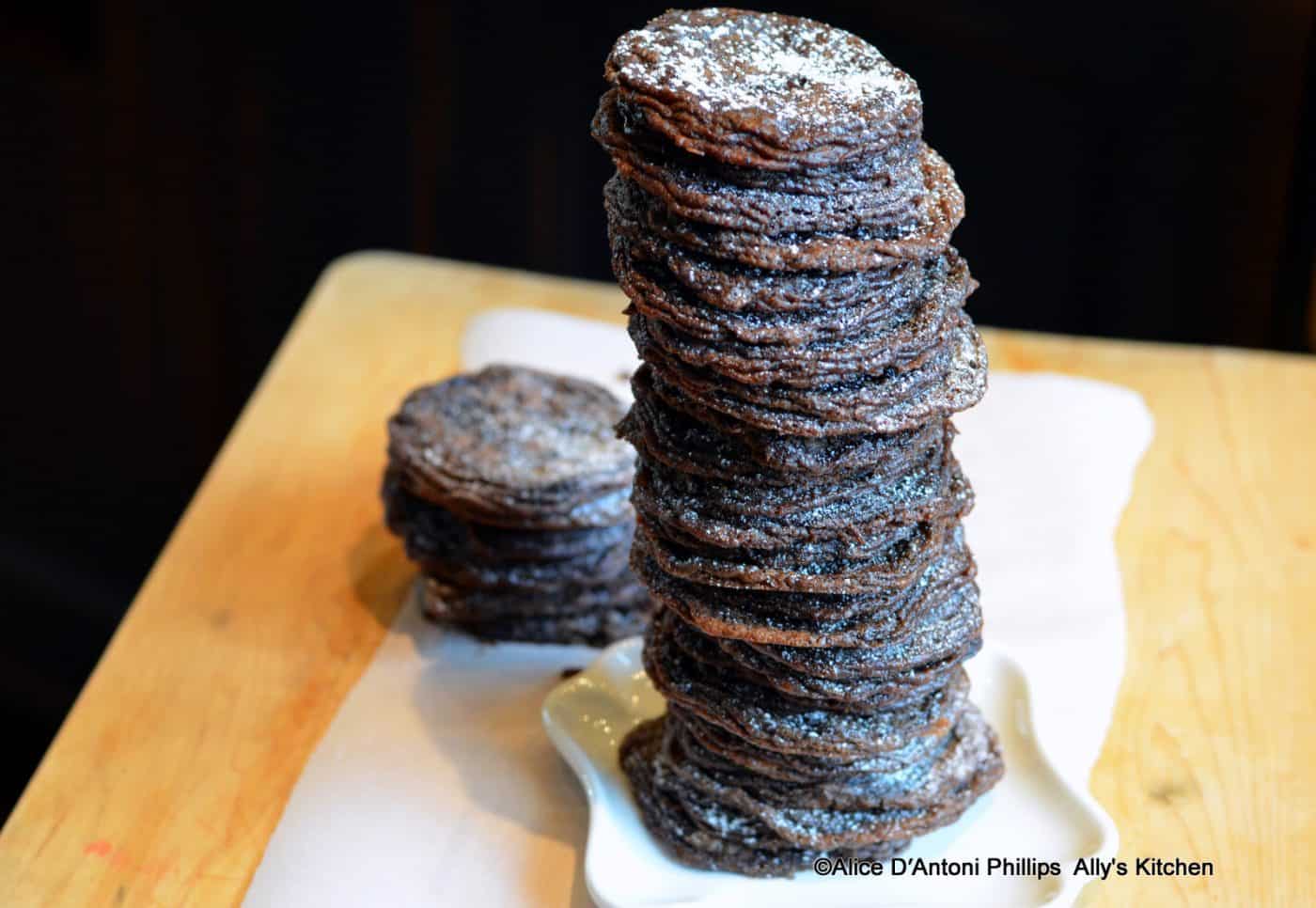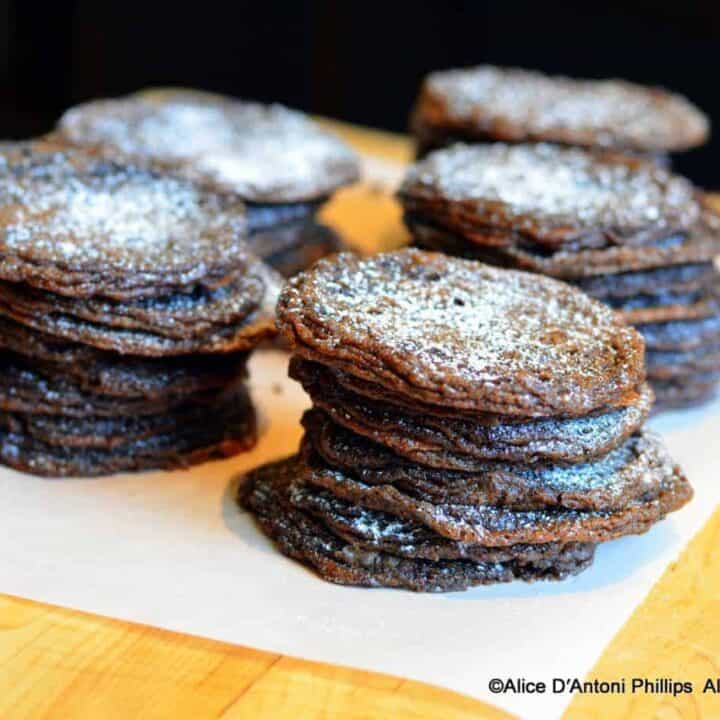 coffee chocolate crispers
Ingredients
Preheat oven to 325
½ cup room temperature Crisco
½ cup softened butter
2 cups sugar
2 beaten eggs
1 tbl vanilla
¼ tsp sea salt
1 tsp baking soda
½ cup cocoa
2 tbl finely ground dark coffee (I used 'Sweet Treats' from Coffee on the Porch—Camden, Maine.)
½ cup chopped finely/ground 70% chocolate (I put mine in a food processor and pulsed.)
1 1/3 cups self-rising flour
Instructions
In a large mixing bowl, cream together the Crisco, butter and sugar with a hand mixer until blonde and somewhat fluffy.
Add in the eggs, vanilla, salt and baking soda and mix another 2-3 minutes.
Mix the cocoa, ground coffee and ground chocolate together and blend. Add into the batter and mix well. Sift in about half of the flour at a time and work into the batter.
Put batter in a refrigerator about an hour to chill.
Using a small scoop, dollop onto a parchment paper lined cookie sheet. Leave about 3" between cookies because they will spread wide and flat when cooking.
Bake in a preheated 325 oven about 9-11 minutes. (Note: Cookies will still kinda look soft in the middle...that's o.k....they'll continue 'cooking' as they're cooling.)
Remove and let cool.