Gotta love Wikipedia!
Crostini (meaning "little toasts" in Italian) are an Italian appetizer consisting of small slices of grilled or toasted bread and toppings. The toppings may include a variety of different cheeses, meats, and vegetables, or may be presented more simply with a brush of olive oil and herbs or a sauce. Crostini are typically made using French or Italian baguettes and are often served with wine.[1][2]
Along with bruschetta, crostini are thought to originate in medieval times when it was typical for Italian peasants to eat their meals on slices of bread instead of using ceramics.[3]
My version of a crostini is one topped with fresh fruit, and in this case, grilled mango, raspberry and mint!  Now we have a breakfast, brunch, snack or, yes, an appetizer!  The grilling of the mango brings out the sweetness, and it adds a caramelizing effect that just adds new dimensions to the tastebuds!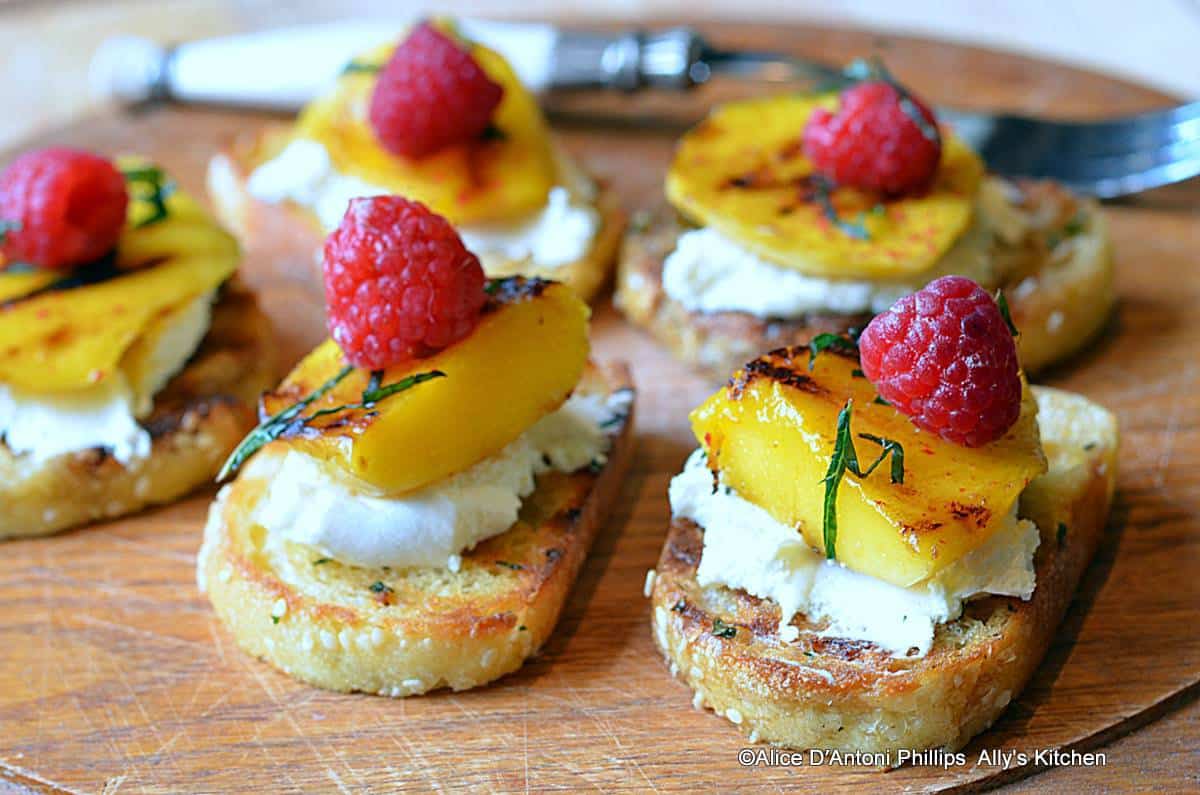 grilled mango & raspberry mint crostini
Ingredients
5 slices small bread rounds (a good Italian or sourdough)
3 Tbl. softened butter
1 tsp. fresh somewhat dried chopped mint
Sprinkling of sea salt
1 sliced grilled fresh mango (Recipe Here!), can substitute frozen mango chunks and grill
5 Tbl. whipped cream cheese
8 big whole raspberries, frozen or fresh
Instructions
Butter pieces of toast on one side.  Sprinkle with mint and sea salt.  Place in cast iron skillet heated on medium high.  Grill until the buttered side is golden brown.
Remove and top each crostini with a tablespoon of whipped cream cheese, a slice of the grilled mango, and a raspberry on top!
Chow down! And, sip chilled chardonnay!
https://allyskitchen.com/grilled-mango-raspberry-mint-crostini/
©ally's kitchen intellectual property