caramalized cauliflower & pears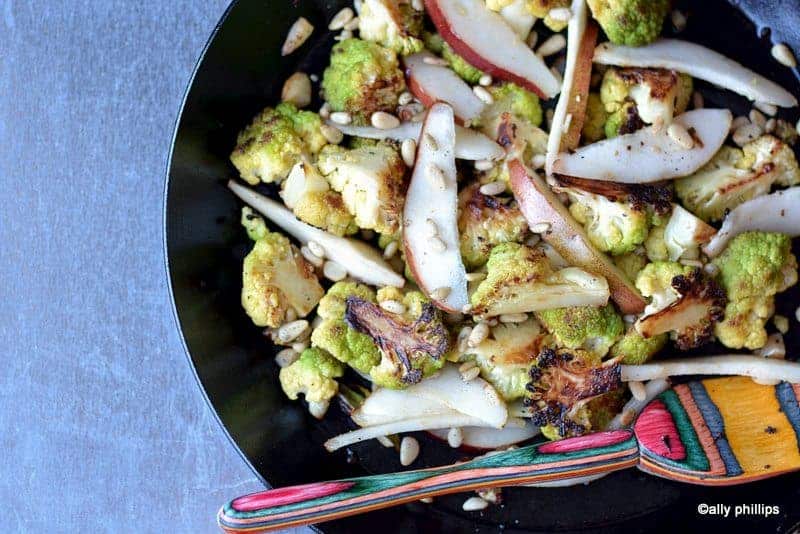 Finding new ways to adventurously change up ingredients is part of what keeps me happy. Actually, when I think about it, I'm addicted to change. Most of my changes each day are slight and subtle. Maybe using white pepper instead of black pepper. Some changes fall in the mid range, like changing up the furniture in my living room then wondering if Ben will notice when he come in! I love changing my hair color and over the years have gone from almost red to having wine colored highlights.
Other changes in my world can be pretty drastic like when I reinvented myself from 'Dr. Alice', psychologist, to 'Ally', the consummate foodie. I think change is good for us, especially as we get older. It keeps us more vibrant and interesting. Also, change forces your brain to 'reignite and fire' to accommodate the 'novel' activity, so that's good, too. Think about what you do, how you do it. Maybe just a simple change will add some interesting adventure to your day. Much like this caramlized cauliiflower & pears recipe!  xoxo ~peace & namaste~ ally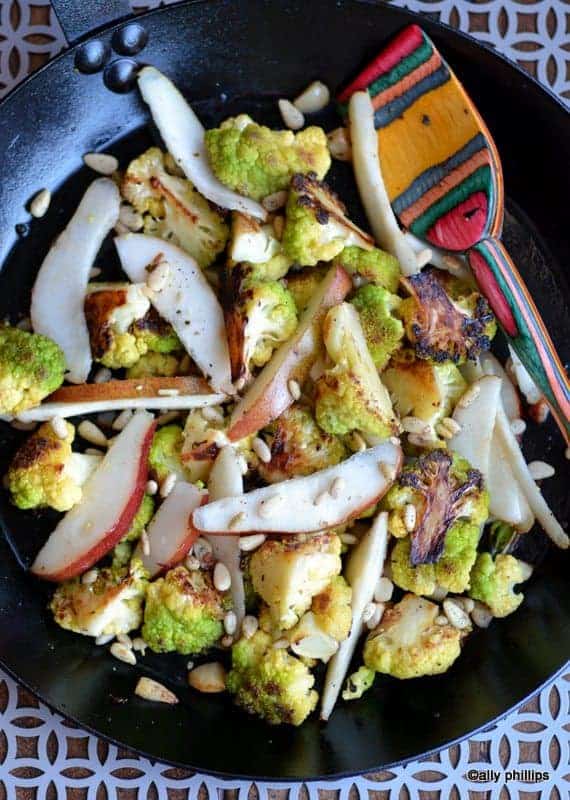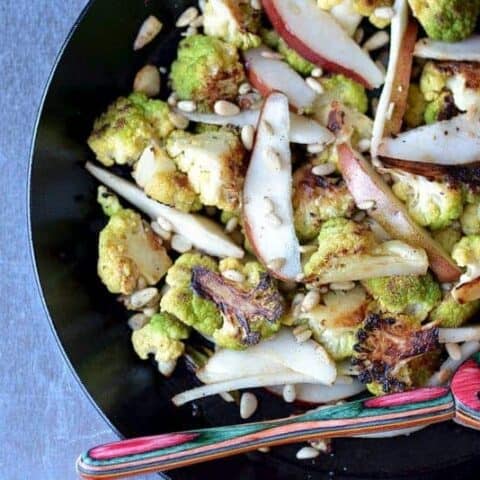 caramalized cauliflower & pears
Yield: 2 hungry jacks or 4 normals
Ingredients
1 head of cauliflower, trimmed into small pieces
1/4 cup bacon drippings
1/2 tsp. sea salt
1/2 tsp. coarse ground pepper
1 lemon, juice in small bowl
1 red anjou pear, cut into thin long slices
2 Tbl. pine nuts
Instructions
Heat a cast iron skillet on medium high. Let it get hot. Add the bacon drippings and heat. Add the cauliflower, salt and pepper, toss and blend. Cover and cook about 10 minutes.
Be sure to turn the small pieces as they caramelize on the flat sides. Remove from the blaze and let the cauliflower steam about 5 minutes.
Meanwhile. put the lemon juice in a bowl. Slice the pear lengthwise in to long pieces. Toss in the lemon juice.
While the cauliflower is still warm, toss in the pear slices and pine nuts. Cover for a few minutes. Serve warm, room temperature or cold!
Notes
Season about 1/3 cup of sour cream with a couple tablespoons of lemon juice, sea salt and pepper. Dollop on the servings.

Drizzle balsamic glaze when serving.