mixed fruit nutter butter flatbread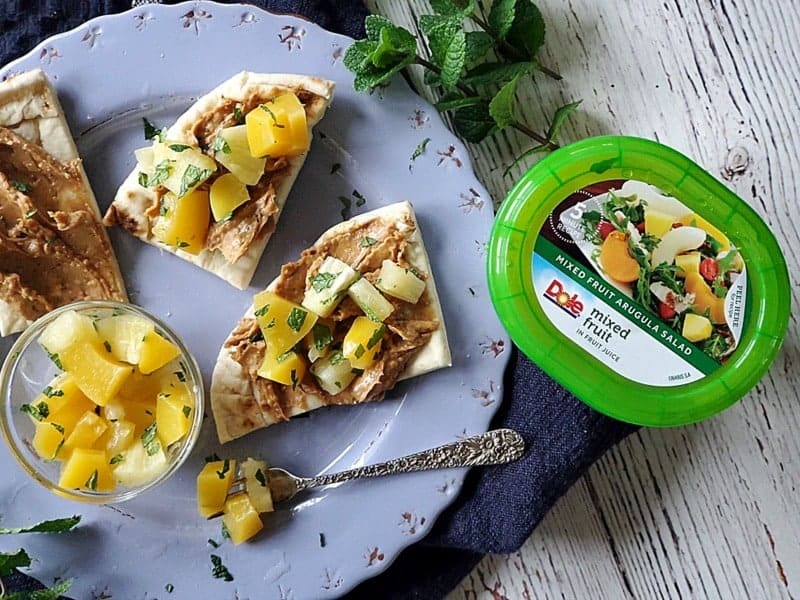 Thanks to Dole Sunshine for partnering with me on this mixed fruit nutter butter flatbread recipe! I am the creator of this recipe and for the description and information that follows. For a full disclosure, click here!
We're always looking for ultra quick and easy snacks, and this mixed fruit nutter butter idea is totally the best! Now, I absolutely love fresh mint on fruit, but it's totally optional if you want to do so. Some folks don't like it, and that's all cool and ok. Just something about that little pop of mint that adds more flair for me. Maybe it's related to the fact that when I was in the Middle East I found that mint was oftentimes used with ingredients and dishes that you just didn't even dream of combining. That's what adventurous palates are all about, reaching beyond what you think you like and trying new things!
Hoooray for Fridge Packs!
Now what I love about these fridge pack mixed fruits is that you've got your storage jar built in. You don't have to find a storable container for what you don't use say if you open a can of mixed fruit. These containers are perfect for other things, too. So, it's like getting two products in one. Yummy fruit, and then when you're all done and the container's empty, you save and use for other types of storage. Plus plus, I say!
Choose what type of nut butter you like best. For me, well, I grew up on peanut butter, so that's my choice. Today there are so so many choices of nut butter, and regardless of which one you choose, the fresh perfect little bites of fruit are going to exceptionally enhance the experience of each bite. Next time you get the hungries, pop open a fridge pack and some flatbread. You'll be glad you did!
For more of my Dole Sunshine Signature Recipes, just click away!
xoxo ~ally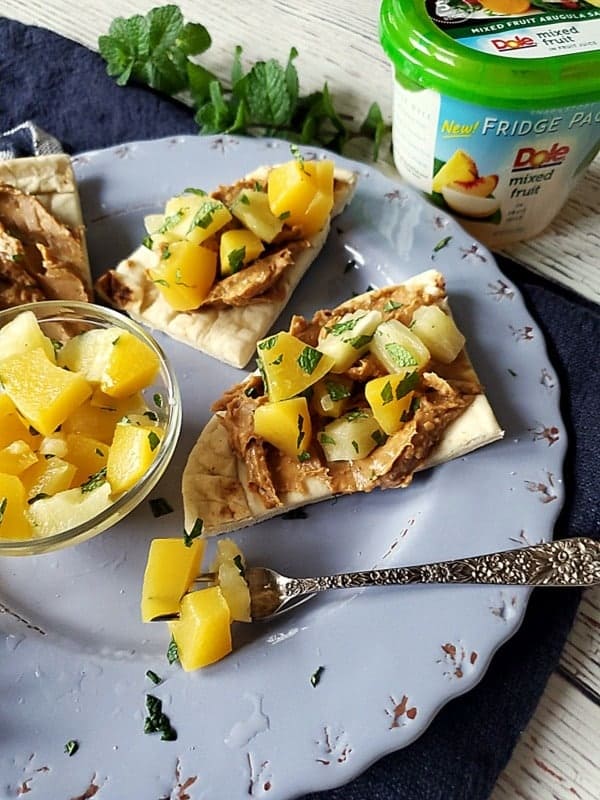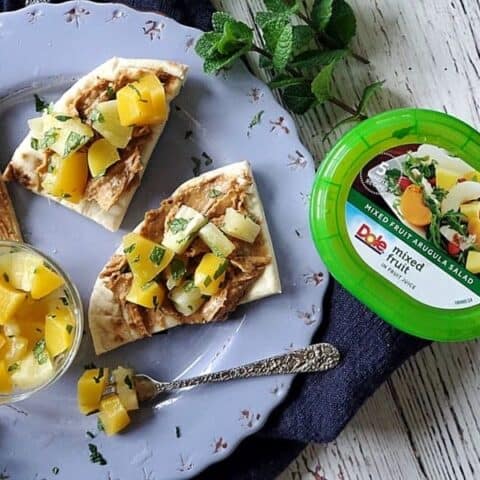 mixed fruit nut butter bread
Ingredients
1 slice flatbread, naan, cut into 4-5 smaller pieces
3 Tbl. nut butter, your choice
½ container Dole Sunshine Fridge Pack Mixed Fruit, fruit only, cut into bite size smaller pieces
1 Tbl. fresh mint, minced, optional
Instructions
Put equal amounts of nut butter on each piece of flatbread.
Top the nut butter with equal amounts of mixed fruit bites.
Sprinkle with fresh mint (optional).
Serve immediately.
Notes
Get creative with other toppings like sliced almonds, walnuts, pecans, unsweetened coconut, etc.