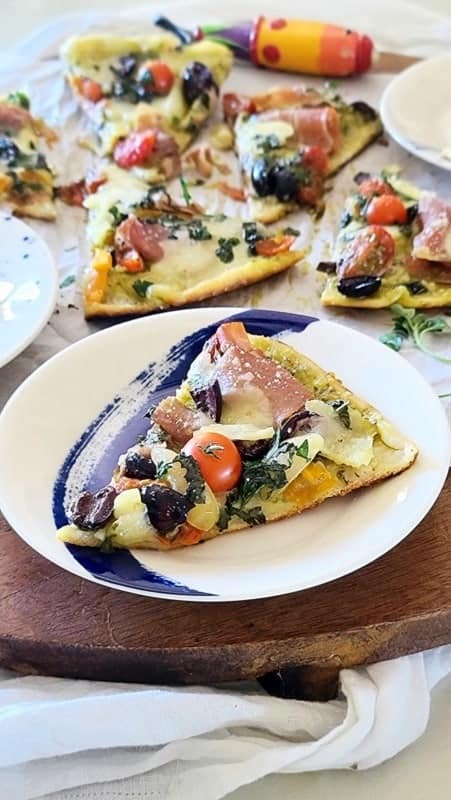 Italian Holiday
Grab your glass of vino! You'll feel like you're in Italy as you eat this holiday Italian pizza! Bites of fresh Italian love! Prosciutto ham, basil & more!
Ben and I've traveled the world, and, gosh we miss not jumping on a flight, schlepping through airports, checking into hotels or a place we've rented and just escaping to another culture and cuisine! One of our favorite places is Italy. And, our visits usually are for several weeks. We rent a house with friends and immerse ourselves for several weeks, sometimes nearly a month, in the lifestyle, culture and cuisine.
When we can't do that, especially now with the worldwide pandemic, we have to do the next best thing. Bring Italy and the world to our own kitchen and home. And, that's what I'm doing with this holiday Italian pizza. We've rescheduled our visit for 2021 and will relive memories right here in our nest as we sequester and stay safe!
What is Prosciutto
Prosciutto is cured ham. It's super popular in Italy. Salty and very thin, it's perfect for pizza. Other countries have similar types of ham. For instance, the Spanish call this jamon serrano. In Franc it's known as jambon e bayonne and the Portugese call this ham presunto. Ham actually comes from the pig's hind leg and thigh.
Prosciutto Ham
Oh, if you've never had prosciutto ham, you must! It's not only fabulous on this pizza, but slice a chilled cantelope and wrap it around a slice of this sweet juiciness!
Not only is prosciutto a salty product, it also has a subtle 'sweet' taste. Pinkish in color like salmon, you'll see streaks of fat in the thin slices. Eat it all. It's divine!
Now prosciutto in Italy is ham that's been cured. This ham comes from the hind leg of the pig. It's typically rubbed with salt, maybe spices, then it's cured.
Prosciutto and Cheese
Now nothing's more tasty together than prosciutto and cheese. Think about it, you love ham and cheese, like a grilled ham and cheese sandwich. Or maybe ham and cheese on your salad. Well, then you're going to love the mozzarella cheese with this salty sweet ham.
Premade Pizza Dough
When I want a pizza, I want a pizza! And, rather than do take out, delivery or frozen, my go to for my craving is premade pizza dough. No need to turn think you'll get anything less than perfection. Wehther it's a thick crust or thin and crispy, there's a premade dough for you.
Wewalka Pizza Crust
I've discovered that Wewalka has a refrigerated roll out pizza crust that's really perfect for a quick and easy pizza. If you haven't tried the Wewalka products, take a gander. Not only is there pizza dough, but you'll also find puff pastry and pie crusts. Yes, I like shortcuts and conveniences in some of my cooking.
Thin Pizza Crusts
Our family loves thin pizza crusts. I think that's because we get more textural differences when we bit into pizza. You'll get the salty or substance of the meat, whatever protein that is that you might add, the oooeeey gooooeeeness of the melted cheese, then the thin crust gives you that crispy crunchy!
Recipe for Thin Crust Pizza
My recipe for this thin crust pizza is really no fail. There is no way it won't be good unless you mess it up in the cooking process. Yes, if you burn it or have a disaster with your grill.
Use the typical pan that you would for baking pizza in a hot oven. A pizza pan with or without holes. Maybe you have a pizza stone. That works with your grill probably. Check your specifications on it. Then there are grilling pans for pizzas with handles. It doesn't take long and you'll have more smokey hints from the grilling process.
Prosciutto Pizza
Cured ham that has been cooked is known as prosciutto cotto. It is similar to the Spanish jamón serrano, Portuguese presunto, or French Jambon de Bayonne. A ham is made from a pig's hind leg and thigh.
I happen to like a meat on my pizza. It makes it more substantial for me. It also adds some protein that makes the pizza stick to my ribs longer. Delicately rolled prosciutto pieces on this pizza with the mozzarella melting and oozing into it as it grills is a meal for me. Just add a salad!
Tomato Basil Mozzarella Pizza
Now this holiday pizza has tomatoes, fresh basil and mozzarella on it. As if that's not perfect, we're going to add pesto as well as a few more fresh herbs. Then, of course, you have the proscuitto. Oh, yes, the thin salty sweet Italian ham. And, don't be stingy with the proscuitto. I like at least some on every slice.
Pesto on Pizza
Basil pest on pizza is a perfect base. Of course, if you want to use a tomato sauce with Italian dried herbs, you can do that. But, I like the extra cheesiness of the pesto as well as the basil flavors. Plus, I think the contrast of the vibrant pesto with the heirloom cherry tomatoes and the pink hues of the prosciutto is just like an art canvas. That's part of what I conceptualize when designing recipes. There's always huge consideration for the aesthetics of it once it's cooked. And, when I put this pizza on the table, well, it's like slicing a Picasso!
Pizza Margherita Recipe
As it goes, the 'margherita' pizza was created in honor of the Queen of Italy, Margherita of Savo, sometime in the late 19th century. The chef created it with the colors of the Italian flag, red (tomatoes), green (basil) and white (mozzarella). So, as you see, I'm not the only chef who thinks like an artist when designing a recipe! Margarita pizza is classic. Classics last forever. Classics are simple. Classics never disappoint. And, this holiday Italian pizza is just that.
Pizzas on the Grill
Yes, if you're doing pizzas on the grill, you'll need to make sure you're using the right pan, skillet or stone. I'm using this pizza skillet that has a collapsible handle. It's heat resistant (to a certain temperature), which is convenient in closing the lid on the grill. You just fold it down. But there are other options that you can use.
Pizza Stone for Grill
While I love a pizza stone for a grill, it doesn't have handles. And, for me that makes it trickier to lift out especially when it's smokin' hot. No problem putting it on the grill when it's a room temperature stone. But, getting it off can be more of a balancing act. And, if I'm home alone and want to grill a pizza, I have to do it all by myself!
Cast Iron Skillet Pizza
The cast iron skillet pizza pan is perfect for the grill. I have several cast iron skillets that I can use. And, cast iron, we know, takes high temperatures. And, they have handles. Only caveat might be that they're kinda heavy. Again, I'm thinking of lifting and doing this by oneself if needed.
Here are some options for pizza grilling implements from Amazon!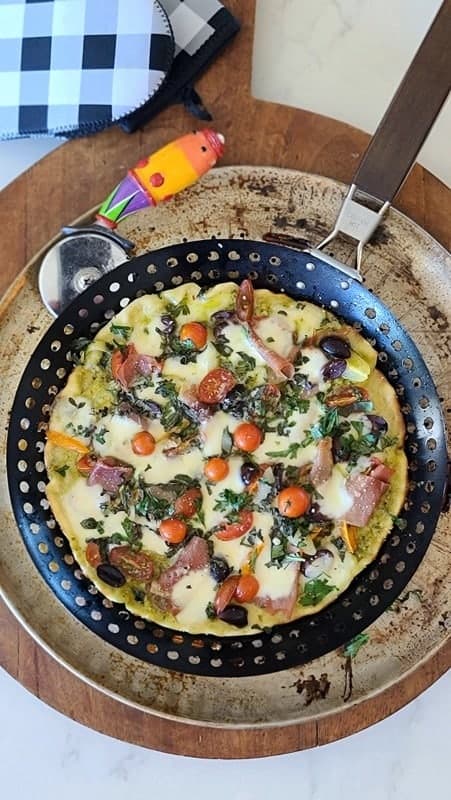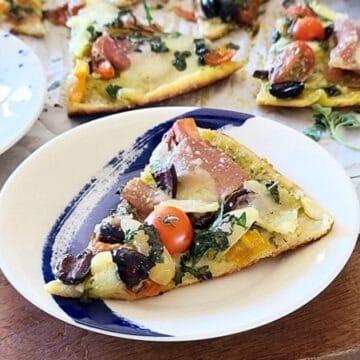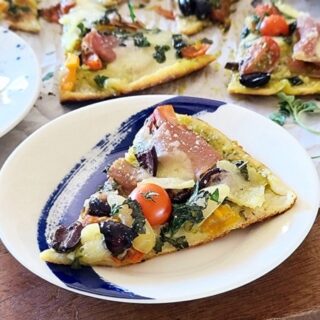 holiday italian pizza
Yield: Makes One round thin crust pizza

Grab your glass of vino! You'll feel like you're in Italy as you eat this holiday Italian pizza! Bites of fresh Italian love! Prosciutto ham, basil & more!
Ingredients
Preheat grill to 400 to 425
1 refrigerated Wewalka Bistro Pizza Dough pizza crust, thin, about room temperature
3 Tbl. pesto, store bought
1 cup heirloom cherry tomatoes, sliced in halves
1 cup mozzarella balls, cut in halves
4 thin slices prosciutto, each cut into four pieces and rolled like little cigars
1/2 cup black olives, sliced in halves
1/4 cup fresh herb mixture, basil, flat parsley and oregano, divided
1/4 cup Parmesan reggiano, grated, divided
Instructions
Preheat the grill.


Roll out the pizza crust onto your grill-approved baking implement.


Slather on the basil pesto. Add the cherry tomatoes, mozzarella balls, prosciutto, black olives, half of the herbs and half of the parmesan grated cheese.


Put on the heated grill. Close the lid. Cook for about 16 to 20 minutes checking occasionally and rotating the pan.


Remove to a heat safe surface. Sprinkle on the remaining herbs and parmesan cheese. Slice and serve.
Notes
Metal pizza pans work well especially those with small holes in them.

You can also grill the pizza dough in a 12" pizza grill pan with holes (coat lightly with cooking spray) and then place on a metal pizza pan.