Fresh mangoes can be used in so many ways other than just a salsa! When they're grilled, either in a cast iron skillet, on an outdoor grill, or broiled, the flavors will burst forth like fireworks! Then for more power and punch, and just when you thought it couldn't be done, add a sprinkle of sea salt and a smattering of freshly grated pepper~~I used the pink peppercorns because I just thought Miss Mango would look pretty with these little flicks of love~~
And, as you can see, food is all about Boho fashion, so when I photographed this dish, I pulled out some of my favorite thrift store Boho scarves, which I also wear around my neck, waist, and head! Versatility is the word in food and fashion! And, I've decided that food is my grown-up paper dolls (geeze, I'm aging myself, right?)! Just watch what else I do with these grilled mango slices~~believe me, I've just begun!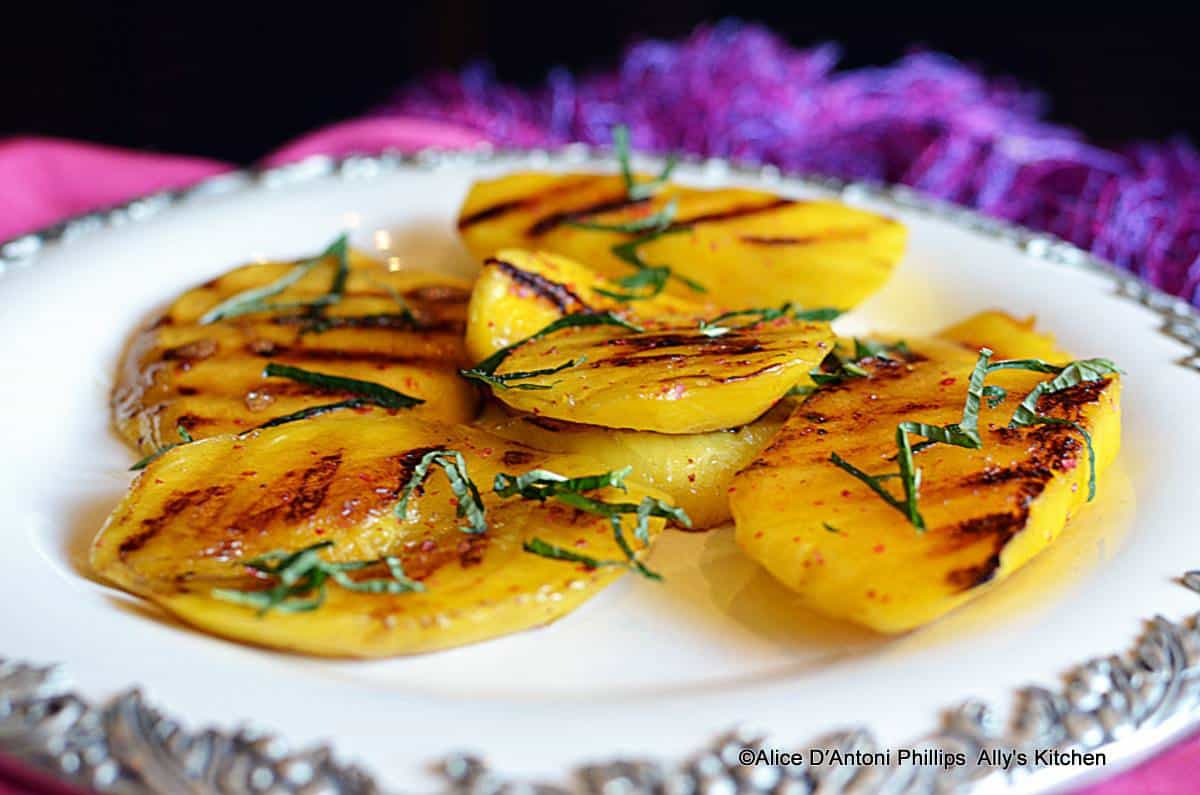 Serves: 2 (or 1 if you're really hungry!)
What you need:
1 peeled and sliced mango
Canola cooking spray
¼ tsp sea salt (big pinch!)
Fresh ground pink peppercorn (or a pinch of fresh ground pepper)
1 tsp fresh chopped mint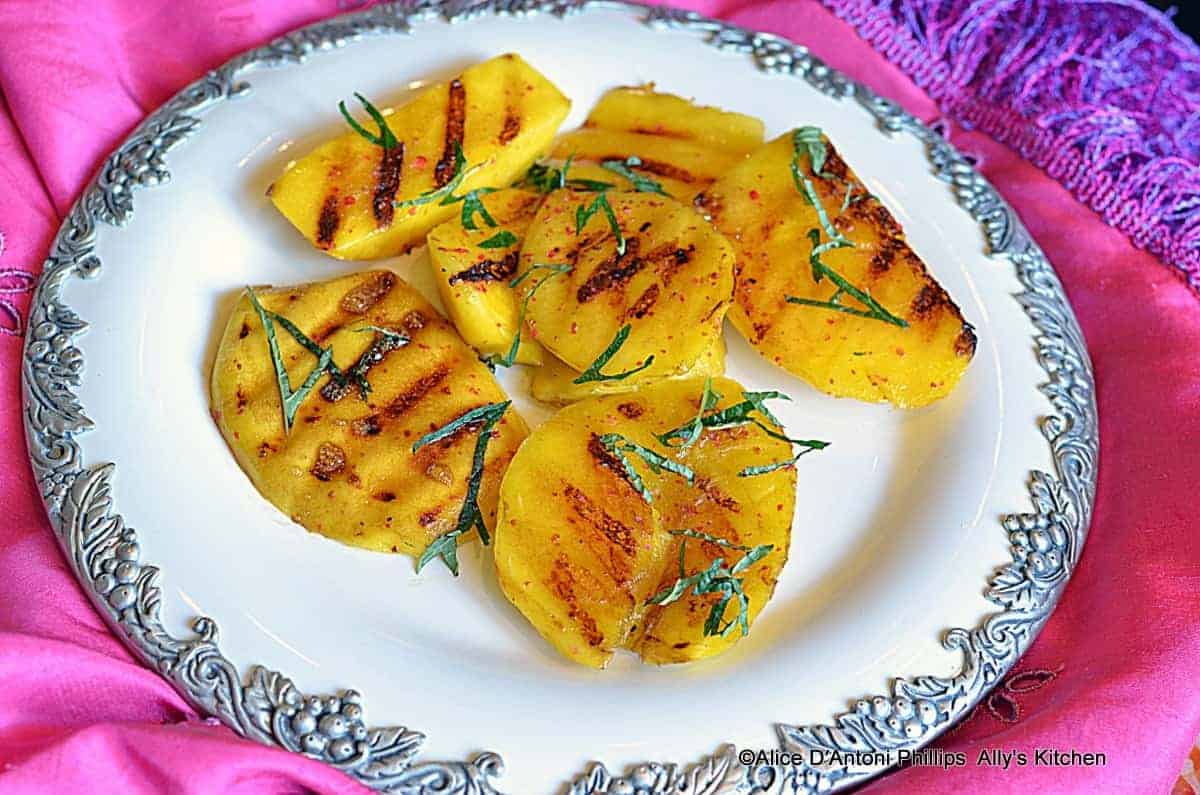 What you do:
Coat a cast iron skillet, preferably with grill marks, with cooking spray and heat on high heat.
Spray mango slices with cooking spray. Sprinkle on salt. Place in skillet and grill until there are good golden brown marks. Give the 'about to be flipped' sides another quick spray then flip and grill about 2-3 minutes.
Remove and give a splash of ground pink peppercorns & garnish with fresh mint. Eat!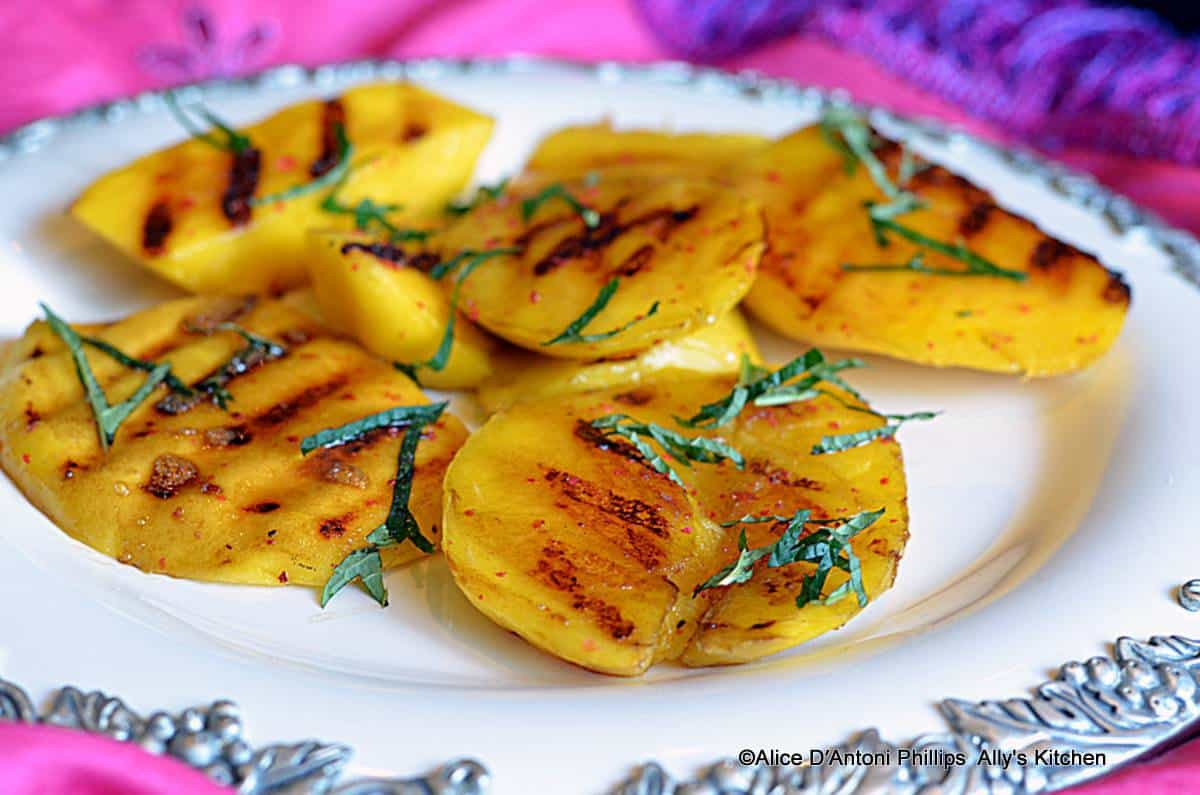 ©Alice D'Antoni Phillips Ally's Kitchen