spinach lemon stuffed salmon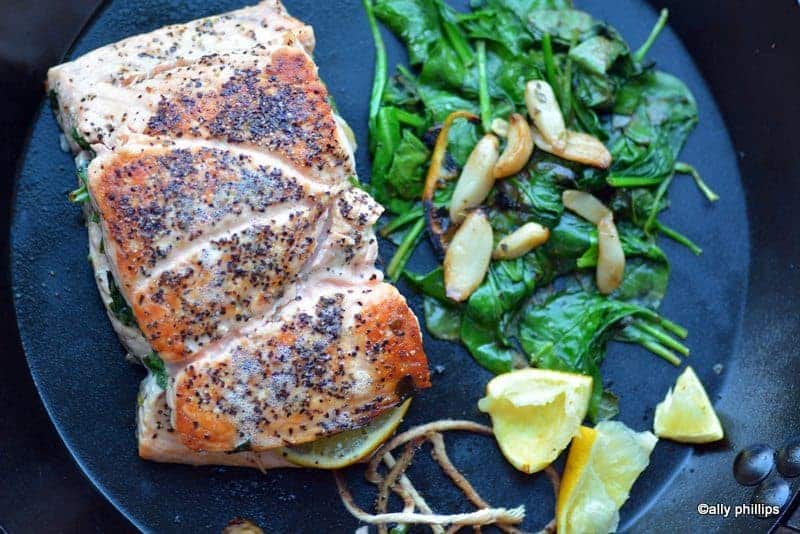 Just a few ingredients. About 15 minutes. And, you have a healthy meal! I need not tell you how good salmon is for you. And, preparing it like this with the lemon, garlic and just salt and pepper, you have a citruseeeee tender salmon with a taste of garlic and spinach in every bite.
Getting the skillet really hot is the key to achieving your crispy pan sear on top. You'll be cooking it just a few minutes, and, no it won't burn. It will just flash fry and seal in precious juices, flavor and taste. The best way, I think, to eat salmon is when the center is tender and translucent. If you want yours more done, then cook a few minutes longer. Letting it rest after its searing journey is important.
If you're sharing this salmon, use a sharp knife to divide it. Don't worry about flakes of meat that fall by the wayside, they'll be eaten!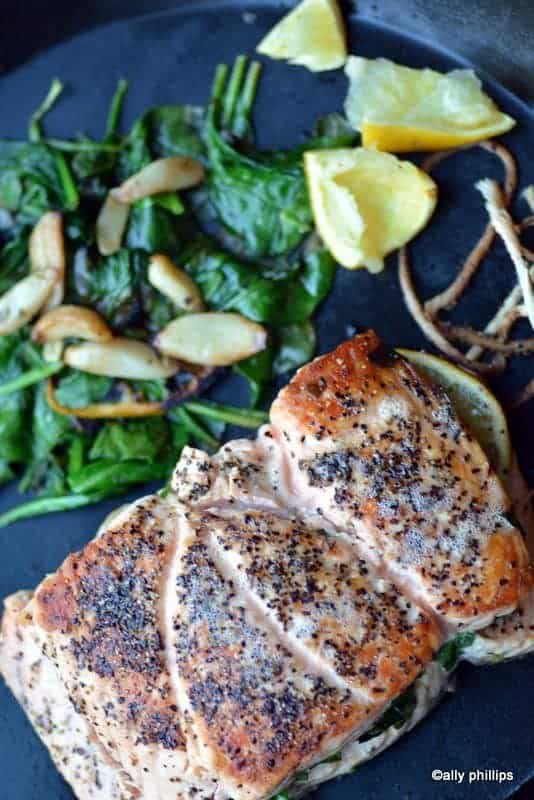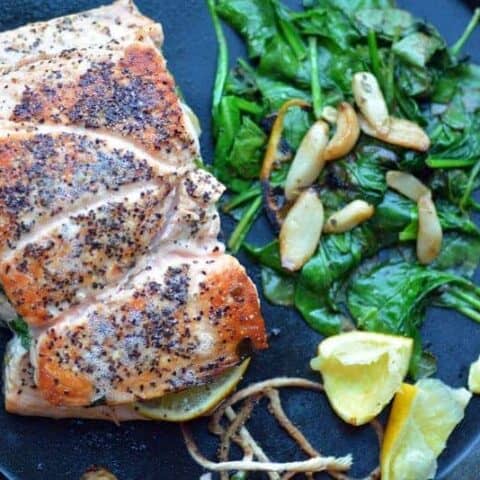 spinach lemon stuffed salmon
Yield: 2 or One really hungry person!
Ingredients
1 lb. salmon, thick 1 ½ to 2", skin on (trim off any thin ends, you want a complete thick piece, you can cook the ends quickly in the skillet)
Cooking spray, canola or olive oil
½ tsp. sea salt
1 tsp. coarse ground pepper, divided
6-8 deli garlic whole cloves, cooked and marinated
1 lemon, sliced in thin rounds, divided
½ cup fresh spinach, chopped & packed
Cooking twine, about 18-24" long
%
Instructions
Take the salmon. Place on a parchment paper covered cookie sheet. With a sharp knife butterfly.
Open and coat both sides with cooking spray. Add salt, ½ teaspoon pepper, and place the garlic on the salmon.
Layer on five or six thin lemon slices on the garlic. Pile on the spinach. Re-coat with cooking spray.
Flip the top side back on top. Secure with cooking twine wrapping a couple of times around the salmon to hold it together.
Stuff back in any spinach that may have fallen out. Coat top with cooking spray and the remaining pepper.
Heat a large non-stick skillet on medium high. Let it get hot. Coat with cooking spray.
Carefully put the salmon in skin side UP. Cover and cook 3-4 minutes.
Gently flip to the skin side up. Cover and let cook another about 3 minutes.
Remove from heat. Let it rest about 5 minutes. Snip twine with cooking scissors and remove. Serve!
Notes
Use the remaining lemon when serving.

If you have more spinach and garlic, throw it in the pan while cooking the salmon. Cover and let it steam/wilt.