Grilled Sourdough French Toast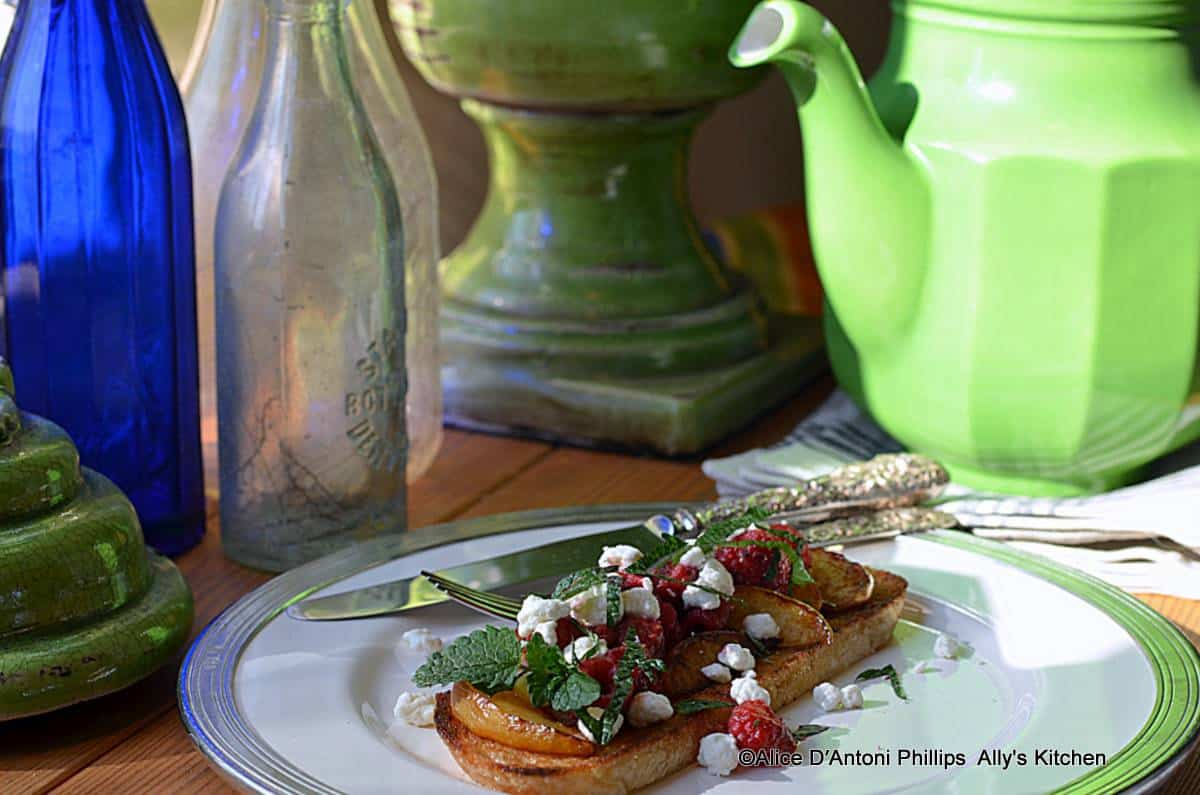 Grilled Fruit Sourdough French Toast' happens to be one of those dishes that fits into my play-world category…the fashion of food!
French Toast no Eggs no Milk
It is possible to make French toast with no eggs and no milk.
You can, of course, use a nut-based milk, like almond or oat milk.
And, add to the nut or plant-based milk cornstarch or arrowroot as well as your cinnamon, vanilla, brown or coconut sugar, nutritional yeast, and other spices that you might like.
French Toast Recipe
If you're looking for a French toast recipe that's crispy and with apples, then look no further!
To make my Crispy french toast and grilled brown sugar apple slices all you need to do is add eggs, milk, and cinnamon to a pan, heat it, and lay the bread in it for about 2 minutes. In another pan, put butter and lay apple slices in it for about 3 minutes, and grill them. Now remove the apples and add more butter into the pan and pour the egg-soaked bread in it, and grill it for about 3 minutes on each side until you get a crispy surface on both sides.
Eggless French Toast Recipe
Yes, you can make eggless French toast.
To make the eggless french toast, all you need is a few ingredients such as custard powder, vanilla extract, cornstarch if you do not have custard powder.
When you add milk to the pan and stir it well, make sure the sugar lumps do not occur. When you are done making the french toast, you can sprinkle some cinnamon powder.
And it's your choice to either serve it with maple syrup or plain.
Grilled Toast with Fruit Topping
Who in the world would not want to have a healthy diet? And that's what this Healthy fruit french toast.
You can gather ingredients such as organic bread, beaten eggs, allspice, cream, salt, butter, raspberries, blueberries, and maple syrup.
These ingredients are enough to make your french toast somewhat more healthy yet totally worth eating.
Cheese and Fruit Sandwich
Another thing I like to do when I'm creating just a really quick, easy, and healthy dish for my snacks (yes, sometimes I fall off the wagon and grab the kettle chips!!) is to come up with something really chic and luxurious looking.
And, if you actually think about this recipe, it's really just an open-faced sandwich.
And, this sandwich has grilled bread, fruit and cheese. That's what makes it uniquely like a French toast.
It's almost like an open-faced 'grilled' sandwich with fruit and cheese.
Fancy Grilled Cheese Ideas
Fancy and fashion aren't just for clothing!
I like to add a touch of 'Boho' couture. Hey, fashion is just not on the runways of Milan!
Food fashion can be right there in your own kitchen. Now, exactly why should you do this? Well, for me, it's a snippet of pampering, It's a way to escape some of the reality of the day like laundry, changing beds, cleaning toilets!
Grill Goat Cheese
Can you grill goat cheese? Well, you certainly can with a sandwich.
And, it's a way to be creative with food, which is a lot of fun. Kinda like playing dress-up! So, this 'Grilled Fruit Sourdough French Toast' happens to be one of those dishes that fit into my play-world category. The fashion of food!
Grill Bread Toppings
There is much more to add when it comes to grilled bread toppings. Just get creative!
Adding crumbled feta or chopped kalamata olives, or just squeeze the lemon for a citrusy-lemony taste. You can use other toppings such as sliced bananas, nut butter, chia, and avocado. It's not just grilled bread with cheese. Make this grilled bread interesting!
The toppings will add more charm to your grilled toast bread, you will want it more when you have it. So, just try these amazing toppings for amazing compliments.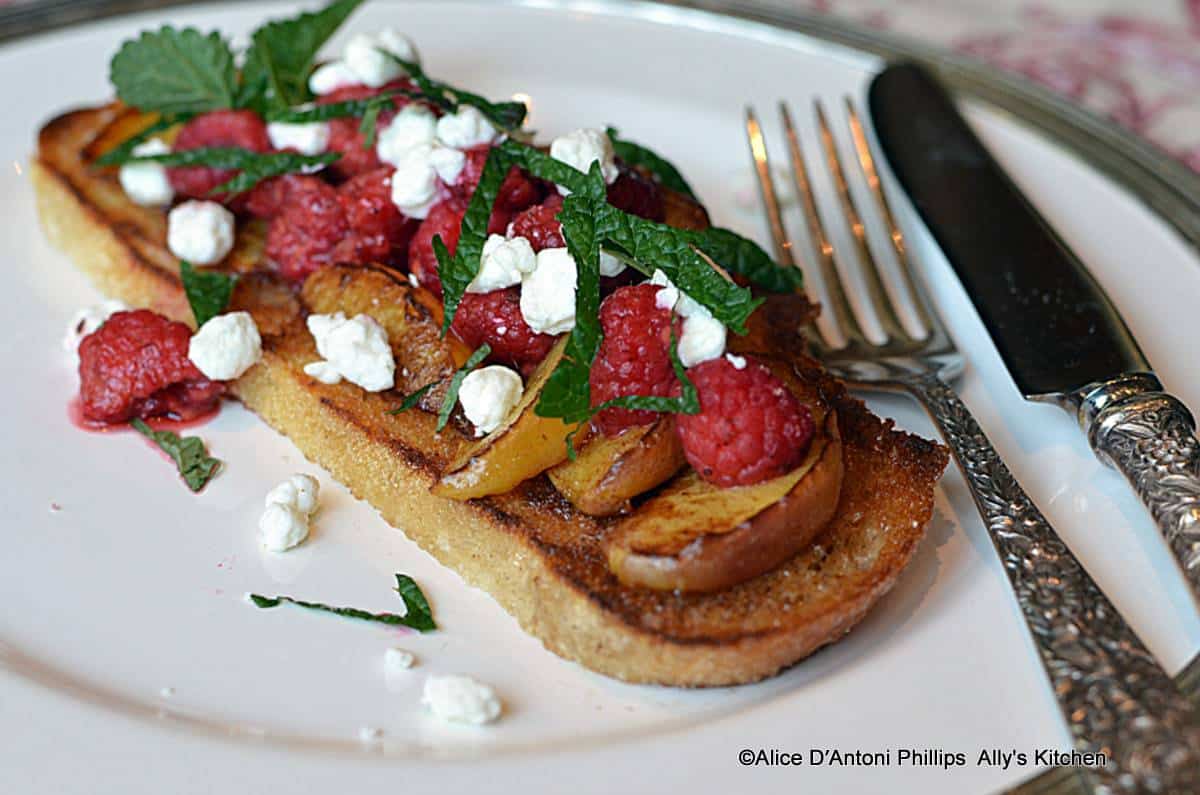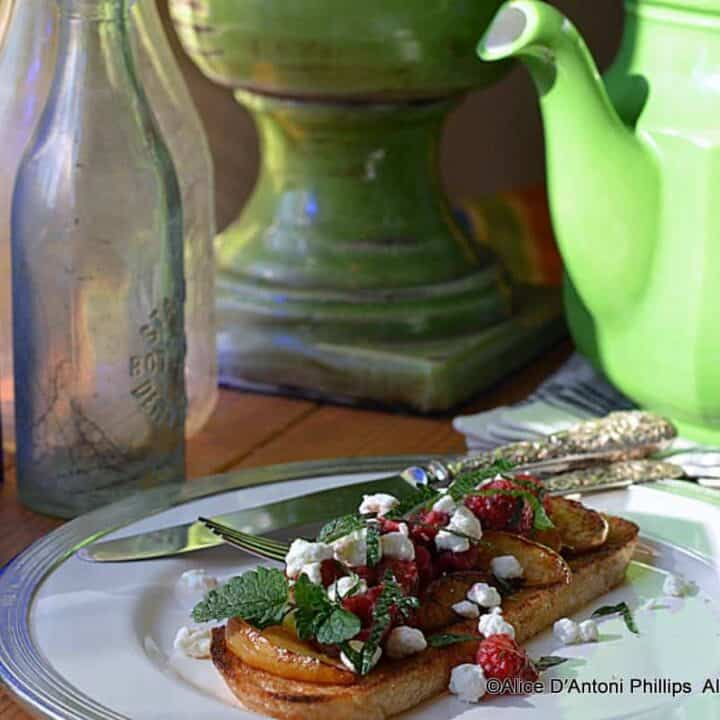 Grilled Sourdough French Toast
'Grilled Fruit Sourdough French Toast' happens to be one of those dishes that fits into my play-world category...the fashion of food!
Ingredients
1 slice sour dough bread
2 Tbl. butter, salted (divided)
½ fresh peach cut into slices (or frozen peach slices)
¼ cup fresh raspberries
2 Tbl. goat cheese crumbles
1 Tbl. chiffonade fresh mint
Instructions
Use one tablesppon of butter to spread on one side of the bread. Set aside.

In a heavy skillet over medium heat, melt 1 tbl butter. Add peach slices and grill until golden brown on each side. Remove & set aside.

Add bread, buttered side down, and grill until golden brown. Remove to a plate. Turn off heat.

Add raspberries to hot skillet and gently toss cooking about 2 minutes.

Arrange slices of grilled peaches on the toast. Add the raspberries and goat cheese. Garnish with fresh mint.