One of the most special days of the week for me growing up was Thursday. No it was anything like #tbt. In my wild wonderful West Virginia small town nestled in the mountains, after walking home from school I'd run to my Grandma's house because that was the day she made bread and cinnamon rolls. Yes, every Thursday this happened. Grandma Cook, whom I was named after (Alice), was full of piss n' vinegar. Small, wirey, with her blue-toned hair, tissue tucked up her sweater sleeve, apron covered with flour and spectacles on, I'd intently watch as Grandma worked that dough masterfully on the old metal kitchen table. Her hands and wrists worked without one delay or flaw.
My cinnamon rolls aren't even close to hers in height and diameter. She was cinnabun before cinnabun was a bun. But, these cinnamon rolls, yes petite but perfect, are just what I need now at this age so as to control my portions. Honestly, I like that smaller, a tad bit 'flatter' and with a slight crisp crunch on the outside that comes with each and every bite. You gotta eat them hot~that's the best. And, if you don't slather on some butter and put them under the broiler to crisp and warm. Food is the be memory maker in the whole universe!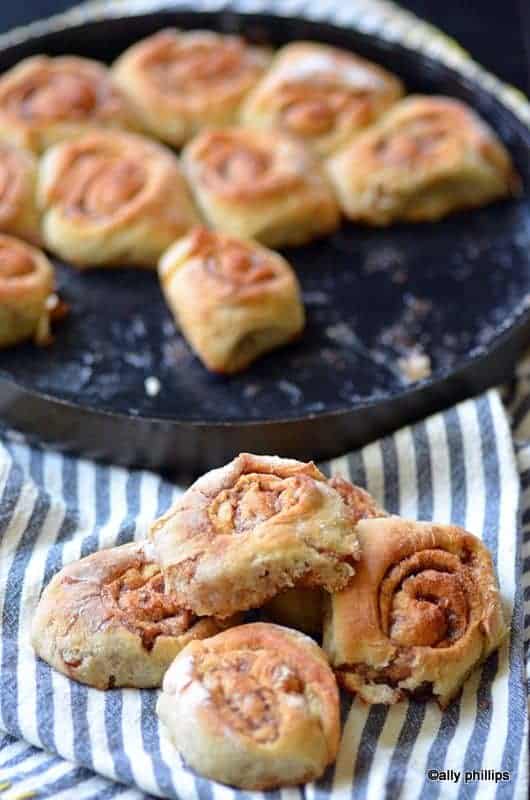 Ingredients
Preheat oven to 350

1/3 cup hot water (110-120 degrees)
1 package (3/4 oz.) fast acting yeast
1 tsp. sea salt
1 Tbl. Sugar
2 ¼ cups flour (divided)
4 Tbl. Butter, melted
¼ cup sugar
1 ½ tsp. cinnamon
1 tsp. nutmeg
1 egg, white only + 1 Tbl. Water (mixed together)
Instructions
In a medium sized bowl, put the warm water and yeast. Whisk together. Sit this bowl in a larger skillet that has hot water in it—to keep the yeast/water warm and activating. Let it sit about 15 minutes.
Add the salt and sugar and dissolve. Put the bowl on the counter and add 1 ½ cups of flour. Blend together well. Cover and put the bowl back in the skillet with hot water. (You may need to reheat some water.) Let it double in size (should be about 20-30 minutes). In the meantime, combine the sugar, cinnamon and nutmeg in a small bowl and mix together.
Put the remaining flour on the clean counter surface. Dump the dough on to it. Knead about 5 minutes then flatten out the dough to about a 12-15" piece.

Cover almost to the edges with the melted butter (use a brush to spread the butter). Sprinkle on all the sugar mixture.

Start rolling the dough into a snake shape. You might need to use a metal spatula to gently nudge from the counter. Cut into about 2 to 2 ½ inch pieces and place in a non-stick greased skillet. Brush the tops of the rolls with the egg white wash.

Bake for about 23-25 minutes. Remove to a cooling rack. Ready to eat!
Notes
If you want to make a powdered sugar drizzle for the rolls, have at it. Or you can just dust them with some powdered sugar! As for me, I like mine naked!
https://allyskitchen.com/skillet-cinnamon-rolls/
©ally's kitchen intellectual property