The Best 6-Ingredient Easy Shrimp Corn Pasta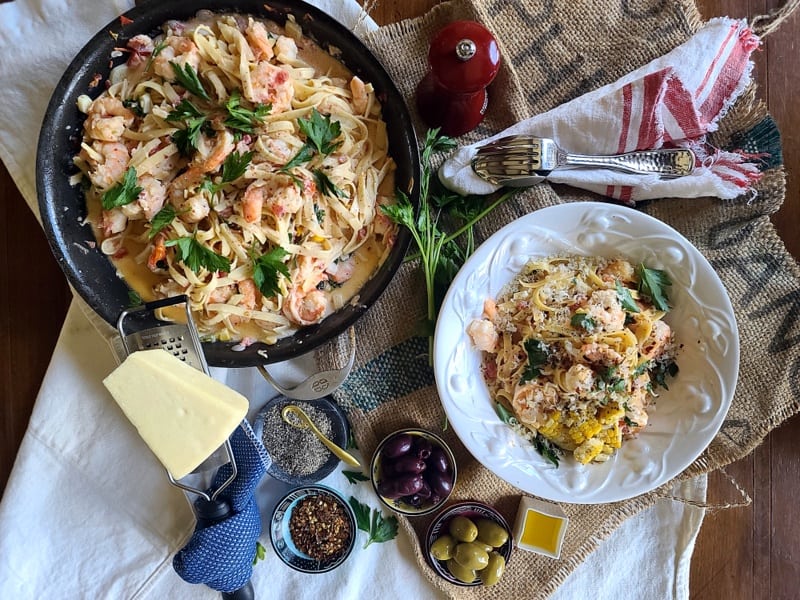 The Best 6-Ingredient Easy Shrimp Corn Pasta will knock your socks off with all the flavor! Crazy easy & simple to make. It'll become a fave!
Shrimp and Corn Recipe
There's nothing better than fresh corn! And, when it's in season, you bet I'm doing something with corn several times a week! Here are two of my favorite corn and shrimp recipes.
Kingsford Grilled Frogmore Stew
kingsford grilled frogmore stew
Authentic Low Country Boil
authentic low country boil
Shrimp Corn Pasta Dish
Shrimp and corn just naturally go together for me. And, when you add in creamy pasta, well, you have an amazingly unique and delicious dish.
Now, I'm not talking a lot of corn with the shrimp and pasta. Yes, we have plenty of carbs with the pasta. But, just a little fresh corn, cut from the cob, adds some sweetness to the dish that you can't get with anything else, I think.
Shrimp Corn Pesto Pasta
Another option for creating a simple and quick shrimp corn pasta is to use pesto. You can find pesto in the grocery store. But, I love to get mine at Costco (refrigerated section) because it's consistently perfect and delicious.
Here are the quick steps:
Prepare your pasta (about eight ounces), undercooking about two to three minutes. Reserve about a cup of the pasta water. Best type of pasta would be a penne, bow tie, mini rigatoni, etc.
Put the drained pasta in a large heavy skillet over medium low heat with one-fourth cup of pasta water and one-half cup of the refrigerated pesto. Blend in together.
Add two cups of corn 'off' the cob to the pasta. Blend and let it simmer about 10 minutes. Add more pasta water if needed. Pasta will absorb the liquid.
Creamy Shrimp Pasta
Creamy shrimp pasta is major comfort food. When you're preparing your pasta, be sure to save some of the salty pasta water and the shrimp shell water.
Pasta absorbs liquid as it sits, so it's nice to have extra tasty liquid. Another thing I do is to mix about half and half water and cream to add to the pasta.
Pasta Salads with Shrimp
While pasta salads with shrimp are pretty simple to make, how about some ideas for shrimp and soups. Maybe add some pasta. Maybe not.
Coconut Curry Leek Corn Chowder
Shrimp and Corn Salad
Here are two fabulous recipes that you can totally change up by adding one ingredient. Shrimp! Yes, simply sauté shrimp in a skillet with some oil or butter, salt and pepper to taste, then add to one of these recipes.
The Best Healthy Fresh Corn Salad
Spinach Pasta Shrimp
To really 'up' this recipe and make it vibrantly green, throw in some baby fresh spinach. If you don't have fresh, you can use frozen, but fresh is better. I've also tossed in arugula and even baby bokchoy leaves.
Healthy Pasta Recipes with Shrimp
Now, let's talk the best kind of pasta for this recipe While you see that I used a linguine, I think a smaller pasta would work better for this particular dish. I've made this dish three times, and that's the result of my trial and error.
You live and learn, right? My suggestion is that you try something like a penne pasta, mini rigatoni, bow tie pasta rather than the longer noodle. That's because if you have it leftover, the long noodle type tends to break apart and become just small pieces.
Healthy Shrimp Pasta Recipes
HealthiER shrimp pasta recipes can be done without the heavy cream. Substitute basil pesto and you'll get some 'creaminess'. Or simply have more of a butter/wine sauce as in traditional linguine shrimp.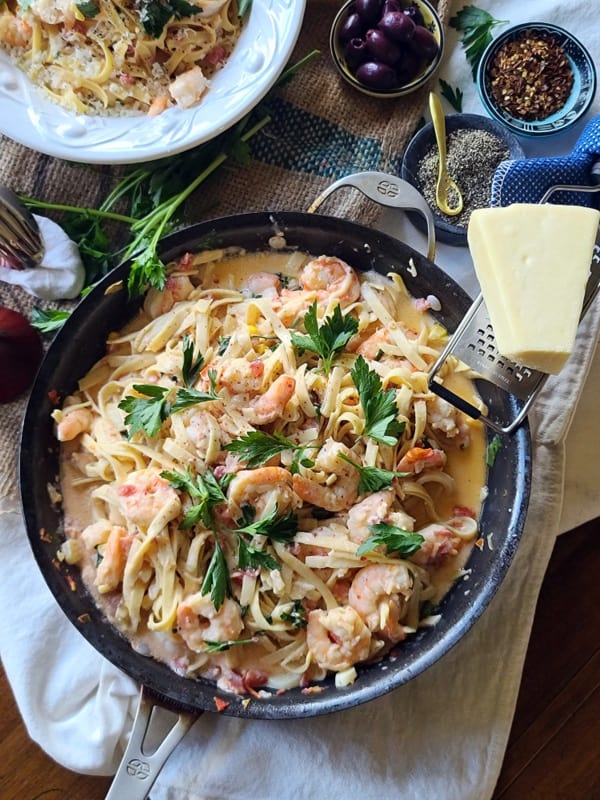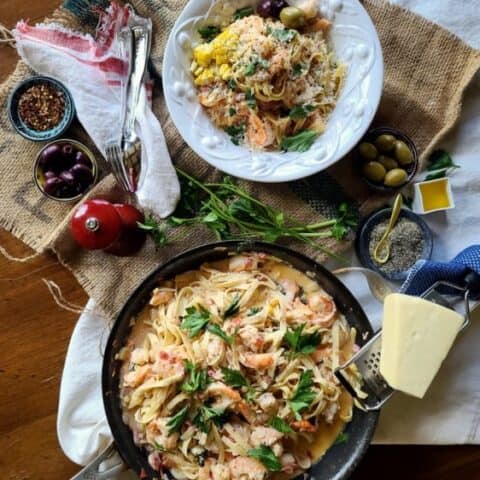 The Best 6-Ingredient Easy Shrimp Corn Pasta
Ingredients
1 lb. shrimp, previously frozen, deveined, tail on, remove shells and tails, reserve for shrimp liquid
8 oz. pasta, your choice, cook for only four minutes, reserve some of the liquid
16 oz. pico de gallo fresh salsa, store bought
8 oz. mascarpone, room temperature
3 ears fresh corn, shucked, cooked, cut from cob
1 cup asiago cheese, grated + more for serving
Instructions
Peel the shrimp. Set shrimp aside.
Put the shrimp tails/shells in a small sauce pan with one cup of water. Bring to boil over medium high heat. Cook for about 3-4 minutes. Strain liquid. Discard shells.
Cook the pasta for four minutes. Drain. Reserve about 1.5 cups of liquid.
Put the pico de gallo in a large skillet over medium heat. Add the mascarpone and one-half cup of the pasta water and shrimp water liquid. Blend into a thick creamy mixture.
Add the fresh corn and grated asiago. Blend well. Reduce heat to medium low.
Add the shrimp, cover and let it cook for about 3 minutes. Add the pasta, cover and let this cook another about 5 minutes or until the shrimp is pink and the pasta is al dente.
Serve immediately.
Notes
If sauce thickens too much, thin with some of the pasta water and/or shrimp broth.