hot dogs & cheesy macaroni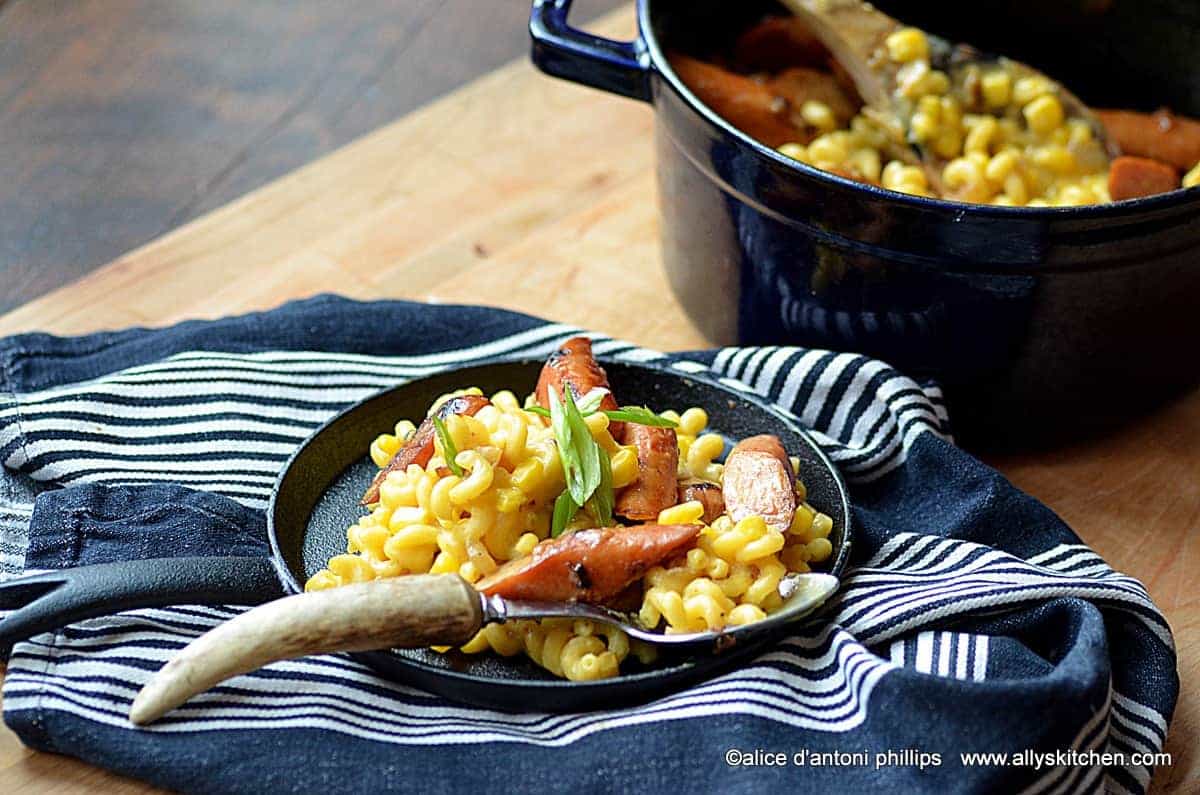 I'd say this comes pretty darn near close being the ultimate kids' meal–I mean mac n' cheese and hot dogs! This recipe is one that is brought to you by Knorrs.   I've prepared using their recipe and photographed. Then I entered into a contest sponsored by ZOOPPA, so let's see where it takes me.
Back to this recipe…it's tasty and was gobbled up by my college grandkids after a long day of skiing and snowboarding. It's definitely best right off the stove, but if you have to serve later then just keep that mac n' cheese creamy with some additional milk. I think the grilling of the dogs leaving grill marks adds to the pretty factor for the food, and who doesn't love some crumbles of bacon and green onions…yes, my boho'ing of this recipe!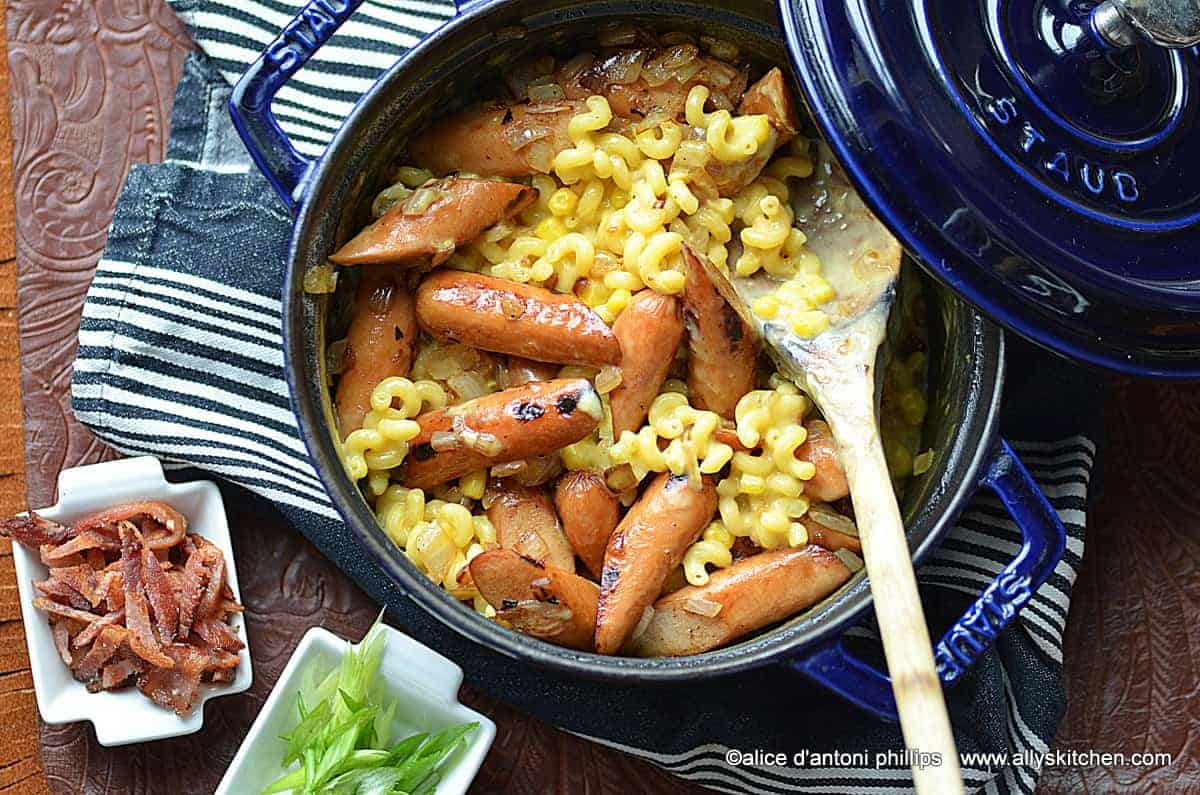 Serves: 4
What you need:
1 Tbsp. I Can't Believe It's Not Butter!® Spread
1 lb. hot dogs, sliced diagonally
1 medium onion, chopped
1 3/4 cups water
1/2 cup 2% milk
1 package Knorr® Pasta Sides™ – Cheesy Bacon Macaroni
1 can (15 oz.) whole kernel corn, drained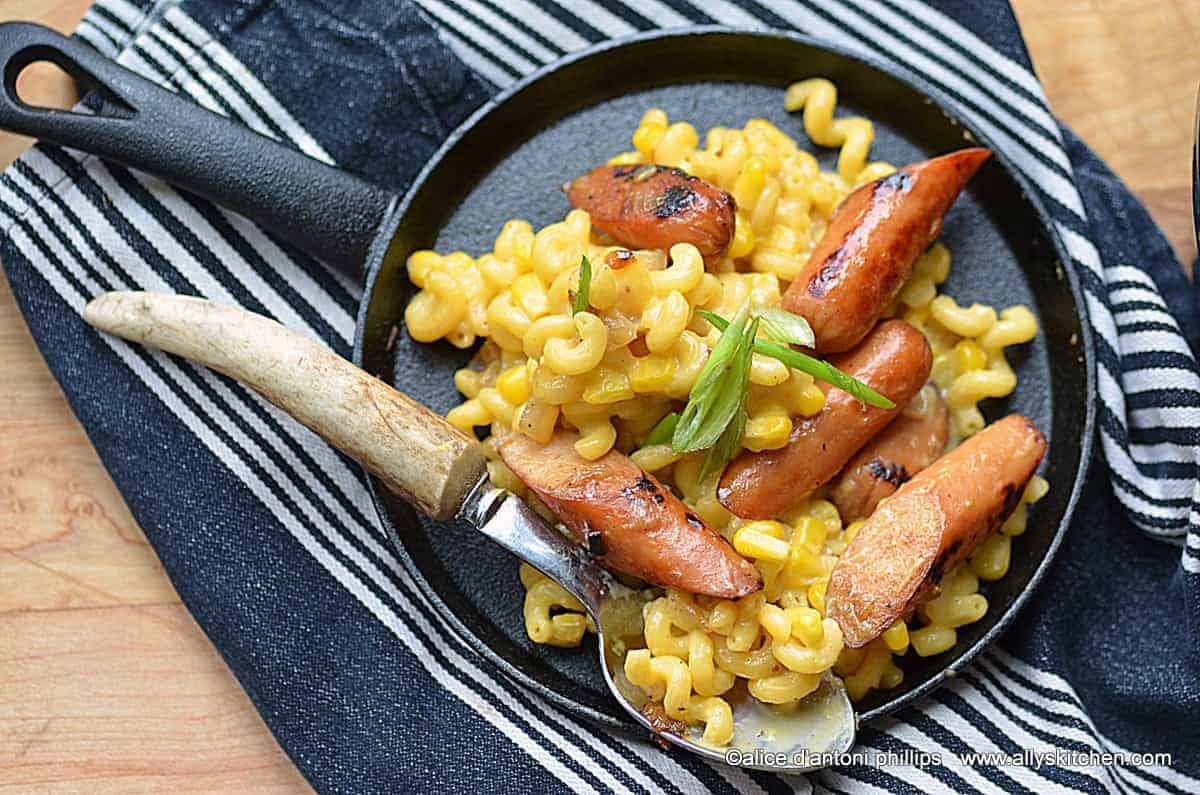 What you do:
Melt Spread in 12-inch skillet over medium-high heat and cook hot dogs with onion, stirring occasionally, until browned, about 4 minutes. Remove hot dogs and onion and set aside.
Add water and milk to same skillet and bring to a boil. Add Knorr® Pasta Sides™ – Cheesy Bacon Macaroni and return to a boil. Reduce heat to medium and cook uncovered, stirring occasionally, 10 minutes or until pasta is tender.
Stir in corn and hot dog mixture; heat through.