Disclosure: I am a brand ambassador for True Aussie Beef & Lamb. (Yes, I'm very lucky to be working with a great company!) And, I'm compensated for creating recipes and posts, including this one, 'Aussie Grassfed Beef Dill Pickle Hot Dog Chili', for them. Believe me, I don't partner with any brand unless I truly believe in and support their product(s) and the kind of company it is. One that's shares similar values as I. Most importantly, I only work for food companies whose products I would feed my family and friends! All these opinions and the creation of this recipe are credited to me.
What Makes This Chili The Best?
Want THE BEST hot dog chili in the world? Then you have to start with THE best ground beef. And, that would be Aussie Grassfed Beef! When you have this as a starter, then it doesn't take much more to make it absolutely fabulous. You'll see that this is a simple recipe. I mean, that's what we all want when Summer rolls around! We want to be out enjoying ourselves and not be stuck in the kitchen.
Now this chili can be made in no time at all. And, it's great for freezing. So, you might want to double up on the recipe and have it for whatever pops up during your Summer fun!
Some Things About Aussie Grassfed Beef
First of all, it's grassfed. ONE HUNDRED percent grassfed. Now, that means a lot to your flavor, nutrition and health.
This Aussie Grassfed beef is naturally leaner. And, because of that, it cooks about 30% faster using most methods. Grassfed beef is also healthier for you. That's well-established. Your tastebuds can tell a difference and your body and health will, too. Just how is it better?
Less total fat.
More heart-healthy omega-3 fatty acids.
More conjugated linoleic acid, a type of fat that's thought to reduce heart disease and cancer risks.
More antioxidant vitamins, such as vitamin E.
I love this recipe. Actually, the inspiration for it came during yoga class. Oh, I know I should empty my mind and not think about recipes, but I was super hungry and wanted to kick off this Summer 2019 beautiful first weekend of June with something spectacular. And, I can assure you that this Aussie Grassfed Dill Pickle Hot Dog Chili did that!
Need more great Summer recipes to help you get #BackToPool featuring Aussie Grassfed beef? Click here!
For more information where to buy Aussie Grassfed Beef near you, visit: AUSSIE WHERE TO BUY!
Here's a perfect Summer pie to go with your hot dogs! It's no bake. Yayyyyy! Mandarin Vintage No Bake Pie.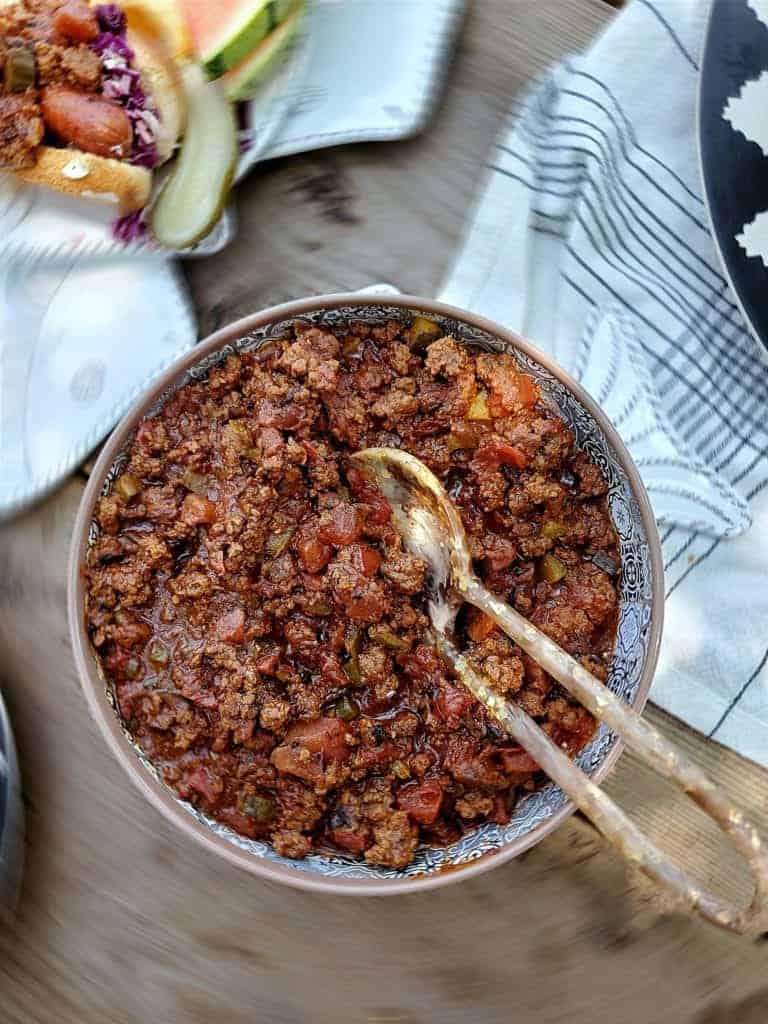 aussie grassfed beef dill pickle hot dog chili
Ingredients
1 lb. Aussie Grassfed Beef, ground
2 Tbl. extra virgin olive oil
½ cup dill pickle juice
5 Tbl. double concentrated tomato paste
1 package (1.25 oz.) Chili Seasoning
2 cans (10 oz.) Fire Roasted Diced Tomatoes with Green Chilies
½ cup dill pickles, small dice
SERVE ON:
Grilled Hot Dogs & Buns
TOPPINGS:
Onions
Green Onions
Condiments
Cole Slaw
Kettle Chips
Your Choice!
Instructions
In a large (10"+) cast iron skillet over medium high heat, put the olive oil and crumble the ground beef in. Brown the meat. Add the dill pickle juice and blend well.
Add the tomato paste and blend into the meat. Reduce heat to medium, add the chili seasoning and work into the meat about 2-3 minutes. Add the tomatoes with green chiles, blend well.
Reduce heat to medium low and cook about twenty minutes. Add the dill pickles, reduce heat to simmer, cover and keep warm until ready to serve.
Notes
I love 'frying' my hot dogs in a cast iron skillet! But, you sure can grill them!
Serve whatever condiments and sides that you like with your hot dogs and cookout.
You can prepare this chili ahead of time and freeze.
https://allyskitchen.com/aussie-grassfed-beef-dill-pickle-hot-dog-chili/
©ally's kitchen intellectual property