Inspiration for new recipes~~where does it come from? For me, it's various venues~~but, first and foremost, I'm thinking healthy. Putting 'junk'~things like empty calories, highly processed ingredients~into my body or that of anyone who pulls up a seat in my kitchen or at my table, isn't my idea of love. And, for me, that's what food is~an expression of the love I'm sharing with others. While there's the 'farm to table' push, my idea of good eats is what I call 'close to the earth' eating. There are lots of websites, like Ally's Kitchen, that help promote healthy eating or recipes and lifestyles, and one that I find cool is ALOHA~~check 'em out~~you'll find useful ideas that can spark a 'closes to the earth' trend for you!
Of course another thing that sparks inspiration for me with cooking is just being at the market and strolling along the asiles. Quite often, it's when I'm in the grocery store shopping and see specials, mark downs, or good buys on things that I'd always love to have, but refrain from until just the right timing. That's the case with this soup~~of course, I love shrimp, but it's kinda pricey, so when I saw some big beautiful tail-on fresh shrimp on sale, I whisked them into my cart!
Making something really different and special with the shrimp, and keeping that shrimp healthy, was the next step. The easiest fail safe, and always tasty, would have been to grill, pan sautee, use in shrimp scampi, toss in a salad, something conventional and predictable. But, being the unconventional food thinker I am, I had to do something different, and that's how this soup came about. I thought of fried coconut shrimp, but didn't want the frying and oil. Did want the coconut. Love corn, so that had to go in it. Then next came the 'couture' design and look of the soup~~yes, colors and textures. Good for the soul eating has to be #prettyeating in my book!
I assure you that this is fabulously boholicious soup~~in fact, I just about put away the whole pot myself, and there wasn't one iota of guilt because I knew I was eating healthy! ~peace & coconut luv~ ally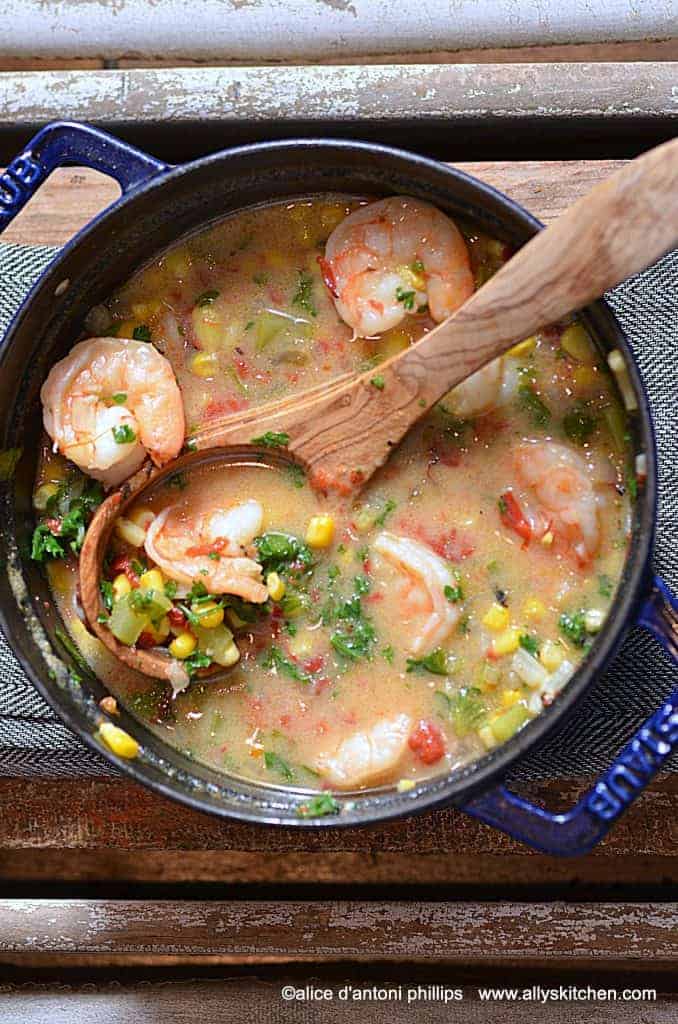 Serves: 4
What you need:
3 Tbl. Coconut oil
1/3 cup shallots, minced
2 stalks celery with leaves, sliced
2 tsp. ground cumin
1 ¼ tsp. sea salt
¼ tsp. red chili flakes
1 cup chicken broth
1 cup shrimp shell broth (take the shells from the peeled shrimp, put in a pot with 1 ¼ cups water, bring to boil, reduce heat to medium and cook 10 minutes, drain broth for soup)
½ cup coconut milk
12 oz. frozen corn
¼ cup roasted red peppers, chopped (store bought)
1 Tbl. Flour + 2 Tbl. Water, blend into paste
1 lb. peel shrimp, medium to large size
¼ cup parsley, chopped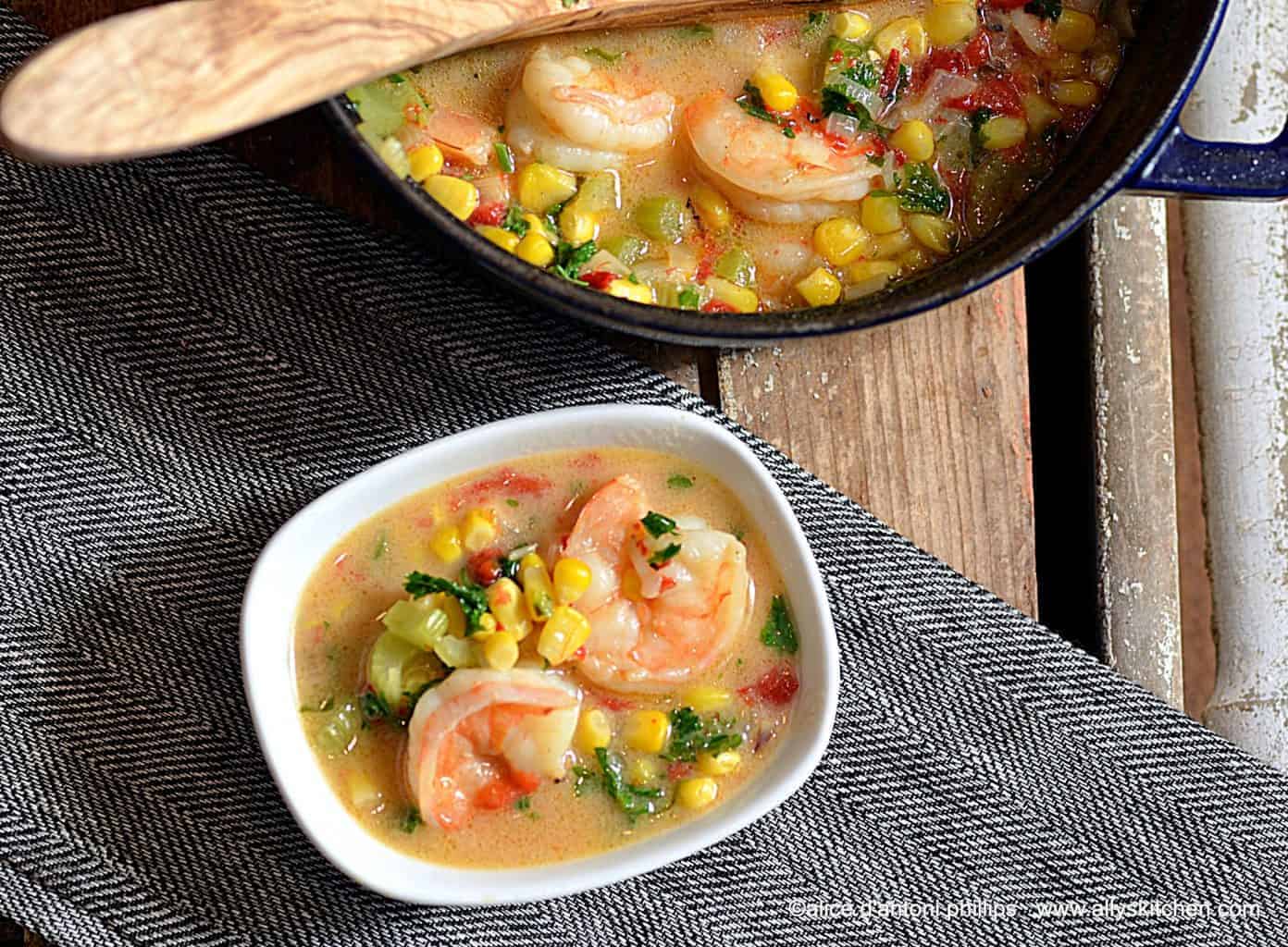 What you do:
In a large heavy pot over medium heat, put the coconut oil and shallots and sauté for about 5 minutes stirring so as not to burn. Add the celery, cumin, salt, chili flakes, chicken broth, shrimp broth and coconut milk, blend and cook about 10 minutes.
Add the corn and red pepper, cover and cook another 15 minutes on medium, stirring occasionally. Drizzle in the flour paste mixture just to thicken slightly, blend well. Add the shrimp, turn the heat to medium high and cook about 7-10 minutes.
Reduce heat to simmer, cover and let the soup 'rest' 5-10 minutes. Add the parsley when ready to serve.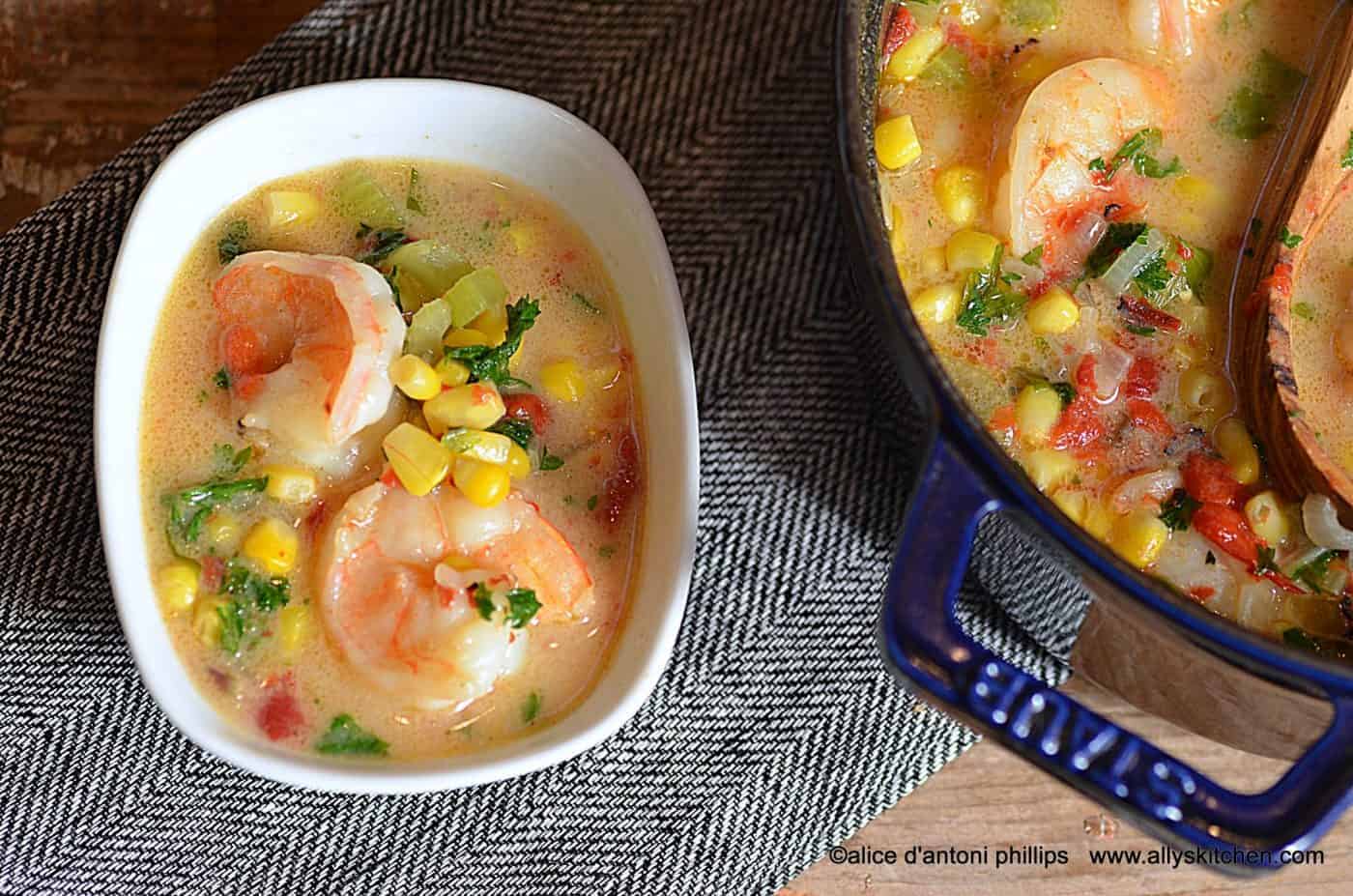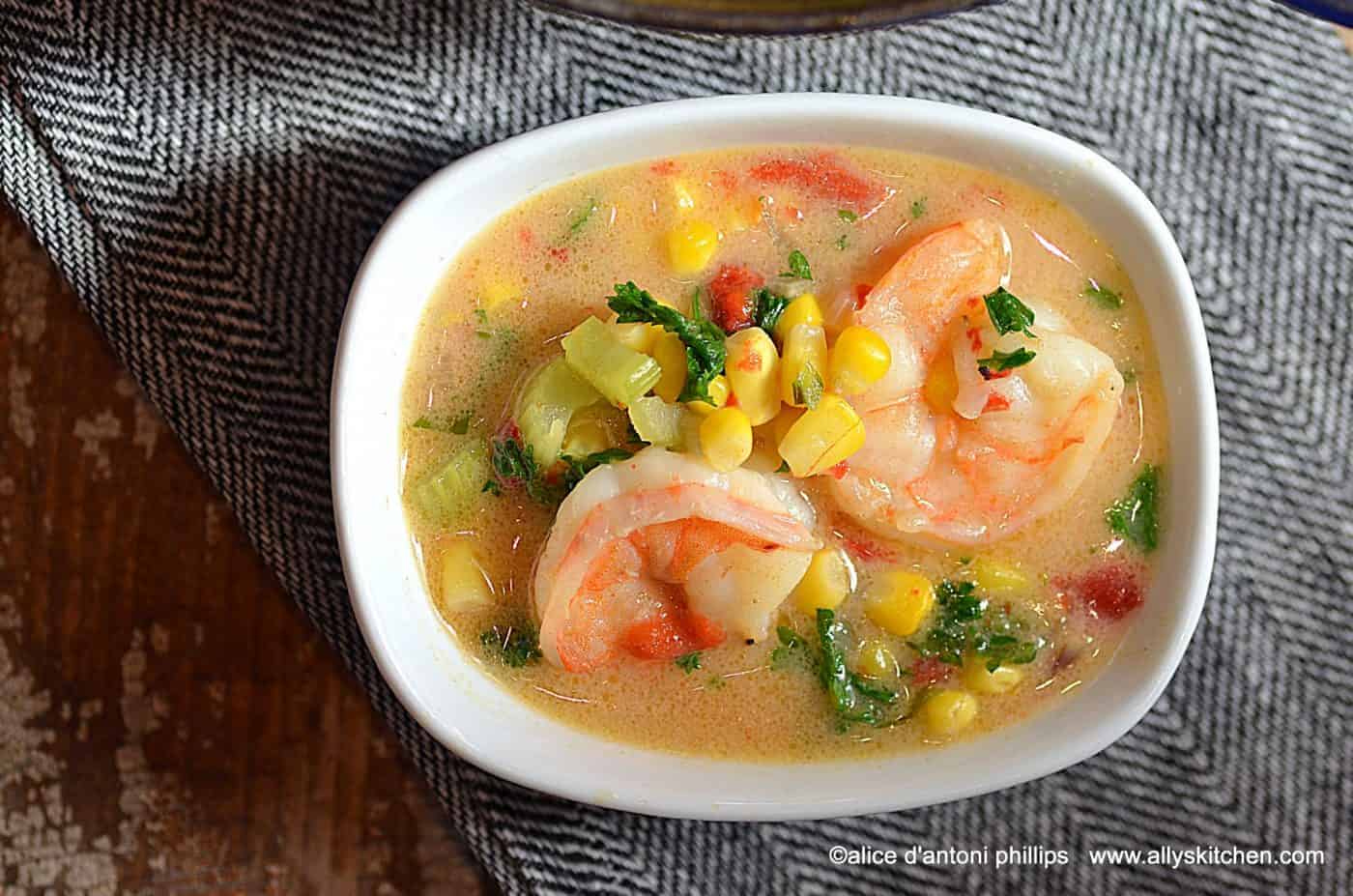 ©alice d'antoni phillips www.allyskitchen.com