mango basil chicken linguine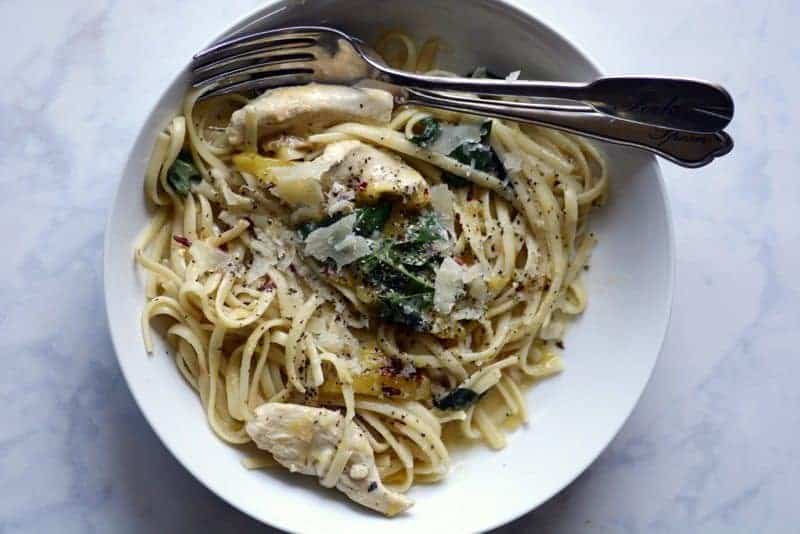 Thanks to Dole Sunshine for partnering with me for this post! All the opinions and creativity are solely my own. For a full disclosure, click here!
What I love about this recipe is that it's all in one skillet. Can you believe that you don't have to pre-cook the linguine! Yes, it's just so easy to add it into the flavorful broth that's going to make this mango basil chicken linguine infused with multiple layers of flavor.
I love the taste of mango. I detest having to peel and slice mango. So, what's the next best thing? That reduces time. Yes, on those evenings you come home from work, after a long tough day, and you just want something comforting to eat. Something that makes you think of home. Mom or Grandma's cooking. Well, these Dole Sunshine canned mango slices are just the ticket. Hand picked mango. Juicy slices. In their natural juices that you use when the linguine's cooking.
This touch of sunshine in your savory dish is totally unexpected. Yet, it's absolutely needed! With zero fat and twenty-five percent of your vitamin C, there's only 110 calories in the can. What a way to treat yourself without any guilt whatsoever. For me, mango and chicken go together. They remind me of the Caribbean, the islands, maybe somewhere exotic and special in the Pacific. That's what food should do. Transport you to a place that gives you complete zen and nirvana. You just might find that with this mango basil chicken linguine! xoxo ~ally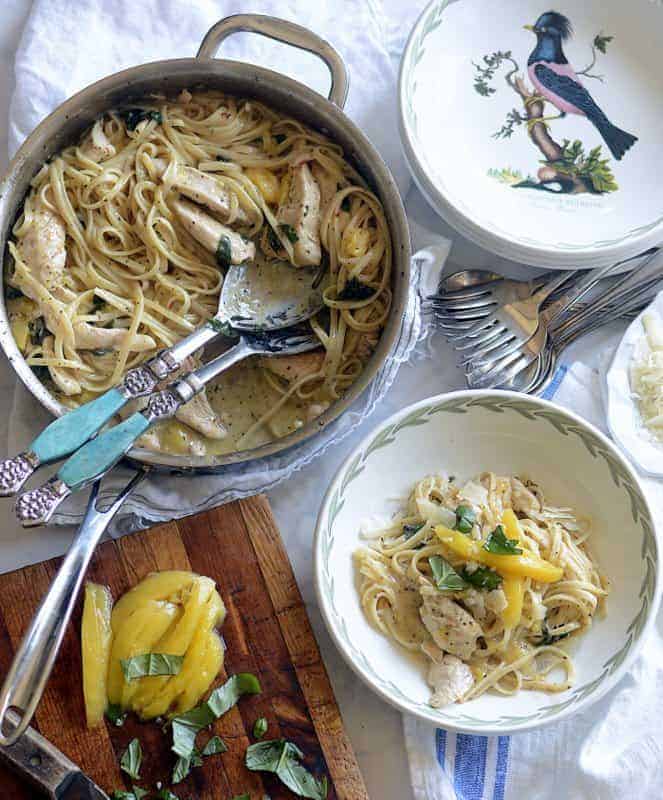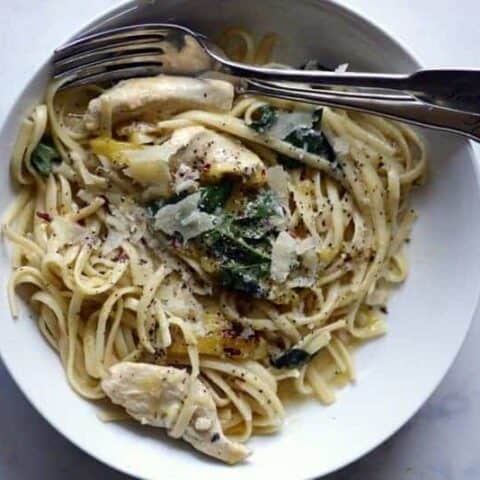 mango basil chicken linguine
Ingredients
5 Tbl. extra virgin olive oil, divided
1 lb. chicken breasts, boneless, skinless, cut into strips
1 box organic cream of chicken soup (12 oz.) + 3 cups water, blend together
1 tsp. coarse ground pepper
2 tsp. dried Italian seasoning mixture
1 tsp. red chili flakes (reduce to ½ tsp. if you want less spicy)
8 oz. linguine
1 can (15.5 oz.) Dole Sunshine Mango Slices, chop into bite size pieces about 3/4 of the mango and with the remaining wedges sliced into thinner slices for garnish
1 cup fresh basil leaves, roughly chopped & packed
1 cup parmesan reggiano, grated, divided
Instructions
In a 10-12" skillet about 3-4 inches deep, put three tablespoons of olive oil. Turn heat to medium high. Add the chicken and brown about 5 minutes.
Reduce heat to medium. Slow add in the chicken soup/water blend. Work out all the soup lumps. Add the pepper, Italian seasoning and red chili flakes. Blend. Cover and let it cook at a simmering boil about 15 minutes.
Remove lid. Add the linguine. As it softens work it into the entire pot. Use a pasta scoop to separate noodles as they are cooking. Reduce heat to medium low. Add the chopped mango with the juice, re-cover with the lid and cook about 9-10 minutes.
Toss in the basil leaves and parmesan. Blend well. Turn heat to simmer for 5 minutes. Drizzle on the remaining olive oil. Serve immediately. Top with several mango wedges, fresh basil and grated Parmesan.