Looking for something iconic and fun to do with a lot of friends and family! Well, then this lowcountry boil is your ticket! Guaranteed fab!
What is Low Country Boil
If someone asks you 'what is a low country boil'? All you need to say is that it's one of the South's most beloved meals. It's full of flavor, herbs, spices. It's one big ol' pot of the freshest seafood you've ever had and you have dinner for everyone in not time with little clean up!
How to do a Low Country Boil
How to do a low country boil is simple. It's done outdoors. You have a big table, maybe a picnic table. It's lined with newspaper and in our case, cardboard boxes cut open. And, you have plenty of paper towels, cocktail sauce, ketchup, maybe a salad, and paper plates. You do this low country boil very simple and basic. It's all about the people sharing and breaking bread over great food!
Frogmore Stew vs Low Country Boil
Oh, the frogmore stew and low country boil are like siblings! They're from the same 'DNA' just from different locations. According to Trip Advisor, "Low Country Boil and Frogmore Stew is one and the same. Frogmore is a little area in SC between Savannah and Charleston. Typically it will consist of potatoes, Sausage, corn, onions and shrimp boiled in a crab boil season. Some people will add crab legs and some other stuff to it depending on their likes and dislikes."
Frogmore Stew
Now we call Low Country Boil, Frogmore Stew. And, we love to add more things to it like clams and crabs and even mussels.
Frogmore Stew History
According to Wikipedia, "Frogmore is the name of a community in the middle of St. Helena Island, near Beaufort, South Carolina. Although there are many versions of this dish around, the name Frogmore Stew was coined in the 1960s by Richard Gay, one of the owners of Gay Fish Company, circa 1948, on St. Helena Island."
Old Bay Shrimp Boil
Now one of the keys to making a low country boil, frogmore stew, shrimp boil, crab boil, whatever you might call it is the Old Bay seasoning! Yes, Old Bay and shrimp go together like peas n' carrots. Old Bay is kind of like the Middle Eastern Ras el Hanout, it's a lot of spices that come together to make something outrageously amazing, paprika, mustard, red pepper, black pepper, celery seed and more!
Cajun Shrimp Boil
A Cajun shrimp boil is much like a Low Country Boil or Frogmore stew. It's more widely done under that nomenclature in places like Louisana, but the ingredients are very similar. Instead of Old Bay, a Cajun seasoning mixture might be used. Yes, both are boldly delicious with some same ingredients, but each remains distinctively different!
Low Country Shrimp Boil
Whether you call this a low country shrimp boil, shrimp boil, low country boil, or frogmore stew, you're gonna call it fabulously popular and folks are going to love it! It's perfect for a family get together, like when we did it for our family reunion. Best part about it is that there's little mess, no dishes to clean up, and everyone grabs their paper or plastic plate and fills it up! But, hey, you can get fancier and serve it on real china!
And, if you want to try a live fire grilled frogmore stew, well, here you go!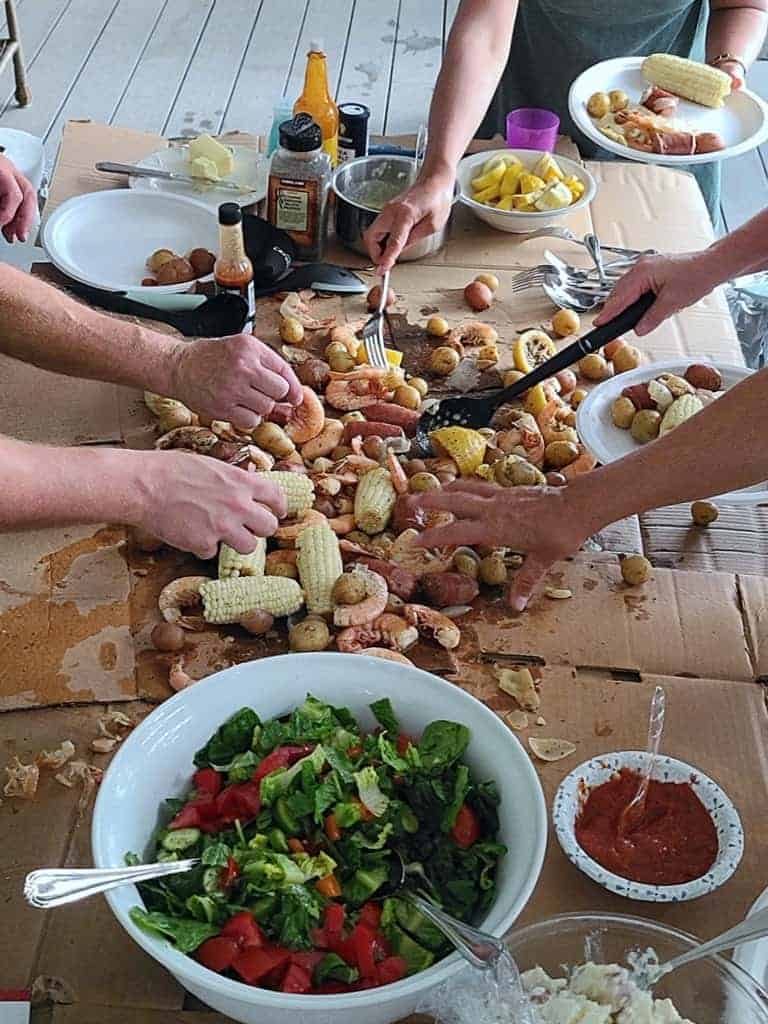 Yield: Serves 12+
authentic low country boil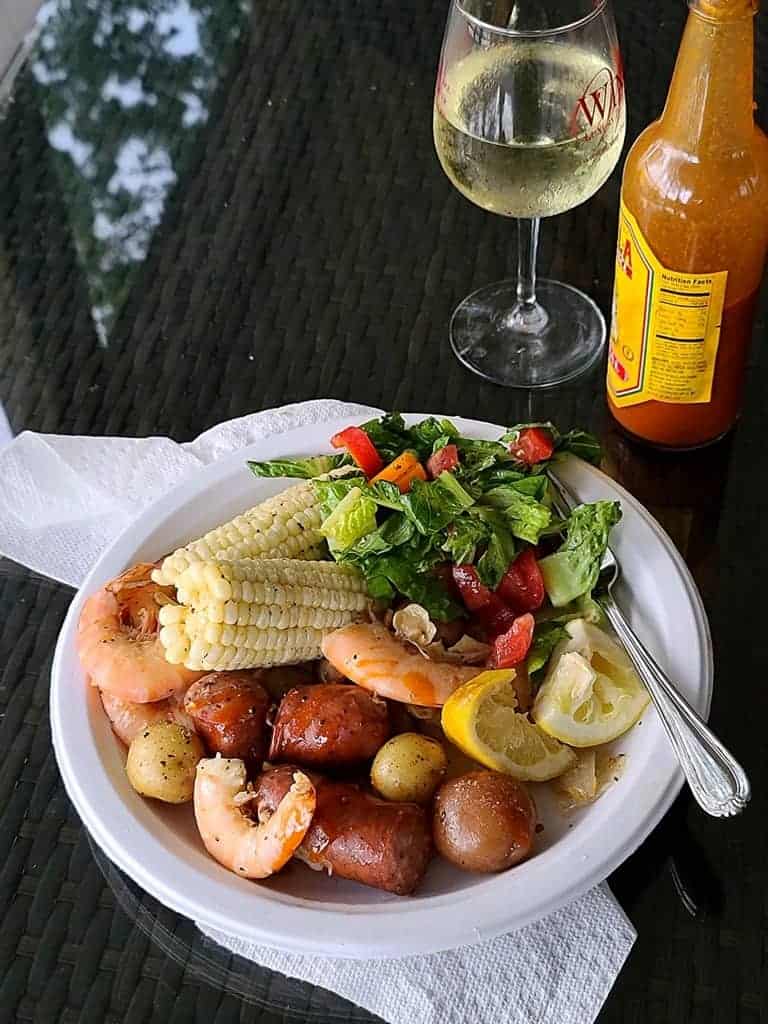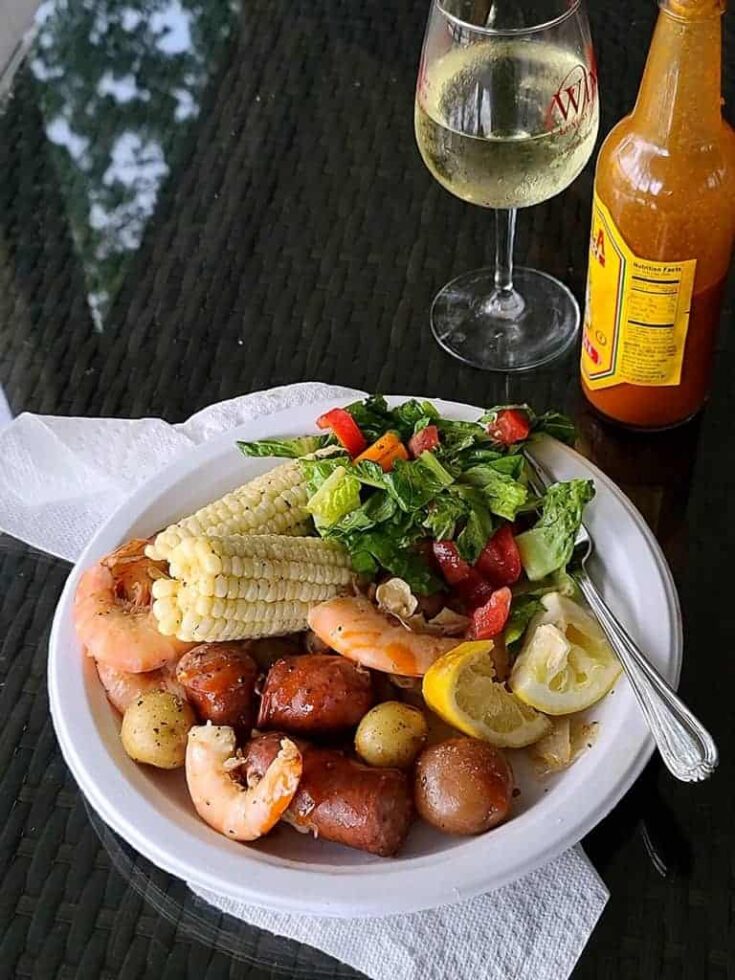 Looking for something iconic and fun to do with a lot of friends and family! Well, then this low country boil is your ticket! Guaranteed fab!
Ingredients
16 Quarts Water
8 oz. Old Bay seasoning
1 Tbl. sea salt
20 cloves garlic, peeled and whole
1 bag Zatarains Crab Boil, in a bag
6 lemons, cut in halves + more lemon wedges when serving
3-4 lbs. baby Dutch potatoes
5 sweet onions, cut in halves
2 (16 oz.) packages kielbasa, cut into 2" pieces
8 ears corn, cut into halves or three pieces each
4 lbs. shrimp, shell and tail on
14 Tbl. butter, salted, melted
Instructions
Have a large at least 32 quart pot with a basket inside.

Add the water, garlic and salt to the pot, can be a turkey fryer pot over gas flame. Let the water get hot.

Add the Old Bay and crab boil bag.

Squeeze the juice of the lemons in the pot and then throw in the lemons themselves.

Add the potatoes and cook about 10 minutes or until soft. Test with a skewer or fork for tenderness.

Add the onions and kilebasa pieces. Cover and cook (water should be simmer boiling) another about 5 minutes.

Add the corn, cover and cook for about 7-10 minutes.

Add the shrimp and cook just until the shrimp turn pink. It only takes a few minutes.

Turn off heat. Pull out crab boil bag and discard.

Pull out the basket with just the ingredients and drain.

Take to your table lined with paper and spread out on the paper. Drizzle on the butter on the boil.

Time to eat!
Notes
If your pot doesn't have a basket liner, take a big slotted scoop and pull out everything (less the liquid) and put in another large pot.

Have plenty of condiments and garnishes: cocktail sauce, lemons, hot sauces, dill pickles, pepperoncini and more!