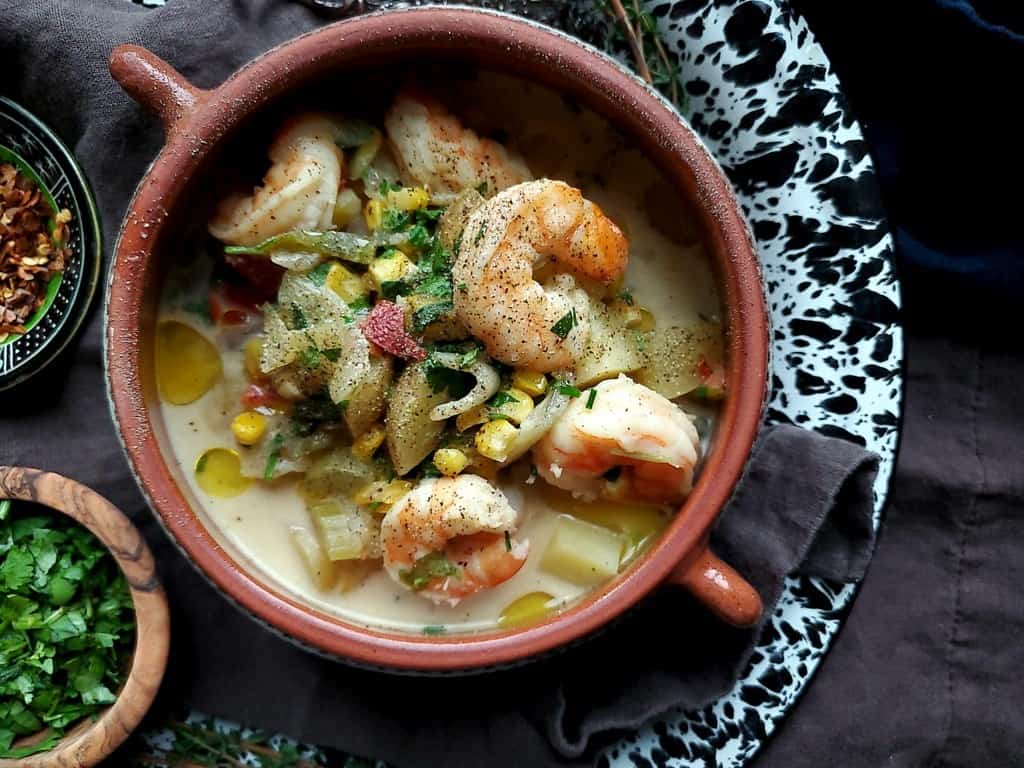 Soups and stews are fabulous one-pot meals that you simple can't mess up on. Unlike baking, soups and stews usually don't require the precision of measurement and exactness. I like that because I'm kinda like a gunslinger in the kitchen and am usually tweaking and changing things as I go along and taste whatever it is that I'm cooking. This coconut cumin shrimp soup is just one of those gunslinger recipes.
Rainbow Colored Soups
When I create soups, I like to ratchet up the healthy value by adding ingredients known to be really good for you. In this case, I'm using several things known for their medicinal value, fresh ginger, nutritional yeast, cumin and lots of fresh herbs. Now, if it's the dead of winter and you, for some reason, can't get all these fresh herbs, just find what you can. If you're using rosemary, do so sparingly because even a small amount will give you a robust flavor (and you don't want any one herb to overwhelm). The addition of the coconut milk also gives the soup a quasi creamy texture and amazing flavor!
If you've never tried the frozen tri-colored peppers and onions, give them a look. It does save a few minutes extra time not having to slice, but if you want to substitute fresh, then about one and one-half cups of this mixture. When I'm cooking and creating recipes, I also try to incorporate lots of color and using the diced purple onion added this plus taste. All the colors in this soup really make me think of Mardi Gras! I mean just look at the bursts of color. And, the taste, well, if you like shrimp, corn, potatoes and these other ingredients, you're gonna have a second helping! While my sour creamy mashed potato soup doesn't have all the hues, it does have that baked potato taste. You might want to try it, too!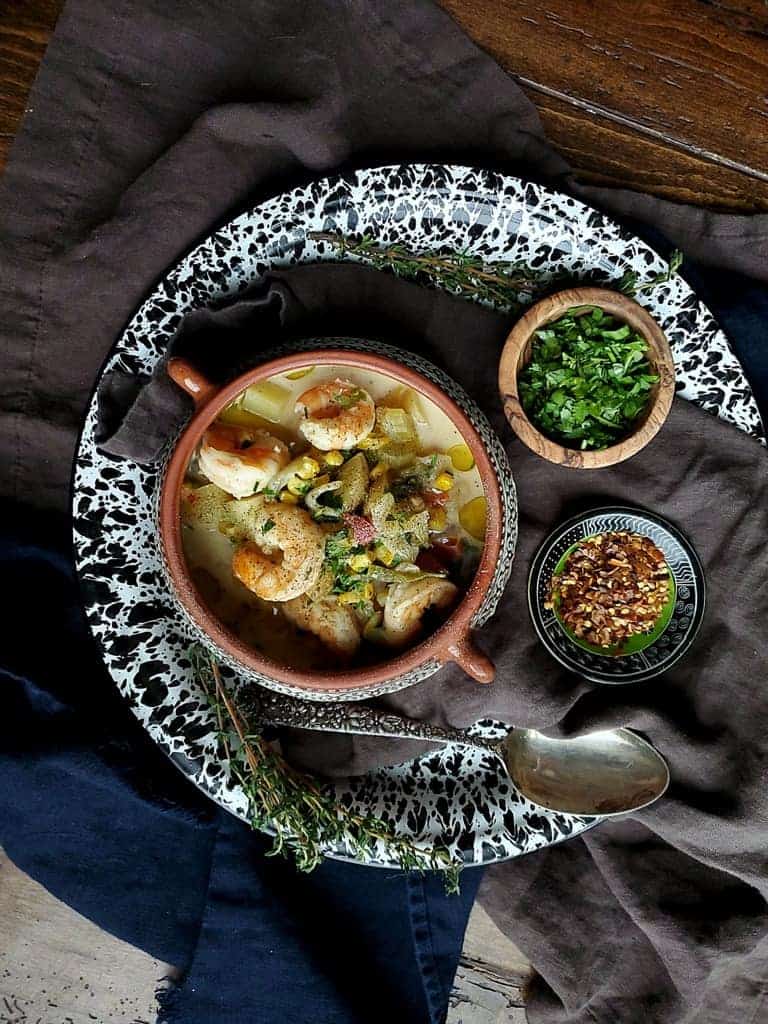 coconut cumin shrimp soup
Ingredients
4 Tbl. olive oil
1 Tbl. garlic, minced
1 bag (10 oz.) frozen onion pepper blend
2 Tbl. fresh ginger, zested
½ cup purple onion, small dice
1 cup celery, sliced with leaves
1 can (15 oz.) coconut milk
5 cups chicken stock
3 tsp. ground cumin
2 tsp. no-salt herb blend, Mrs. Dash, McCormicks, Costco brand
2 tsp. sea salt, more/less salt to taste
1 Tbl. nutritional yeast
2 cups Dutch Baby potatoes, small dice
1 package (12 oz.) frozen corn
2 lbs. shrimp, peeled, deveined, tail off, medium size
½ cup fresh chopped herbs, chives, Italian parsley, thyme, cilantro
OPTIONAL: Drizzle of Extra Virgin Olive Oil when serving
Instructions
Put the olive oil in a large stock pot over medium high heat. Add the garlic, onion pepper blend, ginger, purple onions, and celery. Sauté about 5 minutes.
Add the coconut milk, chicken stock, cumin, no-salt herb blend, salt and nutritional yeast and blend. Cook about 5-7 minutes.
Turn heat to medium, add the potatoes, cover and cook about 8-10 minutes. Add the corn, cover and let the soup mixture 'steep' on low for about 10 minutes.
Add the shrimp. Reduce heat to simmer, cover and let the soup rest for about 10 minutes.
Throw in the fresh chopped herbs right before serving!
Notes
If you want more spiciness to your soup, try adding about one-half teaspoon of red chili flakes.
https://allyskitchen.com/coconut-cumin-shrimp-soup/
©ally's kitchen intellectual property