coconut cumin shrimp soup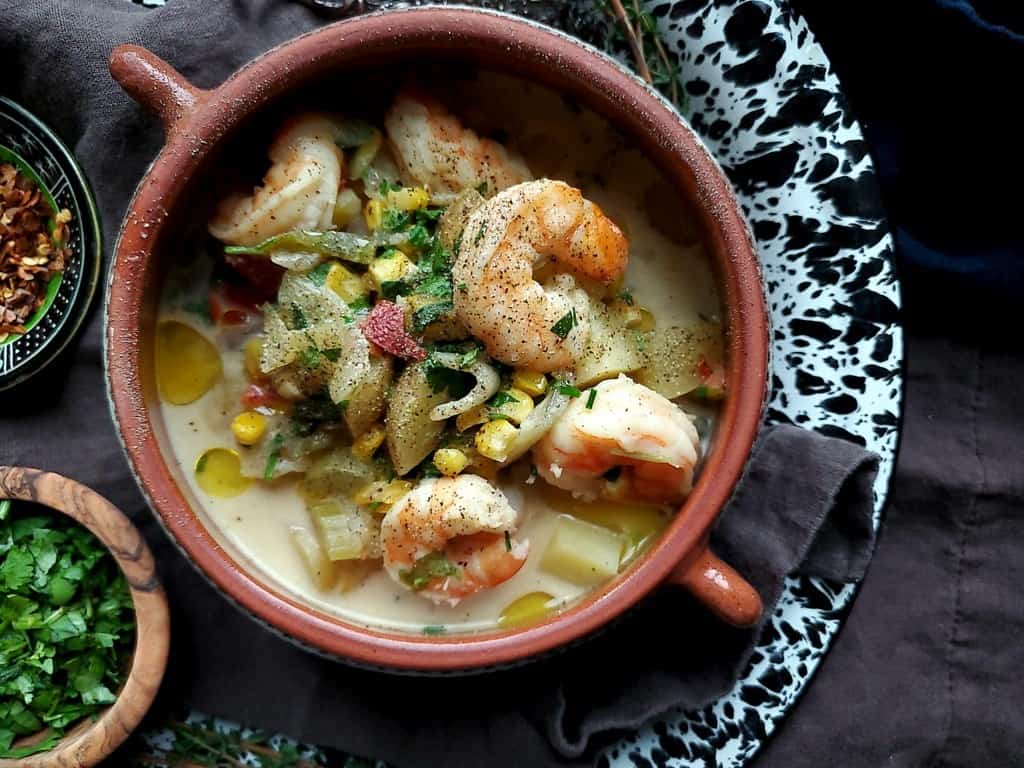 The flavors in this coconut cumin shrimp soup are divine! One pot, a few spices, build the layers, cook! Then scoop into bowls! Big big yum!
Shrimp Dinner Ideas
Shrimp is such a delicious seafood and so very easy and quick to prepare. If you're looking for more delicious and simple shrimp recipes, then try these. You might know that I live in a fishing village on the Carolina coast, so fresh seafood is abundant!
Smoky Shrimp and Fresh Herbs
Southern Grits Sausage and Shrimp
Vietnamese Shrimp Soup
Spicy Coconut Shrimp Soup
coconut curry leek corn chowder
pulled pork green chile chilia

Cumin Recipes
Cumin is one of my favorite spices. I love to use both the seed and ground versions. How do I use seeds? Well, sometimes I'll just throw in a few when I'm making soups, stews and chilis. You'll always find cumin in my spice cabinet!
Cumin Uses
And, there are so many uses for cumin. It's basically an essential spice for Indian curries and chutneys. Working well with many things, rice dishes, stews, soups, breads, BBQ, chili, pickles and more, err on the side of stingy when using cumin. It can easily take over a dish!
Seasoning Shrimp
Shrimp seasoned with curries and simple cumin is fabulous. Cumin also pairs well with other spices like cloves, fennel, oregano, nutmeg, coriander, cilantro, sumac, mint, cinnamon, allspice. If you want to experiment with a concoction of spices making your own seasoning for shrimp, then use each one sparingly and then add as you taste your shrimp.
Mexican Shrimp Recipes
Cumin's a spice that's often used in Mexican recipes and shrimp is one of those ingredients. If you don't have cumin then you can substitute. Caraway seeds can be used for cumin seeds or ground caraway in place of ground cumin. But, you just might want to make sure you always have fresh cumin in your pantry.
Thai Coconut Soup
Now, Thai coconut soups do usually have more curry mixtures in them. But, by simply adding the cumin you're getting some of this Thai flavoring.
When I create soups, I like to ratchet up the healthy value by adding ingredients known to be really good for you. In this case, I'm using several things known for their medicinal value, fresh ginger, nutritional yeast, cumin and lots of fresh herbs. Now, if it's the dead of winter and you, for some reason, can't get all these fresh herbs, just find what you can.
Soup with Coconut
Soups and stews are fabulous one-pot meals that you simple can't mess up on. Unlike baking, soups and stews usually don't require the precision of measurement and exactness. I like that because I'm kinda like a gunslinger in the kitchen and am usually tweaking and changing things as I go along and taste whatever it is that I'm cooking. This coconut cumin shrimp soup is just one of those gunslinger recipes.
Spicy Coconut Shrimp Soup
You can control the spiciness of this soup. If you want more spice, then add some red chili flakes to the recipe. I'd start with one-fourth teaspoon. Taste. And, then see if you want more heat. You could also do some fresh serrano or jalapeno. Go sparingly on slices and remember the heat is in the seeds.
If you're using rosemary, do so sparingly because even a small amount will give you a robust flavor (and you don't want any one herb to overwhelm). The addition of the coconut milk also gives the soup a quasi creamy texture and amazing flavor!
If you've never tried the frozen tri-colored peppers and onions, give them a look. It does save a few minutes extra time not having to slice, but if you want to substitute fresh, then about one and one-half cups of this mixture. When I'm cooking and creating recipes, I also try to incorporate lots of color and using the diced purple onion added this plus taste.
Easy Coconut Curry Soup
All the colors in this soup really make me think of Mardi Gras! I mean just look at the bursts of color. And, the taste, well, if you like shrimp, corn, potatoes and these other ingredients, you're gonna have a second helping! While my sour creamy mashed potato soup doesn't have all the hues, it does have that baked potato taste. You might want to try it, too!
Here are more soups you should try:-
Ras el Hanut Tomatoes & Red Onions
leek potato roasted pepper potato soup
spiced seasoned adzuki beans
pennsylvania dutch corn chowder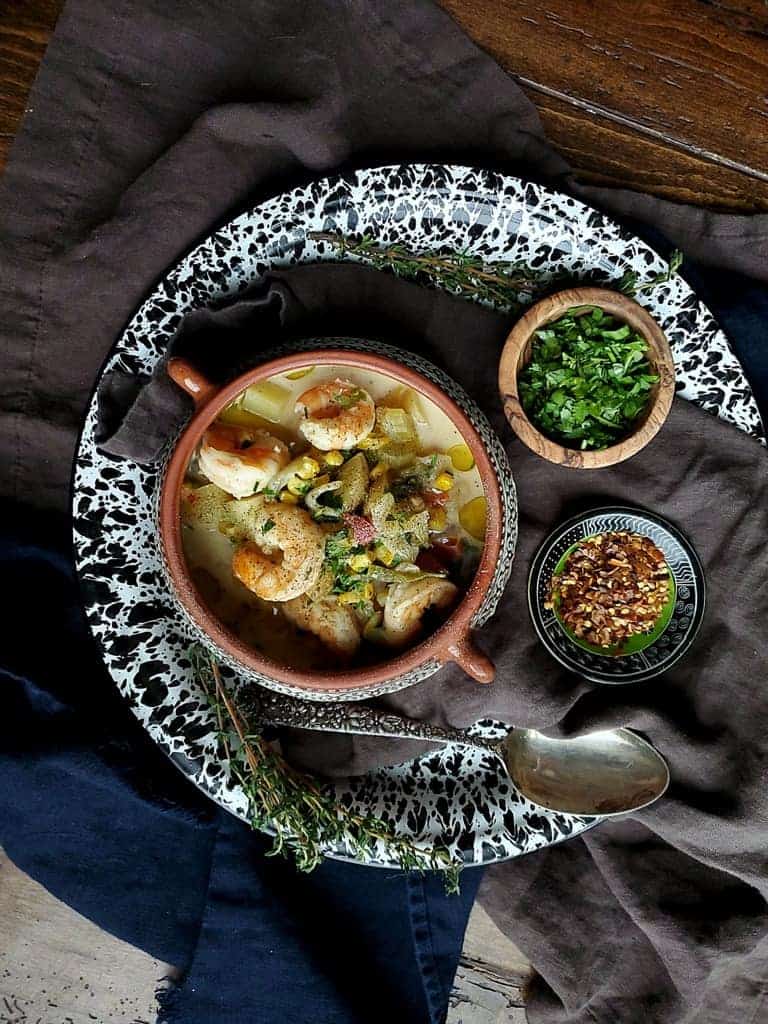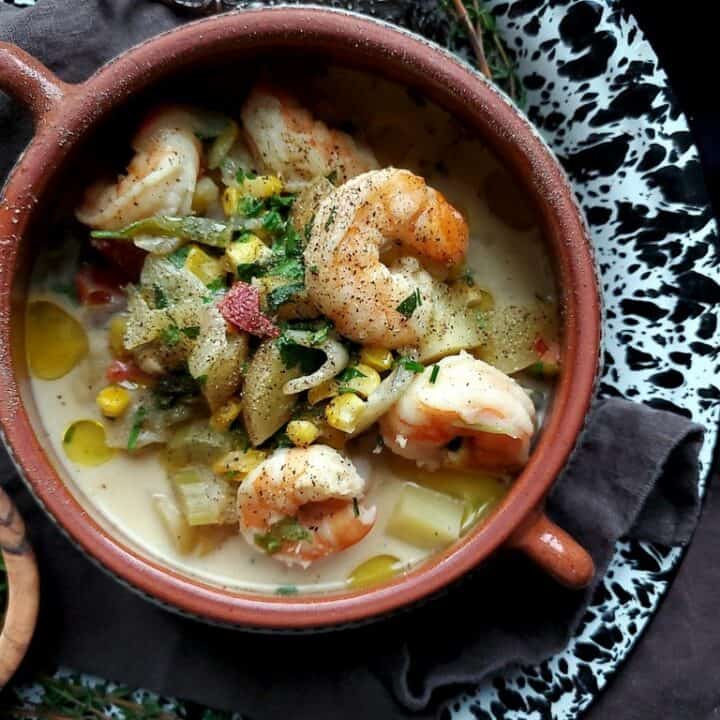 coconut cumin shrimp soup
The flavors in this coconut cumin shrimp soup are divine! One pot, a few spices, build the layers, cook! Then scoop into bowls! Big big yum!
Ingredients
4 Tbl. olive oil
1 Tbl. garlic, minced
1 bag (10 oz.) frozen onion pepper blend
2 Tbl. fresh ginger, zested
½ cup purple onion, small dice
1 cup celery, sliced with leaves
1 can (15 oz.) coconut milk
5 cups chicken stock
3 tsp. ground cumin
2 tsp. no-salt herb blend, Mrs. Dash, McCormicks, Costco brand
2 tsp. sea salt, more/less salt to taste
1 Tbl. nutritional yeast
2 cups Dutch Baby potatoes, small dice
1 package (12 oz.) frozen corn
2 lbs. shrimp, peeled, deveined, tail off, medium size
½ cup fresh chopped herbs, chives, Italian parsley, thyme, cilantro
OPTIONAL: Drizzle of Extra Virgin Olive Oil when serving
Instructions
Put the olive oil in a large stock pot over medium high heat. Add the garlic, onion pepper blend, ginger, purple onions, and celery. Sauté about 5 minutes.
Add the coconut milk, chicken stock, cumin, no-salt herb blend, salt and nutritional yeast and blend. Cook about 5-7 minutes.
Turn heat to medium, add the potatoes, cover and cook about 8-10 minutes. Add the corn, cover and let the soup mixture 'steep' on low for about 10 minutes.
Add the shrimp. Reduce heat to simmer, cover and let the soup rest for about 10 minutes.
Throw in the fresh chopped herbs right before serving!
Notes
If you want more spiciness to your soup, try adding about one-half teaspoon of red chili flakes.