Sausage, yes, something I love. The ubiqutous Costco another thing I love. My life changed the first day I got my membership. Lawsy, there are so many things I love about it, especially the food selection. And, this sausage that I used in this recipe for andouille sausage beans and kale stew is perfect. What's great about this product is that it tastes like sausage but it has no pork. It's got that Cajun spiciness and the hardwood smoked flavor. And, it's chicken! Now, if you don't want to use this type, then you can certainly substitute another kind. I'd recommend a nice kielbasa! Also, Johnsonville has a nice Andouille rope sausage!
How many times do you get home after a long day's work, have a ton of errands to run, maybe kids to pick up and drop off somewhere, maybe you're rushing to get home to get ready to rush out again to a meeting or some event for your kid. Probably most nights of the week are like this for you. You know, it seems that only in the U.S. do we have these crazy frenzied lives that lead to so much more than just stress. I'm talking serious and significant health problems. And, a lot of people might compound this hectic lifestyle by eating the most UNhealthiest of foods, like take out, fast food, carry out, grab n' go. Yep, like pouring salt into a wound. Layering more stress and on the body because of the 'substandard' fuel you're giving it.
My goal is to help you help yourself with becoming more health conscious and make better eating a reality. I don't want to chain you to the kitchen. I know you're not going to stand for that. All I want to do is help you realize that faster than you can dial for takeout and it be delivered, you can have something on the table at home from your own kitchen. You'll know what's gone into the recipe. You'll have selected the ingredients. You won't wonder if it's healthy.
This andouille sausage beans and kale stew is one of my quickie recipes that you can do in just about fifteen minutes, give or take a few minutes. Actually, you could make this recipe the night before you want to serve it, and just let those flavors cohabitate and becoming even more rich, deep and delicious! If you're looking for another quickie recipe, yes, one that's truly award-winning, then check out my veal harissa kabobs! Won me 25k!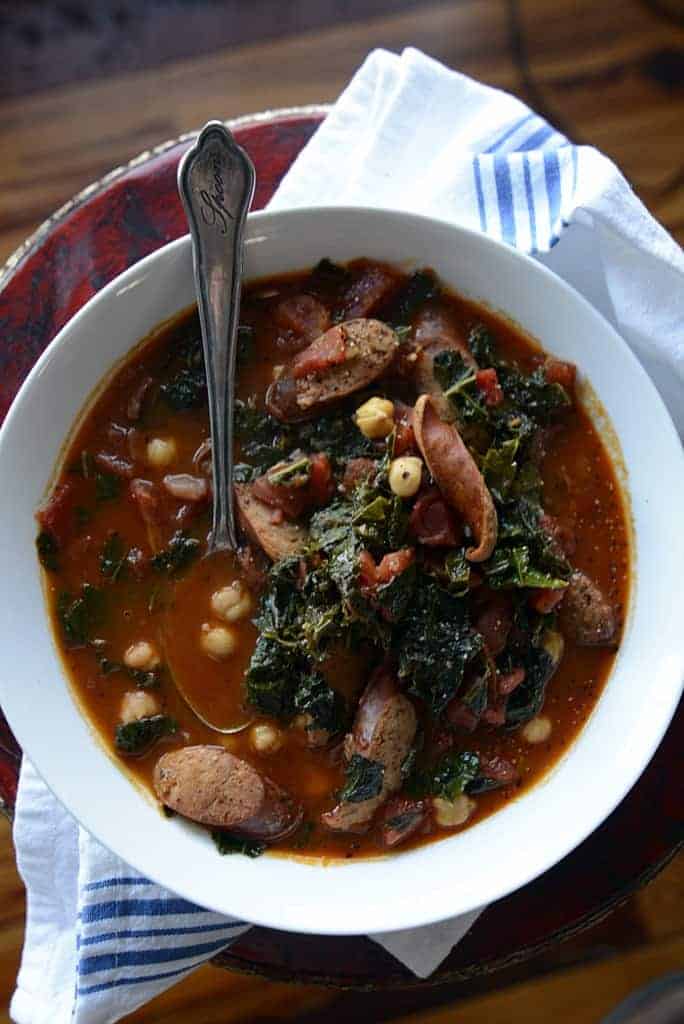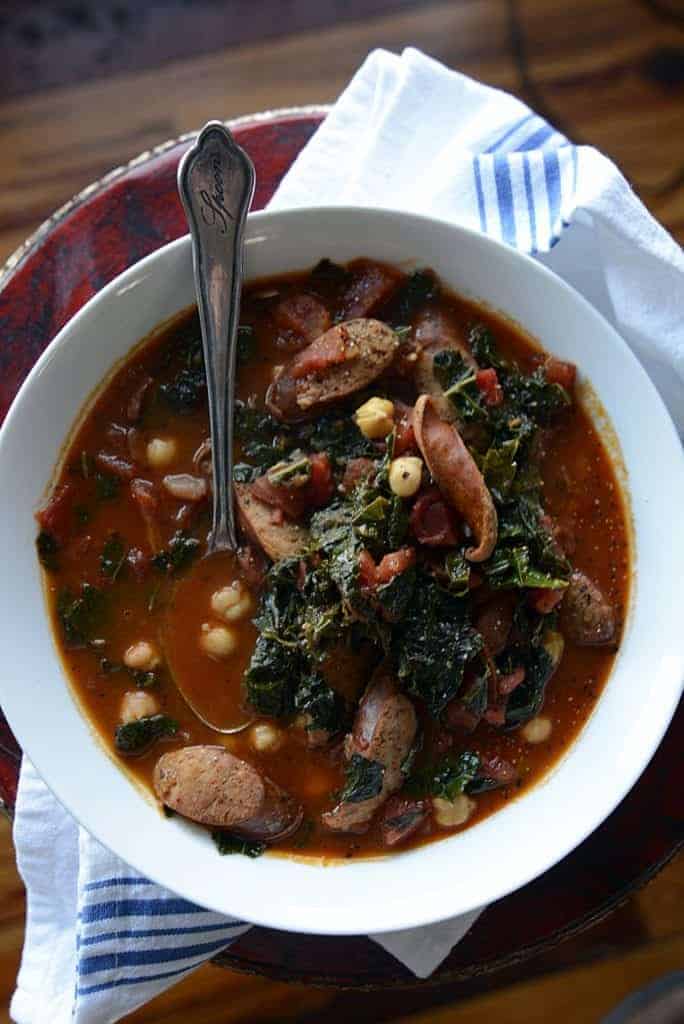 Andouille Sausage Beans & Kale Stew
Ingredients
3 Tbl. oil
4 andouille chicken sausage links, cut into 1 ½" pieces and at an angle
½ package (1.25 oz.) chili seasoning mixture
2 cups chicken stock
1 can (14.5 oz.) beans, your choice of type of bean
1 can (14.5 oz.) diced Italian tomatoes
1 can (10 oz.) Rotel Tomatoes & Green Chiles
4-5 cups kale, chopped, can substitute chard
Salt and Pepper to taste
Instructions
Put a large cast iron skillet on medium high heat. When hot, add the oil and sausage pieces and brown. Add the chili seasoning, chicken stock and blend well.
Add the beans, tomatoes (both cans) and blend well. Turn heat to medium, cover and cook about 10 minutes. Shortly before serving, add the kale, blend in and let it wilt.
Notes
Adding rice to this dish will absorb some of the broth and provide more texture.
https://allyskitchen.com/andouille-sausage-beans-kale-stew/
©ally's kitchen intellectual property