one skillet basil pesto pasta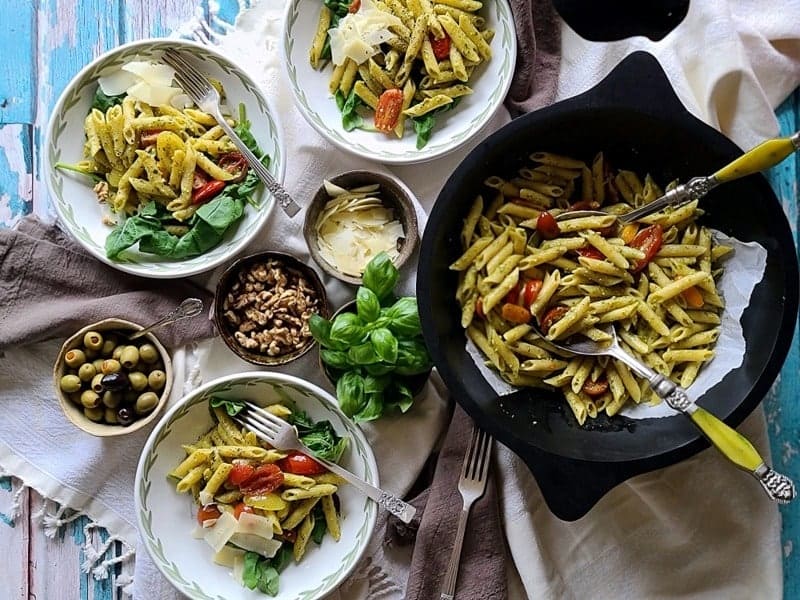 One skillet. 30 minutes. So simple and easy! Bingo, you have delicious basil pesto pasta! Will be a dinner table hit! Definitely a winner!
Skillet Cooking
Maybe I'm old school, but skillet cooking is a big part of what I grew up with! We didn't have many gadgets or fancy counter appliances. So, skillet meals were popular in our littl' postage stamp size house in those West Virginia hills!
Skillet Meals
Now there's nothing better and more convenient than skillet meals. Yes, I know crockpot or slow cooker meals are popular, but you can do the very same thing with your skillet and using either your stovetop or your oven. Sure you might have to keep a closer eye on it, but there's just something about old-fashioned cooking that makes you feel like you're really cooking!
Healthy One Skillet Meals
This one skillet basil pesto pasta really is one of the easiest healthy one skillet meals you'll make. If you want to add more protein like grilled chicken or maybe some shrimp, then you can easily throw that on top of the delicious pasta.
Pasta in a Pan
Cooking the pasta in a pan and then adding the rest of your ingredients is the way to go. We're not going to cook the pasta the traditional way. You know, fill a large pot with water, bring it to a boil, cook the pasta then drain the pasta in a colander or scoop it out into the bowl. This pasta cooks right in the pan on the stovetop. Then we build on it to make the final dish.
How to Use Pesto with Pasta
There're so many ways of how to use pesto with pasta. I use basil pesto in making some of my bolognese sauces. Sometimes I add pesto as a dollop on top the pasta and sauce. And, this recipe, well it calls for using the basil pest as the actual 'sauce' to season and flavor the pasta.
One Skillet Pasta Meals
One skillet pasta meals can be done in less than 30 minutes. Especially when you're using simple additions to the pasta that you're cooking. I've not tried it, but I'm sure I could use this same pasta cooking technique and make a delicious pasta carbonara!
Pesto Pasta
Pesto pasta can be eaten hot or cold. It's perfect as a chilled pasta for lunch. Serve with a soup broth or maybe a half of a sandwich and you have quite the meal. You can certainly save big steps and have more convenience with purchasing store bought basil pesto, too. No need to go to the time and energy to make your own. Well, unless you have a huge amount of fresh basil and want to do so.
Recipe Pesto Pasta
This recipe for pesto pasta calls for just a few ingredients. I'm using only freshly sliced heirloom cherry tomatoes for a clean refreshing flavor. But, you could certainly add more veggies.
Veggie Pesto Pasta
This pesto pasta could easily be adapted to become a veggie pesto pasta. If you want to keep the tomatoes, but add more veggies, then use frozen or fresh. If you're using frozen, I'd recommend microwaving them for a few minutes on high to thaw and slightly warm then toss them in the pesto pasta. If you're using fresh, like zucchini, squash, chopped chard, kale and other vegetables, you might have to pre-cook them somewhat then combine into the pasta.
Nutritional Yeast Flakes
If you follow my recipes, you know that I use nutritional yeast flakes in many recipes. Why? Well, a lot of reasons, but mainly to boost nutrition. According to Healthline:
"Nutritional yeast is a highly nutritious vegan food product with various potential health benefits. It can be used to add extra protein, vitamins, minerals and antioxidants to meals. Studies suggest that nutritional yeast may help protect against oxidative damage, lower cholesterol and boost immunity."
Veggie Pasta Pesto
While this veggie pasta with basil pesto is certainly fabulous, I have so many other great Italian recipes that you might just love!
Mezze Rigatoni Basil Pesto & Peppers
Pesto meatballs and Marinara Sauce
Tomato Pesto Spinach Stuffed Grilled Chicken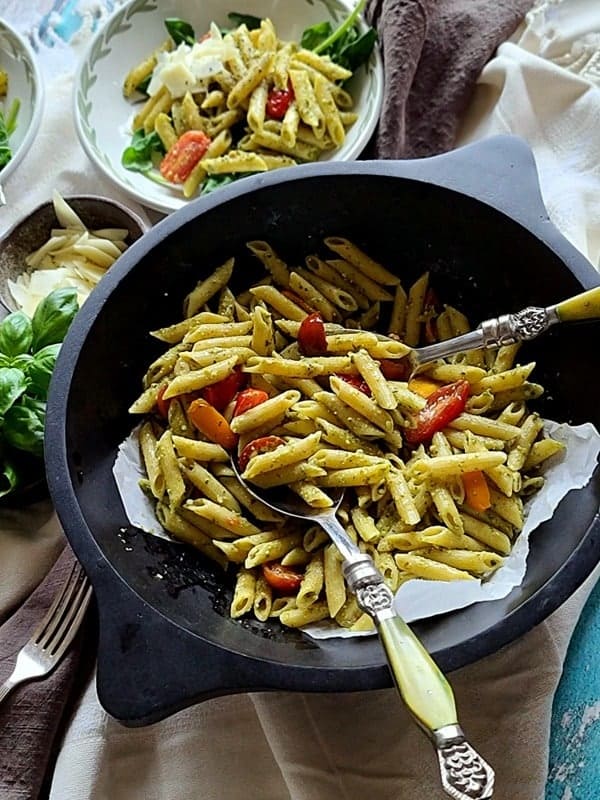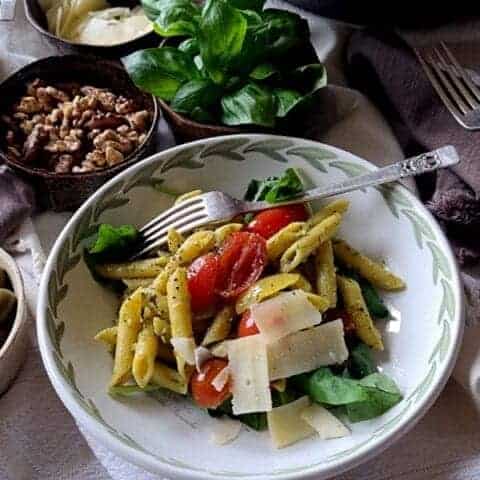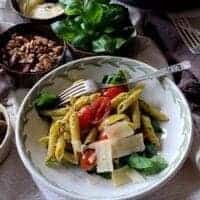 one skillet basil pesto pasta
Ingredients
16 oz. penne pasta
2 ½ cups chicken stock
1 ½ tsp. salt
1 tsp. Italian seasoning
1 tsp. onion powder
2 tsp. nutritional yeast
½ cup basil pesto
3 cups cherry tomatoes, sliced in halves
1 cup walnuts, chopped and toasted
6 cups European greens
½ cup grated parmesan cheese
Instructions
Whisk together the salt, Italian seasoning, onions powder and nutritional yeast in the chicken stock.

In a large deep skillet (about 12" diameter with a lid) over medium high heat, put the chicken stock. Add the pasta. Toss and blend well. Cover and bring liquid to a simmering boil for about five minutes stirring occasionally.

Reduce heat to low, cover and let the pasta cook another about 10 minutes blending occasionally.
Once the pasta is al dente tender cooked, add the basil pesto and blend.

Add the cherry tomatoes and blend.

Cover, turn heat to simmer and steam the pasta until ready to serve. Pasta should be served as soon as possible.

Serve pasta over greens like baby arugula, spinach or mixed greens and parmesan cheese.