kingsford grilled frogmore stew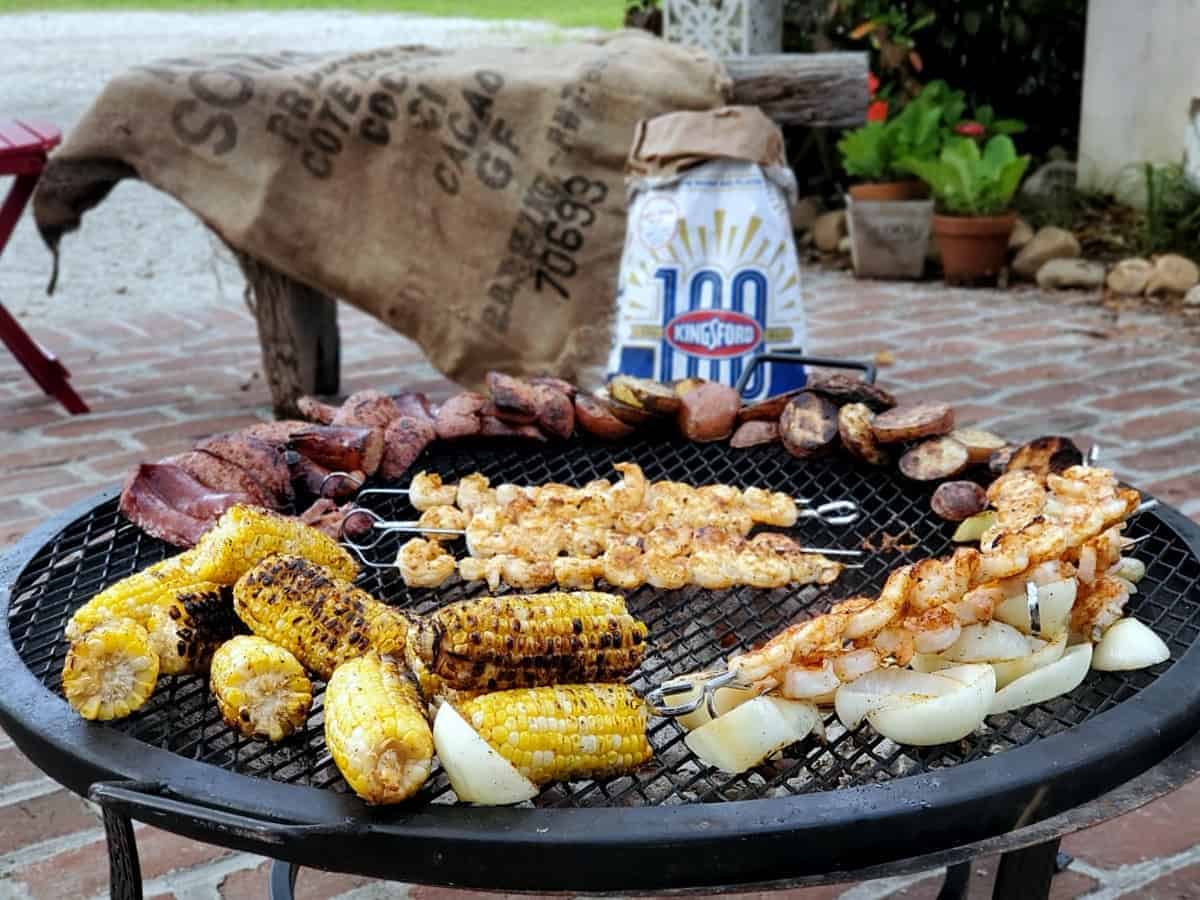 Kingsford Charcoal
Frogmore Stew on a #KingsfordCharcoal live fire will give you delicous smokey BBQ flavors! Bring all your favorite ingredients, corn, shrimp, potatoes and more together on the hot grill!
"This post is sponsored by Kingsford but the content and opinions expressed here are my own." Kingsford Charcoal for partnered with Ally's Kitchen on this frogmore stew post. I make my living as a paid influencer, and I work only with brands that jive with my Ally's Kitchen brand values. All of the opinions expressed here, the recipe and the drool-worthy photography are mine.
Frogmore Stew Recipe
Frogmore stew is absolutely delicious. And, there's no way that you an mess up this meal. Plus, there's very little clean up because you typically serve Frogmore stew on a big table lined with newspaper or disposable paper. It's usually made in one big pot, boiled, drained then dumped on the table. And, what's concocted together in this pot is just glorious! Shrimp, corn on the cob, onions, new potatoes and smoked sausage. Seasoning is your choice. But something like an old bay is standard or you can choose your fave seafood seasoning, creole or cajun seasoning mixture!
Frogmore stew is the perfect meal for a gathering. It's cooked outside, and that's why Frogmore stew is perfect for grilling! Now, I called this 'Grilliant Frogmore Stew'! Yeah, a twist on brilliant, but this 'stew' is absolutely grilliant!
Low Country Boil
If you're a Southerner, then you probably know what Frogmore Stew is. And, boy, it's full of crazy great flavors, textures and tastes. According to Discover South Carolina, Frogmore stew is named after a Lowcountry community of St. Helena Island. The dish originated in this small Lowcountry fishing community that's near Beaufort and Hilton Head Island. Other names for it might be Lowcountry boil or Beaufort stew.We can swap out the terminology, but we essentially have the very same thing, crazy DELICIOUSNESS!
Grilling with Charcoal
OK, if you're new to using charcoal briquettes, then no problem because the Kingsford Charcoal website has all these great simple quick videos for you to follow. From how to store your charcoal, lighting the coals, and controlling the heat to how to extinguish and dispose of your used charcoal, you have step-by-step tutorials!
I know some of you might be reluctant to cook over 'live fire', but I assure you that you can! It's kind of like how I conquered my 'fear' of using a pressure cooker and now I'm thinking with my multi-cooker pressure cooker, how can I live without you? That's the same feeling I hope you'll get with grilling with Kingsford Charcoal!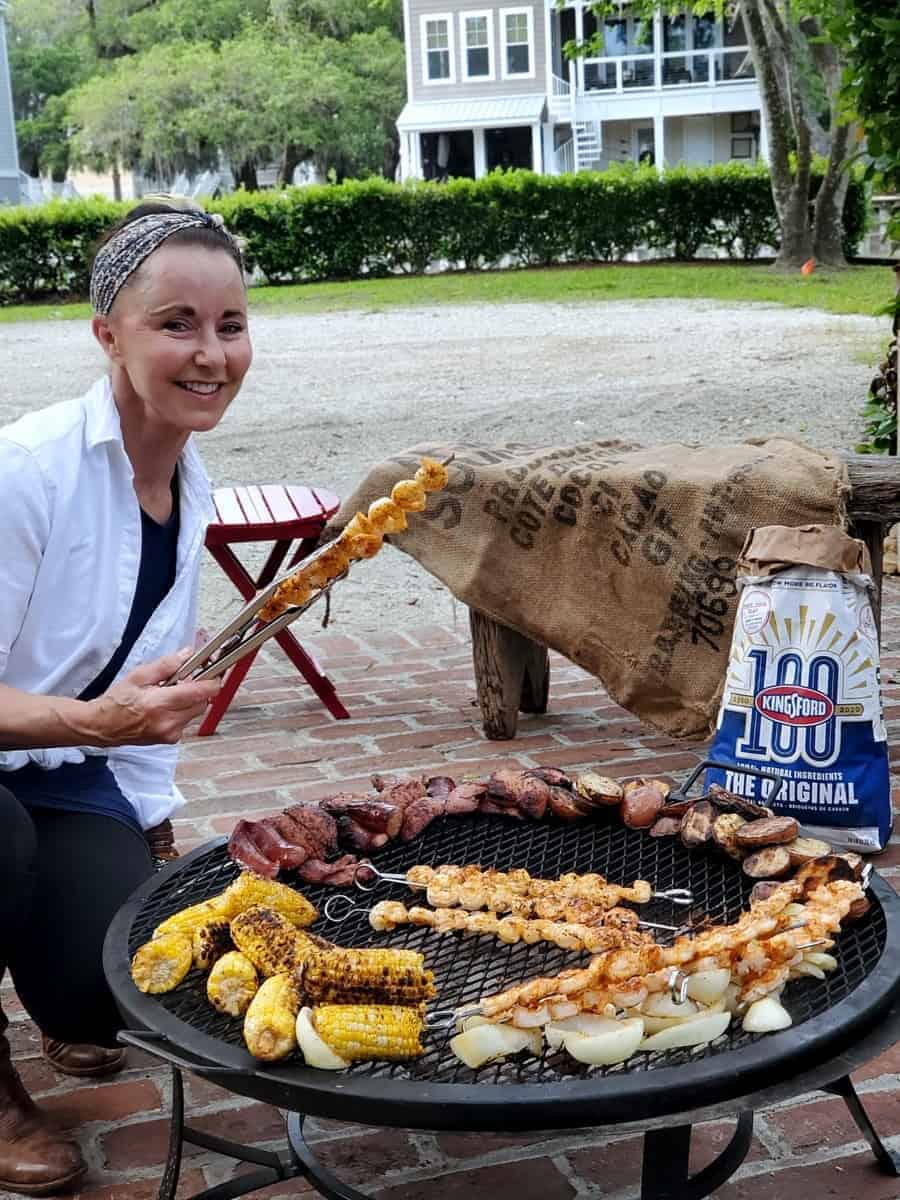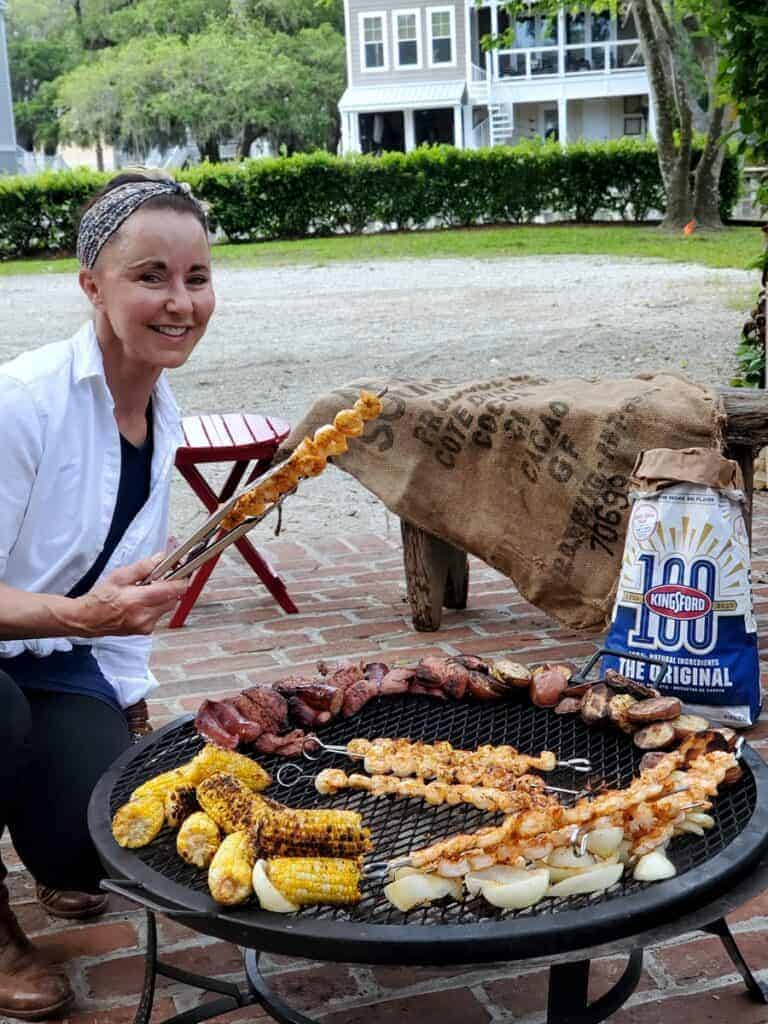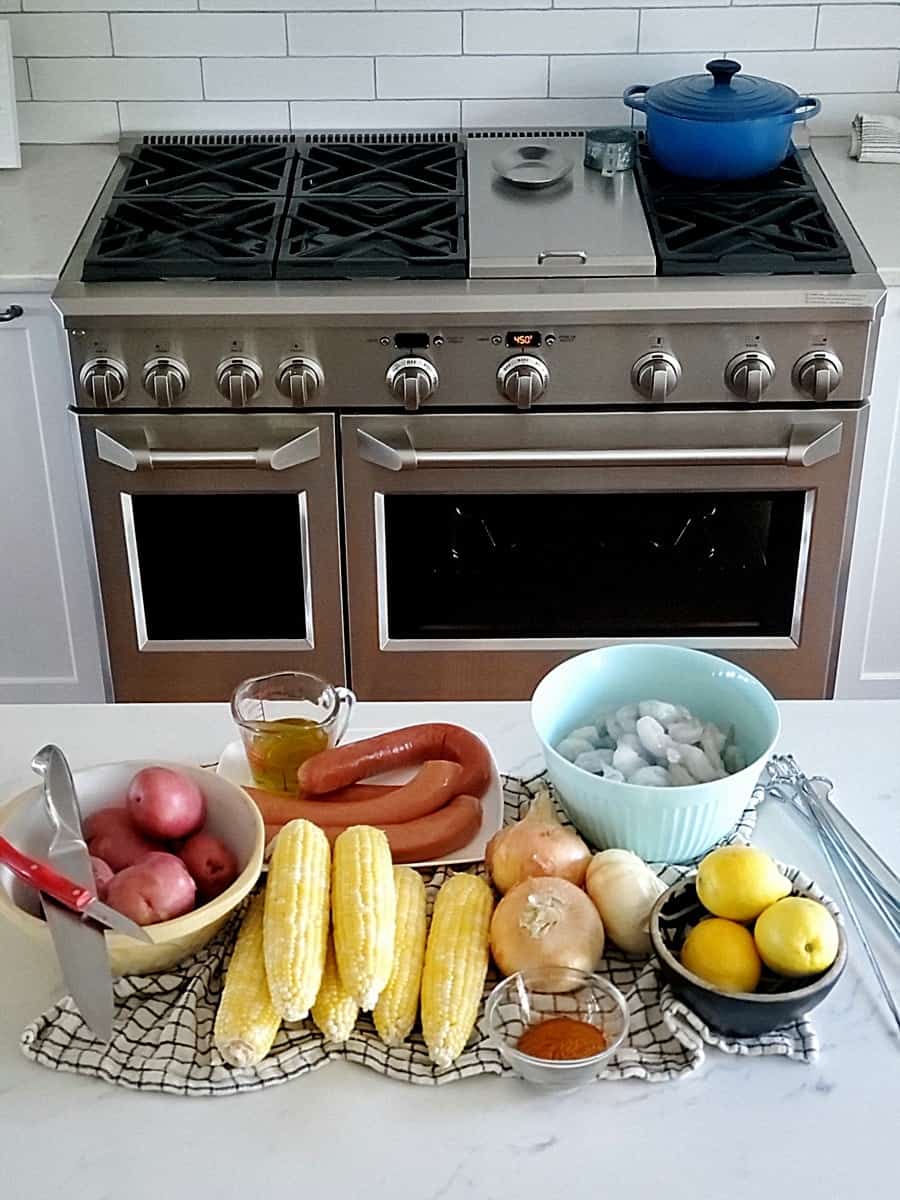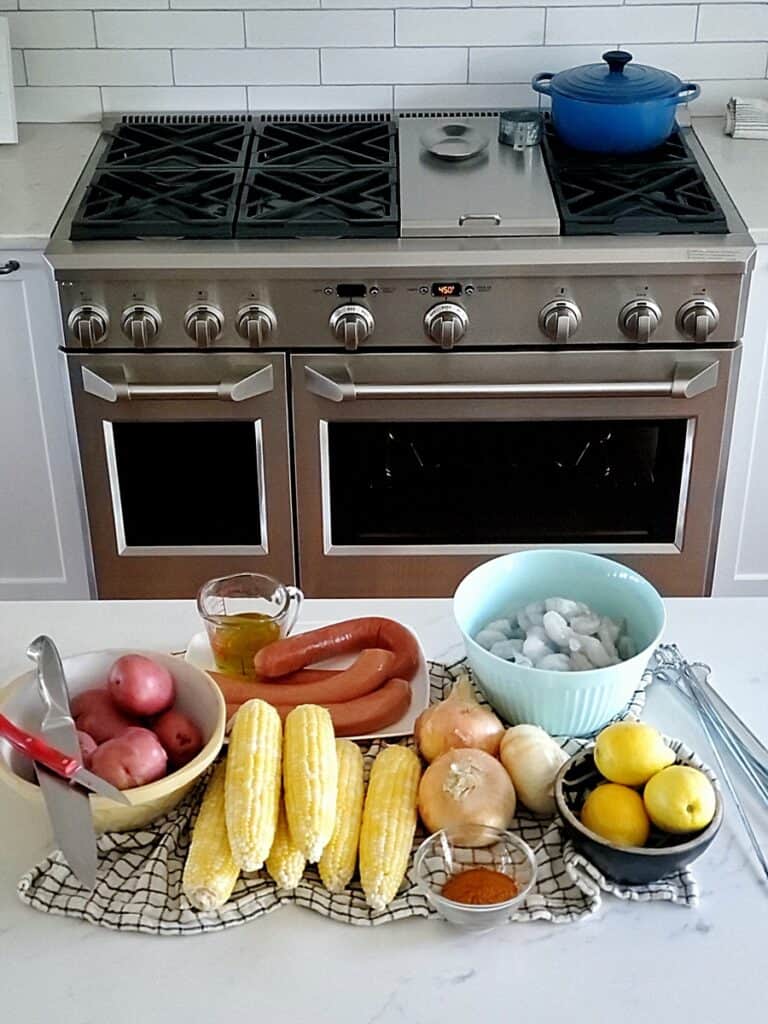 Frogmore Stew & Kingsford Charcoal: Match Made in Heaven
Can you think of anything more sumptuous than all of those frogmore ingredients, seasoned just perfectly, grilled over the hot coals that deliver that BBQ flavor as well! I mean it's a match made in heaven! You don't have to be an accomplished 'home chef' to become a grilling star. And, using the Kingsford briquettes is going give you immense confidence in creating real smokey wood-fired flavoring.
These briquettes are made from 100% natural ingredients. They'll be ready in about 15 minutes. And, they burn quite a while, so you don't have to worry about running out of heat power if you get to chatting with friends and get the food on the grill a little late. And, don't worry about lighting these briquettes, they're fail safe and are gonna perform for you each and every time. Best of all, you'll find your Kingsford Charcoal at your favorite big box store or grocery store. Yes, they are about as American as apple pie. And, speaking of that, I do think we could 'bake' an apple pie on our grill next time! For now, here's your chance to taste a big part of Lowcountry history and mystery. Get ready to get messy, because it's your choice to use utensils or not! Fingers and hands were 'invented' before utensils! The shrimp, kielbasa, corn and all the ingredients are going to take on that smoky wood-fired flavor that we crave when we grill! And, for sure, have a big roll of paper towels because you'll be using them!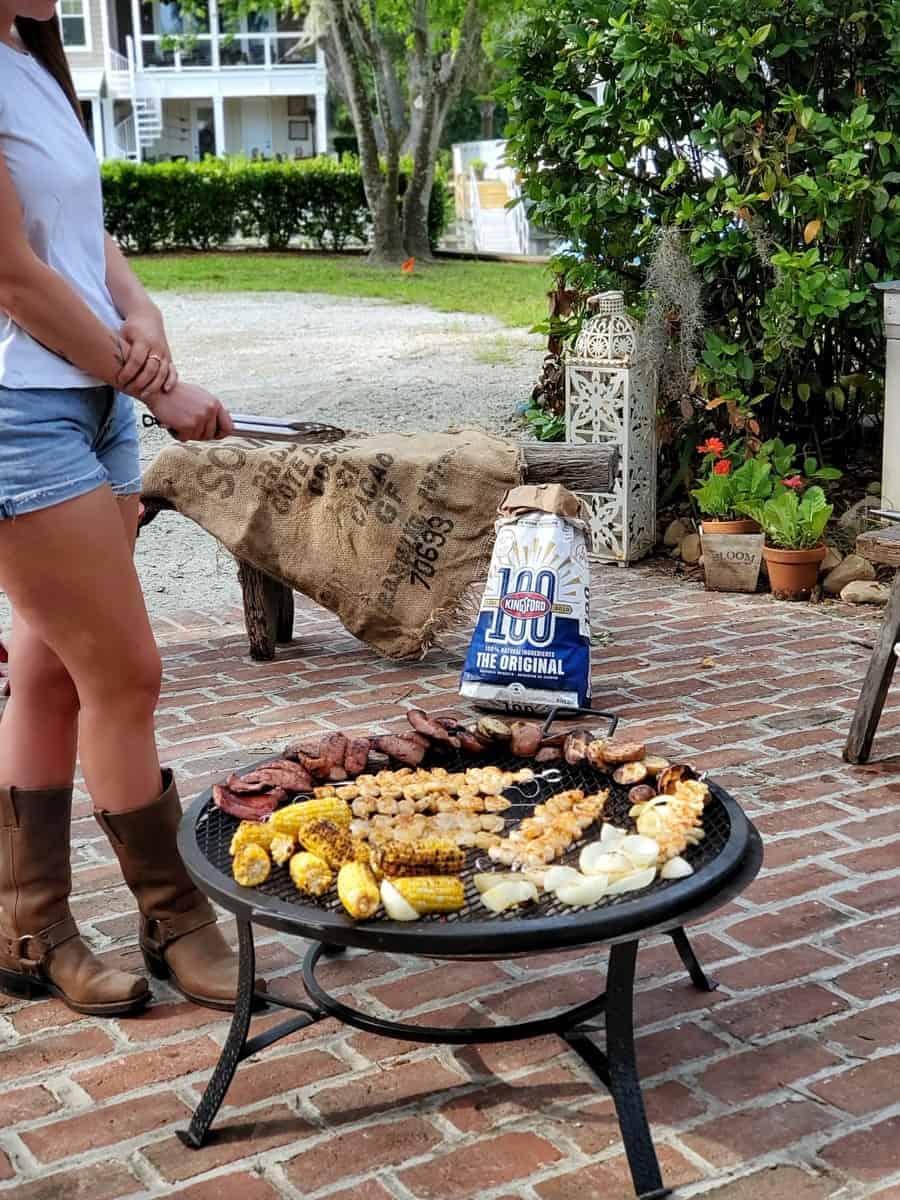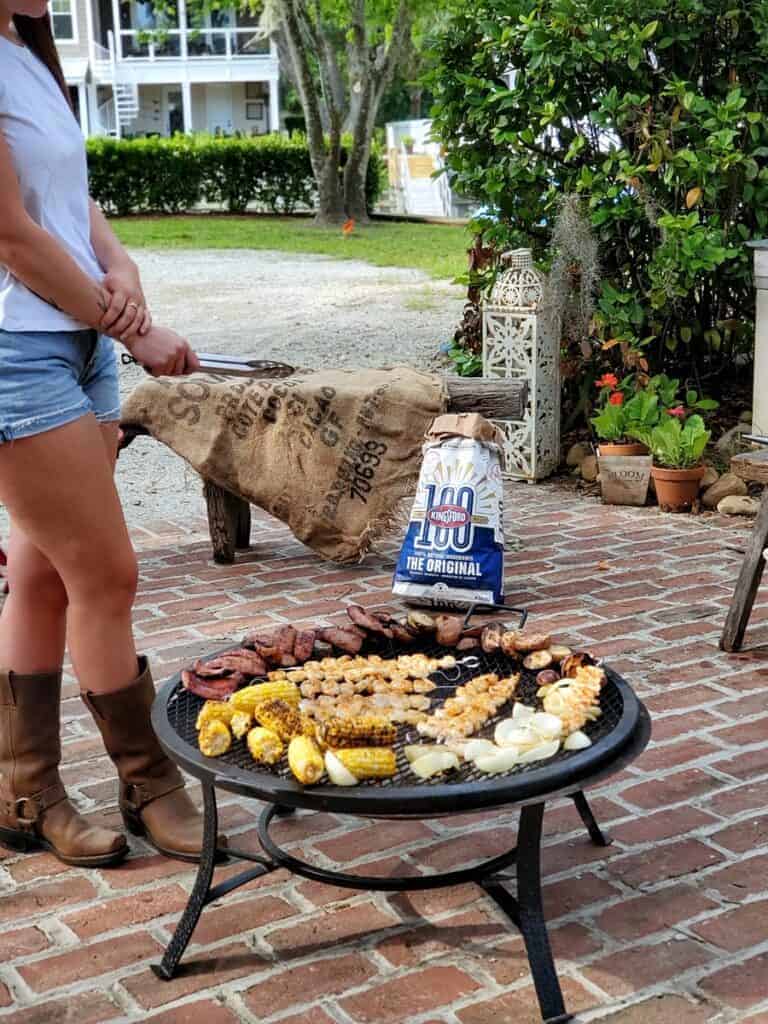 Soothe Your Soul
You know in these really challenging times of life and living, our homes become our safe places, our havens of happiness, and our spaces for making soulful connections even if it's the virtual way. We can really achieve that feeling of 'the world is really ok and good' when we do Kingsford grilling. Gives us that sense of confidence and assurance that all will stabilize and we'll have a new normal, but we always know that it will include our old friend, Kingsford charcoal. Making memories around the grill takes us to those happy places. Life is better when we're around the open flame and in the great outdoors grilling things like frogmore stew, one of our favorite family traditions, especially for special occasions like kicking off the start of summer with Memorial Day!
One last thing! You'll find so many amazingly delicious recipes right here at Kingsford Charcoal's Recipe Hub. No need to look any further! And, check out another great Kingsford grilling party I did! xoxo ~ally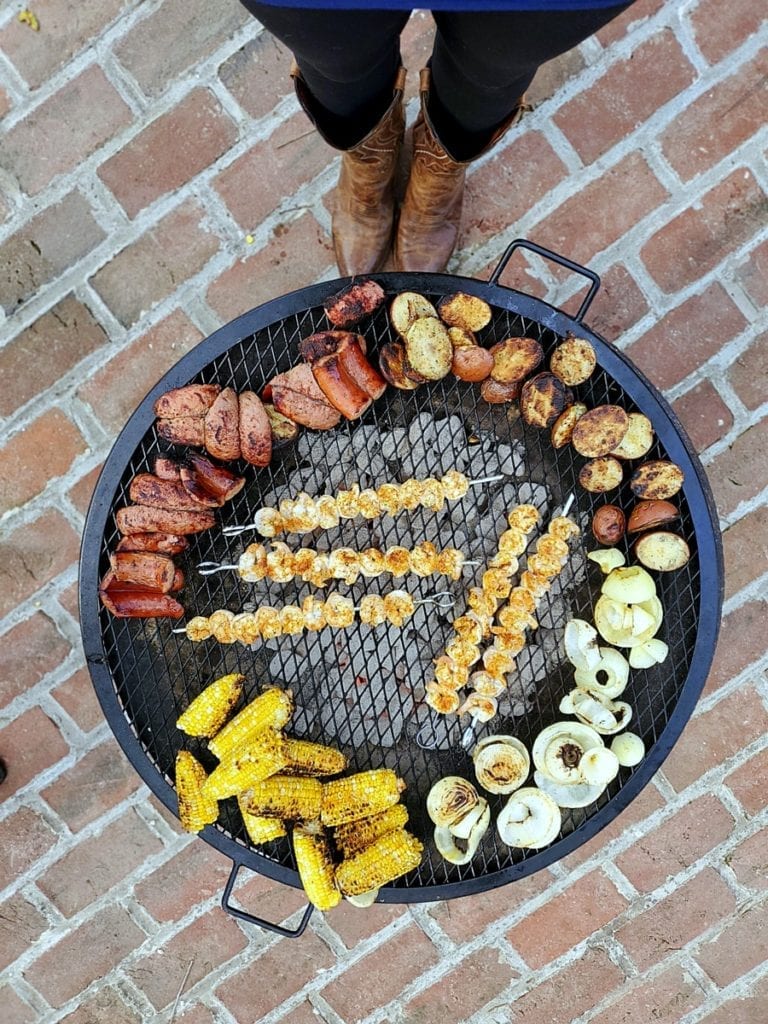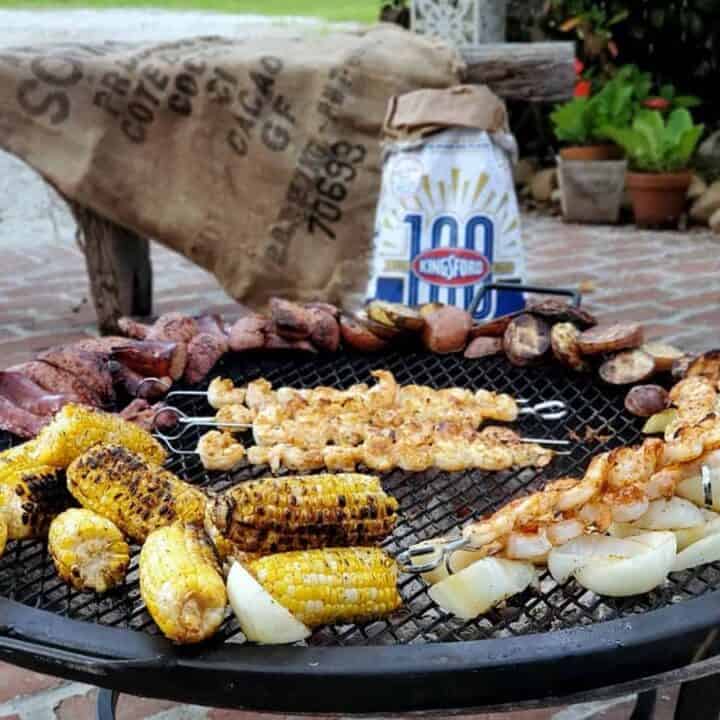 kingsford grilled 'frogmore stew'
Ingredients
8-10 skewers, if wood, soak well in water
2 lbs. shrimp,large, peeled, deveined, tail off, about 7-9 per skewer
2 lbs. turkey kielbasa, cut into 4-5 pieces then butterflied
3 cups new potatoes, sliced in halves, pre cooked in microwavable bowl with about 1/2 cup water and plate on top on high for 5 minutes
3 sweet onions, cut in halves through the side of the onion (not top to bottom through root)
5-6 ears corn on cob, shucked and broken in halves making 10 pieces
3/4 cup + 3 Tbl. oil, divided
1/3 cup old bay seafood seasoning
1/2 cup butter, salted and melted
1 jar hot sauce
1 jar Seafood cocktail sauce
10 lemon wedges
Instructions
Precook the potatoes (covered) in a microwavable bowl with about one-half cup of water. Cook on high for 6 minutes. Remove the bowl. Let it sit for about 10 minutes. Drain off the water. Toss the potatoes in about three tablespoons of the oil and old bay seasoning. Set aside.
In another large bowl or large cookie sheet, put the onions and corn. Lightly coat with oil. Add about two tablespoons of Old Bay and coat the onions and corn. Set aside.
Put the kielbasa and skewered shrimp on individual cookie sheets. Drizzle with remaining oil. Sprinkle on the seasoning mixture, both sides of the shrimp skewers and kielbasa.
Light the Kingsford charcoal. Let the briquettes burn for about 25 to 30 minutes or until they are mostly white and ashy looking. (Note: You don't want them too hot or you can char to a burn very quickly.)
Place the potatoes, onions and corn on first and let these things grill for about 3 to 4 minutes (each side). Watch carefully and if the heat is too hot, move the potatoes and onions to the edges of the grill (away from the center of the hottest briquettes).
Turn as needed until the potatoes, onions and corn are tender and have some charcoaling dark brown. Once basically done, move to the outter edges of the grill making room for the next ingredients to cook.
Add the kielbasa butterflied side down first and grill for about 2 minutes then turn and cook another couple of minutes. The meat will begin to 'curl' somewhat from the heat. Move the kielbasa to the perimeter/sides of the grill.
Add the shrimp cooking on one side about two minutes then flip to the other side another about two minutes or until the shrimp turn a nice pink hue.
Remove all of the frogmore stew ingredients to one big platter or platters. Serve immediately with melted butter, hot sauce, seafood cocktail sauce, and lemon wedges.
Notes
For any leftovers, just separate and put in individual storage bags or containers. Refrigerate.

If any corn remains, simple cut it off the cob. Tossing together these corn kernels and any shrimp remaining with an Asian Sesame dressing is just simple yummy on day two!