north african lamb loin chops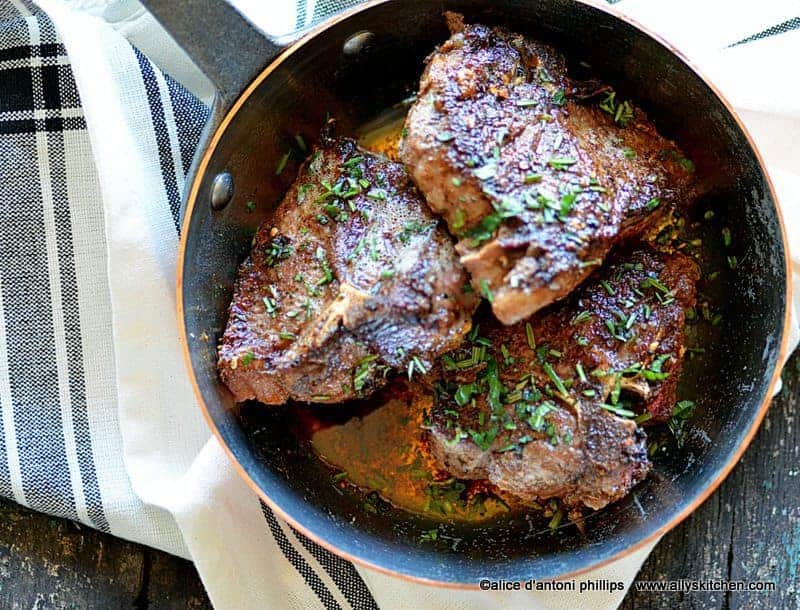 Lamb Chops
I consider lamb chops a delicacy. And, when I season them with ras el hanout and fresh herbs I call them a north african lamb loin chop delicacy! The flavors of North Africa have sensual spice blends that can be warm and toasty, firey and spicy, and those full of intoxicating floral scents.
These spice blends, some of which can be found in my cookbook Ally's Kitchen~A Passport for Adventurous Palates, can be used to season so many of your dishes from silky sauces and gravies to vegetables, skewered meat and soups and stews.
Lamb Loin Chops Recipe
Sometimes people are intimidated when thinking about a lamb loin chops recipe. But, this recipe is almost a no brainer. It's just a matter of seasoning and then searing in a hot skillet. That's it and you have delicious lamb loin chops.
Lamb Loin Chops Cooking Time
The cooking time for lamb chops is quick. In a hot skillet these chops will cook on each side about three to four minutes. You want the finished temperature according to how you like your meat. For medium rare, look for an internal temperature of about 125 degrees.
Ras el Hanout Lamb Recipe
Ras el hanout is a Middle Eastern spice mixture that's just superb. Mixtures vary but you can expect the following spices, in different proportions, cumin, clove, cinnamon, nutmeg, cardamom, allspice, mace, dry ginger, peppercorn, sweet and hot paprika, coriander, chili peppers, coriander seed, fenugreek and dry turmeric.
If you don't want to make your own ras el hanout (always less expensive, too), and I promise my mixture combination is easy to make and exceptionally fabulous, then swing by Amazon and buy some! There's a harissa rub which could give good flavor. However, if you tip toe into making my ras el hanout blend, you'll be hooked!
Why not serve these Ras el Hanout potatoes with your chops!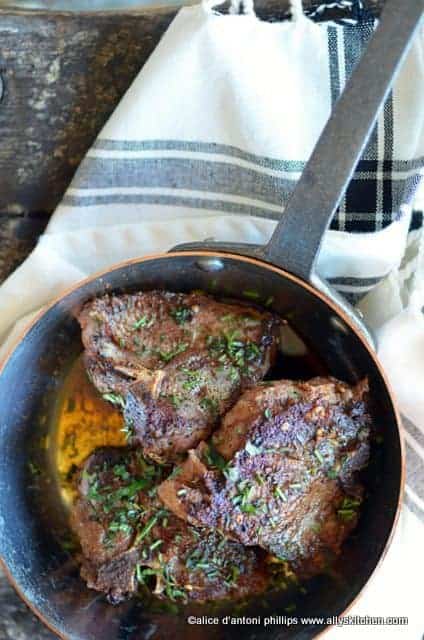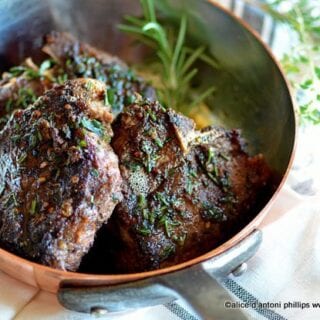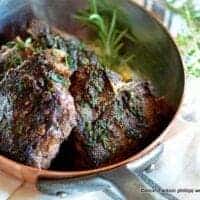 north african lamb loin chops
These lamb loin chops are a delicacy, and with the North African spice mixture, ras el hanout, you'll see how simple it is to eat gourmet!
Ingredients
5 lamb loin chops, about 1 1/2-2" thick
Cooking spray
1 tsp. sea salt
1 Tbl. ras el hanout (dry) seasoning mixture
2 Tbl. extra virgin olive oil
1 Tbl. fresh rosemary chopped finely
1 tsp. fresh thyme, chopped
1 tsp. fresh mint, chopped
Instructions
Heat a large (10-12") heavy cast iron skillet on medium high heat, put the oil. Coat both sides of the chops with cooking spray. Combine the salt and ras el hanout in a small bowl, blend and then coat both sides of the lamb loin chops.

Place in the hot skillet and cook on each side 3-4 minutes. Combine the herbs. Remove the chops to a plate and sprinkle with fresh herbs.