Winter is just made for chili. Now, there are hundreds of kinds of chilis. I mean chili cookoffs are big time popular in the cooking contest circuit. I'm sure many of you've been to at least one chili bash where everyone touts their chili as the best.
This beef chunk chili is just that. It's full of full big bite-size beef chunks. Fork-tender in a thick rich gravy that comes only from slowing cooking for hours. It's perfect for putting in the crockpot or slow cooker before you leave for work then coming home to the aromas of dinner on the wild side of happiness!
Enjoy, my luvs, and know that there's a lot of deep rich 'gravy' in this chili that allow you to have more cornbread, soppin' bread, crackers or whatever you delight is for cleaning your bowl!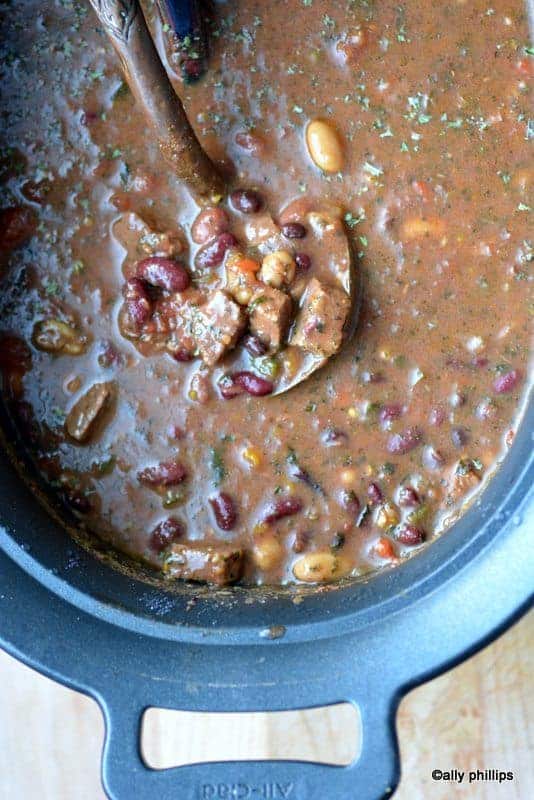 Ingredients
Slow Cooker: 6 hours on High
4 garlic cloves, peeled & whole
½ cup peppers, cut into chunks (I used the baby multi-colored peppers.)
2 celery ribs, cut into about 3" pieces
½ sweet onion, cut into 3 chunks
¼ cup extra virgin olive oil
2 to 2 ½ lbs. beef, cut into cubes (I used top round.)
1 (28 oz.) can tomatoes
2 cups beef broth
3-4 cans drained beans (your choice), undrained
1 Tbl. ground cumin
1 Tbl. peppercorns, whole (I used pink.)
1 Tbl. serrano, diced with seeds
2 tsp. curry powder
2 tsp. sea salt
1 tsp. coarse ground pepper
1 tsp. smoked paprika
¼ cup dried parsley
Instructions
Put the garlic, peppers, celery, onion and olive oil in a food processor and pulse until all is ground and a mixture.
Put in the slow cooker. Add the meat, tomatoes, broth, beans, cumin, peppercorns, serrano, curry, salt pepper, paprika and parsley.Stir and blend.
Cook on high for 6 hours. Meat should be fork-tender. The 'gravy' should be a creamy rich deep ruby mahogany hue. The flavor and taste should be ecstasy!
https://allyskitchen.com/beef-chunk-chili/
©ally's kitchen intellectual property