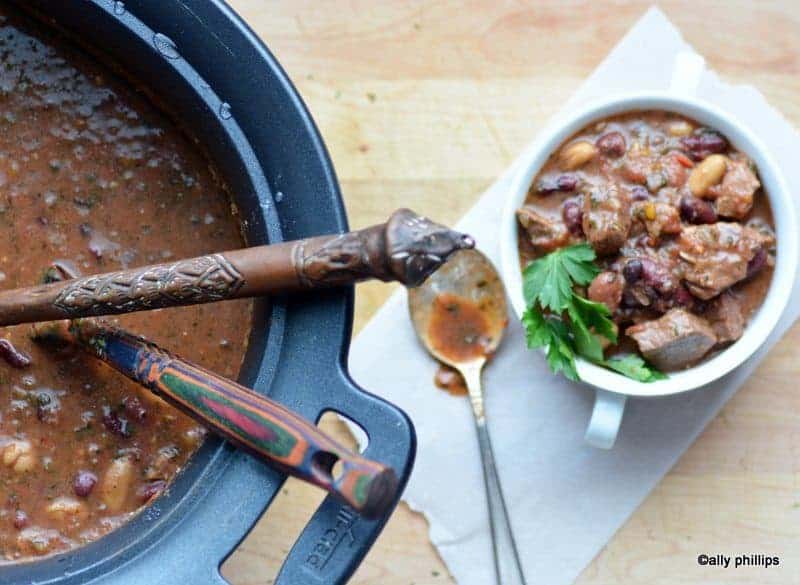 Chili Recipes
Wait til you taste this beef chili! Lots of rich thick gravy, tender beef chunks, beans and spices that make this THE BEST beef chunk chili ever!
Fall and Winter are just made for pulling out your chili reipes. Now, there are hundreds of kinds of chilis. I mean chili cookoffs are big time popular in the cooking contest circuit. I'm sure many of you've been to at least one chili bash where everyone touts their chili as the best. But, honestly, this chili recipe, which is a cross between classic and contemporary, is flat out amazing!
This beef chunk chili is just that, amazing! It's full of full big bite-size beef chunks. Fork-tender in a thick rich gravy that comes only from slowing cooking for hours. It's perfect for putting in the crockpot or slow cooker before you leave for work then coming home to the aromas of dinner on the wild side of happiness!
Classic Chili Recipe
The classic chili recipe is marked by usually meatiness, lots of ground beef, chili seasoning, chopped tomatoes and beans or no beans. Nothing wrong whatsoever with a good classic chili recipe, but sometimes you want to change it up like this beef chunk chili. Yes, there's beef, but it's not ground. You're going to be biting into tender chunks of beef. And, you'll have the heartiness of the other classic chili recipe ingredients, lots of tomatoes, onions and beans.
Chili Bean Recipe
Now choosing a chili bean recipe with LOTS of beans is what this recipe is all about.
According to the Daily Meal, "there's a saying in Texas: "If you know beans about chili, you know chili ain't got no beans." In Texas, "chili" is shorthand for chile con carne, which translates to "chile peppers with meat." No beans in sight. It might not be how you picture chili, but a great bowl of Texas red is a thing of beauty."
Slow Cooker Chili
What makes this beef chunk chili even more awesome is that it's a slow cooker chili, which means you just dump everything into the slow cooker and it does the rest. Slow cooker chili can literally simmer all day. And, that's what you need to make these beef chunks tenderize. But, it's definitely worth the wait. So put it in our slow cooker early in the morning, and by the time dinner rolls around, you're eatin' high on the hog!
Enjoy, my luvs, and know that there's a lot of deep rich 'gravy' in this chili that allow you to have more cornbread, soppin' bread, crackers or whatever you delight is for cleaning your bowl! And, you must try my Slow Cooker Caviar Chili! No caviar really!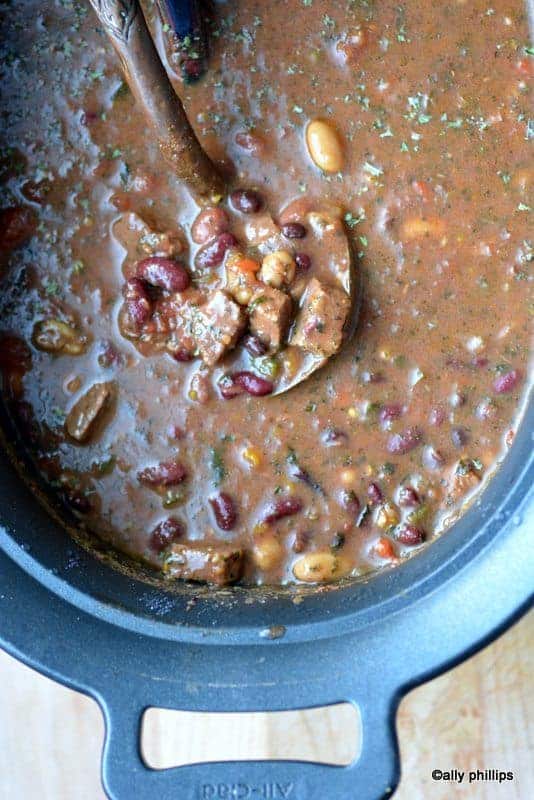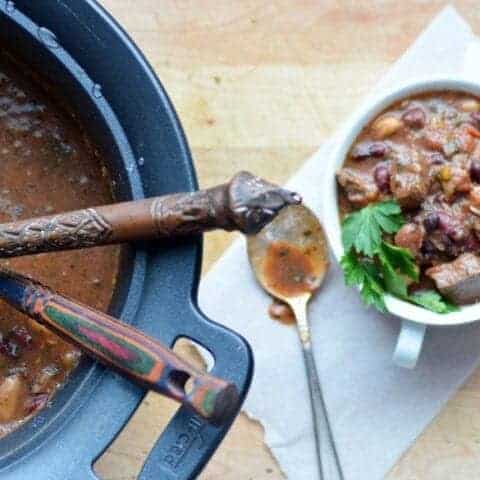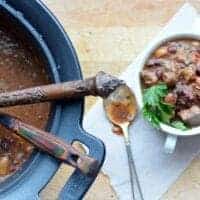 beef chunk chili
Wait til you taste this beef chili! Lots of rich thick gravy, tender beef chunks, beans and spices that make this THE BEST beef chunk chili ever!
Ingredients
Slow Cooker: 6 hours on High
4 garlic cloves, peeled & whole
½ cup peppers, cut into chunks (I used the baby multi-colored peppers.)
2 celery ribs, cut into about 3" pieces
½ sweet onion, cut into 3 chunks
¼ cup extra virgin olive oil
2 to 2 ½ lbs. beef, cut into cubes (I used top round.)
1 (28 oz.) can tomatoes
2 cups beef broth
3-4 cans drained beans (your choice), undrained
1 Tbl. ground cumin
1 Tbl. peppercorns, whole (I used pink.)
1 Tbl. serrano, diced with seeds
2 tsp. curry powder
2 tsp. sea salt
1 tsp. coarse ground pepper
1 tsp. smoked paprika
¼ cup dried parsley
Instructions
Put the garlic, peppers, celery, onion and olive oil in a food processor and pulse until all is ground and a mixture.

Put in the slow cooker. Add the meat, tomatoes, broth, beans, cumin, peppercorns, serrano, curry, salt pepper, paprika and parsley.Stir and blend.

Cook on high for 6 hours. Meat should be fork-tender. The 'gravy' should be a creamy rich deep ruby mahogany hue. The flavor and taste should be ecstasy!