Gluten Free Chicken Soup Recipes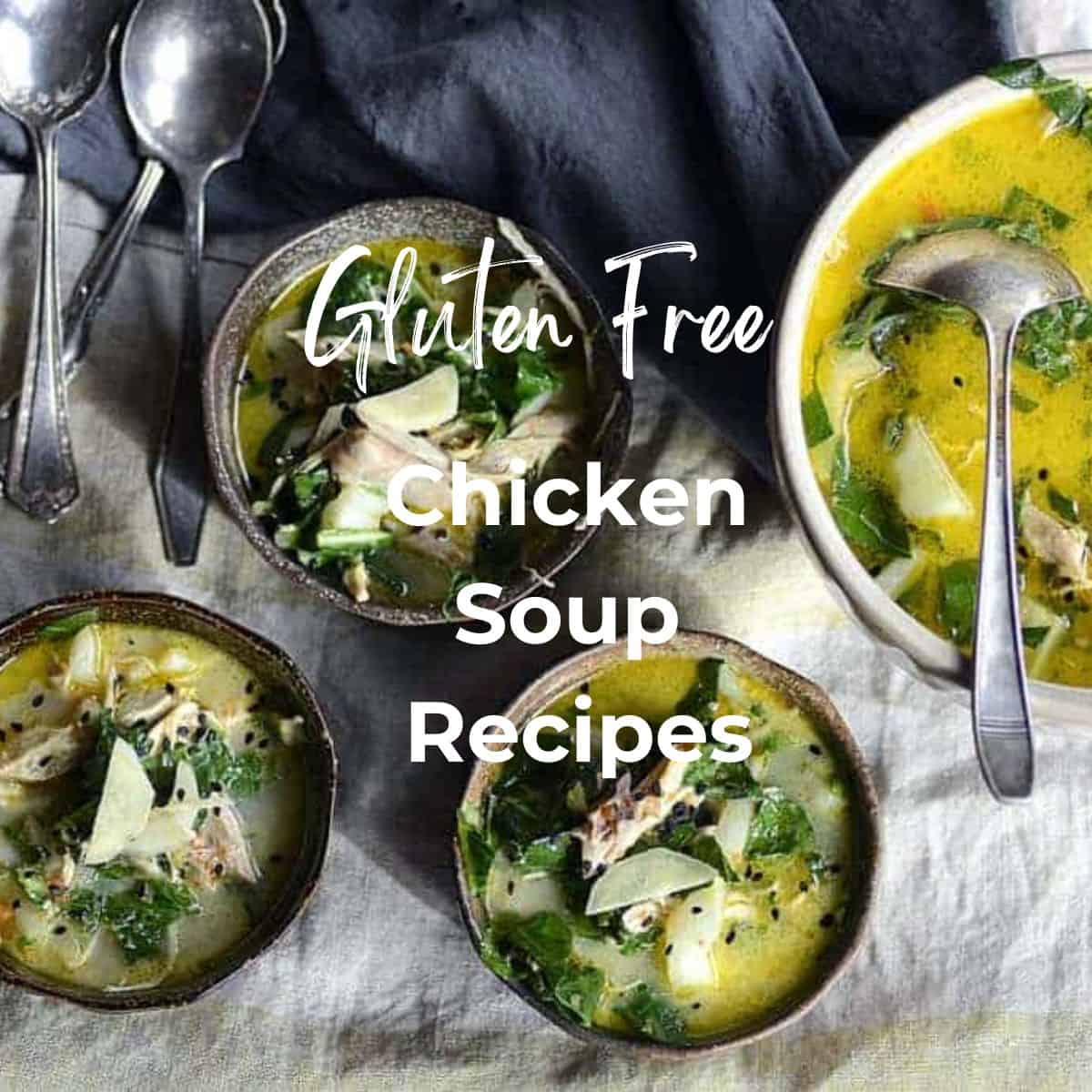 These gluten free chicken soup recipes range from classic chicken and noodles to Asian chicken noodle, curried chicken soup, immune-boosting chicken soup, and more. They're healthy and delicious, and everyone can enjoy them.
I'm the granddaughter of Croatian immigrants and I grew up in the mountains of West Virginia, so to say I had a humble upbringing would be an understatement. There's something that being Croatian and being financially insecure have in common – soup is a big part of both of them.
I grew up on salads made with vegetables from our garden, soups made with whatever we had on hand, and whatever meat might have happened to be on sale at the grocery store. As a result of that upbringing, I learned to love a variety of flavors, and I developed a real taste for soup.
Over the years, I've made all kinds of soups, stews, and chilis, but the ones I come back to again and again are chicken soups. Whether it's classic chicken noodle or something with Asian flair, I just love the taste of chicken and vegetables in hot broth.
I've put together a collection of my absolute favorite chicken recipes for you to try today. Now, some of these do have noodles, but the great thing about recipes like chicken soup is that you can simply buy gluten free noodles to instantly make all of these into gluten free chicken soup recipes!
What is gluten?
Gluten is a structural protein found in found in wheat, rye, barley, and triticales, a cross between wheat and rye. It has zero nutritional value because they only thing it does is hold the rest of the plant fibers together.
You'll find gluten in almost any kind of bread product that isn't labeled as specifically gluten free. So bread, pasta, pizza, and cereal all usually contain gluten. If you have no issues with gluten, it's not a problem. However, for people with gluten sensitivity and Celiac disease, gluten is a minefield.
For these people, gluten actually causes an immune response in the gut that can lead to a host of painful, sometimes debilitating side effects that I won't get into here.
What are gluten free noodles?
When you look at these recipes, you'll notice that some of the have noodles. If you're living a gluten free lifestyle, you'll immediately think, "Hey, this isn't gluten free!"
You'd be right, however, the wonderful thing about chicken soup is that generally speaking, the only gluten in it is in the noodles. So all you have to do is simply replace the regular noodles with gluten free noodles!
For the uninitiated, traditional noodles are made with wheat flour, which is decidedly gluten filled. However, you can find a wide variety of gluten free noodles today that are made with ingredients like corn, rice, tapioca, and even potato flour.
Why You'll Love These Gluten Free Chicken Soup Recipes
They use simple, limited ingredients.
They're easy to make.
They're the perfect meal on a cold fall or winter day.
They're easy to make in large batches and then freeze.
They're so healthy.
They are delicious!
Why These Gluten Free Chicken Soup Recipes Work
These recipes are absolutely delicious and can be served for brunch, lunch, or dinner. They're also incredibly versatile and can be paired with a variety of sides and breads – gluten free, of course – to create a hearty meal that everyone will love. My particular recipes are also all extremely healthy, which is a big plus!
What to Serve with Chicken Soup
These delicious chicken soup recipes are the perfect meal, but they can be even more delicious when you pair them with other delicious foods. Some great ideas for pairings with these soups include:
Garlic bread
Biscuits
Cornbread
Grilled cheese sandwiches
Cheesy bread
Crackers
Pretzel buns
Cheddar biscuits
Cheese bread
Of course, all of the bread recipes above can be made with gluten free flour, so everyone can enjoy the entire meal!
Gluten Free Chicken Soup Recipes
From chicken noodle soup to coconut curry orange blossom chicken soup, Asian chicken soup, Tuscan chicken bean soup, and more, these soups are packed with flavor. The best part is that in addition to being flavorful, they're healthy, too! Oh, and I can't forget that even the fanciest sounds soups on this list are super easy to make! So dig in!
Try These Gluten Free Chicken Soup Recipes
These delicious chicken soup recipes range from classic flavors to creative twists, but they all have two things in common – they're delicious and healthy. Even the soups with noodles can be instantly transformed into gluten free chicken soup recipes by simply using gluten free noodles. So try these recipes today and get ready to fall in love!