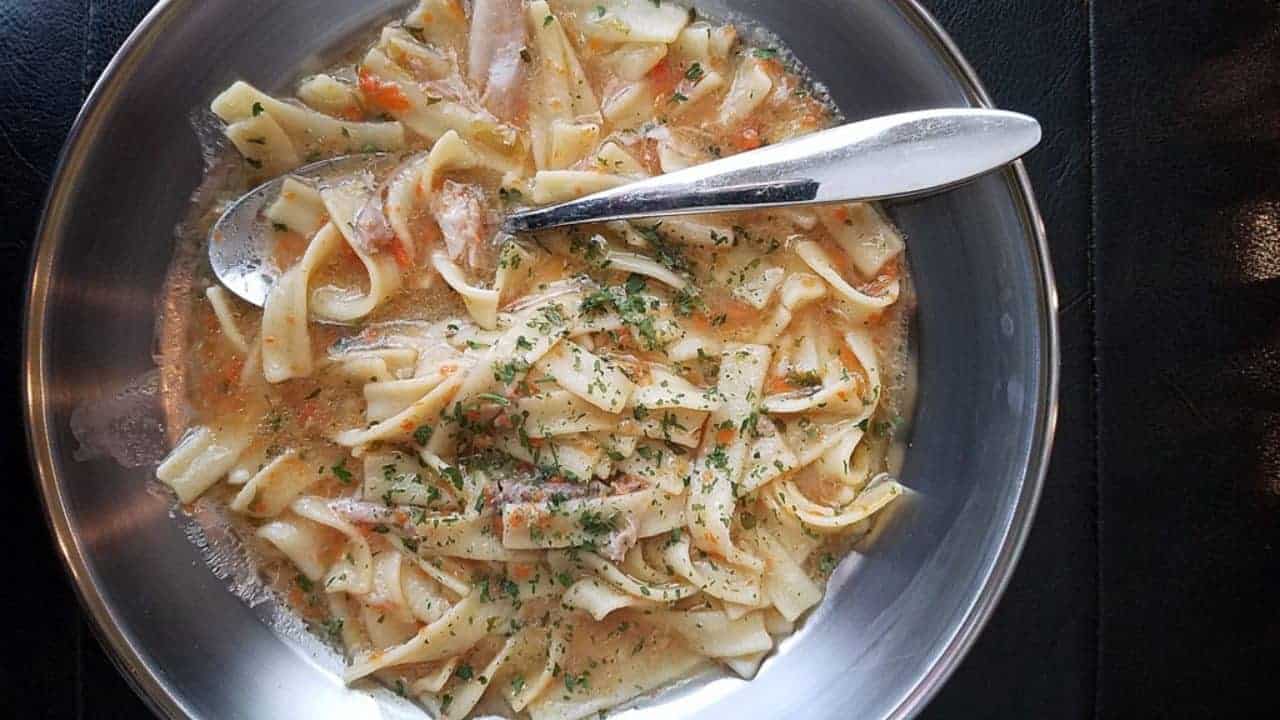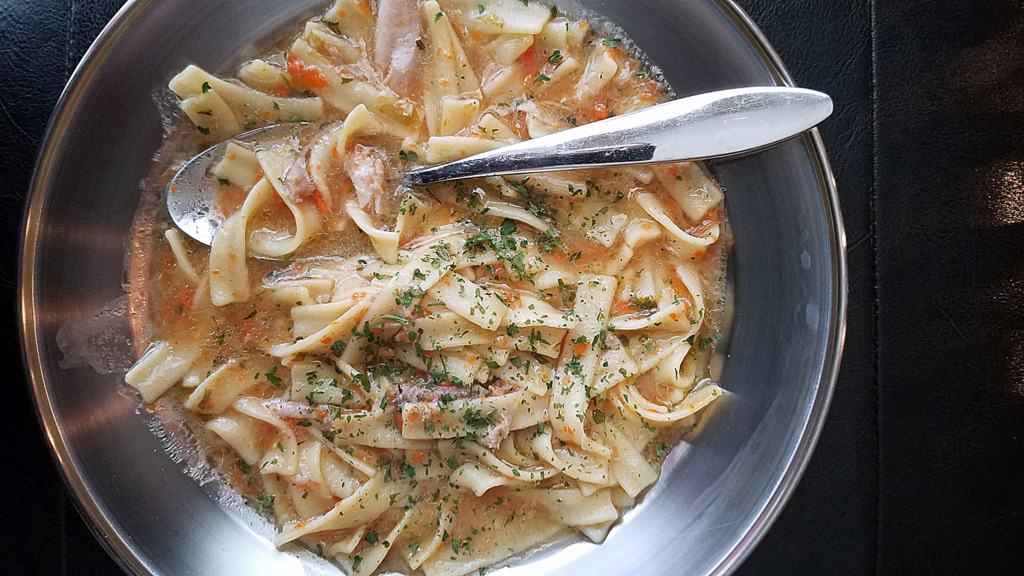 If you've ever made your own chicken stock with bone in chicken pieces, then you know the difference from the homemade and what you can get in a can or box. I mean there's just no comparison. The bone stock chicken soup 'broth' is so thick that it almost 'gels'. Yes, that's what happens when you boil this chicken until the meat is tender enough to take tongs and simply shred from the bone. I find the when I save this soup and reheat it, I invariably have to add water because the broth is almost like a gravy!
This bone stock chicken soup has those amazing 'healing' like qualities that we associate with chicken soup. Especially, when we're under the weather or the weather outside is frightful. I made this soup for my five year-old grandson who was sick. Yep, he had the dreaded scratchy throat and it was strep. So, Mama Ally helped out knowing his Momma was snowed under with so much to do and made the soup. Now I gave Nicholas two options for the noodles and he picked these medium width egg noodles. Nothing like including the kids in decision making when preparing something because it's more of sure thing that they'll eat it!
After stewing the chicken, you're going to have a lot of meat. I like my soup to have just a little meat, maybe random shreds and pieces that fall out as the chicken is cooking, and lots of yummy tender noodles. The meat can be saved for another dish, And, in this case, I made a fiesta chicken casserole with corn, peppers, diced tomatoes and a cream of mushroom soup. Layered in a casserole dish, it was baked and could be served with tortillas, rice or anything you wanted. Of course, the chicken can be used in so many ways. Just put it in airtight zip bags and freeze!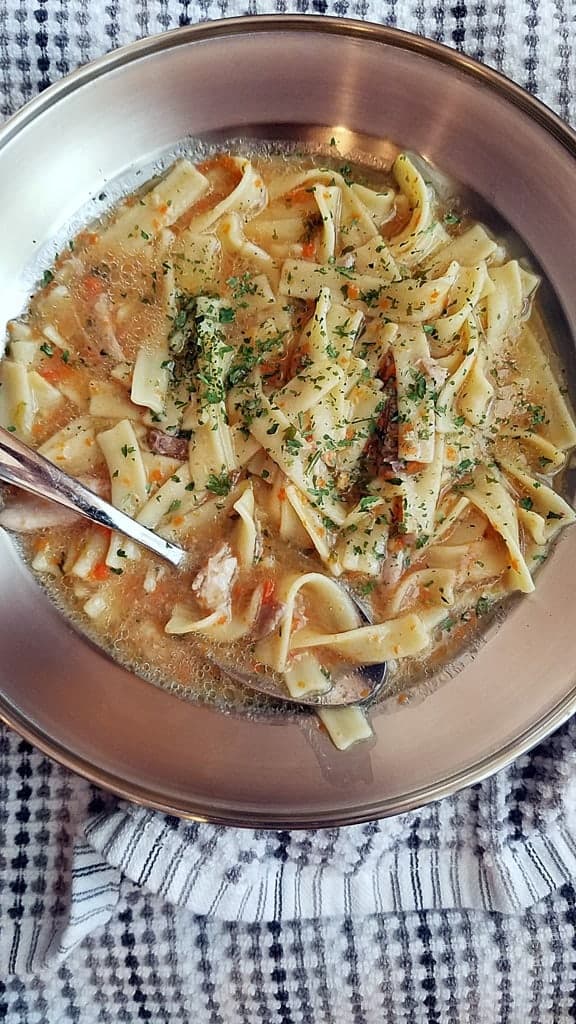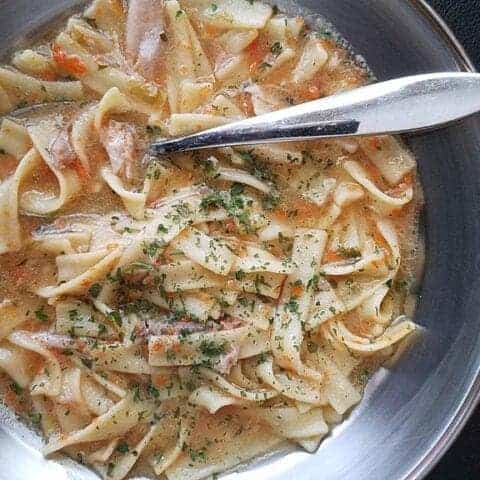 bone stock chicken soup
Ingredients
Serves: 8
3 lbs. chicken quarters, thighs and legs
32 oz. chicken broth + 4 cups water
1 onions, cubed
3 celery stalks, with leaves, cut into about 3 pieces each
3 large carrots, cut into about 3 pieces each
2 tsp. sea salt
2 tsp. coarse ground pepper
1 box (12 oz.) organic cream of chicken soup
3 cups egg noodles, medium size
2 Tbl. parsley, dried or ¼ cup fresh parsley, chopped
Instructions
In a large stock pot, put the chicken quarters, chicken broth/water, onion, celery, carrots, salt, and pepper. Cover and bring to a boil. Reduce heat to medium high or medium keeping a simmering rolling boil. Put the lid slightly askew to let steam escape.
Cook for about 1 ½ hours. Remove chicken from the pot and put on a parchment paper covered cookie sheet. Use tongs to pull off the meat and put in a bowl. Return the bones, still with meat on them probably, to the pot and cook another 30 minutes. Remove the bones and clean the bones then discard.
Use a strainer to pull out the carrots, celery and onions. Put on a large plate. Smash well into a thick mixture (you can put in the food processor and give it a whirl). Pull out any stray bones or chicken skin from the stock. Add the veggie mixture back to the pot.
Turn heat to medium low. Add the cream of chicken soup and blend into the stock. Add the egg noodles and mix. Add whatever amount of chicken meat back into the soup that you want to. Cover and let it cook about 30-45 minutes or until the noodles are tender. Add the parsley, blend and serve.
Notes
I don't put much of the chicken back into my soup. I find that enough is already there just from what falls off the bones.

You can freeze the chicken meat or return to your soup!