creamy chicken herb oven soup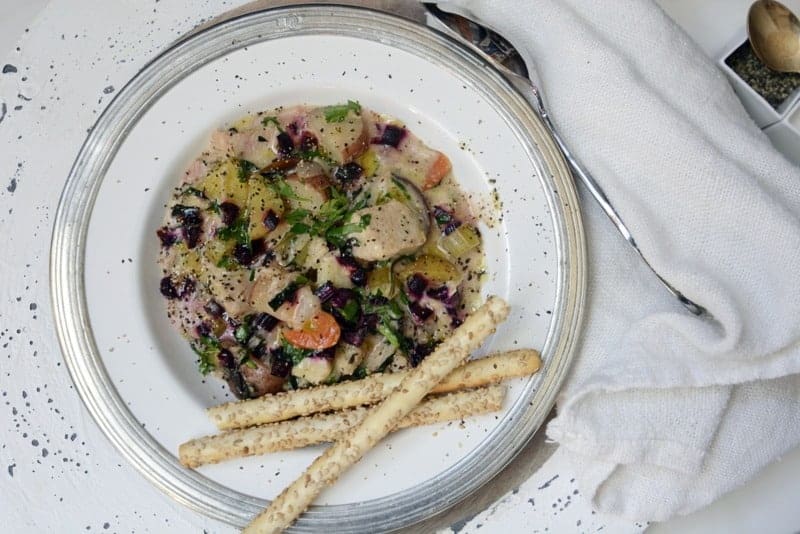 See that teeny hint of 'pinkish' tinge in the soup? Well, that's because this creamy chicken herb oven soup was garnished with delicious and healthy beet stems. And, the heat of the soup resulted in the stems bleeding out some of their hue. Now, this is a nutritious hue that's good for you, but if you don't want a tiny tint to your soup don't use beet stems! If you like a chunk soup, then this creamy chicken herb oven soup will make you happy!
You can certainly make this recipe in your slow cooker. In fact, the vessel I'm cooking in is the removable part of my slow cooker. I just thought it would be nice to try this soup in the oven and see what happened. And, it was a great success, so for those who don't have a slow cooker, you have an option!
What makes this soup creamy is the chive cream cheese. Now if you don't want to add that then substitute some cream of chicken soup (organic) or even an organic cream of mushroom soup. I loved the taste and texture of the chive cream cheese! Another great aspect of this soup for nutrition is the use of bone marrow, and if you can't find a nice bone from your butcher, then dig into the recipe because I'll give you another option.
Finally, I'm really into fresh herbs in cooking and when I can find them rather inexpensively, like marked down to half price at my local market, I grab them because I know althought they may be a tad bit wilted and 'browning' they're perfect for cooking and using in so many things. They're just not 'pretty' enough to use as garnishes!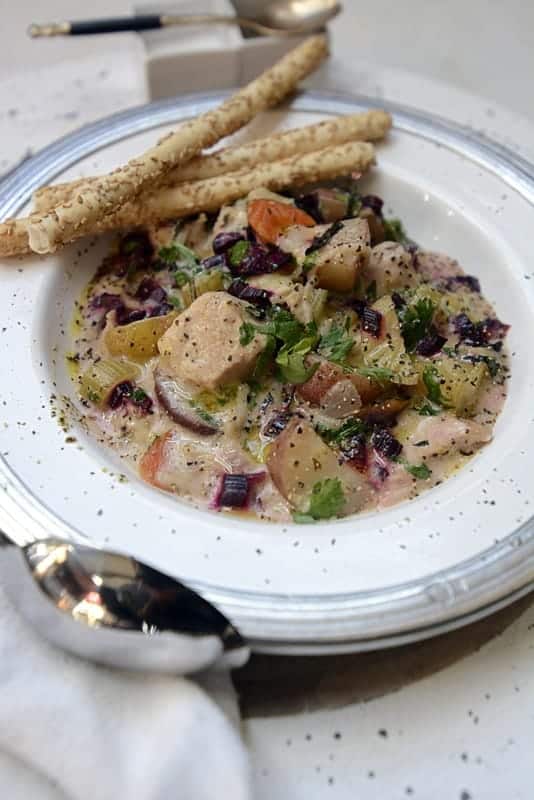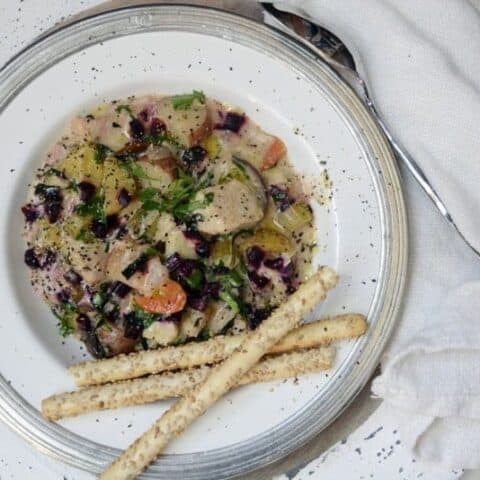 creamy chicken herb oven soup
Ingredients
Preheat oven to 400
¼ cup extra virgin olive oil
4 garlic cloves, smashed
1 ½ cups sweet onions, diced
1 ½ cups celery, sliced
1 ½ cups carrots, sliced
1 ½ to 2 lbs. chicken breast, skinless, boneless, cut into bite size pieces
3 cups baby potatoes, sliced in halves
1 bone marrow, can substitute one or two bone-in skin-on chicken thighs
1 pouch (2.2 oz.) chicken soup mixture
8 oz. chive cream cheese
2 tsp. sea salt
2 tsp. pepper
32 oz. chicken stock + 2 cups water
1 fresh herb bouquet, thyme (3-4 sprigs), oregano (2-3 sprigs), rosemary (1 sprig)
1 cup flat parsley, chopped
Instructions
In a large Dutch oven pot, put the olive oil, garlic cloves, onions, celery, carrots, chicken breast pieces, potatoes, bone marrow, chicken soup mixture, cream cheese, salt/pepper, chicken stock, water and blend well. Add the herb bouquet and blend into the mixture.
Put a doubled piece of foil on top then the lid. Press down on the lid to secure foil. Put in a preheated 400 oven for about one and a half to two hours.
Remove to the stove top. Stir and blend well working in all the creamed cheese into the broth. Let the mixture 'rest' on the stove top on simmer until ready to serve.
Remove the bone marrow. If using bone-in/skin-on thighs, remove and debone. Return the meat to the soup. Discard the bones and skin. Remove the cooked herb bouquet and discard. Add the fresh parsley before serving.
Notes
If you choose to add beet stems as you see in my photos a slight 'pink' hue, remember these stems will 'color' the soup. They're delicious and healthy, but if don't want pink soup, don't add them while cooking. Just use them as a garnish!