Asian chicken noodle soup, or most any other type of cuisine recipes, shouldn't be intimidating to make! With just some simple fresh ingredients, you'll be sipping and slurping your way from one bowl and maybe two of this Asian noodle soup!
Every recipe I create has some sort of story, behind-the-scenes like, that inspired the creation of the recipe. Here goes for this one.
Our daughter, Lynn, well, my stepdaughter and Ben's wonderful daughter had surgical procedure and needed some help. So, the two of us, of course, were delighted to be there for her and her husband during the first week post-surgery. Since Lynn couldn't cook, I had her entire kitchen to myself. So, as would be expected, I went to work creating for her soups and meals that were full of natural ingredients, lots of healthy vegetables. As you well know, eating well is essential to every day life, but eating healthy is absolutely mandatory to the healing process regardless of the degree of the injury, ailment or what's got you under the weather!
Now, this asian chicken noodle soup recipe is on the elementary level of cooking skills needed. These are the kinds of recipes I love creating. I don't want you to have to do lots of fancy complicated things nor do I want you to have to have a kitchen that's equipped with virtually everything (like mine!). That's what's so much fun for me about cooking in someone else's kitchen. I don't have maybe all the items I'd grab if I were in my kitchen. I might have to improvise. I might not have a full-stocked pantry or freezer. And, I might not have a grocery store or stores where I can find an array of ingredients. This noodle soup recipe gives you your Asian flair with just a few basic ingredients. One ingredient that will make all the difference will be the quality of the chicken stock that you use. I'd plan on splurging on the chicken stock because it's the one thing that pulls everything else together. Now, pull together what you need from the ingredients and make it. I promise you'll be slurping and sipping!
Oh, yes, to get the full experience, make sure you check out some of the Asian bowls I've chose for you! You just might want to grab some from Amazon! xoxo ~ally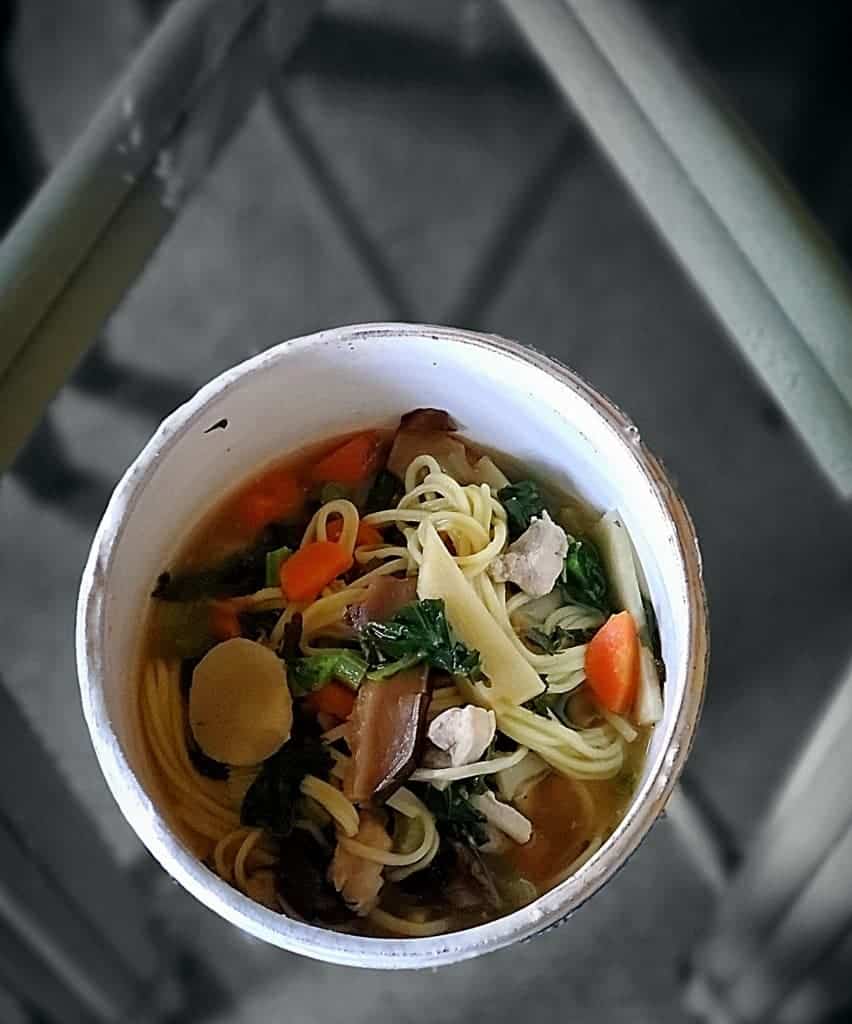 asian chicken noodle soup
Ingredients
3 Tbl. toasted sesame oil
2 cups carrots, small dice
2 cups celery, small slice
1 cup sweet onions, small dice
1 Tbl. garlic, minced
2 lbs. chicken thighs, boneless, skinless, cut into smaller bite size pieces
8 cups chicken stock + 2 cups water
2 Tbl. Asian chili sauce
3 Tbl. fish sauce
2 Tbl. ginger, freshly zested, heaping tablespoons
4 cups broccolini, finely sliced and chopped
3 cups mushrooms, combination of shitake, cremini, oyster, baby bella
1 can (8 oz.) water chestnuts, sliced, with liquid
1 can bamboo shoots, sliced, with liquid
16 oz. dried Asian noodles
Salt and Pepper to taste
Instructions
In a large stock pot over medium high heat, put the sesame oil, carrots, celery, onions, and garlic. Sauté about five minutes stirring frequently.
Add the chicken and brown (about 6-9 minutes). Add the chicken stock, water, chili sauce, fish sauce, ginger, broccolini, mushrooms, water chestnuts and bamboo shoots (with liquid in cans). Blend well. Cover and cook about 15 minutes.
Reduce heat to medium. Add the dried noodles and submerge in the soup. Cover and let the noodles steam cook about ten minutes. Use a pasta spoon to gently separate the noodles and mix throughout the liquid. Serve immediately.
Notes
If you don't serve the soup immediately, the noodles will continue to soak up the broth, so you could add more chicken stock before serving.
https://allyskitchen.com/asian-chicken-noodle-soup/
©ally's kitchen intellectual property