red curry & cumin chicken soup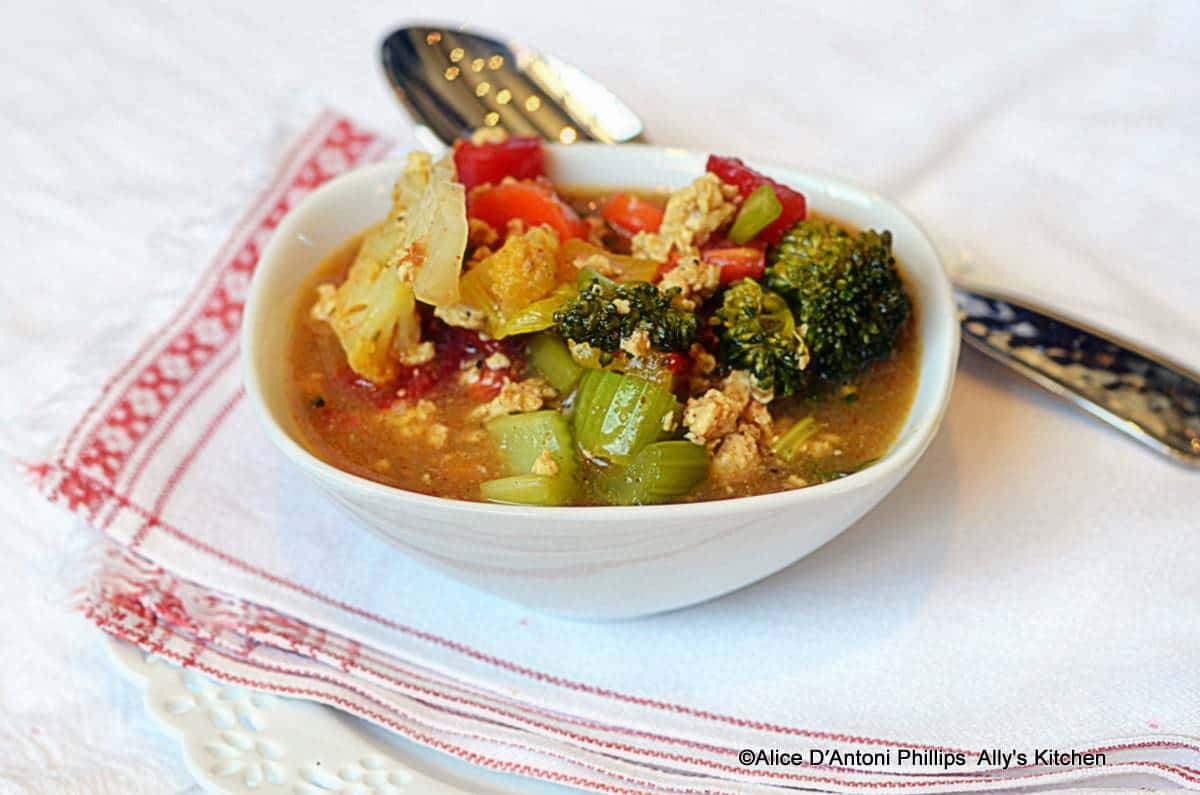 When I haven't seen good friends for a while, and we make special plans to meet for lunch, I like to make them a basket of love goodies from my kitchen.  So, I'm meeting Brent and Barbara for lunch at The Bookworm~~they're such great people, devoted  yogis, and we've done quite a bit of work together with photography, Brent Bingham Photography.   
One of the most fun projects we've done was the Campo Viejo dinner where they created the storybook of this dinner at the house through their lenses, both camera and video!  For Brent and Barbara's basket, I've done this spicy 'Red Curry Cumin Chicken Veggie Soup' as well as some homemade fresh herb cornbread bread crumbs and 'Date Raisin Nut Oatmeal Cookies'~~everyone loves getting pampered with food and getting homemade food that's seasoned heavily with lotsa love is the best!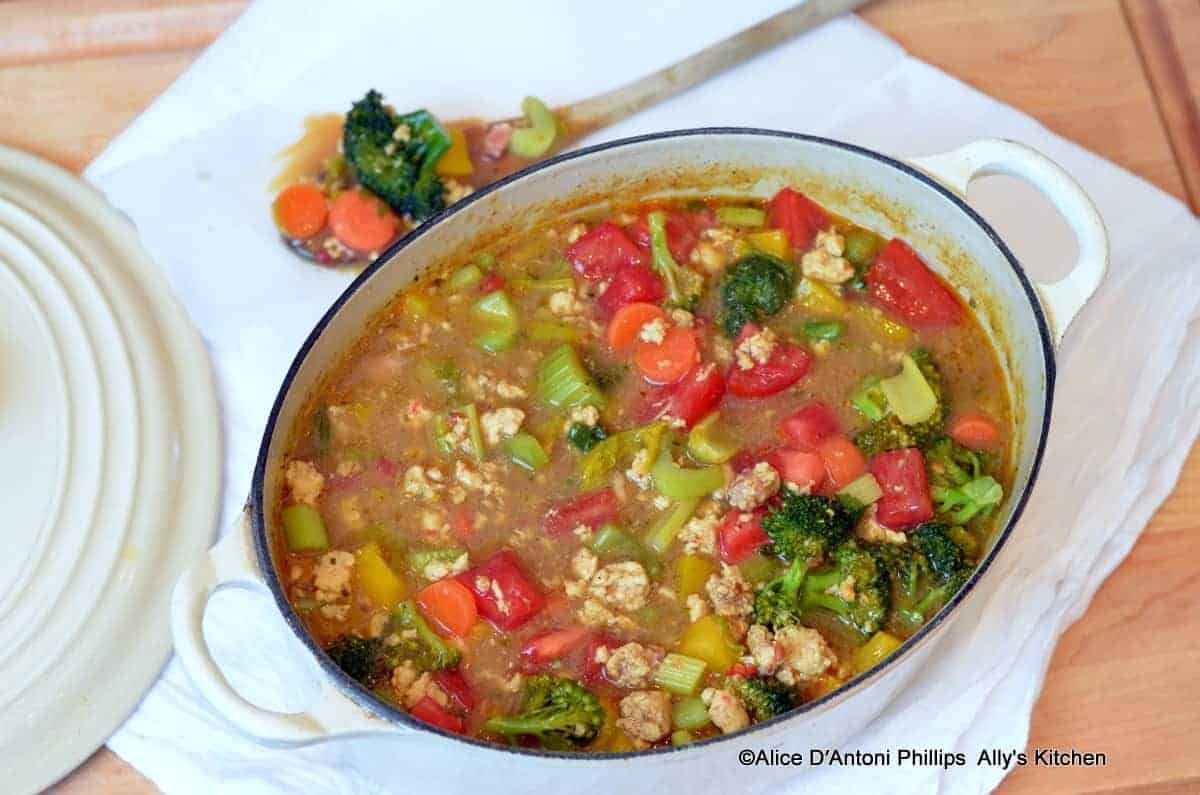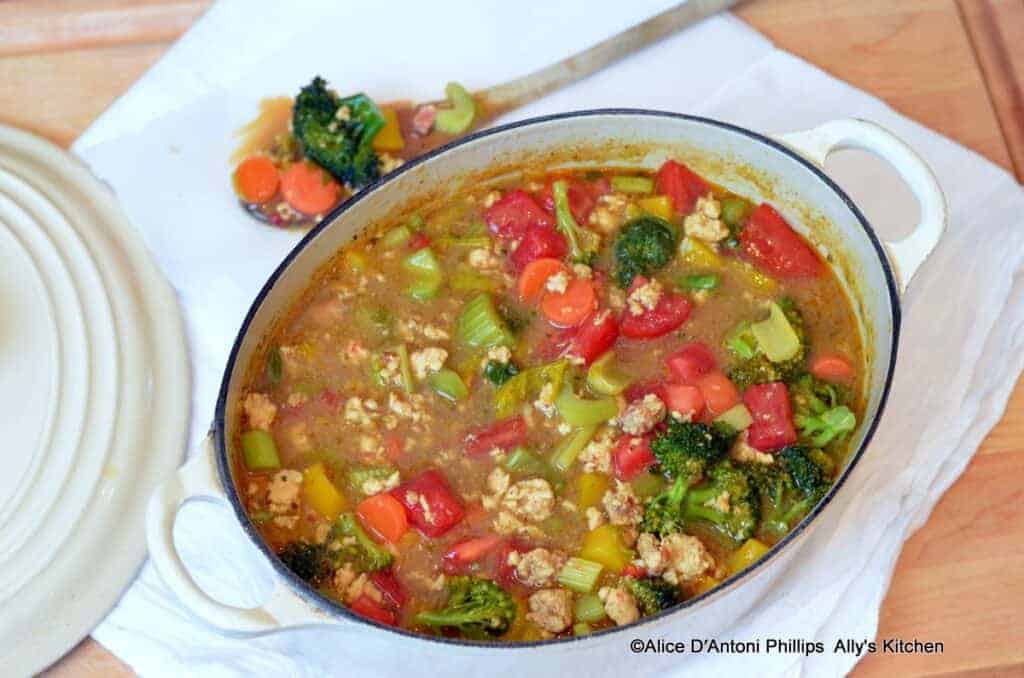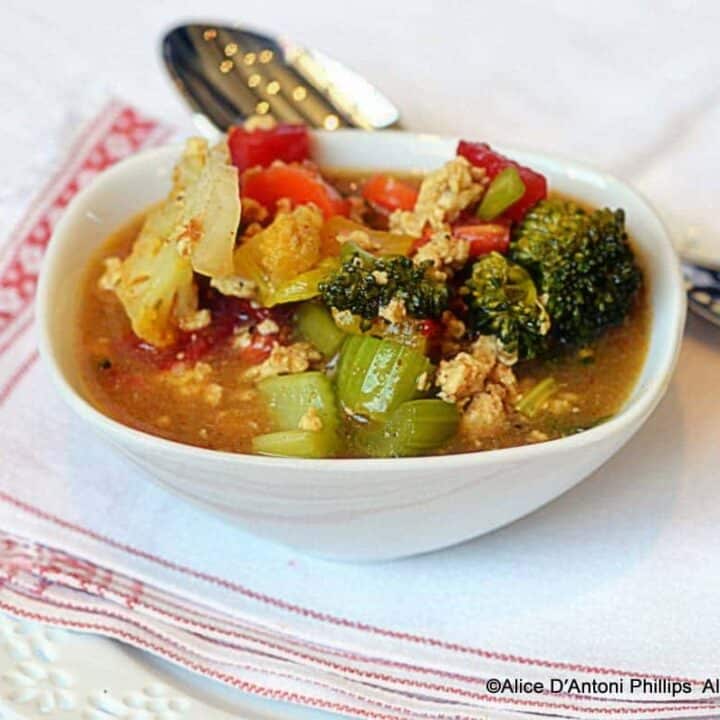 Red Curry & Cumin Chicken Veggie Soup
Ingredients
4 slices thick cut bacon, diced and fried 
1 lb. ground chicken
2 tsp. ras el hanut
2 tsp. cumin
2 tsp. red curry
1 tsp. sea salt
1 tsp. pepper
1 can cream of chicken soup
4 cups chicken broth
6 cups fresh cut veggies (your choice~~I used broccoli, cauliflower, Roma tomatoes, carrots, celery)
Instructions
In a heavy cast iron pot on medium high heat, fry chopped bacon until almost done. Add ground chicken and cook chopping up. Add the spices (ras el hanut, cumin, red curry) and salt and pepper and blend well.
Reduce heat to medium and add chicken soup and blend into the meat mixture. Add 2 cups of the chicken broth, blend, reduce heat to medium low, cover and let cook about 30 minutes stirring occasionally and adding more broth as needed. Broth should thicken somewhat.
Add veggies about 30 minutes before ready to serve and let them get al dente tender (I don't like my veggies totally mushy.). Add more broth as needed or to the consistency of soup you prefer.