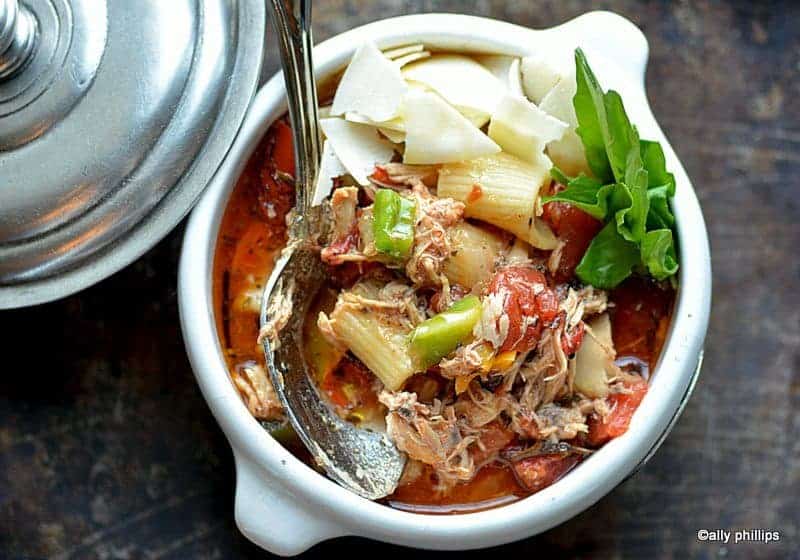 Who says you can't turn your favorite Italian dishes into soups. Well, in 2015 my 'chicken marsala soup' was my #1 searched recipe! Yes, it's that good. Then I did a 'chicken piccata soup' and it rocked my charts.
So what soup is debuting now? Chicken cacciatore soup! In Italian 'cacciatore' means hunter, so this soup is considered a 'hunter-style' soup with herbs, tomatoes, onions and the pasta of your choice. Just make it a small bite-size pasta preferably.
Like a lot of soups, stews and sauces, this soup is better on day two, but believe me, you may not have any leftover. So think about doubling the recipe and freezing half.
It's a simple one-pot wonder. Warms the belly on a chilly Fall or Winter day. And, if you're thinking of summertime, go ahead and serve because it's perfect for al fresco dining!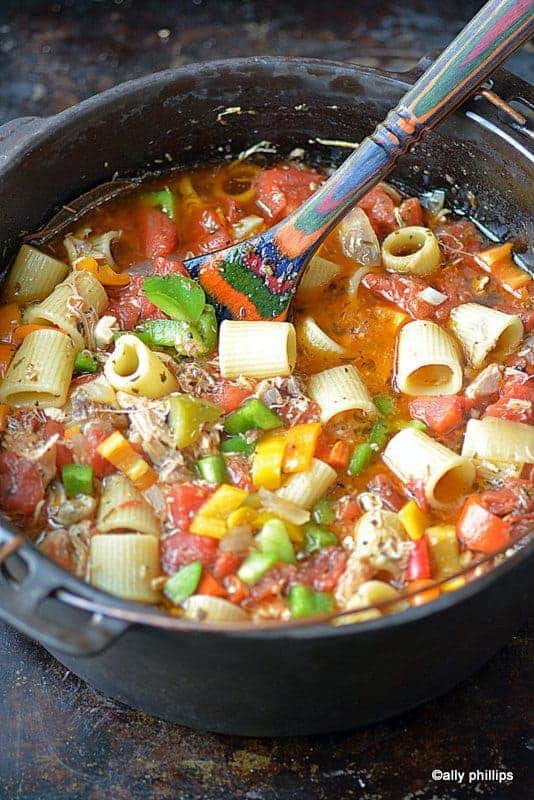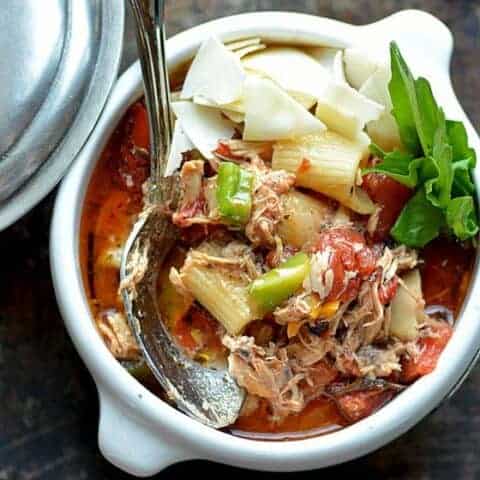 chicken cacciatore soup
Ingredients
3-4 cups cooked chicken, diced or shredded, can use a deli roasted chicken
4 cups chicken broth
1 (28 oz.) can fire roasted tomatoes, diced (I used Muri Glen.)
1 tsp. sea salt
1 tsp. coarse ground pepper
1 tsp. red chili flakes
3 bay leaves
3 Tbl. Italian seasoning dried mixture
1 ½ cups peppers, diced, multi colors
½ cup sweet onion, diced
4 garlic cloves, peeled and minced
1 cup pasta
Garnish:
Parmesan cheese, fresh, shaved or grated
Fresh whole basil leaves, lots of them for garnish
Instructions
In a large heavy Dutch oven/pot combine/blend all the ingredients, excluding the garnishes (cheese and basil).
Turn heat to medium. Cover and cook about 45-60 minutes or until the pasta is done and the flavors blend.
Turn off heat. Keep covered. Let the soup sit (about 20 minutes) and just ooze those glorious flavors into one soup.
Serve with fresh grated or shaved cheese and fresh basil leaves.