mama ally's immune boosting chicken soup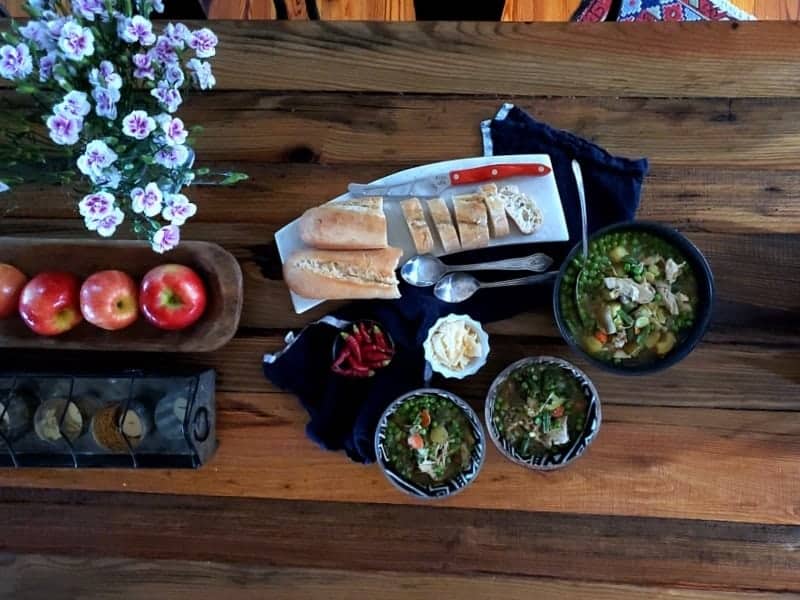 You can boost your immune system with what you choose to eat! I'm a Grandma, and here's my immune boosting chicken soup! Eat healthy!
Healthy Chicken Soups
Really? Is chicken soup immune boosting? Does it have these properties? Read on and I'll give you some reasons is is or you can Google that question, and, you're gonna get information overload!
And, yes, there are other ways to boost your immune system. Pops and I also have a simple regime of supplements. If you're interested in checking them out, just click here!
Immunity Soup Recipes
According to stack.com,
"It's not just an old wives' tale. Research supports the proposition that chicken soup actually provides health benefits—supporting the immune system and decreasing the duration and intensity of colds and flu by inhibiting the migration of white blood cells across the mucous membrane to reduce congestion and ease cold symptoms.
But, not only chicken soup, but beef bone broth soup! And, this Asian version, so simple to make, is a must on your list of soups!
Immunity Boosting Soup
It's also more effective than hot water at thinning mucus and speeding its movement through the nose. This helps limit the amount of time viruses come in contact with the lining of the nose and can decrease the length of a cold."
Immune Soup
Chicken soup contains vitamins A and C, magnesium, phosphorus, gelatin and antioxidants, which are known to build a strong immune system and fight off viruses. The protein from chicken provides amino acids that are used to build antibodies to fight infection. The carbohydrates in noodles or rice provide easy-to-digest energy that keeps you feeling satisfied."
Best Immune Boosting Chicken Soup
OK, here's why this soup is just so good for you:
Use bone-in chicken to get the nutrition of the bone marrow in the soup. Once the chicken is tender, debone, and discard the bone and skin.
Nutritional yeast. Yes, I use this in so many, almost all of my soups and stews, recipes. Educate yourself on the value of this ingredient. And, I've got a link to it after the recipe. You can find it on Amazon.
Chicken Turmeric Soup
Spices that are absolutely fine for your health, like turmeric and curry.
And, if you've never added lemongrass paste to some recipes, then check out the health properties!
Try these habanero sheet pan chicken tenders! Another recipe using lemongrass!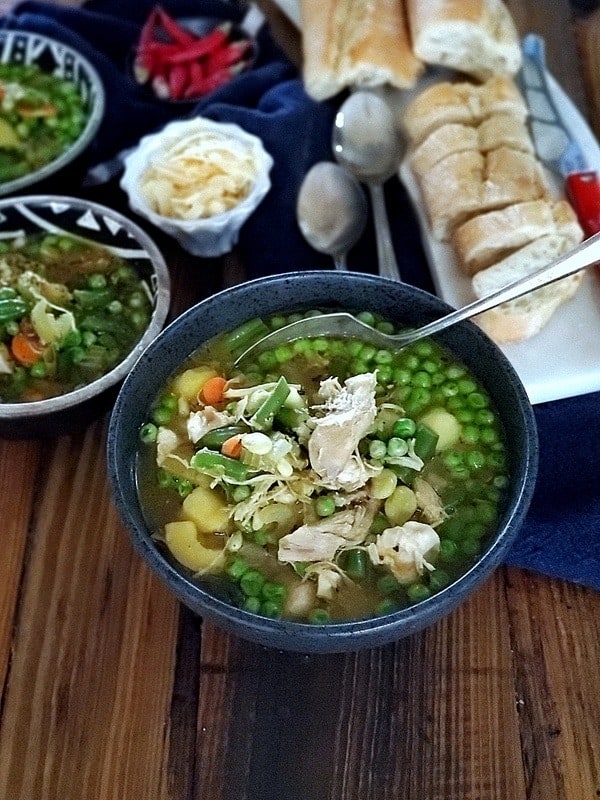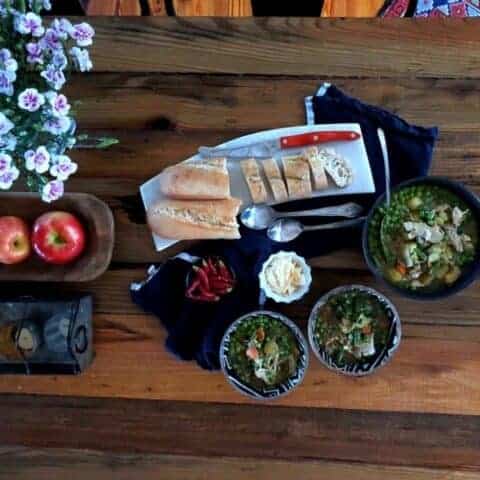 mama ally's immune boosting chicken soup
Ingredients
2 Tbl. Garlic, minced
3 Tbl. Extra virgin olive oil
2 ½ to 3 lbs. chicken, thighs and/or breasts, bone in, skin on
2 Tbl. Bragg's Nutritional Yeast
1 Tbl. Italian seasoning
1 tsp. ground curry
1 tsp. sea salt
½ tsp. ground turmeric
½ tsp. ground cumin
1 Tbl. Lemongrass paste
1 cup salsa, store bought, mild to medium
3 cups potatoes, Yukon, medium dice, skin on
2 cups carrots, sliced
2 cups sweet onions, small dice
2 cups celery, sliced with leaves
2 cups corn, previously frozen
2 cups peas, previously frozen
10 oz. cut green beans, frozen
Instructions
Put a large stock pot on a medium blaze. Add the olive oil and garlic. Saute a couple of minutes until slightly translucent and tender. Remove pot from blaze.
Rinse and wash the chicken pieces. Put it in the stock pot (with olive oil and garlic). Cover chicken with water, about 6" above chicken. Turn heat to high. Cover (lid slightly askew) and bring to boil cooking about 15 minutes. Reduce heat to a simmering boil. Cook chicken until tender (about another 30 to 45 minutes or until chicken pulls easily from the bone). Add water if it goes below the chicken pieces.
When chicken is done, remove to a pie plate. Let it cool. Pick all the meat from the bone. Discard the bones. Return meat to broth.
Mix the nutritional yeast, Italian seasoning, curry, salt, turmeric, and cumin. Add spices and lemongrass, salsa to the chicken/stock mixture and blend.
Turn heat to medium low. Add the potatoes, carrots and onions, cover and cook about 20 minutes. Add the celery and corn, cover and continue cooking another 20 minutes. Shortly before serving, turn heat to medium, add the peas and green beans. Cook another about 10 minutes or until tender.