Easy Asian Spring Noodle Soup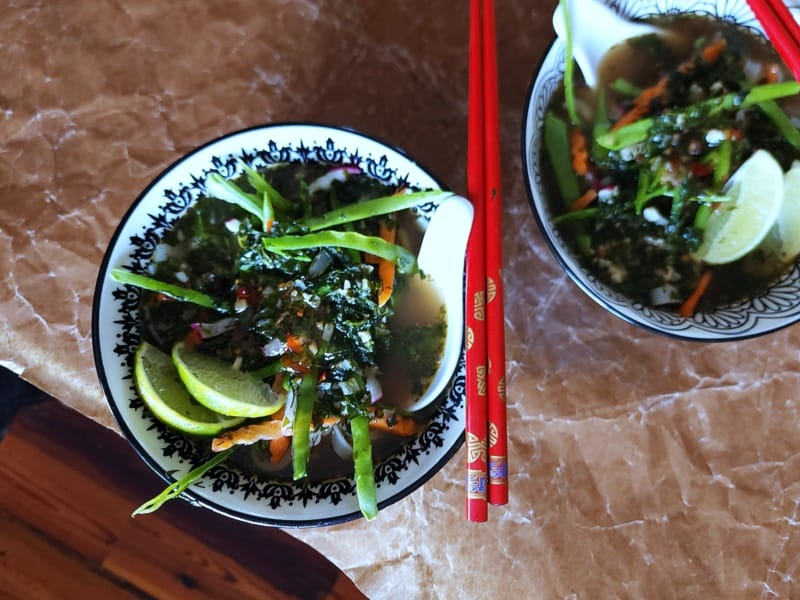 Who says soups are only a Fall & Winter thing! Asian Spring Noodle Soup will make you a believer! Fresh herbs are abundant. Lots of noodles!
Asian Noodle Soup Recipes
Asian noodle soups are so easy to prepare. When Ben and I spent a month in Asia, China, Singapore and Hong Kong, soup was our standard fare for breakfast, lunch and dinner.
Soup and Noodles
Nothing's more comforting than soup and noodles. It can be a broth soup or a creamy soup. Noodles can be rice or egg or pasta like. Doesn't matter to me. All of it is luxuriously delicious and I can sip away at this delectable delight.
Spring Herb Soup
If you've never tried to grow you own herbs when the weather permits, or even indoors on your window sill, then give it a try. It's not a difficult task, and having these beautiful herbs right at your disposal for using is so soul satisfying. Another plus is that it sure does help the grocery budget because fresh herbs are expensive.
This soup uses a mixture of fresh herbs. I tend to use more of those delicate herbs like basil, thyme and tarragon. But I don want the hint of the more woodsy and pungent fresh herbs like rosemary and mint. Then don't forget cilantro and parsley. Always winners in your mixture of herbs for this soup.
Herb Chicken Noodle Soup Recipe
You can certainly add meat to this recipe if you wish. I'd cook separately some bone in skin on chicken and then shed the meat from the bone. Or you could use a nice pork chop, slice it thinly and actually let to cook in the hot broth. Adjust your time accordingly for the broth.
But, I don't need meat in this soup. I don't want to take away from the earthy and woodsy flavors of the intense mixed fresh herbs that elevate the bone broth making it more delicious.
Actually you could take just the bone broth part of this recipe and use it for sipping or as a broth soup.
Be sure to use my discount code, ALLYSKITCHEN, at checkout and get 20% off your Kettle and Fire order. And, please remember that bone broth must be made from bones, grassfed and pasture-raised bones. It must be cooked for 14+ hours in order to derive the nutrients from the bone marrow, collagen and more.
Just know that all bone broths aren't created equal. And, while KF is a tad bit more expensive, it's worth it. When you use my discount code, you could be in the ballpark of your budget.
Asian Noodle Soup
This noodle soup is all about the herb infused bone broth. Yes, there are a few ingredients to elevate the flavors and bring on the more Asian flair. These ingredients are easily accessible at most grocery stores.
Noodle Bowl Soup
Noodle soup bowls can be customized with vegetables to your liking.
For us, we're really into snow pea pods, radishes and carrots.
And, I love the julienne or matchstick cut for the veggies. Yes, it might take a few minutes longer to do, but you really have more of the authentic Asian feel with the soup.
Easy Asian Noodle Soup
Another great way to serve this beautiful earthy woodsy herb soup is with a soft boiled egg on top. I've go the never fail recipe for making soft boiled eggs!
Noodle Bowl Recipes with Broth
And, if you want to take that soft boiled egg a step further and make it a Shoyu Egg, truly Asian and very flavorful, then here's an authentic recipe from my amazing girlfriend from Singapore!
Asian Soup Bowls Recipes
You're going to love this soup. It's doable in about 15 to 20 minutes.
You can use whatever vegetables you want.
So many possibilities! And, if you'd prefer egg noodles rather than rice noodles, that's totally your call!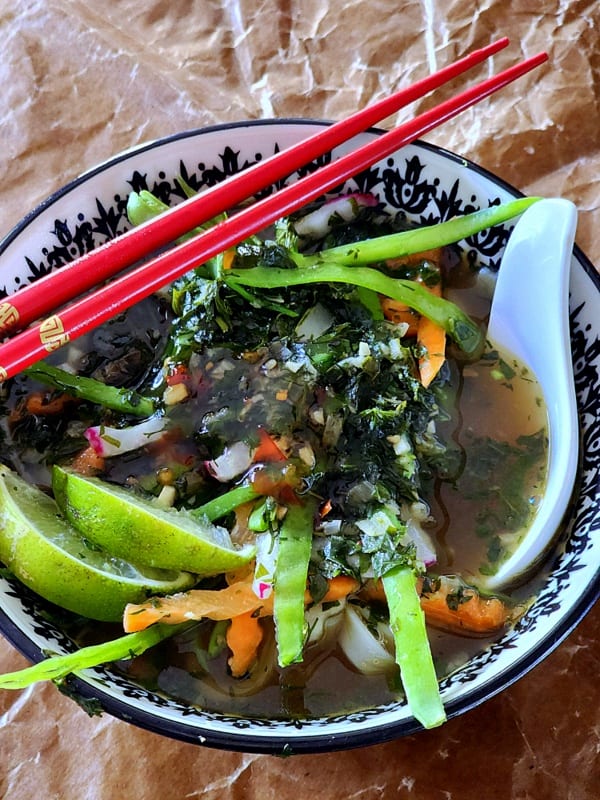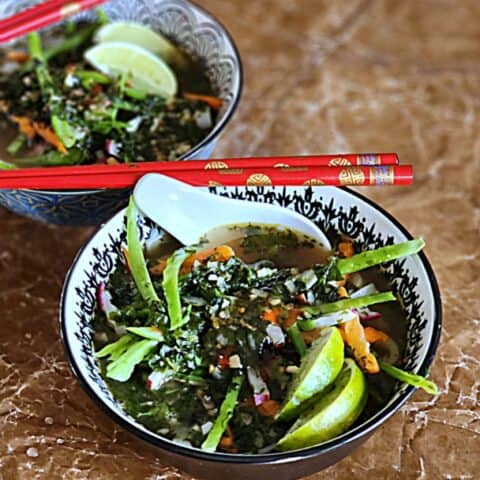 Easy Asian Spring Noodle Soup
Ingredients
2 Tbl. toasted sesame oil
1 Tbl. shallots, minced
1 Tbl. garlic, minced
1 Tbl. fish sauce
1 Tbl. sweet chili sauce + more for serving
1 tsp. fresh ginger, zested
1 box (16 oz.) Kettle & Fire chicken bone broth + 1/3 cup water to rinse out box
1/2 cup fresh herb mixture, minced, basil, oregano, chives, parsley, cilantro, mint, tarragon, thyme, etc.
6-8 ounces rice noodles, prepared according to package directions
3/4 cup snow peas, sliced thinly lengthwise
1/2 cup carrots, julienne cut
1/2 cut radishes, julienne cut
1/2 lime, sliced in three thin wedges
Instructions
In a medium size saucepan over medium heat, put the sesame oil. Add the garlic and shallots and saute about 60 seconds or until the fragrances emit.
Add the fish sauce, ginger and sweet chili sauce. Blend and cook about 30 seconds.
Add the bone broth, water and fresh herbs. Blend, cover and let this cook about 4-5 minutes coming to a simmering boil.
Reduce heat to low and cook another about 3 minutes.
Put the snow peas, carrots and radishes in a bowl and blend together.
Prepare the bowls. Add the cooked rice noodles and equal amounts of the fresh veggie mixture.
Scoop equal amounts of the hot broth into the bowls. Cover each bowl with a plate and let it steam about 30 to 45 seconds. Remove and add a drizzle of sweet chili sauce (optional).
Garnish with a wedge of lime. Serve immediately.