homemade chicken piccata soup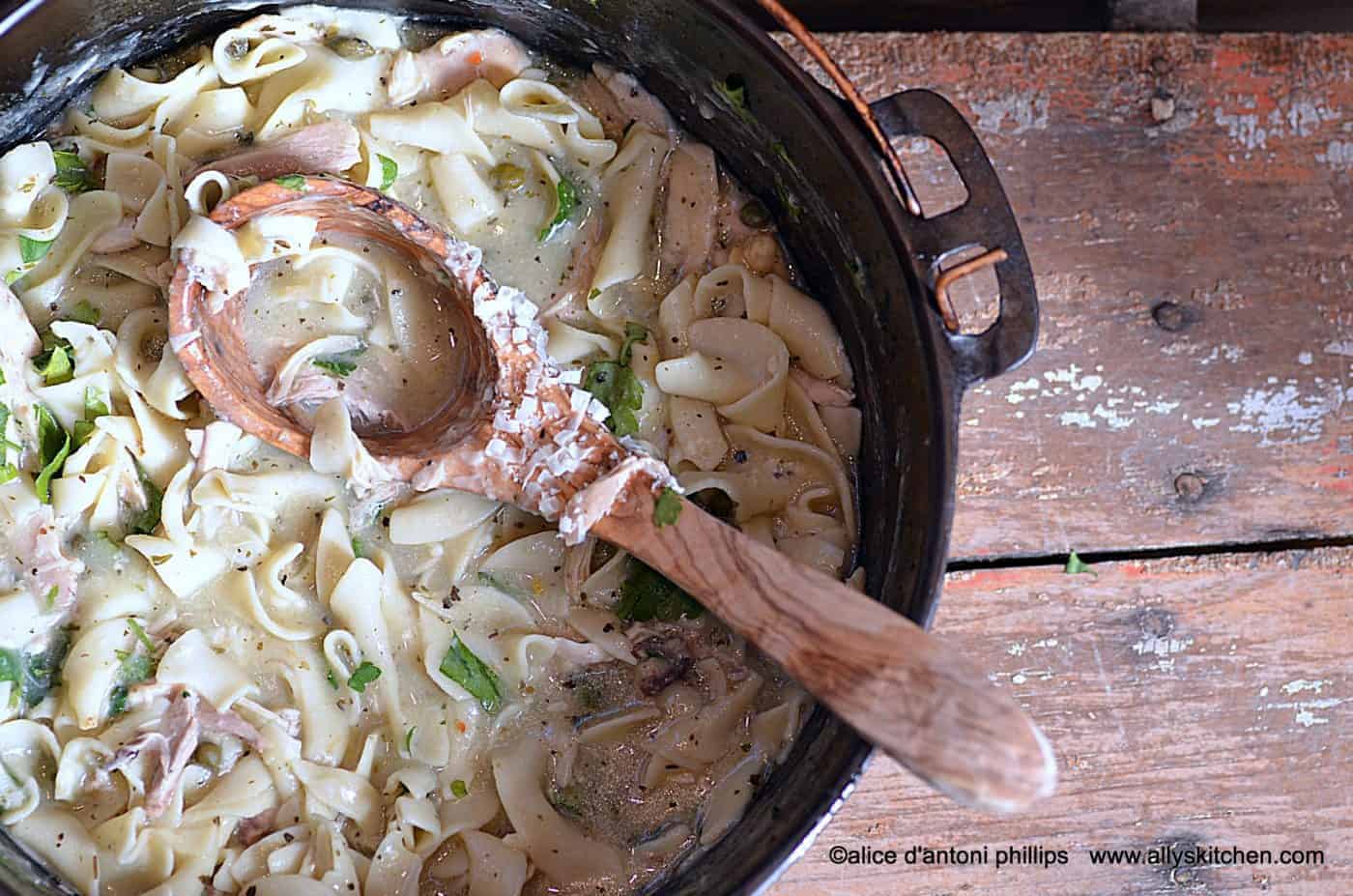 Chicken Noodle Soups
Who doesn't want a big hot bowl of noodles with chicken! My chicken piccata soup has all the things you love about Italian chicken piccata!
But, not to fret, if you're looking for the traditional iconic Chicken Piccata, then click here. I've spent a lot of time in Italy, eaten a lot of chicken piccata, so this is a version of my real Italian interpretation!
How to Make Chicken Soup
If you're looking for a recipe that shows you how to make chicken soup the simple way, then this is your recipe. With just a few ingredients, fresh chicken and a little time, you'll be tasting the healing yumminess of grandma's homestyle chicken noodle soup. And, I'm talking lots of noodles!
Chicken soup. Truly loved by all! Now I've made a wonderful Italian dish, chicken piccata, into a chicken piccata soup! Another great chicken soup with an Italian dish twist is Chicken Marsala, and it's THE most popular post I've ever shared on Facebook. Seen by over 160k and shared over 1,300 times!
Homestyle Chicken Noodle Soup
Chicken noodle soups are probably one of the most traditional and loved comfort foods. When you have the sniffles or a cold, what do you want. Chicken noodle soup. It's healing virtues, even if some of the healing powers are just making your feel better, are real.
Actually according to Duke University, Chicken contains an amino acid called cysteine that is released when the soup is made. This amino acid thins mucus in the lungs, aiding in the healing process. Chicken also plays its role as a great source of protein for your muscles.
Sides with Soups
Who doesn't like sides with soups! Me me! And, here are some that I'd surely serve with this chicken piccata soup! Be bold. Be adventurous!
Naan Bread Smoked Salmon Squares
Queso Cotija Buttermilk Corn Slaw
Chicken Piccata
Typical chicken piccata, a delicious Italian dish, is chicken that is sauteed then served with lemon, parsley and a butter sauce. Sounds yummy,
There's nothing about this chicken piccata soup that's not fabulous. And, you'll think you're eating the traditional dish, but using a spoon so as not to miss one bit of the broth!
Homemade Chicken Soup Recipe
If you want an easy and noodleee homemade chicken soup recipe, then this chicken piccata soup is the last one you'll need to make. You're going to get all the richness and flavor from the bone in chicken thighs that you use. And, then the basic components of the ever-popular chicken piccata make this chicken soup your go to any time you have those sniffles!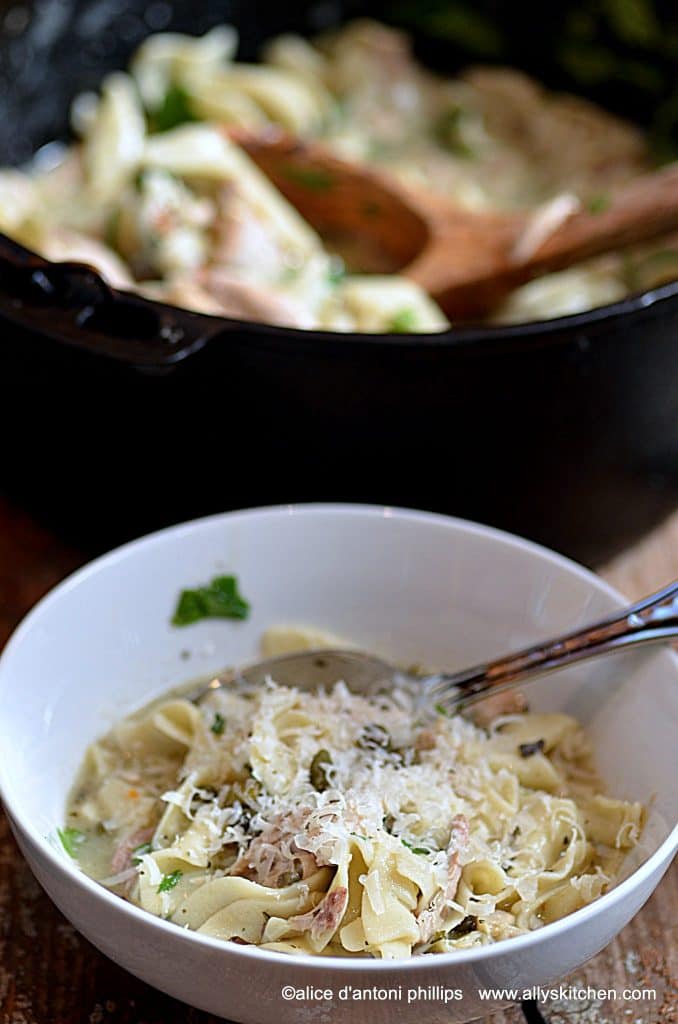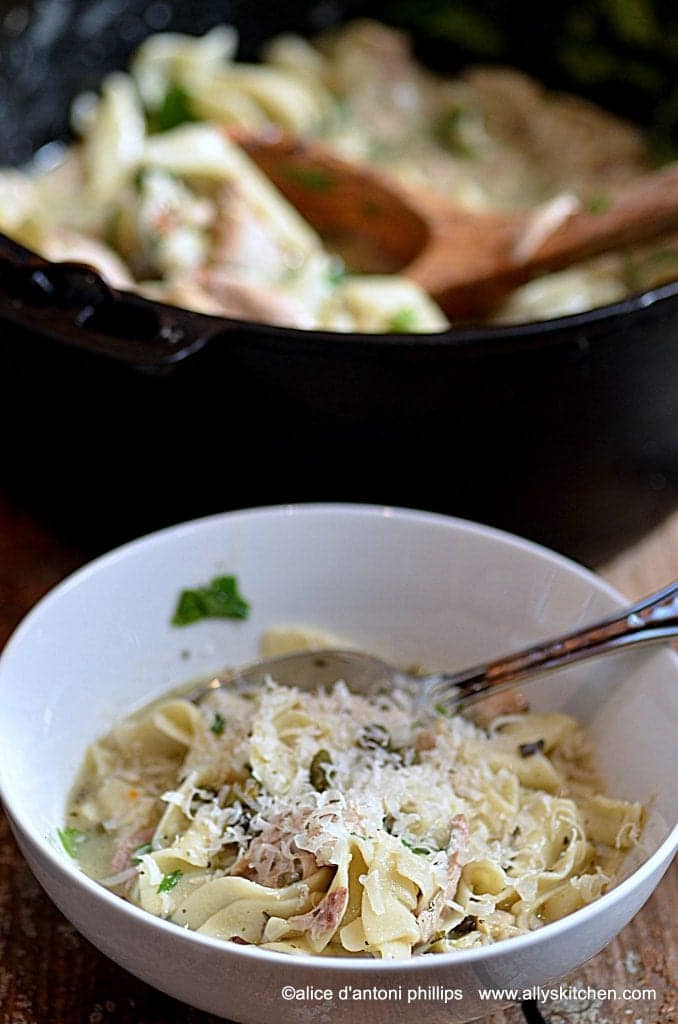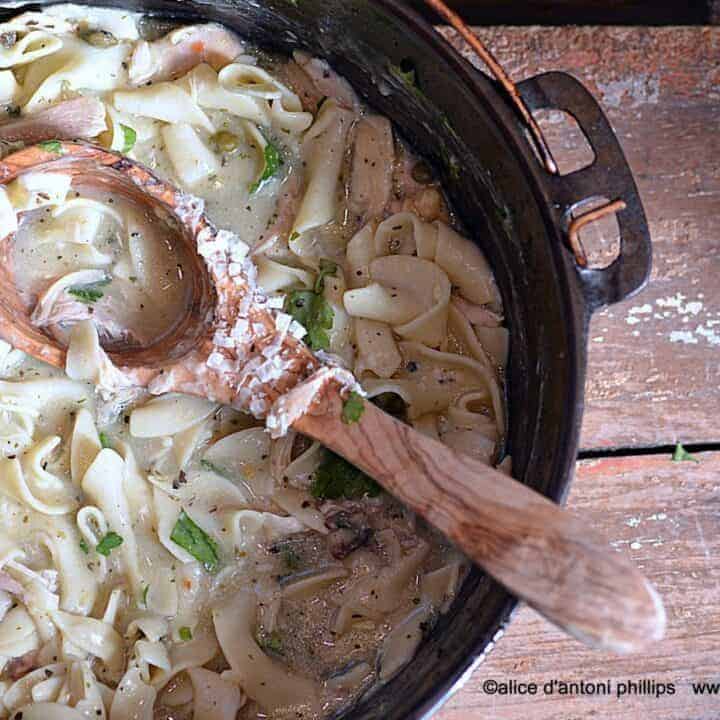 homemade chicken piccata soup
Who doesn't want a big hot bowl of noodles with chicken! My chicken piccata soup has all the things you love about Italian chicken piccata!
Ingredients
4 chicken thighs (1.5 to 2 lbs.), bone-in, skin on
32 oz. chicken broth, divided
4 ½ cups water, divided
2 tsp. garlic powder
1 tsp. onion powder
1 tsp. dried oregano
1 tsp. dried basil
1 1/2 tsp. sea salt
3 cups wide egg noodles
1/4 cup flour, all purpose
1 cup parmesan reggiano, freshly grated (plus more for garnish)
1/4 cup capers, drained
1/3 cup Italian parsley, roughly chopped 1 lemon, juice for garnish
Instructions
In a large stock pot or cast iron pot, add 3 cups of chicken broth and 3 ½ cups of water, chicken thighs, garlic powder, onion powder, oregano, basil, and salt.

Turn heat to high, cover (lid askew) and let it come to a roaring boil for about 10-15 minutes. Reduce heat to medium low, cover with a lid, and cook the chicken about 60-75 minutes or until the meat is tender and can be easily pulled from the bone. Check occasionally to see if you need to add more water. as it will evaporate in the cooking process.

Using tongs, remove the meat to a dish leaving the broth in the pot. Add the egg noodles to the broth. Turn heat to low, cover and cook about 7 minutes until the noodles are getting tender. Meanwhile, remove the skin from the chicken pieces and discard. Remove the meat from the chicken and set aside.

Take the bones, put in a smaller pot, add the remaining water and chicken broth, cover with a lid, turn heat to medium and cook another 15 minutes.

Remove the bones. Shake off any meat that might easily fall off. Add the flour to the hot broth and whisk vigorously making a thickening mixture. Add to the large pot of noodles and blend.

Add the Parmesan and blend in. Finally, add the shredded chicken, capers and parsley and blend well. Cover and let the soup rest on simmer about 20 minutes.

Ready to serve with a splash of fresh lemon juice and another grating of parmesan reggiano!