slow cooker chicken fajita soup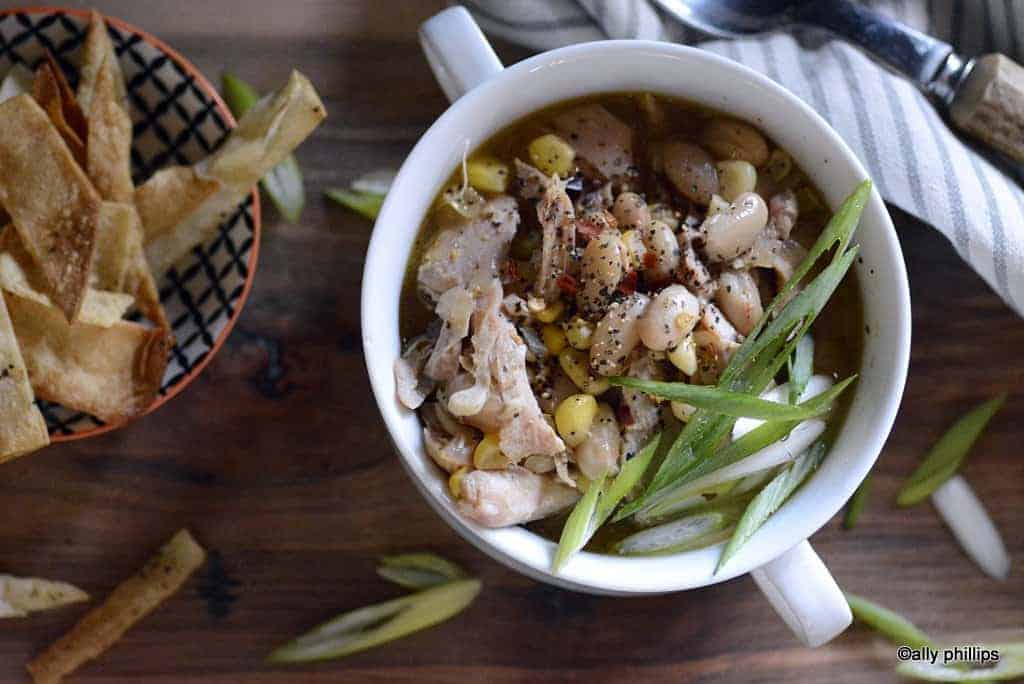 Chicken Tortilla Crockpot Soup
Slow cooker chicken fajita soup tastes like your dining at your favorite Mexican restaurant! But, wait, no tip required. And, leftovers are even better!
We all love to pull out our crockpots, slow cookers or multi-cookers, throw in the ingredients then go about what we need to get done. This slow cooker chicken fajita soup is just that kind of recipe!
Chicken Fajitas Soup
Who doesn't love chicken fajitas and when you put your chicken fajitas into a soup, well, get ready to slurp!
There's nothing that stimulates the senses more than walking into a house and wiffing the aroma of good food cooking. And, this chicken fajita slow cooker soup is perfect for achieving that experience.
Honestly, there's absolutely nothing to making this divine comfort food. Just pull out the slow cooker, you may call it a crock pot, and it all happens with time and slow cooking. The chicken becomes so very tender that it just shreds apart into a velvety texture. And, using the white beans, either cannellini, Great Northern or navy, keeps the pristine hues of the soup consistent.
Slow Cooker Chicken Fajita Soup
What makes cooking so much more convenient is the slow cooker. Yes, I have both a slow cooker and multi-cooker, and I use both often. Most of the time, it's in the Fall and Winter when I'm making things like this slow cooker chicken fajita soup. I can have something delicious and healthy without spending all day in the kitchen.
Sides with Soups
Who doesn't like sides with soups! Me me! And, here are some that I'd surely serve with this chicken fajita soup! Be bold. Be adventurous!
Naan Bread Smoked Salmon Squares
Queso Cotija Buttermilk Corn Slaw
Chicken Fajita Soup
You can put in a lot of different ingredients into your chicken fajita soup. Rice, noodles, pasta, more vegetables, tomatoes. But, for me, well, I want beans. And, I'm using a white bean in this soup mixture.
Recipe with White Beans
If you aren't familiar with 'white beans' Wise Geek explains the three varieties. Regardless of variety, a recipe with white beans 'ups' the nutritional value of the soup.
If you want to learn more about the nutrition and health aspects of these beans, which I LOVE BTW, then just visit Wise Geek's website! Here's your quick lesson on white beans from WG!
Beans sold as "white beans" in the U.S. and Canada are usually either navy beans or Great Northern beans. Navy beans, as their name might suggest, were used as a primary food supply by U.S. naval forces in the early 1900s. They are typically the smaller of the two, and are popular in soups and stews. They break down easily when exposed to heat, which makes them excellent thickeners.
Great Northern beans tend to hold their shape better than navy varieties, but often take longer to cook and have a nuttier, denser flavor. The Great Northern is often likened to a miniature lima bean owing to its slightly flattened shape.
In Europe, the cannellini bean — which is indigenous to Italy — is one of the most common white beans. A variety known as "European soldier beans," which are similar in both horticulture and name origin to navy beans, are also popular. Many botanists believe that the navy bean and the soldier bean are one and the same, just with different growing areas.
Leftover Chicken Fajita Soup
What can you do if you have leftover chicken fajita soup? Well, the easiest thing is to warm it up and eat the next day. But, if you want to disguise it and make it into something even more different, try these ideas:
Scoop over a mound of fluffy rice, your choice.
Use a slotted spoon (to drain off much of the broth) and top over tortilla chips, top with cheese, melt and have a mound of deliciousness.
Add some type of noodle/pasta to the soup to make it more robust and hearty. The pasta/noodles will also absorb some of the broth.
Butter and grill a slice of thick artisan bread, scoop a big spoonful of the soup on it. Let the toast become somewhat saturated and juicy. Eat with a fork and knife!
Put some salad fixings in a bistro bowl (lettuces, cuke slices, tomatoes), use a slotted spoon and scoop on top. Drizzle on your favorite dressing and crunchy toppings!
Make a bowl of quasi 'French onion soup'. Melt cheese on top and add toasted croutons.
I'd LOVE to hear your ideas! xox ~ally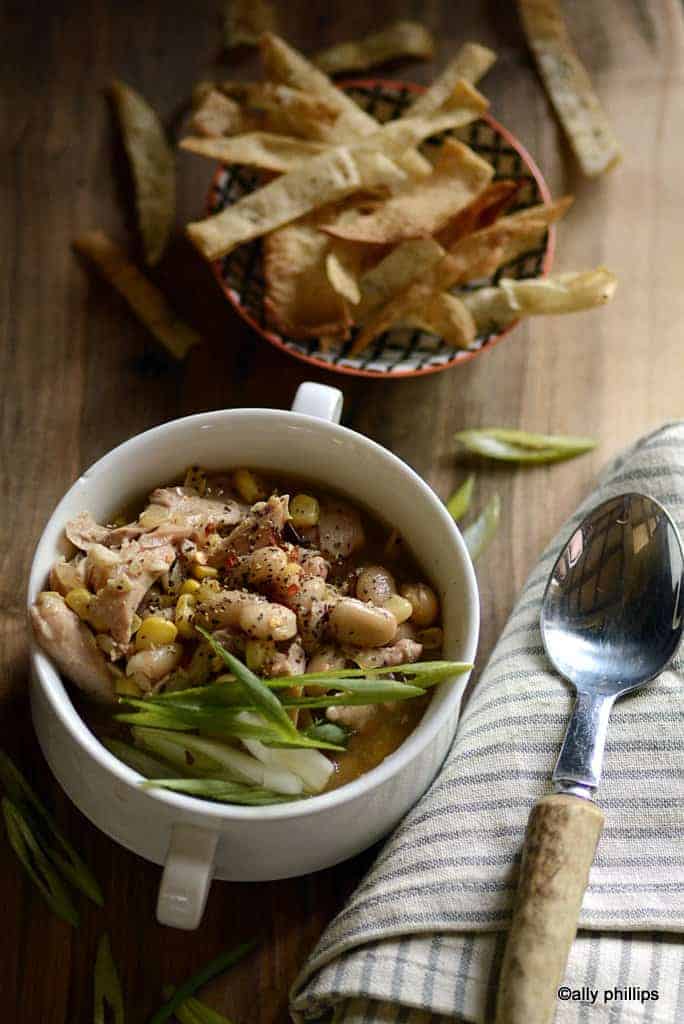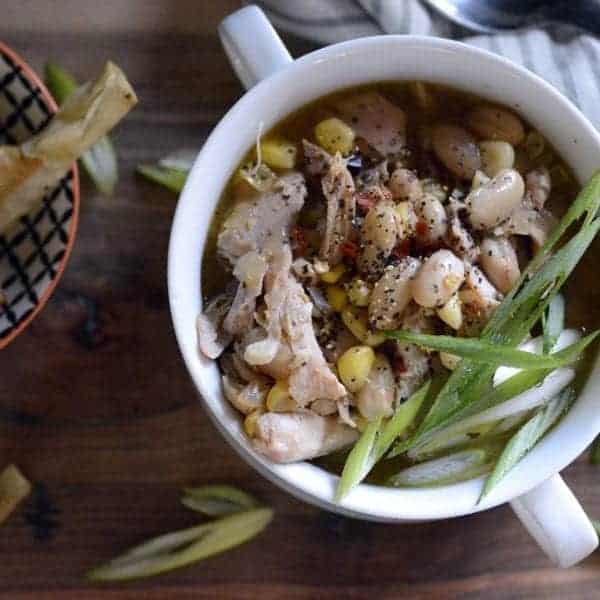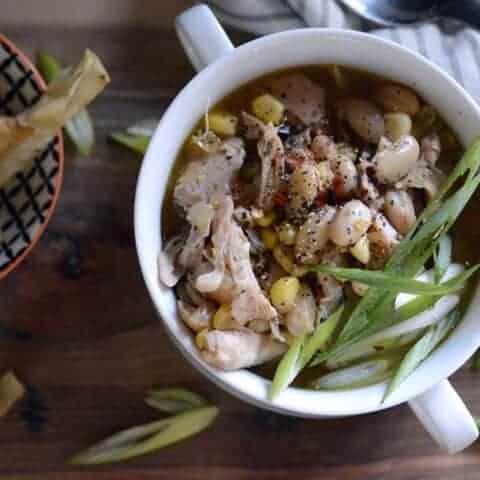 slow cooker chicken fajita soup
Slow cooker chicken fajita soup tastes like your dining at your favorite Mexican restaurant! But, wait, no tip required. And, leftovers are even better!
Ingredients
3 Tbl. oil
1 cup sweet onions, diced
2 Tbl. garlic, minced
1 ½ lbs. chicken thigh, skinless and bone in
1 (32 oz.) organic chicken broth
1 tsp. sea salt
1 tsp. white pepper
1/2 tsp. red chili flakes
2 (1 oz.) package organic fajita seasoning
3 cans (15 oz.) white beans, cannolini and/or navy beans, somewhat drained
3 cups corn, fresh and cut off cob or frozen
1/4 cup pimentos, chopped
GARNISH:
Green onions, garnish and serving
Sour Cream
Tortilla strips or chips, garnish & crunchy
Instructions
Turn the slow cooker to high. Set time for 5 hours.

Put the oil, onions, garlic chicken thighs, chicken broth, salt, pepper, chili flakes and fajita seasoning in. Let it cook for about 2 ½ to 3 hours.

The meat will be getting real tender. Take tongs and pull out a few pieces at a time. Put on a clean surface. Use tongs and remove bones then shred into pieces with a fork. Return meat to the slow cooker.

Add the beans, corn and continue cooking another 1 1/2 to 2 hours. Add the pimento when ready to serve.

When serving, garnish with fresh chiffonade green onions, a dollop of sour cream and tortilla strips or chips.
Notes
Finish off with coarse black pepper when serving.