farmers market chicken soup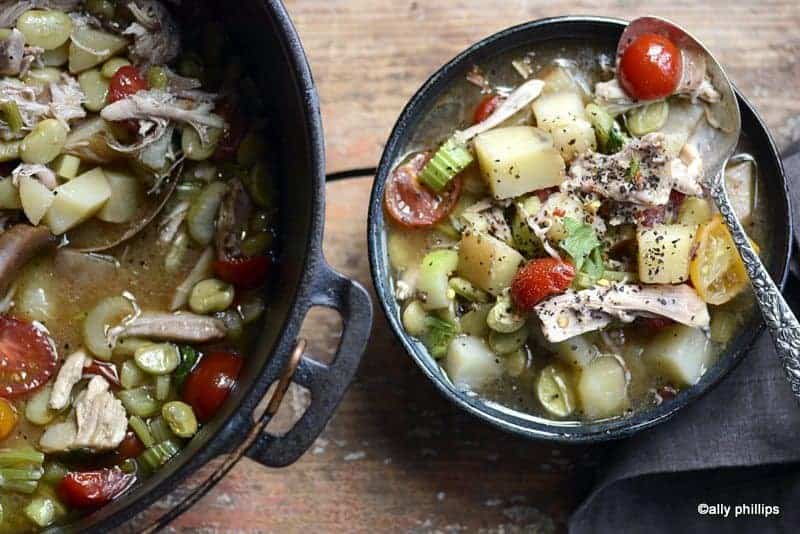 Farmers market chicken soup has all those beautiful healthy vegetables that come from your local farmers. Healthy and healing for sure!
Quick and Easy Chicken Soup
Hearty and robust, this farmers market chicken soup can be made year round. In the summer when you have access to all the fresh vegetables, you can load it up with whatever you like, if you like. For me, I love the combination of the lima beans, potatoes, chicken and the rich thick broth.
Easy Chicken Soup Recipe
Soup is healthy. In fact, you can get a lot of great nutrition from making a big pot of soup. Just what is it about soup that elevates healthiness. According to Livestrong, some of the reasons include eating more vegetables, which we all need more of. Then there's the fact that it's filling. Yes, your belly gets 'fulled' up! Then soups are low in energy density.
Best Chicken Soup Recipe
Actually, this means: "Soups that are broth-based are also low in energy density, meaning they have relatively few calories per gram. Choosing foods low in energy density can help you fill up with fewer calories, making it easier to lose weight."
Easy Vegetable Chicken Soup
Using a rotisserie chicken from your grocer's deli affords some convenience that doesn't compromise your homemade pot of soup. Using those chicken bones and the carcass gives you more depth of flavor and fullness, so don't throw them out until you've simmered them down, picking off all the meat and creating a base broth for the soup.
How to Make Easy Chicken Soup
Another technique I love about this soup is adding those cherry tomatoes and celery in the last about twenty minutes. The absorb the flavors but retain their slight al dente crunch that adds a layer of texture with the creamy potatoes and succulent lima beans.
Chicken Soup Recipe
Doesn't matter whether you're making this for a chilly winter's day, a spring cool evening, a summer outdoor dining event or welcoming the advent of Fall, cooler temperatures and short days, this farmers market chicken soup hits the spot.
Chicken Soups
Make a day ahead of time, refrigerate and let those flavors meld even more, and you won't be disappointed!
xoxo ~ally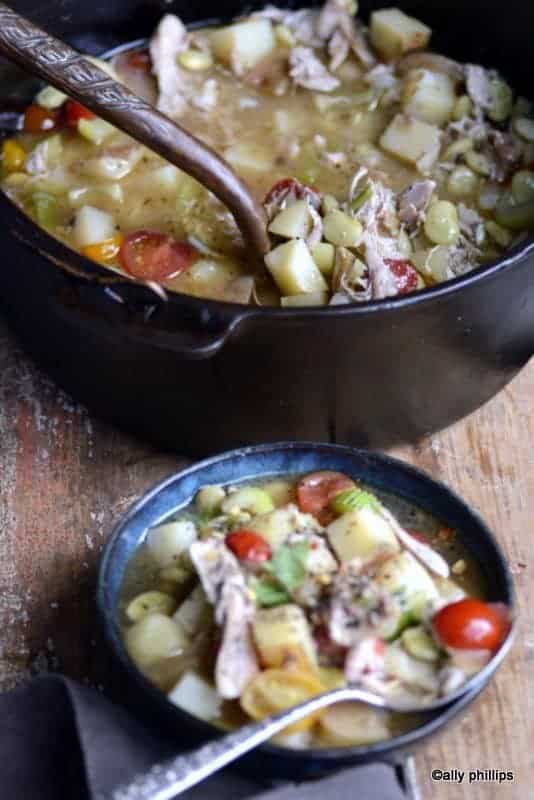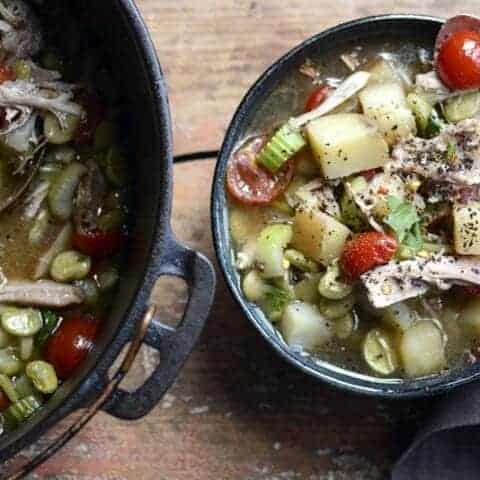 farmers market chicken soup
Ingredients
½ rotisserie chicken, from grocer deli, deboned and bones steeped in about 3 cups of water for broth
4 cups chicken broth
10 oz. frozen baby lima beans
3 cups red potatoes, diced
3 bay leaves
1 ½ tsp. sea salt
1 tsp. coarse ground pepper
1 tsp. red chili flakes
½ tsp. ground cumin
1 cup cherry tomatoes, sliced in halves
2 cups celery, with greens and sliced
Instructions
Set the chicken meat aside. In a large heavy pot, put the bones and three cups of water. Bring to a roaring boil. Reduce heat to medium, cover and simmer about 20 minutes.
Use tongs to remove the bones. Let any of the remaining meat on the bones fall into the broth.
Add the chicken broth, limas, potatoes, bay leaves, salt pepper, chili flakes, cumin and chicken meat. Blend. Cover. Cook on medium low for 30 minutes.
Turn to simmer. Add the tomatoes and celery. Blend, cover with a lid and let the soup 'steep' about 20-25 minutes. The celery will be slightly crunchy. The tomatoes will be tender.