Chicken doodle soup. Yes, it's my whimsical version of 'chicken noodle soup' but with a bohemian flair! I love the rich tomatoeee broth that comes with every bite. Reminiscent of a 'vegetable' soup, there's no mistaking that you're eating chicken soup.
Now, what might the flair be? It's something subtle. It's something simple. It's something that helps build flavor. It's not only a couple of ingredients, like a package of dried Lipton's Noodle Soup, but a 'layering' of ingredients rather than a 'dumping' of them when preparing the soup.
Yes, we're going to build the taste profile. So be sure to read those directions. It's not hard, just need to follow the bouncing ball.
Now, this was so stinkin' good that Ben and I both had two bowls for breakfast. He said it was the best I'd ever made. Asked me how to do it. I said, 'Head to the website…everything's there for you! I'm thinking he'll want to impress his buddies while I'm gone by making this soup for them!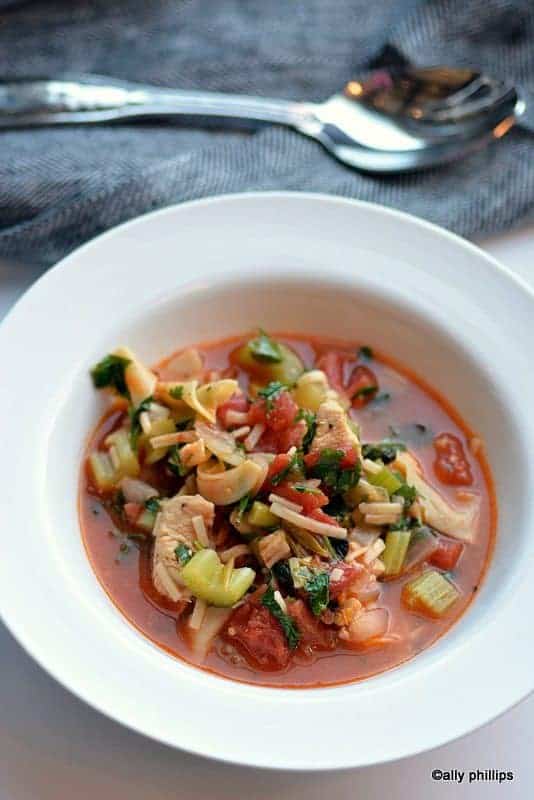 Ingredients
¼ cup extra virgin olive oil
1 ½ cups sweet onions, diced
6 garlic cloves, peeled and smashed
1 lb. boneless skinless chicken breast, cut in about 1" cubes
1 ½ tsp. sea salt
1 tsp. coarse ground pepper
½ tsp. red chili flakes
1 packaged dried chicken noodle soup
2 (14.5 oz.) cans diced tomatoes
3 ½ cups chicken broth
2 cups celery, with leaves and sliced
1 cup dry noodles, wide egg
1/3 cup fresh basil, roughly chopped
1 cup flat parsley, roughly chopped
Instructions
In a large cast iron pot over medium heat, put the oil. Let it get hot then add the onions. Sauté 5 minutes. Add the garlic cloves and cook another 3-4 minutes. Add the chicken cubes, salt, pepper, chili flakes and chicken noodle soup cook about 5-7 minutes tossing and blending well.
Add the tomatoes and chicken broth. Blend, increase heat to high. Cover and bring to boil for 5 minutes. Reduce heat to medium or medium low. You want a simmering boil. Cover and cook 20 minutes.
Reduce heat to medium low and add celery, noodles, and basil. Cover and cook about 30 minutes.
If not serving immediately, let the soup simmer on very low heat.
Add parsley when ready to serve.
https://allyskitchen.com/chicken-doodle-soup/
©ally's kitchen intellectual property