French Onion Beef Sliders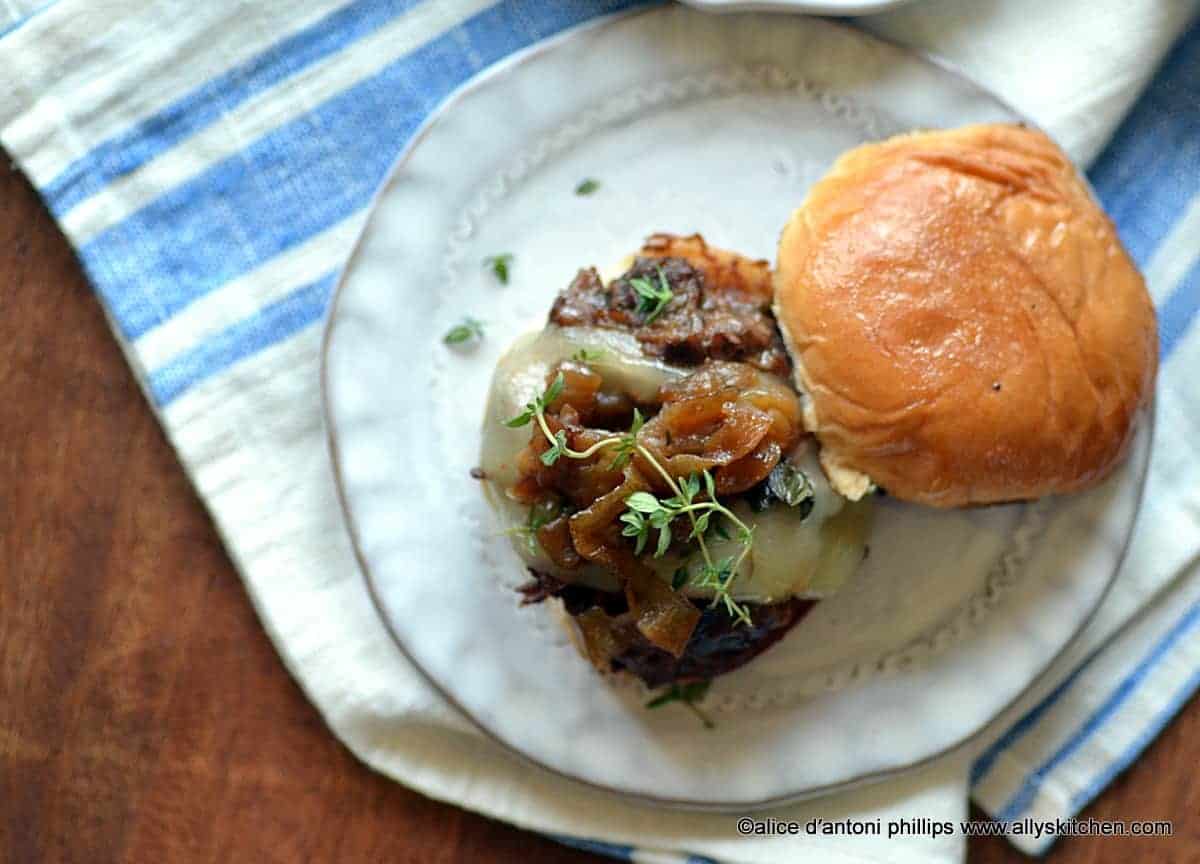 French Onion Beef Sliders. Don't skip this appetizer! Serve anytime! Parties or family dinner. Watch how quickly these babies disappear.
French Onion Beef Sliders
When I make a beef roast, like what we call 'stringy beef' because it's a less expensive cut of beef, usually chuck, that's full of flavor, but must cook really slowly, we usually always have leftover meat. In fact, sometimes I get a large roast just to have these leftovers because so many other dishes, like soups and stews, can be made with the meat, gravy, and broth.
And, if you have enough broth then you'll want to make my French Onion Mushroom Soup. Sooooooooooooo good! And, if you don't have enough broth, not to fret, check out the Kettle and Fire brand. It's the best, in my humble opinion. Plus, use my discount code at checkout ALLYSKITCHEN and you'll get 20% off your order. That's sweet!
And, yes, receive a commission and I sincerely appreciate your support. It helps pay the overhead. Plus, always remember, the opinions I give are totally mine.
Please read my disclosure on working with brands.
Beef Sliders
These french onion beef sliders are perfect for using that stringy beef leftover meat. With caramelized onions, some spicy pepperjack cheese and a butter grilled crispy bun, you'll want two because one will just not be enough! Be sure to have some dipping broth nearby…if you don't have broth leftover, then a good rich brand of beef broth will work when you're making the caramelized onions. Serve with a simple refreshing European green salad and an olive oil/lemon juice vinagarette or this bleu cheese coleslaw and you have a designer meal. xoxo ~peace~ ally and you have a designer meal. xoxo ~peace~ ally
Onion Soup French
French onion soup is good during the cold season. Warming, it gives the body comfort and relaxation. And it disperses the blues perfectly! Soup is pleasantly thick, very rich, sweet onion and tart thyme, viscous stretching cheese with crunchy baguette pieces. The French classic recipe is favourably complemented by an onion soup. Such a dinner will become not only amazingly tasty but also satisfying.
Beef Sliders Recipe
Make dinnertime easy and delicious with these Easy Beef Sliders! Your family will LOVE them! Cheesy beef sliders on top of a toasted roll are always a good idea whether for a weeknight dinner or dinner party item! They are so easy to make and you'll need simple ingredients. These sliders are guaranteed to become a favorite!
Want to try more sliders recipes? Then you should try sriracha shrimp sliders and berbere lamb sliders. I promise you'll love it.
Hamburger Slider Recipe
Kids love pizza, fries and of course burgers! And, this French onion slider can be like a hamburger slider. Now if the kids don't like the onions just leave the off the slider.
True, these little 'French Beef' hamburger burgers will appeal not only to them, but they'll love the tender juicy beef. A juicy spicy cutlet, toasted buns and aromatic cheese are almost the perfect combinations for a hot snack or for a small main course when combined with French fries or a vegetable side dish. No need to run out for fast food when you can create a healthier meal for your family with a simple recipe like this!
Slider recipes
These sliders are easy to make and super delicious! They are a hit every time! The delicious new slider is sure to be a hit with party guests; they can also serve as a simple but successful midweek family dinner. The delicious new slider is sure to be a hit with party guests; they can also serve as a simple but successful midweek family dinner.
Here's another recipe that you should try:
dinner style french onion beef sandwich
chicken sliders & apricot mustard sauce
br'er rabbit burger
Warm Spiced Skillet Bread
mozzarella zucchini egg tortilla skillet pie
Oh, yeah, good stuff! xoxo ~ally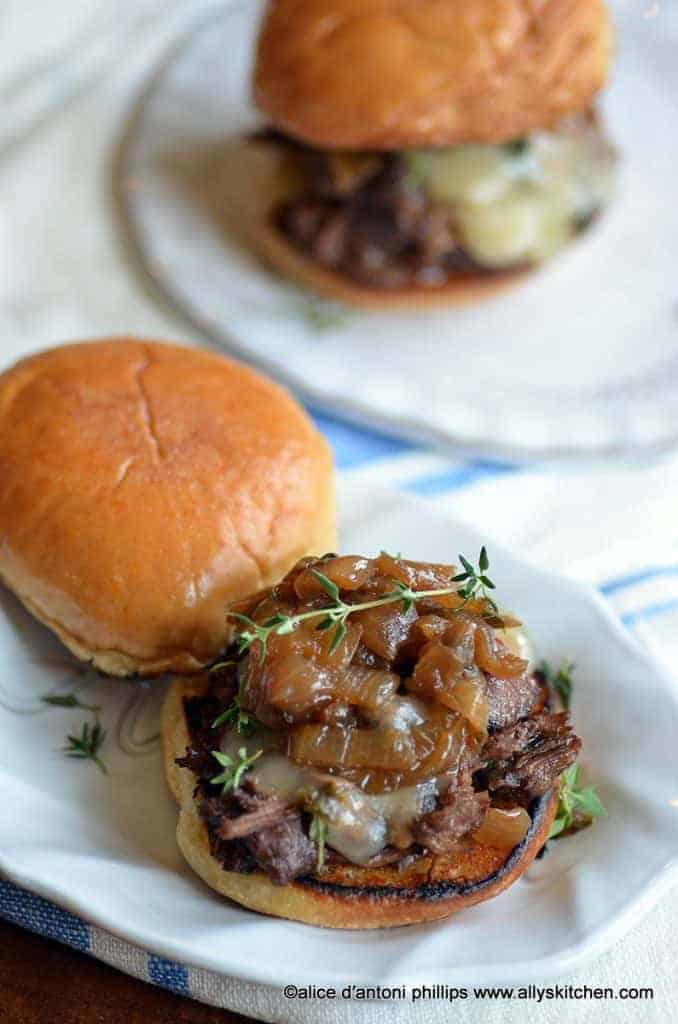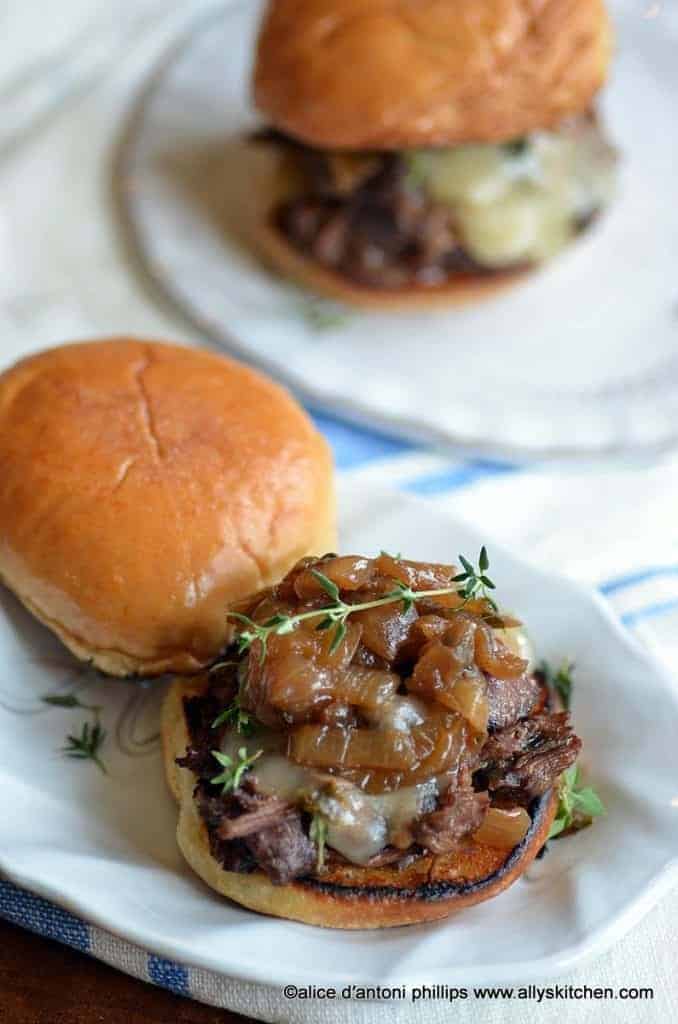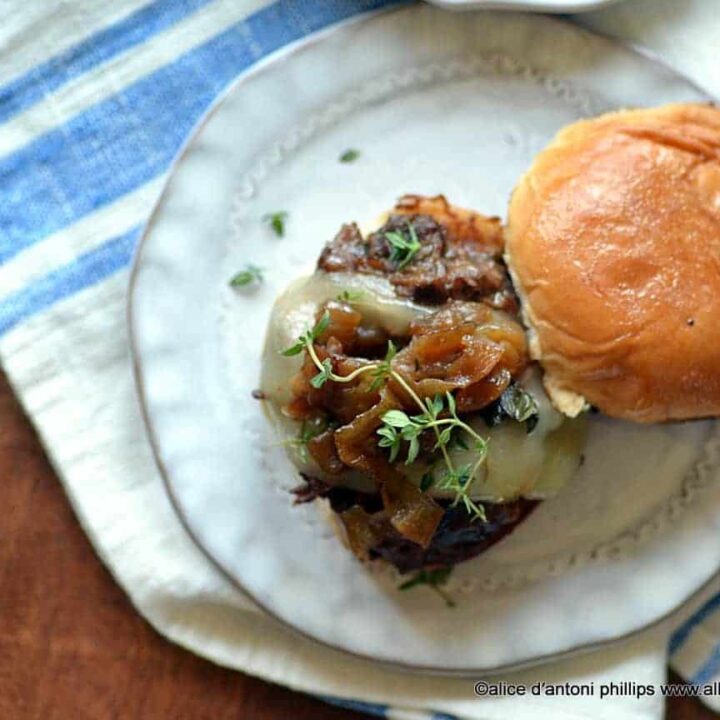 French Onion Beef Sliders
French Onion Beef Sliders is one appetizer recipe you don't want to skip. Serve it for the Super Bowl and watch how quickly these little sandwiches disappear.
Ingredients
1 1/2 large sweet onion, thinly sliced in half-moon shapes
8 slider buns
5 Tbl. salted butter, room temperature for easy spreading (divided)
2 to 2 1/2 cups leftover beef chuck roast (see recipe) (Note: You can substitute deli cut beef roast. Warm slices in a skillet, then slice in halves and fold over the meat stacking using about 2 slices of beef for each slider.)
4 deli slices pepperjack cheese, cut into 2" strips
1/2 tsp. sea salt
1/4 tsp. pepper
1 1/2  cups of beef broth (organic)
12-15 Fresh thyme sprigs
Instructions
In a heavy cast-iron skillet over medium heat, melt 2 tablespoons of butter. Add the onions, salt and pepper and toss and blend. Cover and cook, tossing occasionally, the onions about 20-25 minutes. Increase heat to medium high, remove lid and cook another about 15-18 minutes to brown the onions. Strip the leaves from about 5 of the thyme sprigs and blend in. Reduce heat to simmer and add the broth. Let this cook about 15-20 minutes.
Use 3 tablespoons of the butter to spread on the insides of each of the slider buns. Grill over medium heat in a non-stick skillet. Remove the bottoms to a cookie sheet for preparing the sliders.
Put equal amounts of the beef roast (that's been heated up) on the bun. Add equal amounts of cheese. Place the cookie sheet about 10" from the broiler and melt the cheese. Watch carefully. Remove and using tongs, put equal amounts of onions on each slider along with some thyme leaves. Reserve the liquid and remaining onions for individual serving/dipping bowls. Serve with the grilled tops of the sliders.