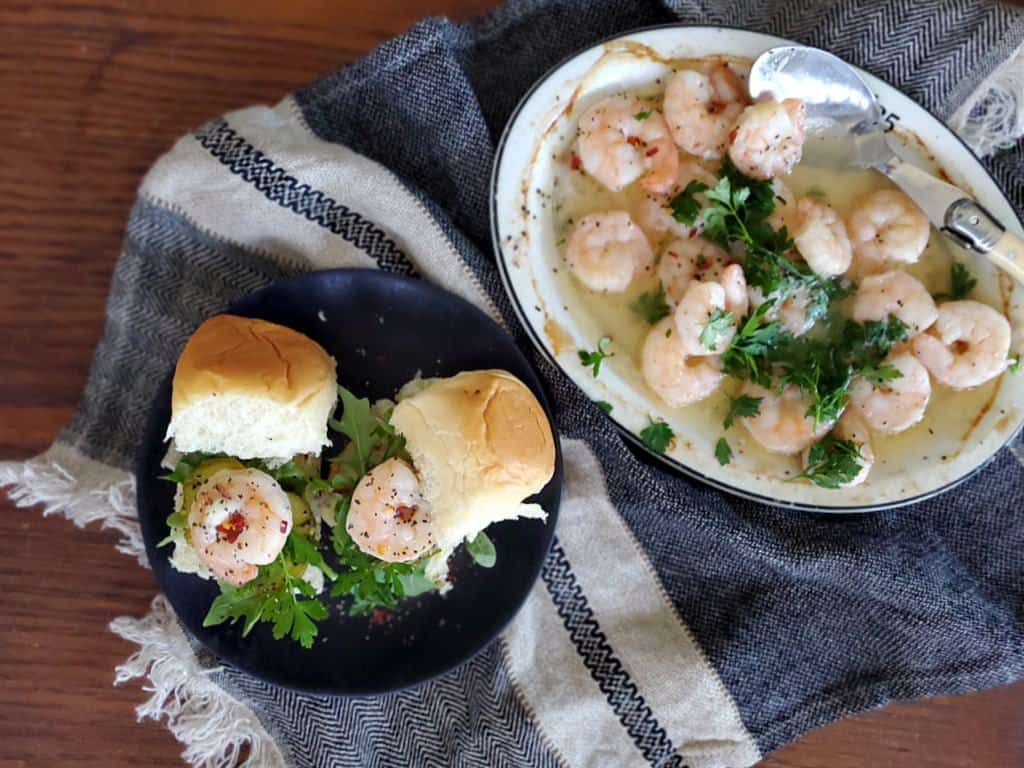 When you're back's against the wall in creating some food because you have no kitchen (yes, total remodel and gutting), then you get ultimately creative with cooking at home. Having only two countertop appliances to use for almost three months, a microwave and toaster oven, it became a challenge, and inspirational fun, to come up with recipes. No way were we going to do take out or eat out most all the time. We've probably eaten out more during these past months than in years!
Inspiration for this Recipe
This sriracha shrimp slider is simply one of those quick recipes that could be done in the toaster oven. My toaster oven is nothing fancy. Probably got it years ago at some place like WalMart for about fifty bucks or less. No extravagant settings, broil and bake. That's it. Same with my microwave. Came from probably one of the big box stores for under $150 bucks. It's served me well since I usually don't microwave much more than heating up coffee or melting butter.
Served these sriracha shrimp sliders to the team of hard-working guys who were installing the beast of a piece of quartz for the new island in our kitchen. Weighing in a whopping about 850 pounds and about ten feet long (I didn't want seams!), it had to be brought in by a huge crane because my kitchen's on the second floor. No way was that piece of quartz coming up sixteen steps!
The overall consensus was that these were amazing. One kid was munching as I asked him how they were, he looked at me and said in a serious tone with a deadpan face, 'What kinda drugs do you have in here?' And, then he burst out in a laugh saying they were so dang good he was all grins!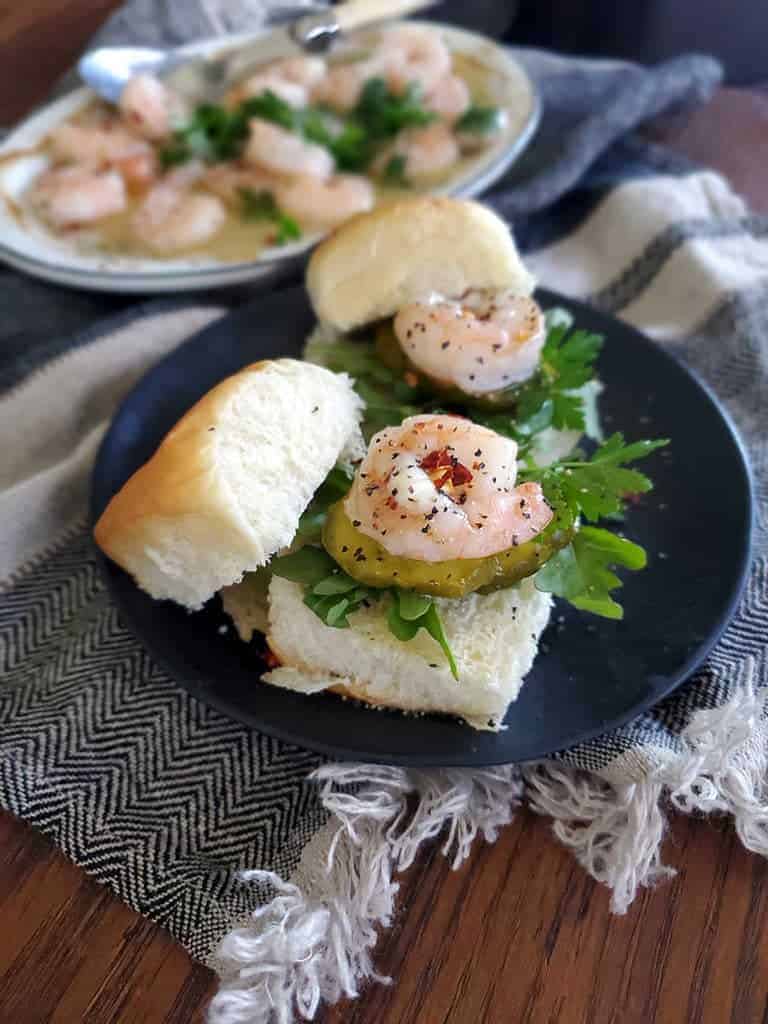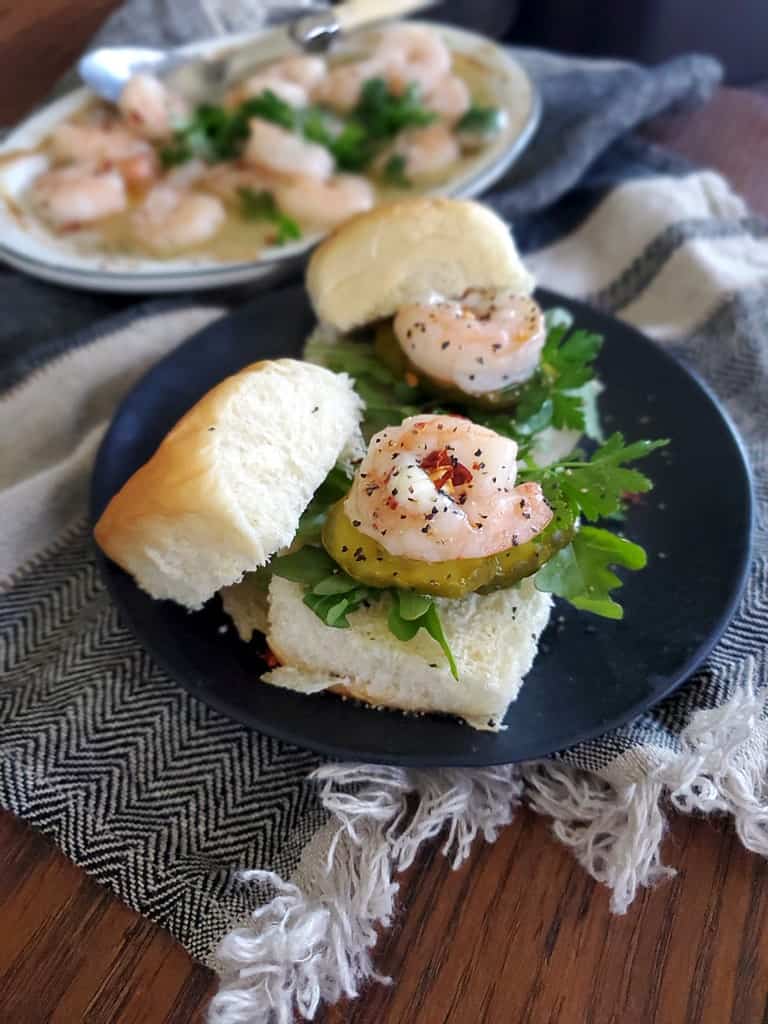 Ingredients
24 extra-large shrimp, peeled, deveined, tails off, thawed if previously frozen
½ cup white wine
4 Tbl. butter, unsalted, melted
1/8 tsp. red chili flakes
1 Tbl. Old Bay Seasoning
3 Tbl. capers, drained
1/4 cup flat parsley, roughly chopped
1 lemon, juice only, divided
¼ cup + 3 Tbl. mayonnaise, preferably Dukes
¼ cup Greek yogurt, plain
3 Tbl. sriracha
½ tsp. sea salt
4 cups fresh arugula
24-30 dill pickles, round slices
1 package (12+) King's Hawaiian Sweet Rolls, Original
Coarse ground pepper
Instructions
In an baking dish combine the white wine, butter, chili flakes, Old Bay and whisk. Add the shrimp into the broth and spread out so each is lying flat. Turn the shrimp several times in the broth to coat. Turn oven to broil.
Put the dish about 10" from the broiler. Broil shrimp about three minutes then flip them over and broil another three to four minutes. Remove, add the capers and parsley, squeeze half the juice of the lemon, blend and cover with foil.
In a small bowl whisk together the mayonnaise, yogurt, sriracha, salt and remaining lemon juice. Set aside. Build the sliders. Slice a bun. Put on a healthy schmear of the sriracha mayo, add two to three pickles, some arugula, and top with two to three shrimp. Give a quick dusting of coarse ground pepper. Put the shrimp broth in a bowl for dipping. Any extra sriracha mayo can also be served as a side for extra.
Notes
You can prepare ahead of time (a few hours) the shrimp, leave it in broth and refrigerate. Cover with plastic wrap or foil.
Other slider toppings can be grated parmesan and pepperoncini slices.
https://allyskitchen.com/sriracha-shrimp-sliders/
©ally's kitchen intellectual property