Smoked Green Beans with Roasted Cherry Tomatoes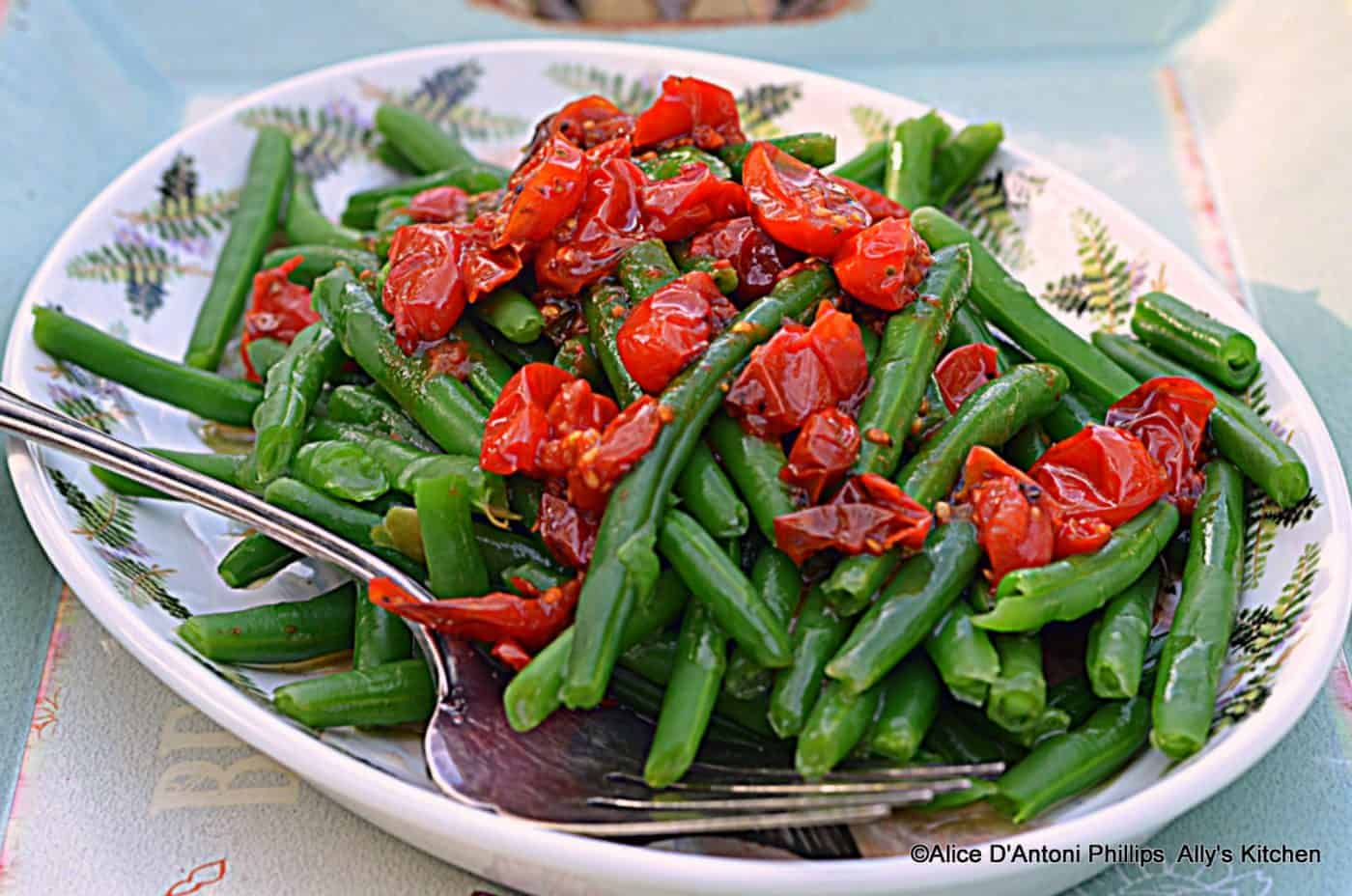 Smoked Green Beans with Roasted Cherry Tomatoes has a smokey bacon flavor. Quick and easy and perfect with almost any entree!
Recipes using Fresh Green Beans
The fresh al dente green beans made in Slow cooker beef tomatoes olive stew will give you the best beans flavour, it is quick and easy to make and perfect with almost any entree. You can serve these dishes at your table with sliced additional beef added to it to make it look more mouth-watering. Nonetheless, the salt, pepper and a bit of lemon will add charm as well.
Sauteed Green Beans Recipe
The sauteed green beans are the best like a mother-made food. This is best to have when you need a break from your stress. The best combination of sauteed green beans is the Beef potatoes & tomatoes which will provide a heavenly feeling when it is sprinkled with salt and pepper which can be the perfect combination ever.
Cooking Fresh Green Beans Country Style
If you are in a hurry for work, then cooking fresh green beans might be the right choice for you as these are the easiest green beans recipe and also can be eaten for a good breakfast. But if you are not in hurry then try to use country style to cook this. If you are more likely to have it for a heavy and healthy breakfast you can add some Middle eastern Roasted baby gold potatoes because, at the time, you will roast the potatoes you can easily carry on chopping the fresh beans on the other side. This can be your quick-easy-peasy-ready-to-go breakfast.
Recipes for Fresh Green Beans and Bacon
Bacon is loved by many so why not try making this recipe and add on a little experiment by mixing fresh green beans with bacon. Preheat the oven to 400, put tomatoes in a small skillet, coat with olive oil, salt and pepper and later serve the stunning beauty with Smothered creole pork chops tomatoes & mushrooms. The country-style recipe is a win-win for all and is perfect for a dinner date with your loved one.
Southern Smoked Green Beans
The southern smoked green beans when mixed with Purple cabbage salad & roasted tomatoes will do wonders to your taste buds because when we talk about general beans veggie it is not that tasty to have a bite at, but when a crisp of purple cabbage, perfectly chopped onions with multiple ground spices are added on to it, it surely is a dish worth having a bite at.
Smoked Paprika Green Beans
The fresh green beans when served with a neat trick to flavour the cooking water with paprika, will give you another whole new level taste. This dish could be dinner, snack, breakfast or whatever because its versatility makes it beautiful to serve at any time of the day. So, if you want to have a light snack just make the paprika green beans and start eating at peace for a light snack however if you want to go for a healthy, heavy and tasty breakfast then why don't you just add Beef potatoes & tomatoes to your beans and see what taste it could get you.
Italian Green Beans and Tomatoes
The Italian green beans are a bit different from your regular green beans, they are also known as romano beans which are wider and flatter in appearance and give a much better taste than your regular green beans, so whenever you are making dinner for yourself and your family, the Italian green beans will do wonders when the Harissa chicken tomatoes onions & feta will be added as a topping to it. The mouth-watering beauty and the everlasting taste sounds perfect, eh?
Roasted Green Beans and Tomatoes
No matter if you are on a diet or just avoiding the roasted eateries because when it comes to roasted green beans and tomatoes, you will surely not turn a bite down, also if your kids do not love general green beans you can roast the beans to change the taste and add on tomatoes to it, to give it a sour yet tasty taste. However, if you just want to eat something light for dinner which can easily be made then you can add your roasted beans and tomatoes with Easy middle eastern lentil salad and enjoy it with a glass of wine.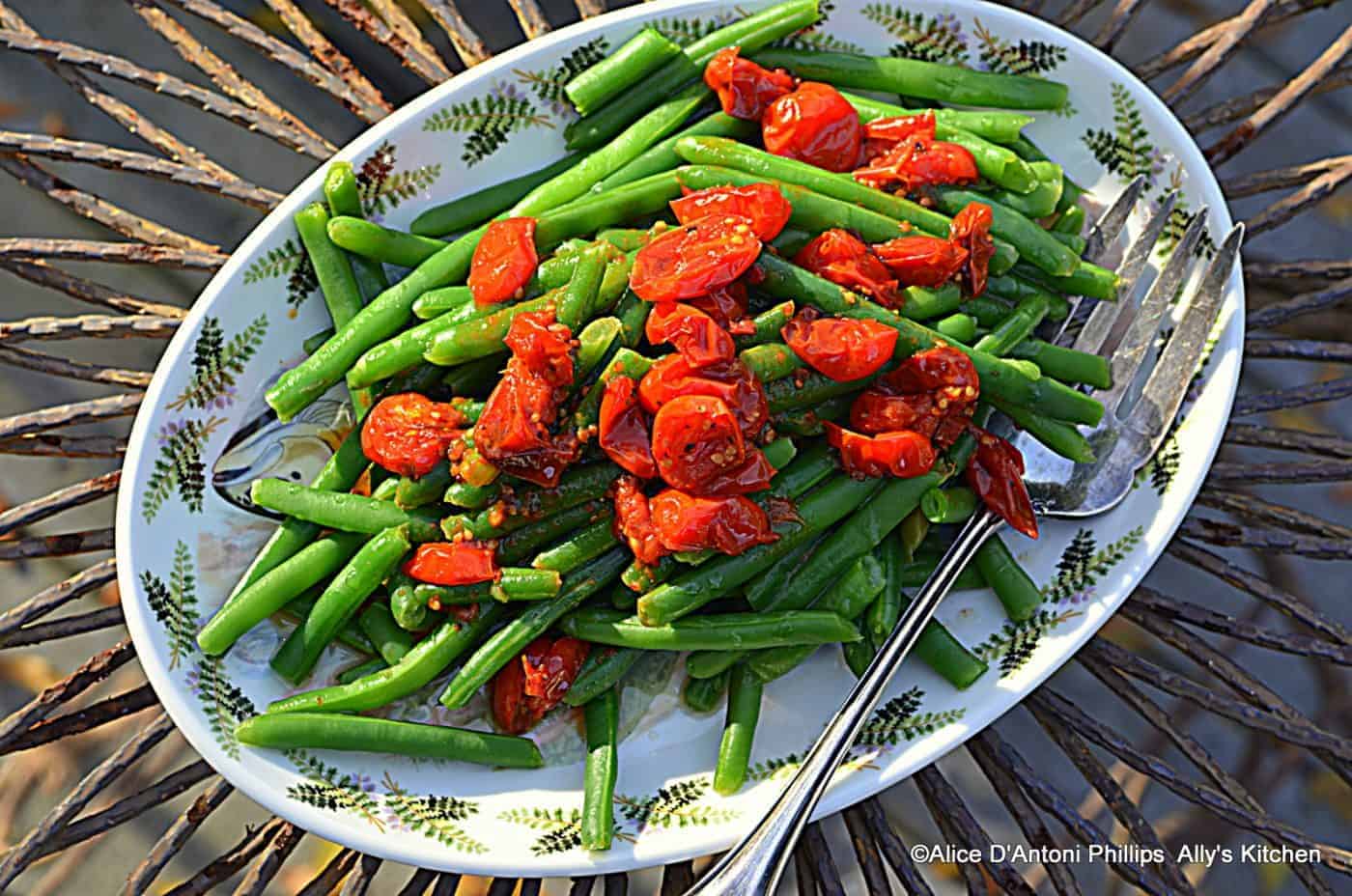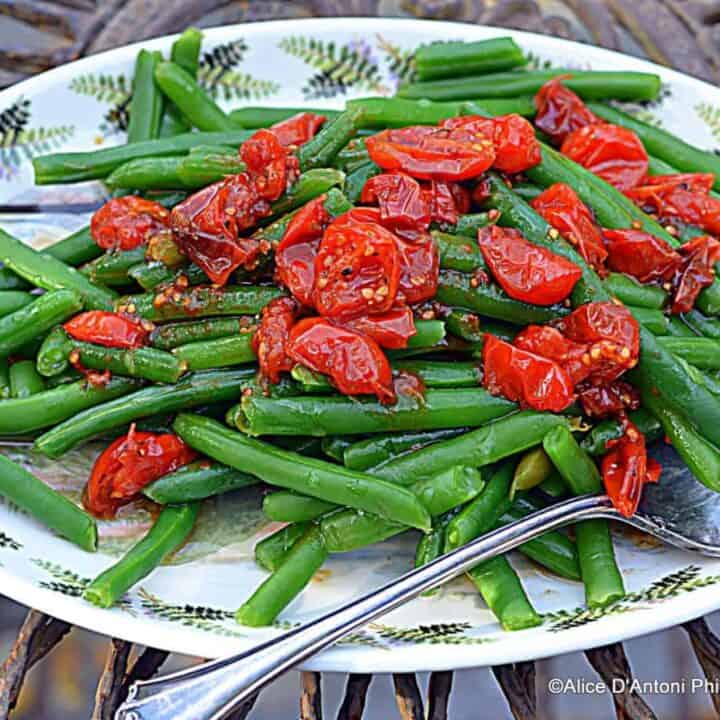 Smoked Green Beans with Roasted Cherry Tomatoes
Al dente fresh green beans.  A smokey bacon flavor.  Roasted cherry tomatoes.  Quick and easy and perfect with most any entree!
Ingredients
12-16 ounces fresh long green beans
1 tsp sea salt
1 tbl smoked Hungarian paprika
¾ cup sliced cherry tomatoes
3 tbl olive oil
Sea Salt/Pepper  (to taste)
¼ cup warm bacon drippings
Instructions
Put cleaned green beans in a heavy pot on high heat. Cover with water. Add salt and paprika. Bring to boil and cook about 9-10 minutes. Drain beans reserving about ¼ cup of the liquid. Have a large bowl of ice cold water ready (ice cubes in with water). Immediately put the beans in the ice water to stop cooking process and maintain brilliant green color.

Preheat oven to 400. Put tomatoes in a small skillet, coat/toss with olive oil, salt and pepper. Cook about 12 minutes or until they begin to char. Remove and put in a few tablespoons of the bean water to deglaze skillet.

When ready to serve, drain beans, top with tomatoes and drizzle on warm bacon. Re-heat about 45 seconds in the microwave if you want them warm.