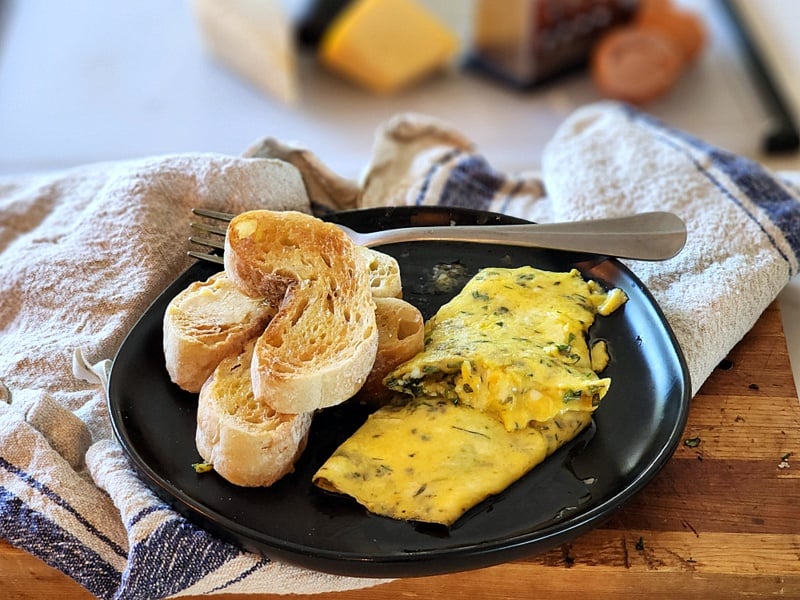 The classic French omelette. It's simple & delicious. Take your time. It's all about the technique of rolling and folding.
French Omelette
What makes this omelette different from an American omelette?
American style omlettes are usually that half moon shape. Stuffed full of anything and everything, yes, a laundry list, you love from onions and mushrooms to peppers, olives, spinach and more. American style omelettes are more about the fillings than the delicate tasty creamy eggs. And, the eggs are cooked until they're almost rubbery and spongy. The French omelette is totally different.
How to Make a French Omelet
You make a French omelet slowly. It's all about the delicacy of the eggs. Think of having soft creamy velvety scrambled eggs inside a folded egg.
Yes, it takes some skill and patience. It takes some practice to master the technique of folding and making a somewhat rolled finished omelette. But, it's so worth all the effort and times you make it because you're always moving towards perfection.
And, one essential piece of the puzzle is the pan. You can't use just any pan in my opinion. I've tested with several pans. Ones that I thought would work. And, each produced a different exterior and result.
Finally, I found the pan that works. And, it's this GreenPan pancake pan. Take a peek and order it if you're into making pancakes, crepes, French Scrambles and French omelets!
Classic French Omelette
For me, the classic French omelette, eaten in France for dinner as well as brunch and breakfast is all about the pasture-raised beautiful eggs.
I use three eggs. I want my omelette to have those silky scrambles inside the folds.
And, then there are the herbs. Oh, yes, the myriad of herbs that you love, all fresh, minced and put into the beaten eggs. Again, for me, I snip a variety of fresh herbs from my garden, fresh dill, basil, oregano, chives, tarragon, even tender celery leaves.
French Omelette with Cheese
The second ingredient for my classic French omelette is cheese. You can choose your favorite type. For me, its grated Gruyère or an aged cheddar.
One important thing about this French omelette is that you can't compromise by using cheap ingredients. High-quality eggs, butter and cheese are the only way to go. You will be rewarded with immense flavor and exquisite results.
French Omelette Ingredients
Unlike the American omelette, there are only three main ingredients in the French omelette. And, they're the ones that really count, big time. Pasture-raised eggs. Fresh herbs. Cheese.
Another thing about this omelette is that it doesn't happen fast. Your heat will be low. You'll proceed slowly. It take some time for the perfection to happen.
French Omelette Pan
Without the right pan, you might just encounter a small disaster with the French Omelette. I don't want you to be discouraged. This is such a beautiful experience when making and eating. And, like some things, you must have the right equipment. I'd never think of snow shoeing with out the snowshoes and poles. It would be a disaster, put me at risk and probably make me never want to do it again. Making a French omelette is kind of like that, well, minus the risk. Here's the pan that can help move you towards mastery!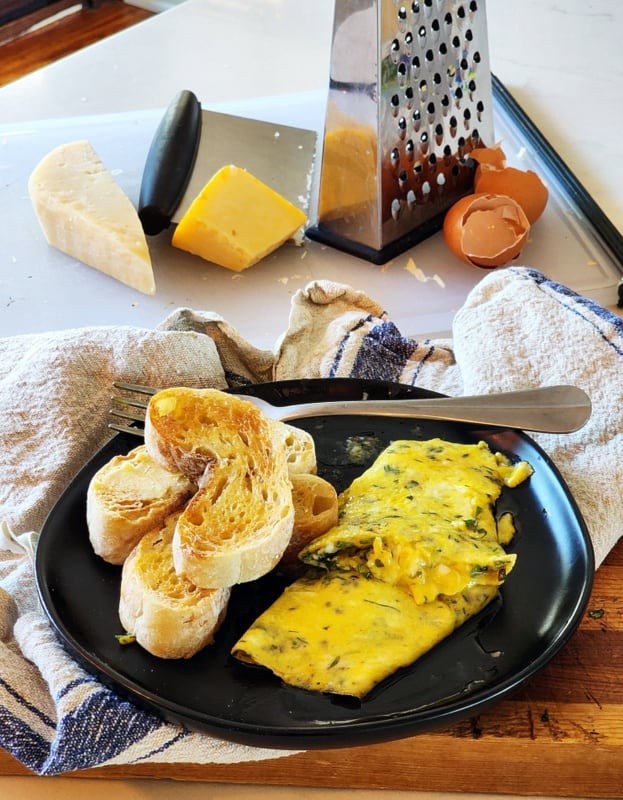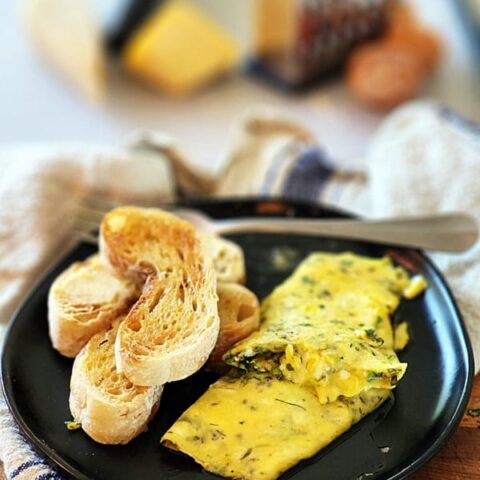 Easy French Omelette
Yield:
One French Omelette
Ingredients
3 pasture-raised eggs, beaten
1/4 cup fresh herb mixture, minced
1/4 tsp. salt
1/2 Tbl. butter, salted
1/4 cup grated cheese, your choice
Fresh cracked pepper
Instructions
Beat the eggs in a small bowl or measuring cup. Add the salt and herbs and blend.
Put the about 10" non-stick pan over medium low. Let it get very warm. Add the butter and melt to a frothy texture. Immediatey turn heat to low. Don't let the butter get brown.
Pour the egg mixture in and let it cover the bottom of the pan. Use a small wooden skewer, wooden fork or a chop stick to gently stir and move the egg mixture around in the middle of the pan slowly cooking it like delicate scrambles but no piercing the bottom egg enclosure. It might be a couple of minutes. You don't want to overcook.
Put the cheese in the middle of the egg mixture, which will still be 'runny'. That's a key to these eggs. The center most part of the omelette stays creamy and velevety with the eggs and cheese.
Take one or two flexible rubber egg flippers/spatulas and fold over one side of the egg towards the center. Then repeat with the other side. Keep heat on low and cook another about 1 1/2 to 2 minutes.
Slide omelette to one side of the pan. Let it sit for about 30 seconds, then carefully flip over onto your plate. The seam side should be down. Eat immediately.
Notes
Use only the best ingredients for this lovely French omelette. This is a dining experience. You'll be taking the time to make it perfectly and having the best butter, eggs, herbs and cheese will enhance your experience.