chicken sliders & apricot mustard sauce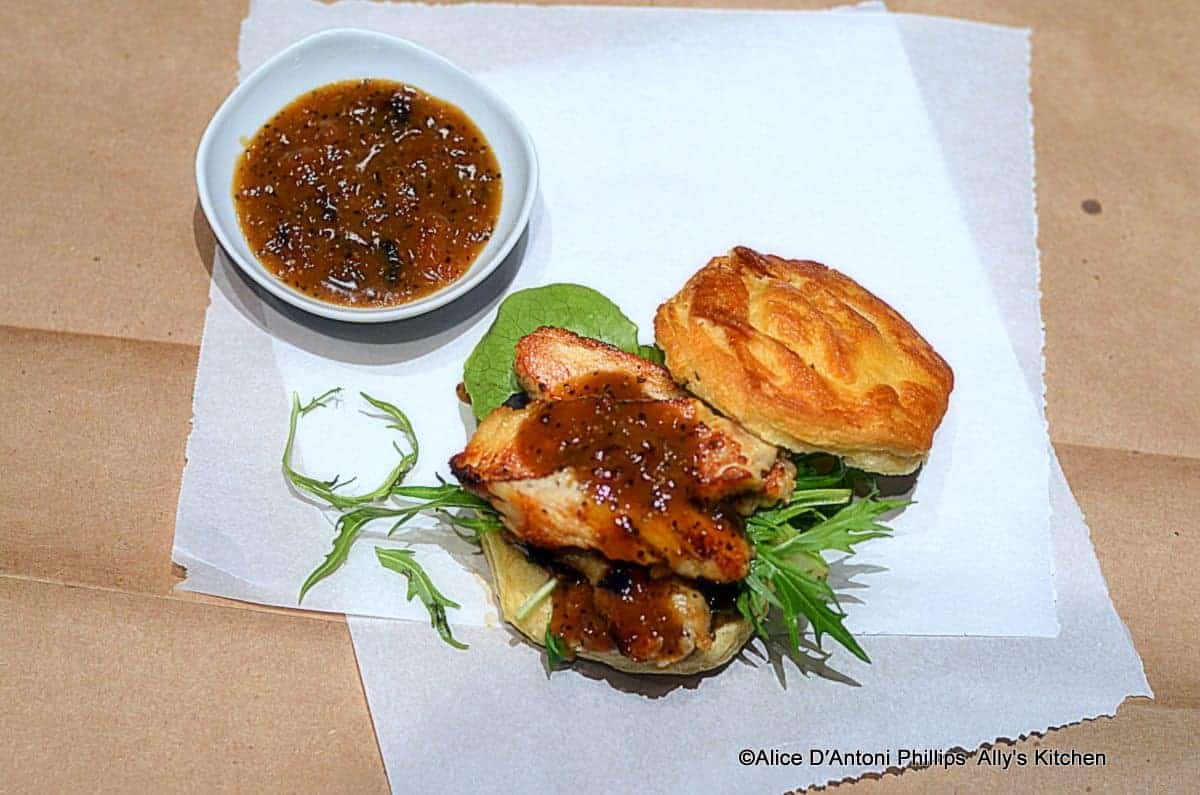 Sometimes you just gotta cut corners when cooking, especially when you're in a hurry or just don't want to make everything from scratch.  That's perfectly o.k! Not a cardinal sin of cooking. If you read labels and examine the ingredients list of some of today's pre-packaged items, you can sometimes find some fairly decent alternatives.
These chicken sliders and apricot mustard sauce are a quick and easy way to make a great dinner or lunch. Hey, add an egg on top of the slider and you have breakfast. Using the frozen chicken strips really saves some time and they are quite tasty. Just make sure you don't overcook. What makes this sandwich simply fabulous is the sauce. The combination of the sweet of the apricot jam (look for natural fruit spread) and the tanginess and kick of the dijon mustard really adds to the flavor profile.
Then you mound on lots of greens, lots and lots of greens, any type and you're getting more nutrition. I happened to have arugula in my crisper. If I'd had watercress, that would have been on the sandwich. I love those greens that are loose and colorful, too…that's why I suggest the European blend.
Enjoy the sliders. It's a meal in itself. But, if you want to do sides then I'm thinking the Eastern European Potato Salad!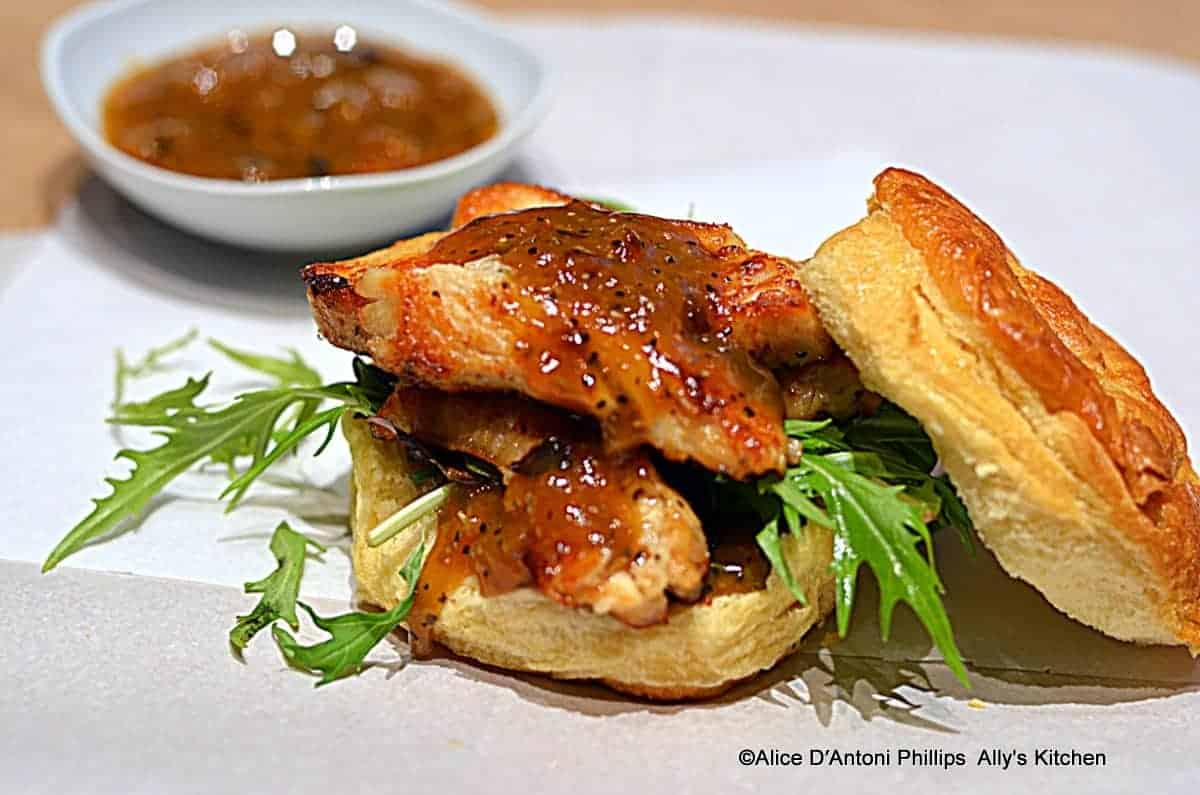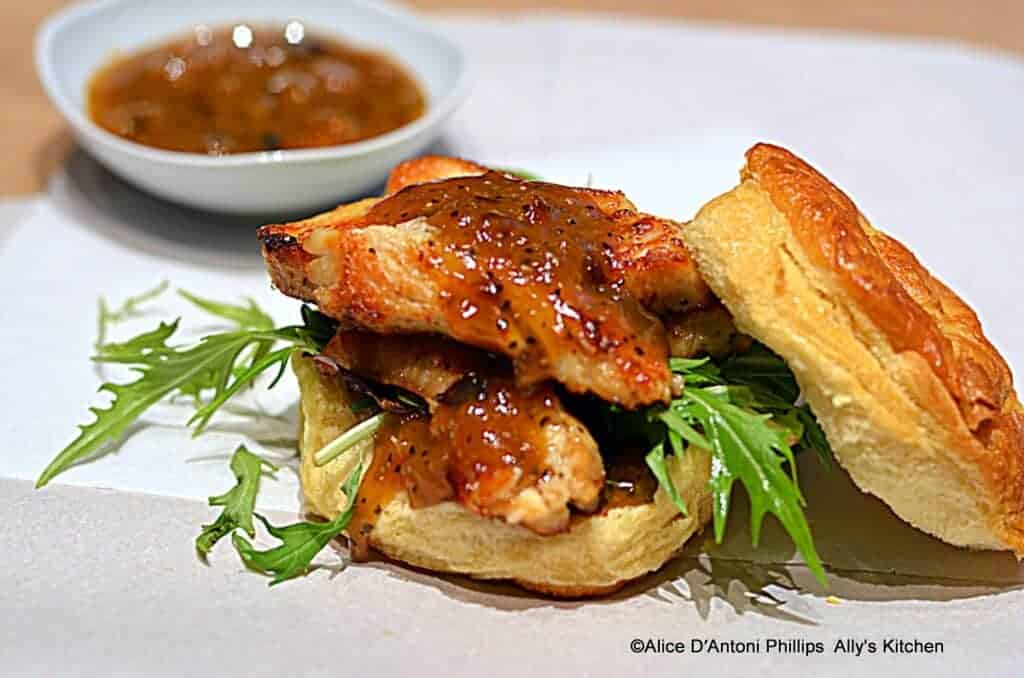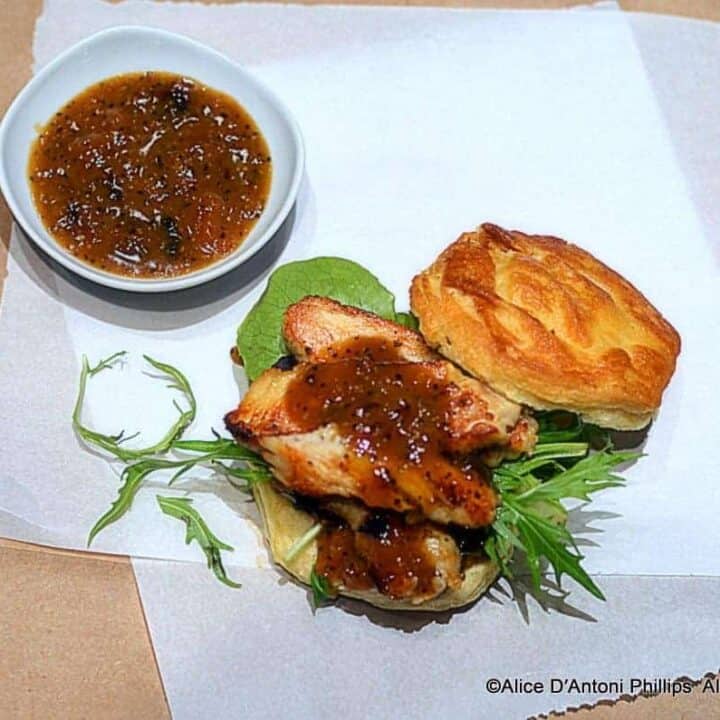 Crispy Spicy Chicken Sliders with Apricot Mustard Sauce
Ingredients
Preheat oven to 350
1 can pre-packaged Flaky Honey Butter Biscuits
10 tablespoons oil, coconut or your choice (divided)
1 cup Apricot preserves (divided)
½ cup Dijon Mustard (divided)
1 ½ tsp red chili flakes
32  (partially thawed) packaged 'Frozen' Grilled Real Chicken Breast Strips (no breading, about 3-4" long strips)
3 cups loosely packed European fresh greens (can substitute another gourmet combination)
Instructions
BAKING BISCUITS: In a non-stick pan, heat 3 tablespoons of canola oil on medium high heat. Open biscuits and separate. When oil is hot, place 2 or 3 biscuits at a time in the skillet and grill about 20-30 seconds on each side (golden brown crisp finish). Remove and put on doubled sheets of paper towels to drain. Continue with crisping all biscuits. Then put 'crisped' biscuits on a non-stick baking sheet (about 2" apart), and bake in a 350 preheated oven for about 14 minutes.
APRICOT MUSTARD SAUCE: Meanwhile, prepare the sauce. In a small heavy saucepan over medium high heat, combine ¾ cup apricot preserves, 1/3 cup mustard, ¾ teaspoon salt, ¾ teaspoon pepper, and ½ teaspoon red chili flakes. Blend and bring to simmering boil for 3 minutes. Reduce heat to medium low cooking 7 minutes thickening the sauce. Turn off heat and set aside. Stir occasionally.
CHICKEN STRIPS: Put the partially thawed chicken breast strips in a mixing bowl. Add 1 tsp salt, 1 teaspoon pepper, 1 teaspoon chili pepper flakes and 2 tablespoon canola oil and toss and blend. In a large heavy non-stick skillet over medium high heat, put 5 tablespoon canola oil and heat. Add chicken strips, turning and tossing several times, and cooking for about 7 minutes or until done. Strips should have some golden brown pan searing on them. Remove and place on paper towels to drain.
Meanwhile, deglaze pan over medium high heat by adding 3/4 cup water and ¼ cup of apricot preserves. Mixture will sizzle; blend well with spatula. Cook about 3-5 minutes reducing to a thickened sauce. Using a rubber spatula transfer the sauce to a small bowl.