Warm Spiced Skillet Bread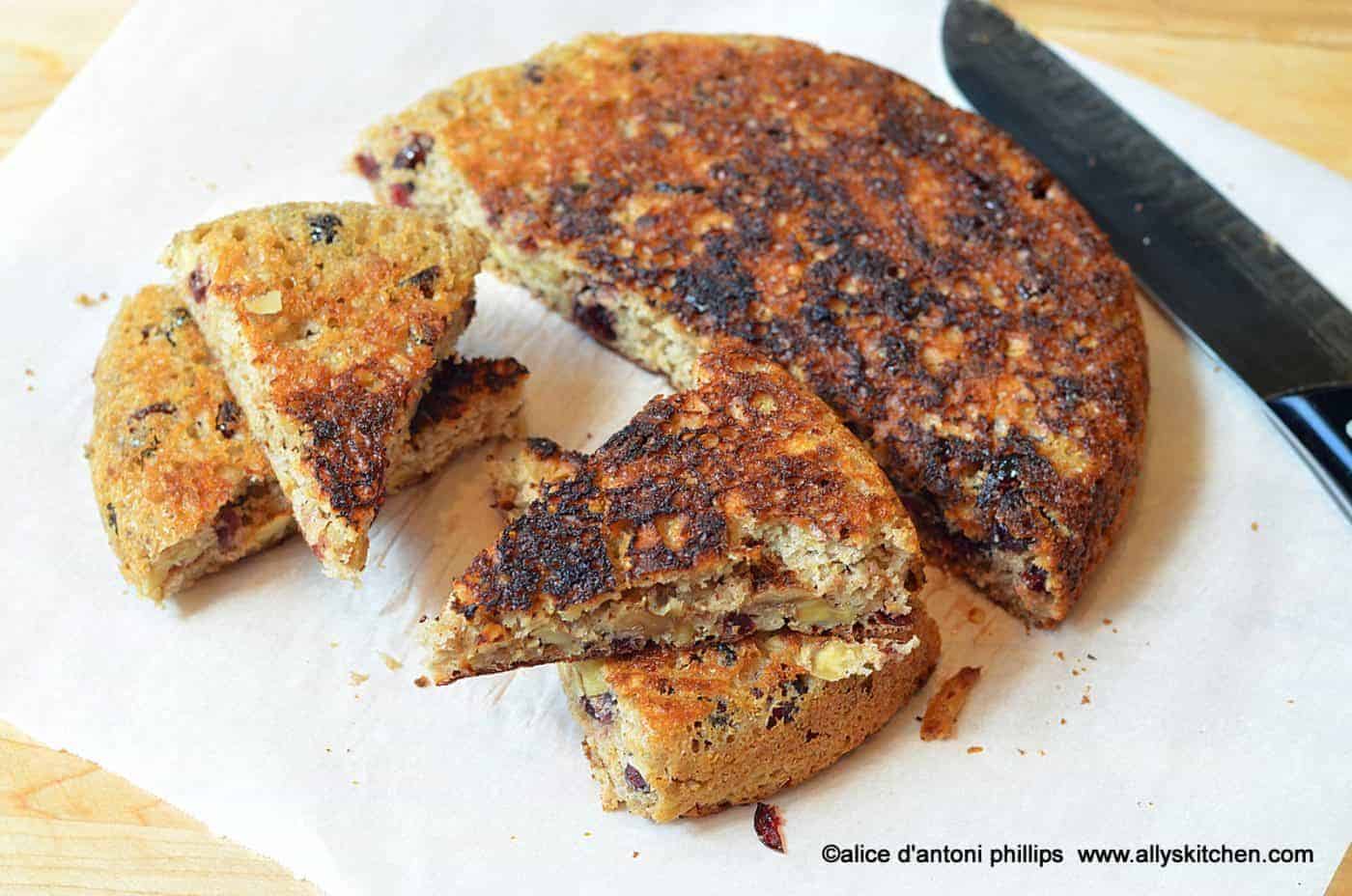 Super tasty Warm Spiced Skillet Bread that gives a mouth-watering flavor that melts in the mouth relishing for more.
Bread on a skillet
I know, it's an odd name for a loaf of bread. So there's a backstory to it. Since I have these lovely Facebook friends who follow my culinary adventures—Bob and Laura—well, Bob, who has a wicked sense of humor, dubbed me his foodie mistress' early on! Today, Bob and Laura, like my husband and me, have common outdoor activities, one of which is camping. So they messaged me and asked if I could make a chocolate banana buttermilk bread for them that they could bake in a skillet over a campfire or on a camp stove.
Quick and easy skillet recipes
They've been using a pre-packaged camping edition, but I figured I might make something similar where you can control/adjust the ingredient numbers. I went to work, eager for a challenge for making camping dutch oven garlic chicken.
Best bread skillets
If you make it a little sweeter, add a few of teaspoons of sugar; if you want nuts, add them; if you want to swap currants or raisins for cranberries, go for it in your cranberry mandarin pineapple salad; if you just want cinnamon and no cardamom, leave it out; and if you just want cinnamon and no cardamom, leave it out. Simply cut out the almonds, dried fruit, and spices if you want your bread to be simple.
How to make bread on a skillet
That's the whole point of my cooking style: you conform to your preferences. They're your taste buds, after all, and great dining and eating are all about making yourself comfortable and following your own set of rules. Always bear in mind, my luvs, that I'm just a springboard for your imagination!
Cast iron recipes
Keepers of cast iron skillets, congratulation on cranberry sauce nut cake! You have access to one of the most reliable and robust baking pans, as any experienced Southern baker or campfire chef knows. Start with these eats and desserts (No. 7 is my big brother's favorite) if you're not already rolling out perfectly crusted cornbread, heavenly biscuits, golden fried pancakes, and deep-dish pizza with yours.
Bread on cast iron
Grandma, thank you for this rich, dreamy three-layer best holiday cranberry recipe, which is admired by both experienced pie bakers and novices alike. #Protip: Eat this pie warm so you can conveniently scoop off the last piece of buttery crust.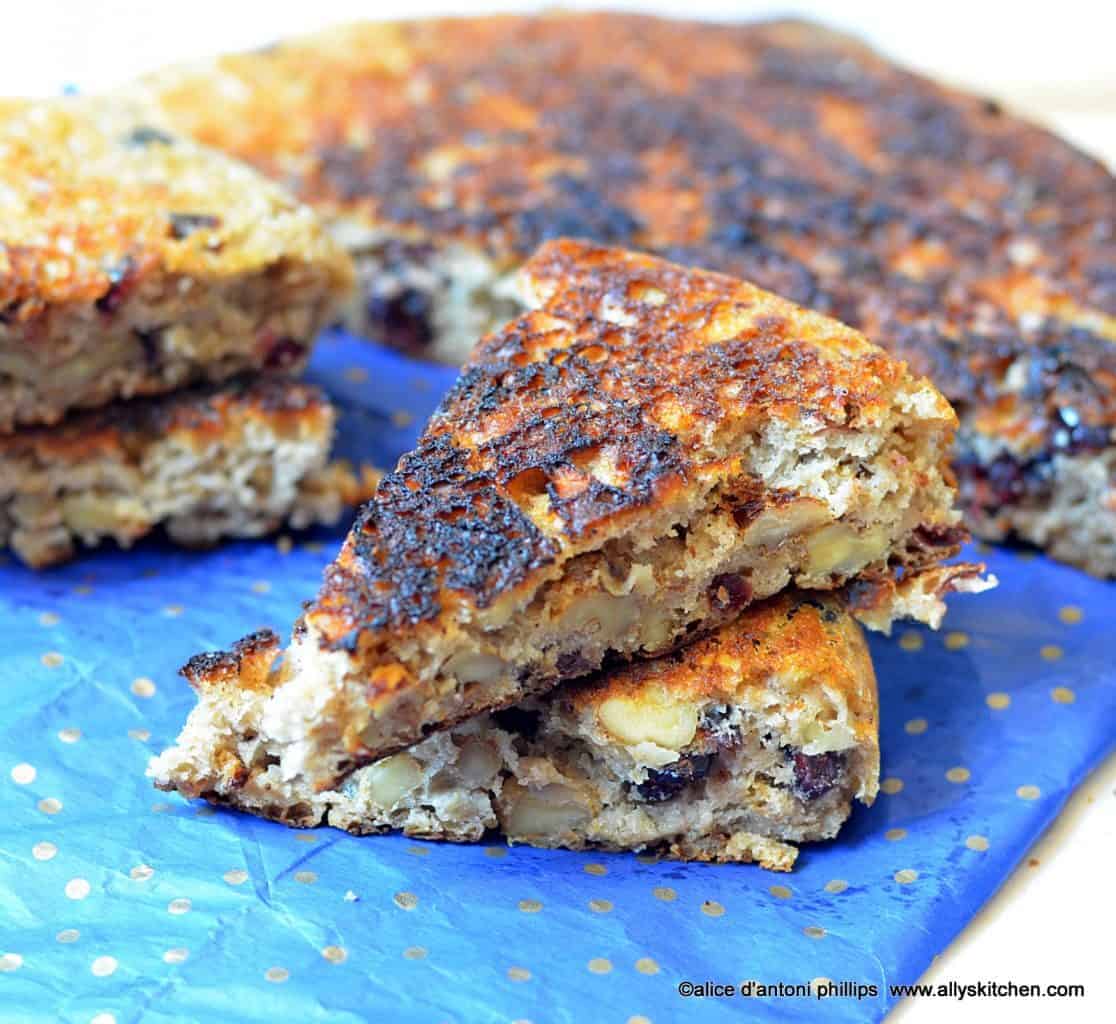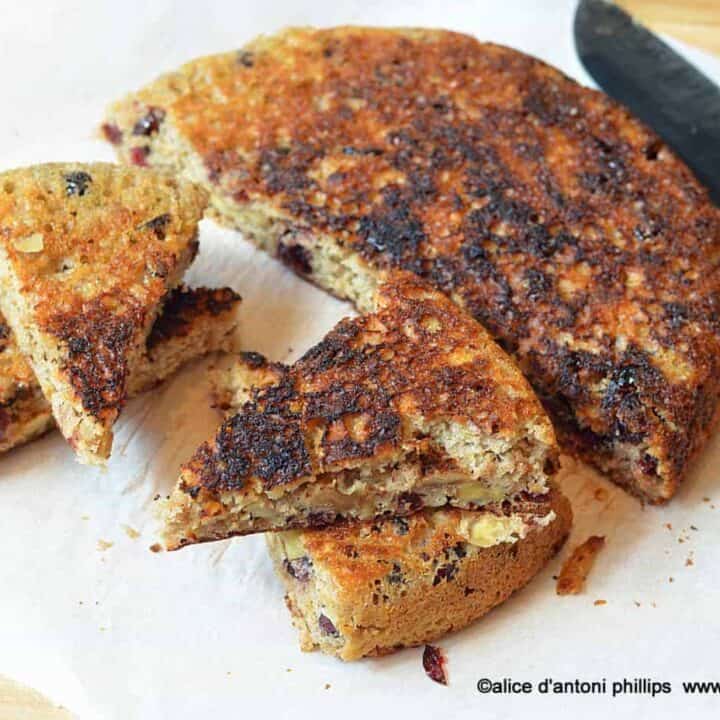 Warm Spiced Skillet Bread
Yield: Makes: 1 cast iron skillet (8" diameter)

Super tasty Warm Spiced Skillet Bread that gives a mouth-watering flavor that melts in the mouth relishing for more.
Ingredients
4 Tbl. Dried buttermilk
¼ tsp. sea salt
1 Tbl. Baking powder
¼ oz fast acting dry yeast
½ tsp. ground cardamom
¾ tsp. ground cinnamon
3 Tbl. Sugar
1 ½ cups all-purpose flour
½ cup dried cranberries
½ cup chopped walnuts (optional)
1 cup warm (100-110 degrees) water
1 Tbl. Vegetable shortening
Cooking spray
Instructions
In a mixing bowl, combine the dry ingredients: buttermilk, salt, baking powder, yeast, cardamom, cinnamom, sugar, flour, cranberries and nuts (optional). Toss and mix together with your hands. (Note: If you are using this for camping, put the dry mixture in an airtight container or plastic bag for transporting.)

When ready to 'bake' combine the warm water into the dry ingredients and blend well. The batter's the consistency of a thick cake batter.

Coat the inside/sides of the cast iron skillet well with the shortening. In the bottom of the skillet place a round piece of parchment paper.

Dump the batter into the skillet, cover, with a lid and let it rise in a draft-free, warm place for 20-25 minutes.

Cook on low on a camp stove or camp fire (raise the grill from the hot embers) for 25 to 30 minutes. (If you want to the top 'browned', give it a quick coat of cooking spray and then take a flexible metal spatula or two and gently flip (yes, this can be tricky) to the other side and cook about 2 minutes. (You may need to increase the heat just slightly to get a 'golden browning' effect on the top.)

(Note: If you're baking at home, you can 'bake' on medium low to low on the stovetop or bake in a 350 preheated oven until a toothpick comes clean from the center.)

Let it cool a few minutes then pull off 'hunks' or slice—whatever rocks your boat!