brown sugar almond banana cake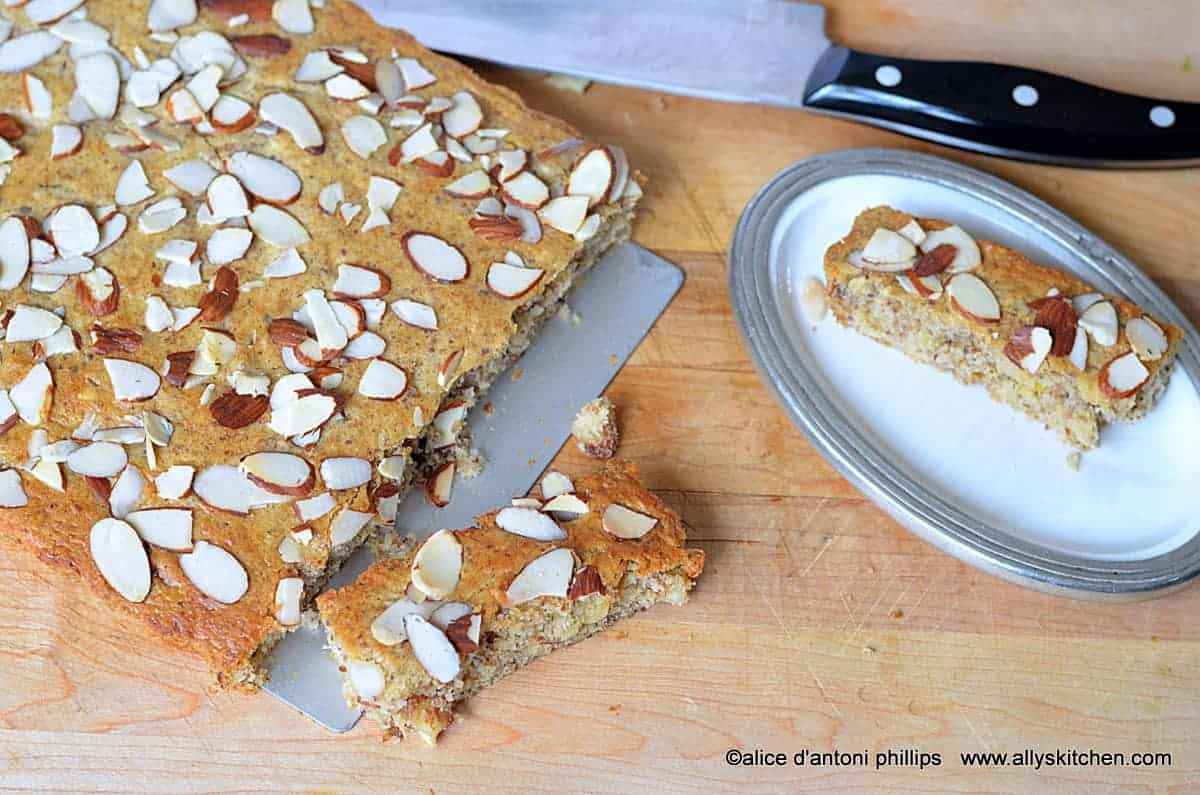 Seems in our house if I buy more than 5 bananas at least two or three turn black and are ready to go 'bad' within just a couple of days.  Maybe I should just buy one or two bananas at a time, but that just doesn't seem quite right because part of having bananas is having a cluster sitting on the kitchen counter!
Of course when this happens, some kind of banana something will be made with the aging blackened 'nanners, so they don't go to waste.  Rather than banana bread, I decided to do cakes.  Now I used three different size pans~~two tart pans making the cake not more than about 2 inches thick and a small casserole (5×7) glass baking dish.  You choose how you want to bake these and in what…just remember to adjust your baking time depending upon the size and thickness of the batter~~do the toothpick test as an extra precaution! This 'Brown Sugar Almond Banana Cake' is great for morning coffee or tea or a midnight snack!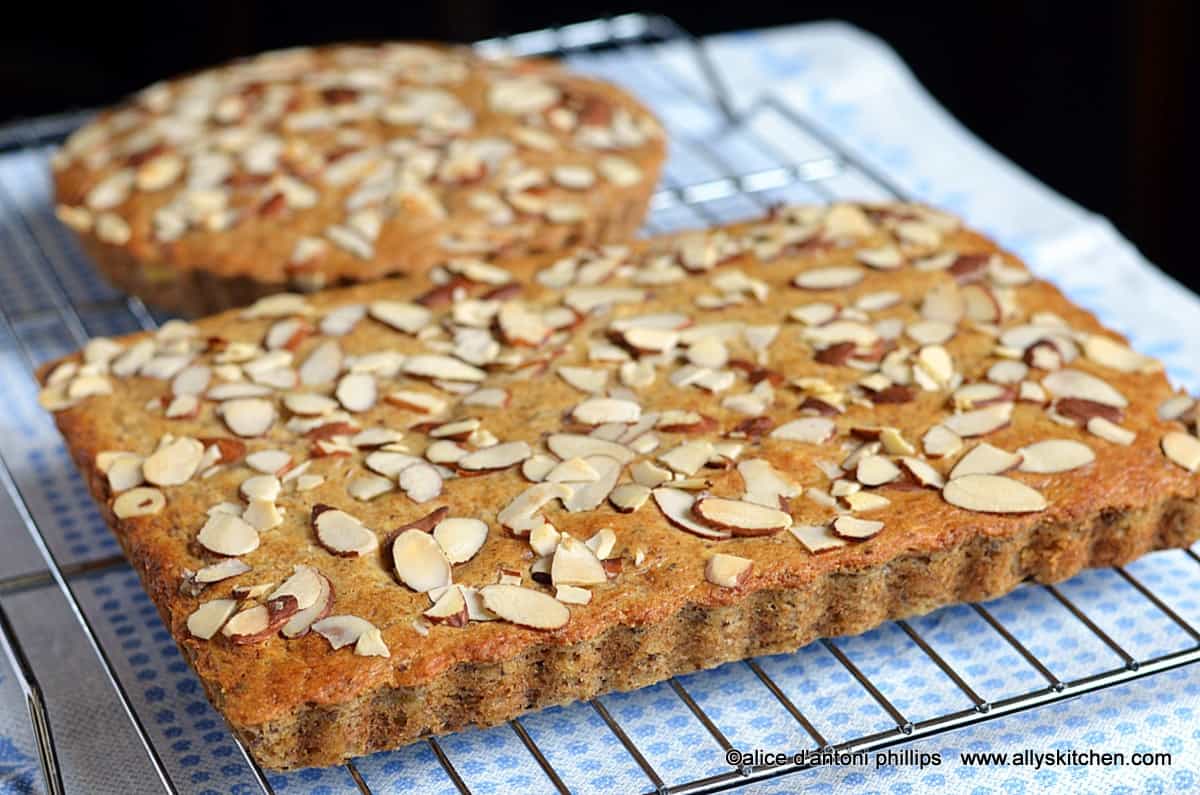 What you need:
3 mashed bananas
3 beaten eggs
1 cup canola oil
1/2 cup whipped cream cheese (room temperature)
1/2 cup milk
2 tsp vanilla
2 1/2 cups all-purpose flour
1/2 cup milled flax (optional)
2 tsp baking powder
1 tsp sea salt
1 cup packed dark brown sugar
1 cup ground almonds
1 tsp cardamom
1 tsp cinnamon
1/2 cup sliced almonds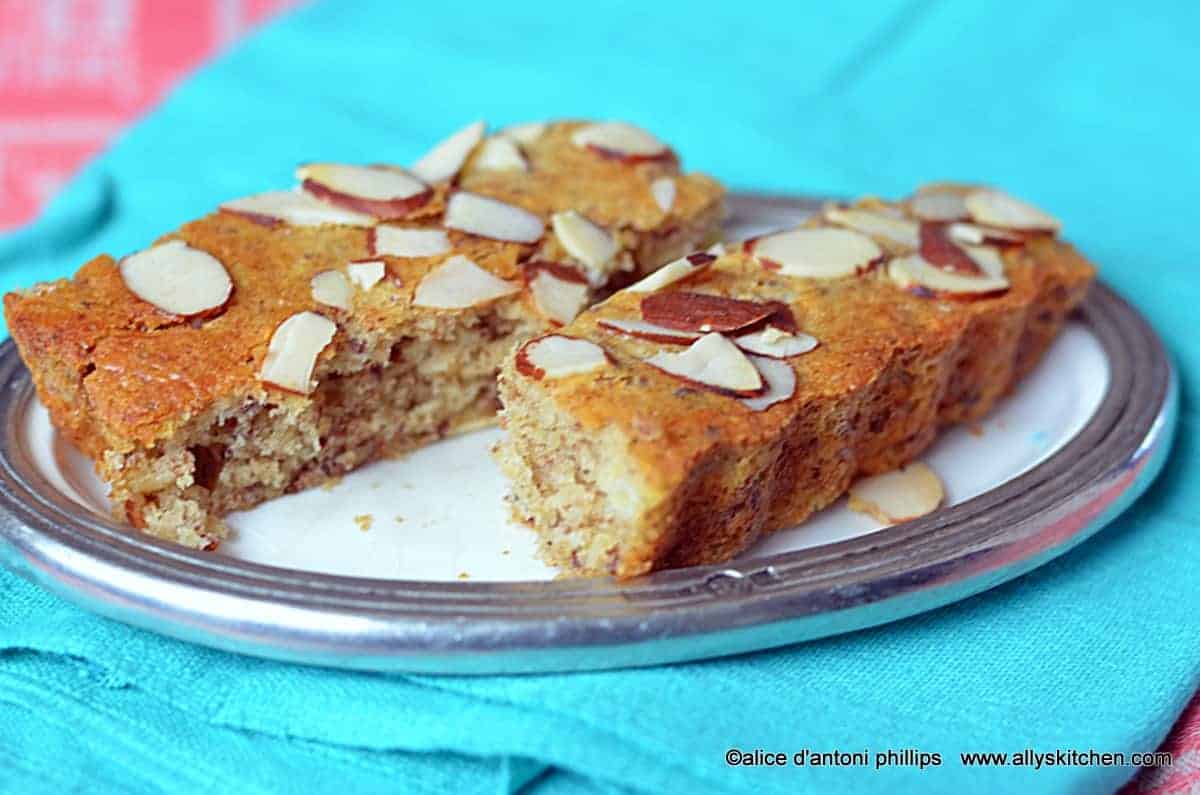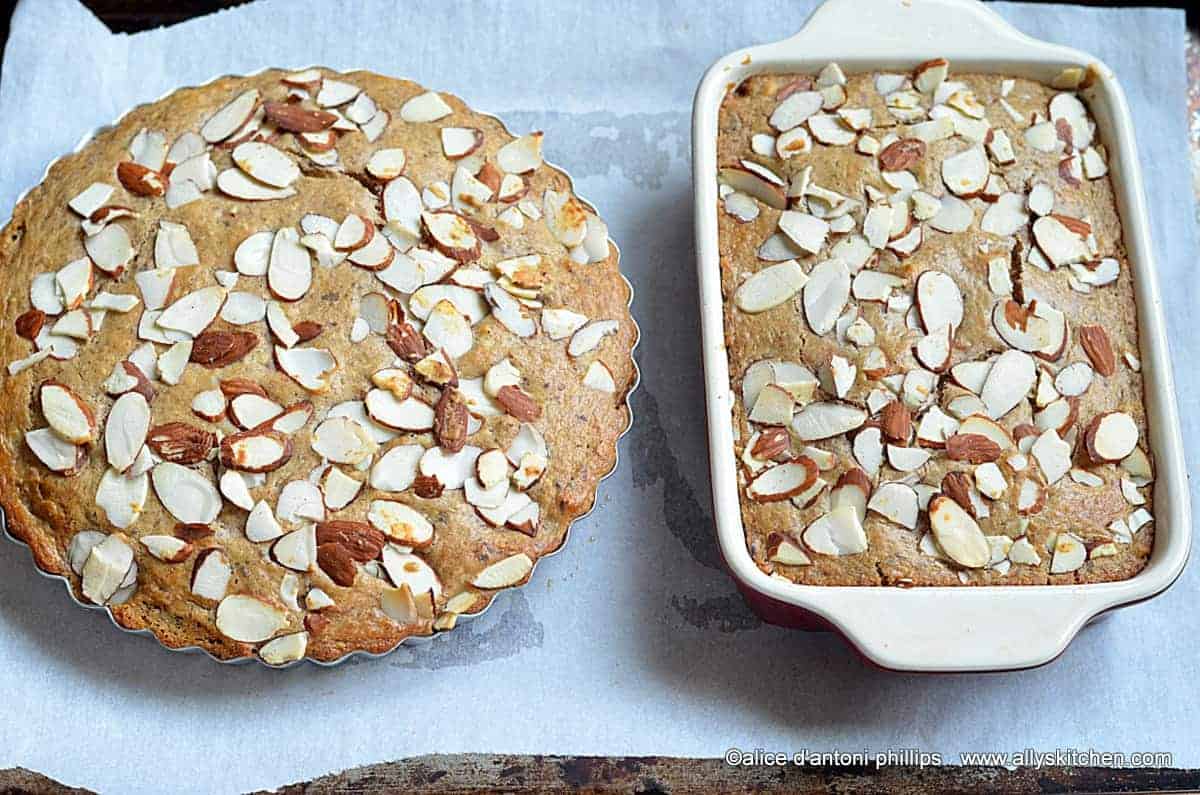 What you do:
In a medium size mixing bowl, combine the bananas, eggs, oil, cream cheese and milk and blend well.  In another large mixing bowl, combine, the flour, flax,, baking powder, salt, sugar ground almonds, cardamom, and cinnamon and blend with your hands.  Add the wet ingredients and blend well.
Pour into greased baking dish(es).  Sprinkle on the slice almonds.  Bake in a preheated 350 oven for 25-30 minutes or until a toothpick comes out clean.  Remove and let cool on a rack.  Slice and eat! Smile and be happy!  Makes a great morning coffee cake or a midnight snack!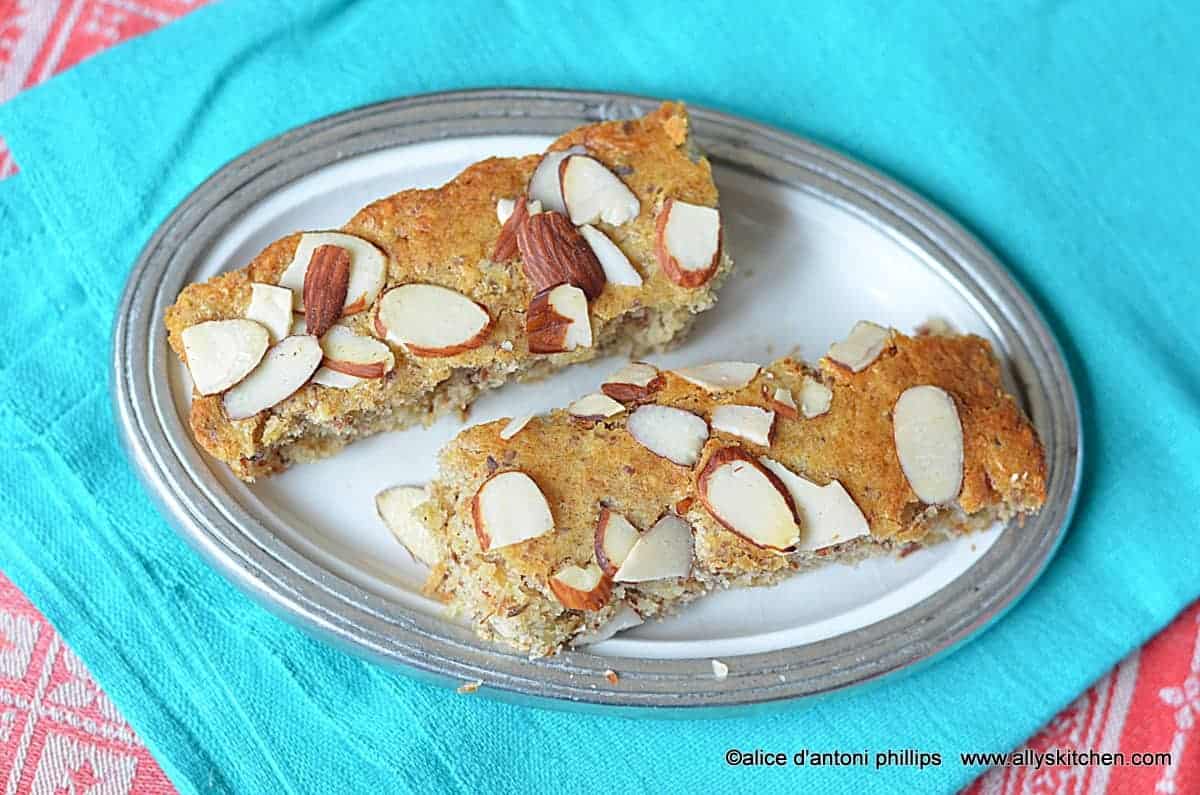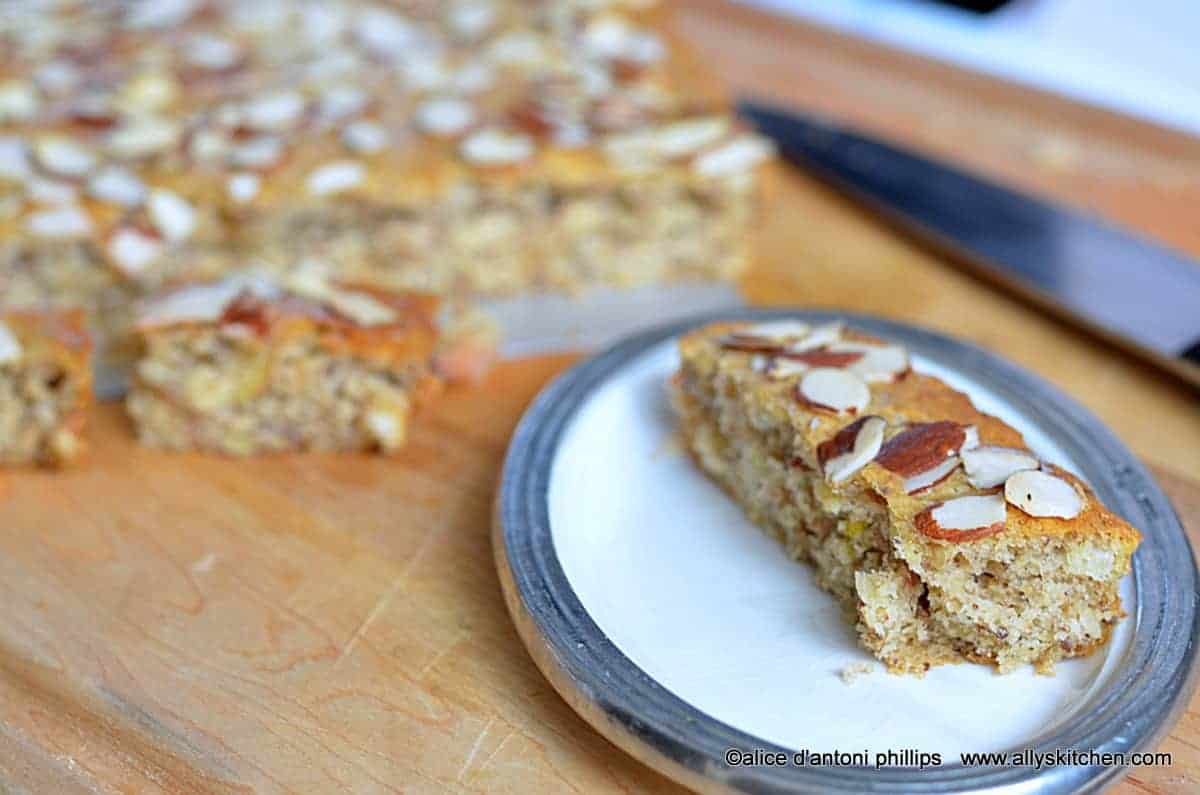 ©alice d'antoni phillips   www.allyskitchen.com