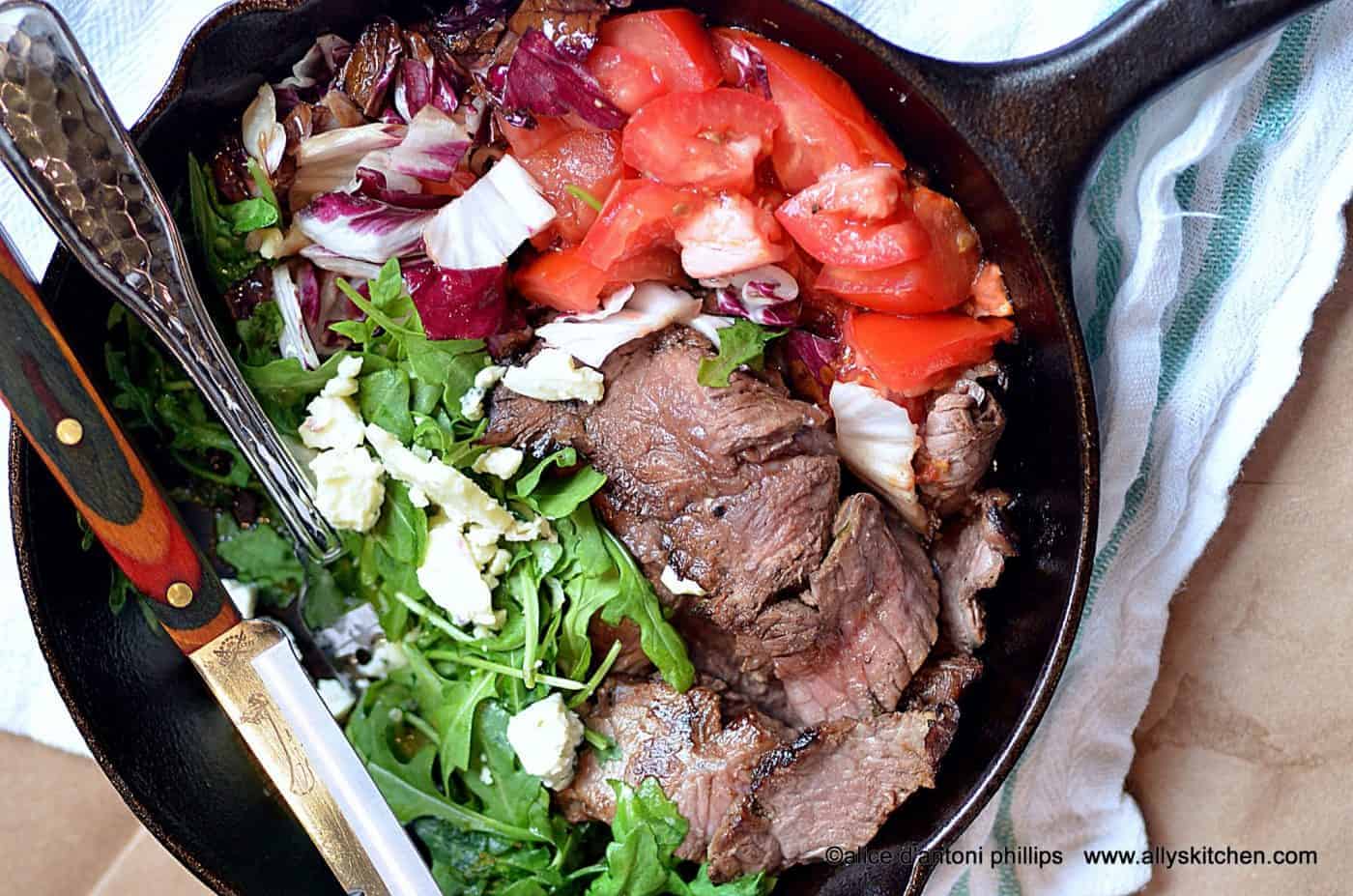 Simple quick and easy recipe ideas that pack a skillet full of healthiness appeal to lots of us. And, that's exactly what you've got with this warm skillet steak salad. The cool thing about this kind of salad is that you can fill the 'quadrants' with whatever you love. Next time, I might use other veggies, corn, peas (just pre-cook them quickly in the microwave if frozen) or fresh pepper strips. The possibilities are endless. And, if you want a hunk of nice crusty bread, then I'd be right there with you!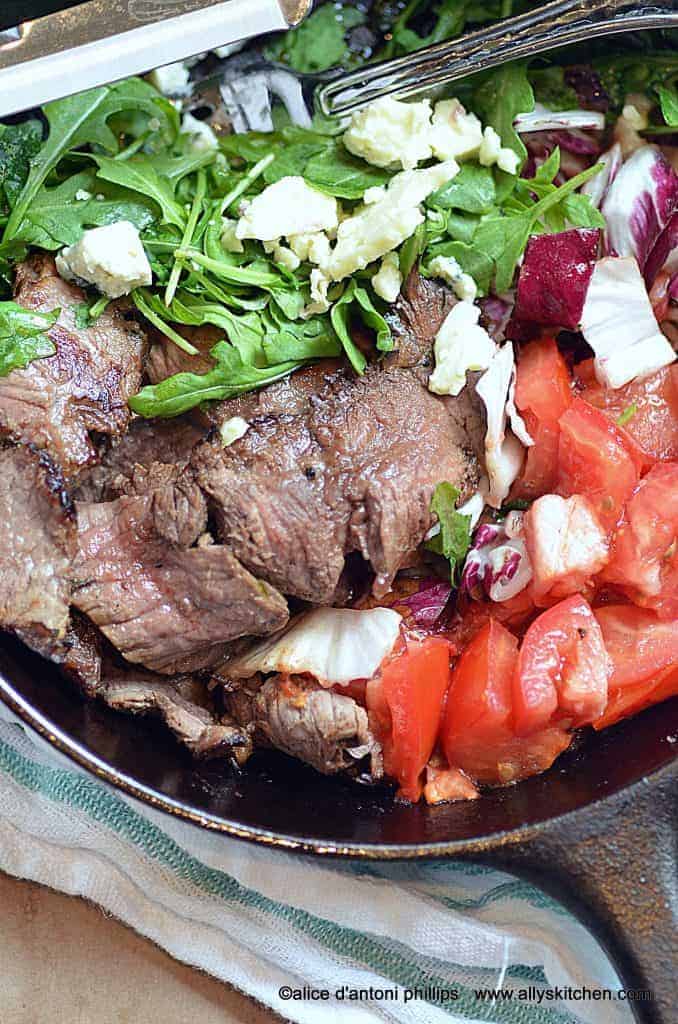 Serves: 1
What you need:
Cooking Spray (canola or coconut oil)
6-8 oz. steak, ribeye, NYstrip, cut into thin slices,(I used leftover, but you can start with a fresh cut~~also you can substitute chicken)
2 Roma tomatoes, cut into chunks
2 cups arugula (can substitute another gourmet green)
1 cup radicchio (optional~~substitute a fave veggies)
3 Tbl. bleu cheese, crumbled (I love Maytag!)
2 Tbl. extra virgin olive oil
1 tsp. lemon juice or white vinegar
1/2 tsp. sea salt
1/2 tsp. freshly ground pepper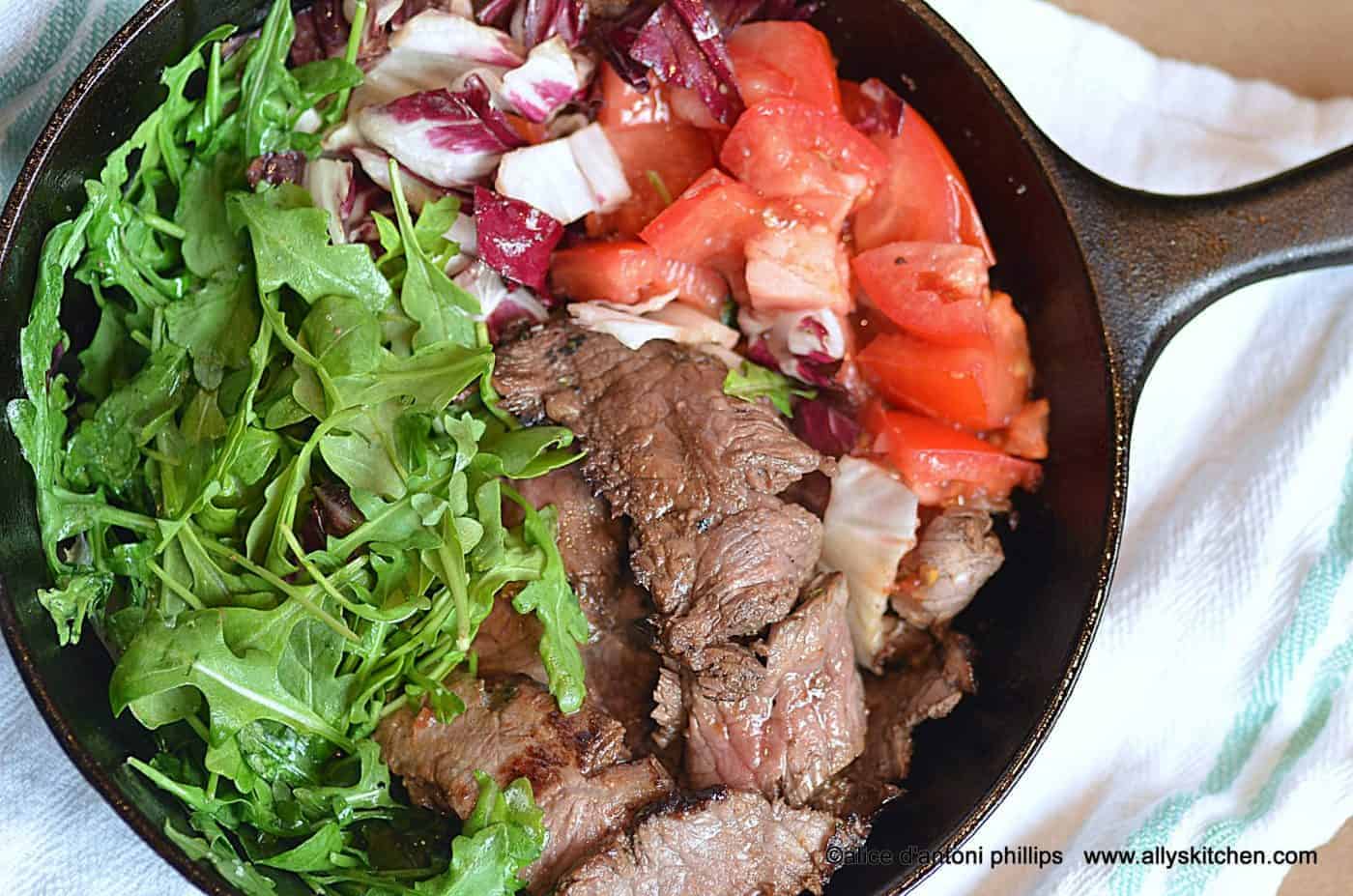 What you do:
In a small cast iron skillet (about 6-7″ diameter) over medium heat, let the skillet get hot. Give a coating of cooking spray. If starting with uncooked meat, add it to the hot skillet with a sprinkle of salt and pepper and pan sear several minutes to your desired finish. If using leftoever meat, toss/turn to warm the meat; this will take 2-3 minutes. (Note: My meat was medium rare from the first grilling.) Look at the skillet as 4 quadrants and push/pile the steak into one quadrant.
Reduce heat to medium low and add the tomatoes to another quadrant, about half the salt and pepper, cover with a lid and let it steam about 2 minutes. Add the arugula and radicchio to the other two quadrants, cover with a lid and steam another 90 seconds to 2 minutes. You just want it warm.
Remove from heat. Sprinkle on the remaining salt and pepper. Add the bleu cheese and drizzle on the olive oil and lemon juice.