greek veal kleftiko 'stolen meat'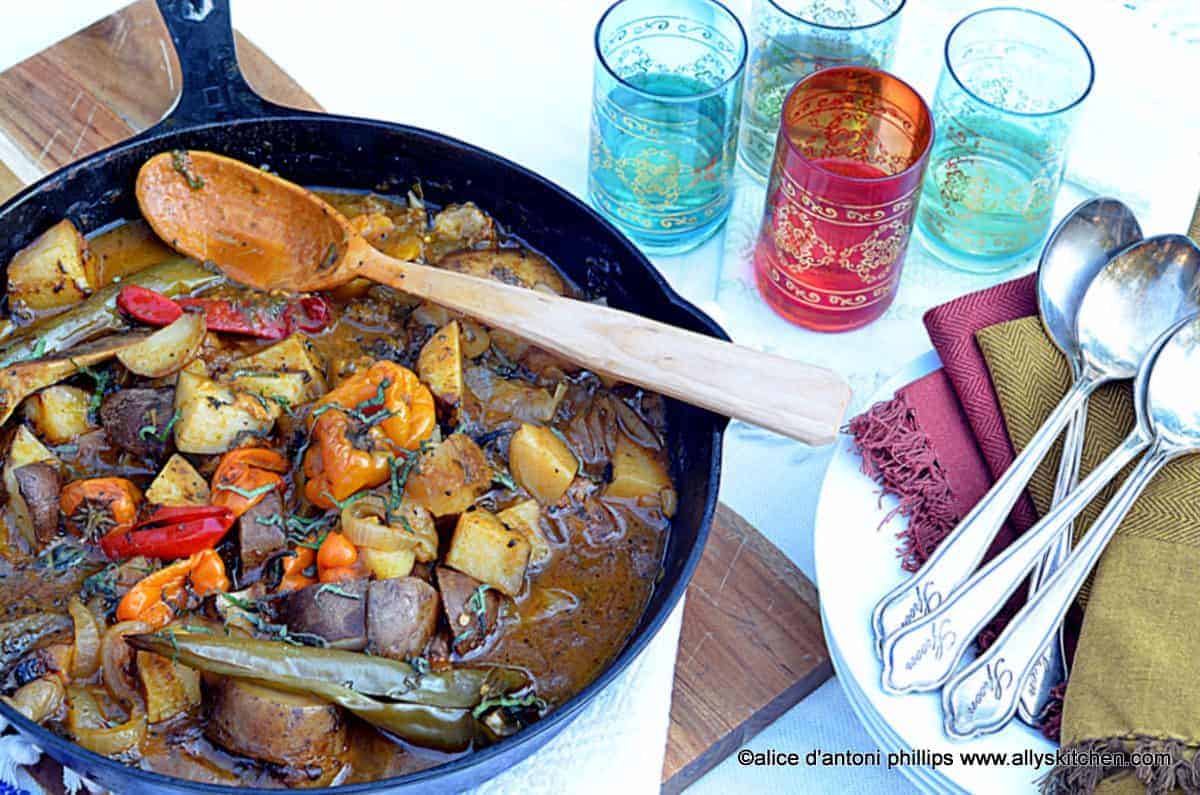 This Greek veal keftiko, an easy one skillet meal, will give you those extraordinary flavors that come from exquisite Mediterranean foods!
Veal Recipes
Sometimes folks shy away from veal recipes because they might think it's a more complicated protein to prepare. But, veal, like lamb is rather simple and easy use in a variety of dishes!
How to Cook Veal Chops
How to cook veal chops and other veal depends upon the cut of veal you have. For instance, cooking veal for scallopini takes less time than cooking these veal chuck chops. The chuck chop cut is not as tender, so cooking it slowly in the oven with all the other luscious ingredients creates a fork tender meal.
Greek Lamb Recipes
Greek lamb recipes run the gamut of preparation. From roasting, grilling and smoking to slowly cooking on a turning spit, you know you're going to be tasting the most glorious combination of spices and flavors! And, this Greek veal kleftiko is just one of them.
Kleftiko
When I was in college, I babysat a beautiful Greek family's children. And, always to my amazement, was how prepared this young Greek mother of three young children was in having food cooked an din the freezer for me to simply heat and serve the kids.
One of these dishes was kleftiko. Now kleftiko is a gorgeously delicious dish of slow cooked lamb. Traditional and rustic, kleftiko is first seasoned with garlic, lemon juice and garlic. Then slow cooked. In those ancient days, it was in an earthen oven.
Lamb Greek Dish
I'm a sucker for intrigue just about any lamb Greek dish. I mean it's simply divine food!
It just adds to the mystic, the allure, the mystery of the why this dish is also called 'stolen meat'!
According to legend in Greece, robber's would raid steal lamb from grazing flocks, then they'd return to their hideouts and cook the meat—it would take hours and hours because they'd use a hole in the ground, put hot coals in and then seal it with mud so no steam would escape.
Best Lamb Recipes
Of course, today it's different when you're making some of those best lam recipes! No longer do we dig a pit in the ground and burn hot coals. We can seal in those wonderful juices and flavors with lids, foil and sometimes cooking bags are used. This keeps the meat moist and with the herbs, the fragrance of the mint, oregano and bay leaves just ooze into the fibers of the tenderizing meat! While lambs were the animal of choice for the thieves, you can use your choice—veal, beef and chicken if you want.
The slow cooking is the key to this dish, and if you want to add your favorite vegetables—potatoes, peppers, and more, then pile it in!
Simple Lamb Recipes
Like so many of my recipes, I like to create simple lamb recipes. Here are a few others with different cuts of the lamb that you might want to explore!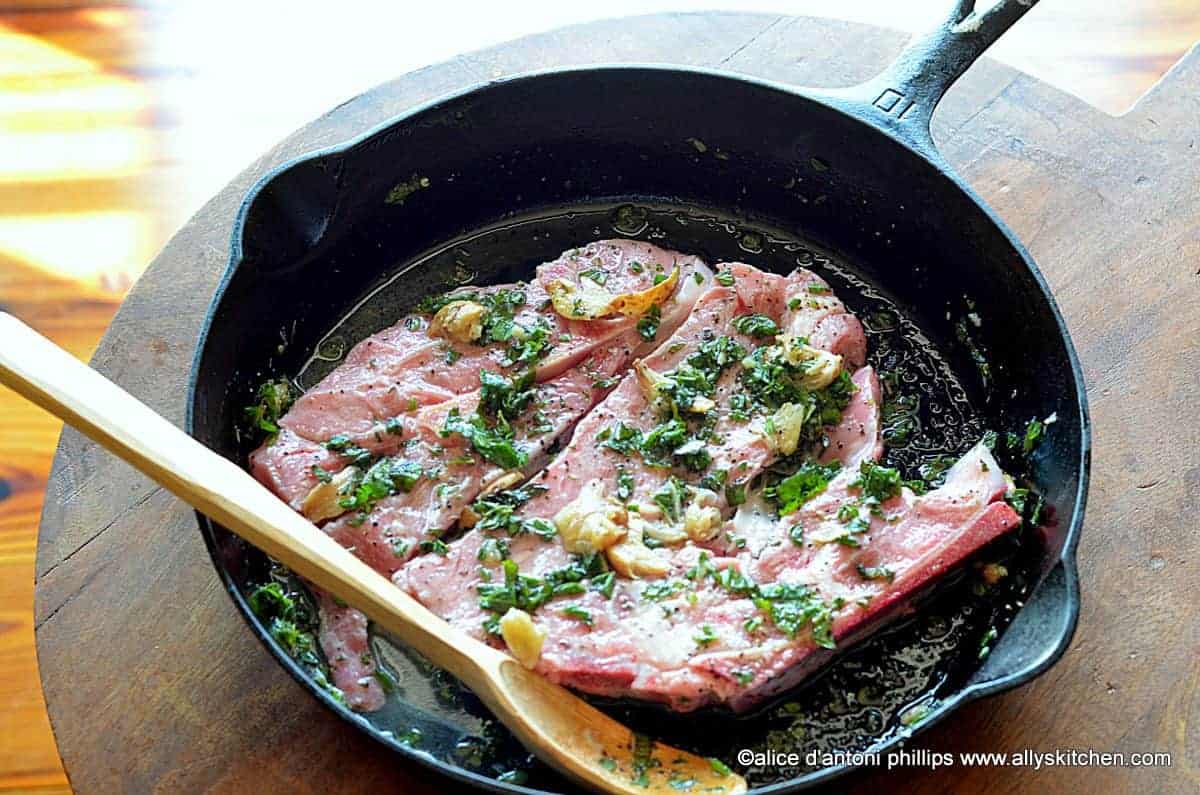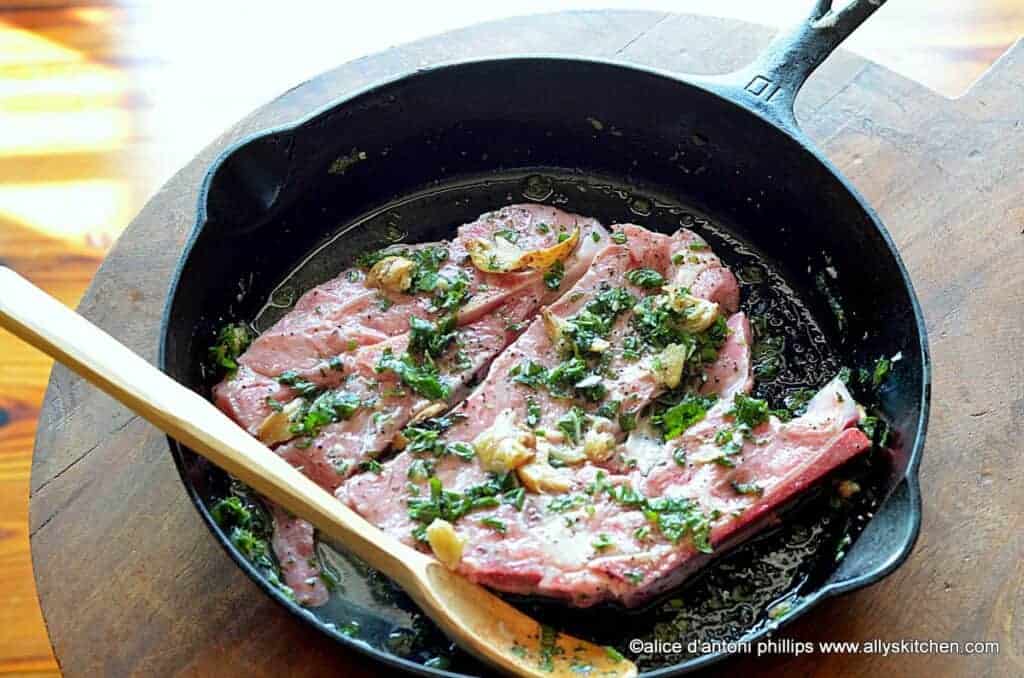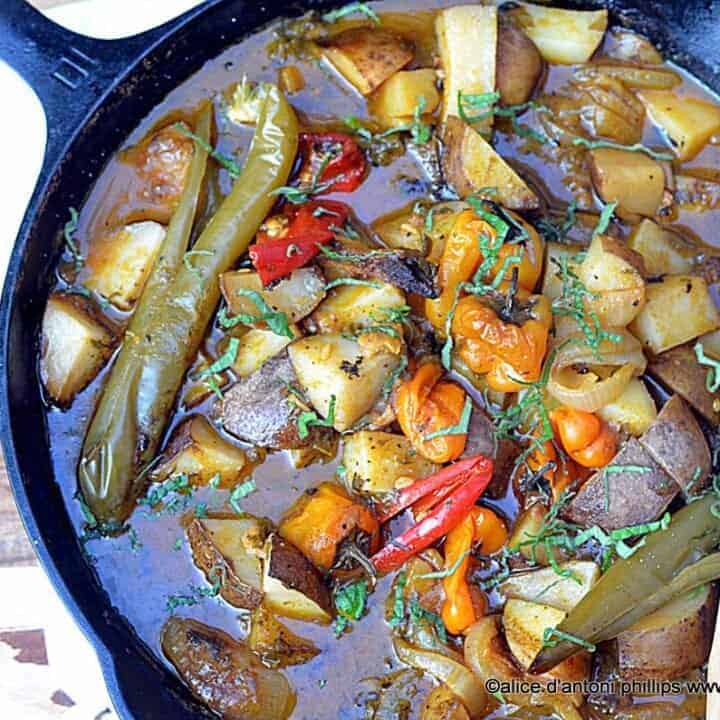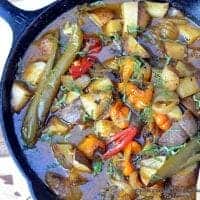 greek veal kleftiko 'stolen meat'
This Greek veal keftiko, an easy one skillet meal, will give you those extraordinary flavors that come from exquisite Mediterranean foods!
Ingredients
Preheat oven to 300
3 Tbl. canola oil
7 garlic cloves, peeled and smashed
3 Tbl. fresh lemon juice
¼ cup fresh chopped mint, loosely packed
¼ cup fresh chopped oregano, loosely packed
2 tsp. sea salt, divided
1 tsp. coarsely ground pepper
3 sweet onions, sliced in thin rings
1 ¼ to 1 ½ lbs. veal chuck chop
Cooking Spray
1 cup white wine
1 ½ cups Pacific Brand Organic Creamy Moroccan Sweet Potato Soup
4-5 bay leaves
Instructions
In a 10" heavy cast iron skillet combine the oil, garlic, lemon juice, mint, oregano, one teaspoon of salt, and pepper and blend. Add the veal chuck chop and coat all over with the mixture. Refrigerate and marinade for about 2 hours.

After marinading, get another 10" skillet, coat it with cooking spray, turn heat to medium high. Using tongs, shake and scrape off most of the marinade form the veal, put it in the hot skillet and pan sear on both sides to a golden brown—about 2 minutes each side. Put the onions in the marinade skillet. Then put the pan seared veal atop the onions. Deglaze the skillet with the pan searing skillet with the wine and let it sizzle a few minutes.

Pour the wine over the veal. Add the carrot and black bean soups and bay leaves.

Cover with the skillet with doubled foil then put a lid on top. Put in a preheated 275 oven for 2 hours.