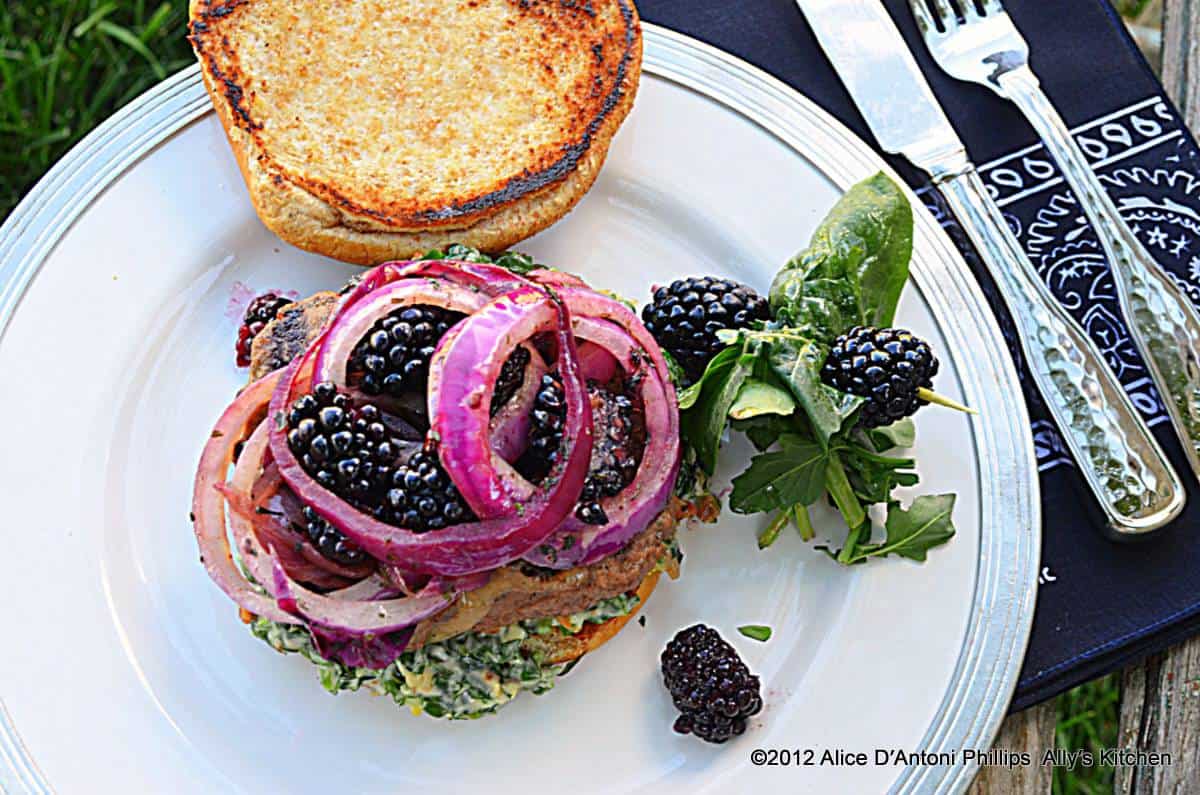 Contests are like hurricanes—with hurricanes, you can predict and prepare, but you don't know until it strikes what really's going to happen. Contests take preparation galore, and you can predict what you 'think' your chances are, your food tasters can throw some light on what they think about what you're entering, but you never know what's going to happen until your entry hits the judges' palates!
So this was my entry for 2012 in the Sutter Home 'Build-a-Better Burger' contest. It was really tasty, I thought unique in its combination of flavors, and definitely a theme was carried through the burger and greens with the classic children's story 'Br'er Rabbit'—as Uncle Remus would say, 'He'd take de greens, but leave his tracks, mo' speshually right atter a rain. Takin' an' leavin'—it's de way er de worl'. While the 'Br'er Rabbit Burger' didn't make the cut in the Sutter Home 2012 contest, not to worry, I'm not discouraged—I've created a fabulous burger, and I can get my Boho brain crankin' for the 2013 contest. But, really, I'm totally miffed as to why this isn't the 2012 winner–I mean, it's another Ally Boho Rembrandt masterpiece!!


Makes: 6 burgers
What you need:
Rabbit Greens
3 cups chopped up mixture of fresh spinach and arugula
½ cup mayonnaise
2 tbl olive oil
½ tsp sea salt
1 tbl lemon zest
1 tbl lemon juice
¾ cups crumbled bacon (8 slices fried—reserve drippings for Rabbit Topping)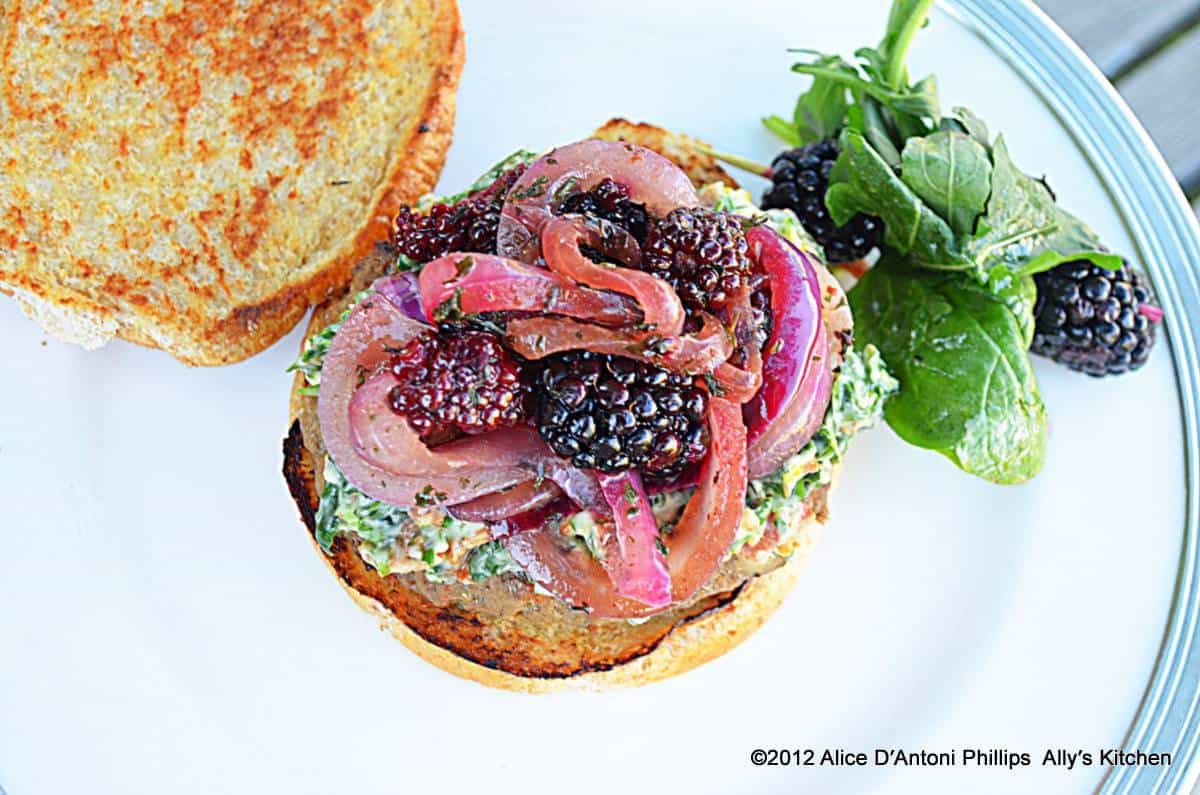 Rabbit Topping
Bacon drippings (Note: This will be from the bacon that is fried)
1 medium size purple onion halved and sliced into thin rings
1 ½ cup black berries cut lengthwise in halves
¼ tsp sea salt
2 tbl agave
2 tsp dried parsley
¼ tsp sea salt


Rabbit Burger
2 lb ground beef (85/15)
1 tsp minced garlic
2 tsp gyro seasoning
2 tbl dried parsley
2 tsp worcheshire sauce
1 tsp sea salt
½ tsp pepper
1 tsp ground ancho chili
3 tbl olive oil
1/3 cup Sutter Home Pinot Noir
1 cup shaved parmesan
6 large burger buns (whole wheat or sesame)
6 tbl softened butter


What you do:
Rabbit Greens:
In a medium size mixing bowl, combine chopped greens, mayonnaise, olive oil, sea salt, lemon zest and juice and blend. Refrigerate while you prepare the Rabbit Topping. The bacon crumbles will be added/blended into the greens just before assembling the burgers.
Rabbit Topping
Using the drippings from the fried bacon in a medium skillet over medium high heat, heat bacon drippings and then put in onions. Using tongs toss and coat with the bacon drippings. Cook about 2 minutes. Reduce heat to medium and add remaining ingredients (blackberries, salt, and parsley). Toss with tongs and cook about one minute. Turn off heat. Cover with lid. Set aside. Prepare Rabbit burgers and buns.
Rabbit Burgers and Buns
In a large mixing bowl, combine the ground beef, garlic, gyro seasoning, parsley, worchestshire, salt, pepper, ancho chili powder, olive oil, and pinot noir and blend well with your hands. Add shaved parmesan and blend with hands. Divided into six equal amounts and make burger patties to fit the burger buns. Set aside and grill buns.
To prepare the buns, spread softened butter on the inside of each bun's top/bottom. In large non-stick skillet over medium high heat, place a few buns at a time, buttered side down, and grill until golden brown. Repeat for all the buns. Wrap loosely in some foil and place on the side (not direct heat) of the grill to stay warm. Meanwhile, cook the burgers.
Cooking Burgers: Coat outdoor gas grill with cooking spray. Place heat on medium and bring temperature to about 350 to 400. Place burgers on the grill and cover. Cook on each side about 3 minutes (or to desired doneness) flipping once. Remove and let rest about 5 minutes.
Assembling Br'er Rabbit Burgers:
Place the bottom of the bun on a plate.
Next, you have a choice. You can choose to place the burger on the bun then the Rabbit Greens, or you can scoop on some Rabbit Greens then the burger. What's important is that the Rabbit Topping is on the top!
After the burger and the Rabbit Greens, using tongs, put some of the Rabbit Topping on last.
Place the remaining grilled bun on top of the burger or to the side.
Serve immediately.

Note 1: Garnish, if you like, with a toothpick of a few leaves of spinach/arugula and a whole blackberry on each end.
Note 2: These burgers are so incredibly good even a day or two after cooking. They retain their juiciness and the flavors even become more eloquent! Just refrigerate in an airtight container then when ready to eat, slowly warm in the oven (not the microwave—a small toaster oven's great) on 300 for about 15-20 minutes. Rabbit burgers Rock!
©Alice D'Antoni Phillips Ally's Kitchen