greek yogurt chocolate cream of wheat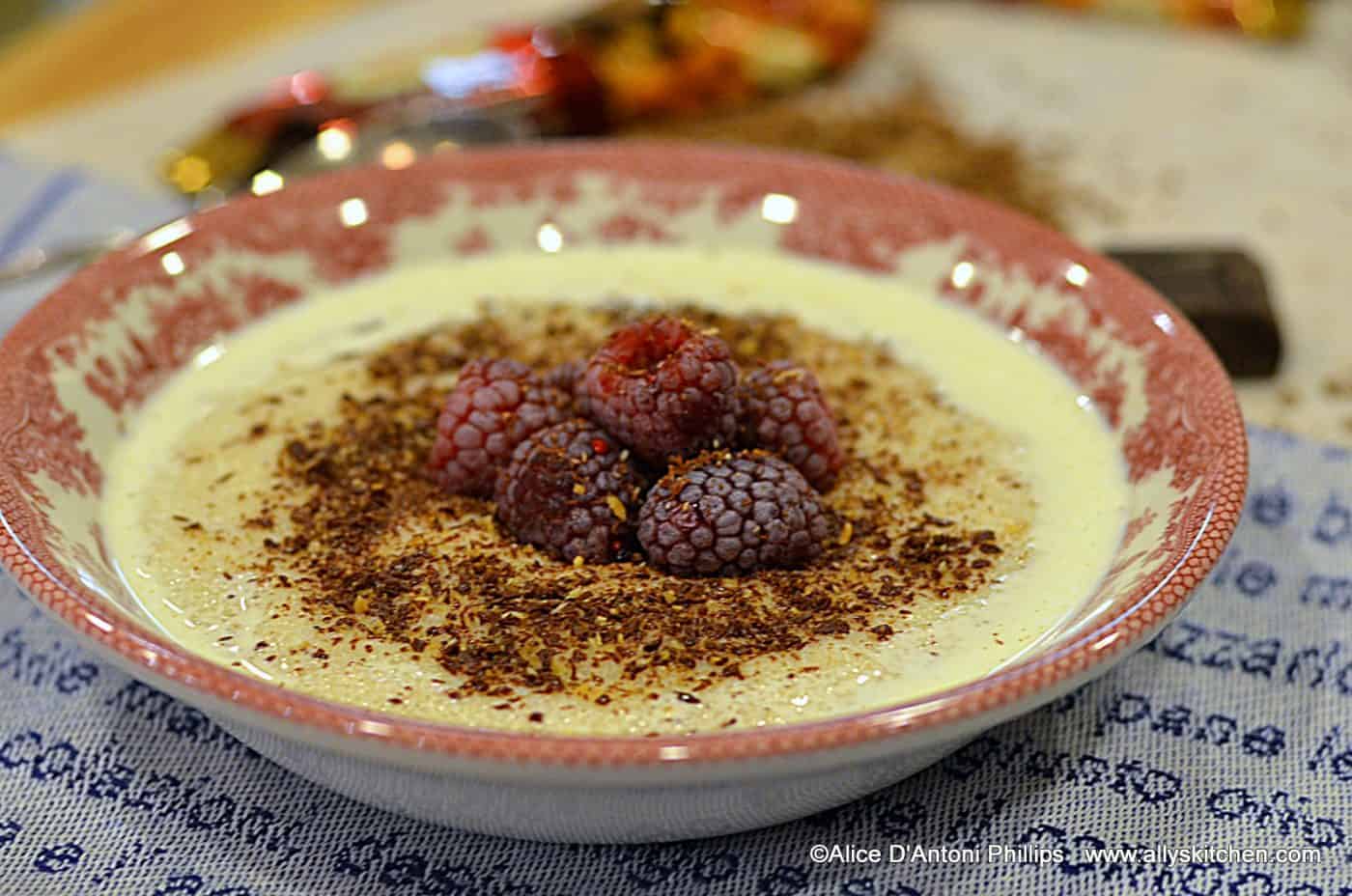 Coco Cereal
Wanna be fueled for hours and hours? Then eat a bowl of this greek yogurt chocolate cream of wheat! It's gonna give you staying power!
My little grandsons love love coco cereal or coco wheats. It's basically cream of wheat with chocolate. They'll literally eat two or three bowls. And, I have no idea how their small kiddo tummies hold it all!
Is Cream of Wheat Good for You
I know that cream of wheat is good for you. My mom fed it to us as a kid and she was health conscious way before it became trendy and popular. This breakfast porridge is rich in nutrients and it's a vegetarian source of iron. I suppose the downside, if there is one, is that if you're gluten intolerant, then you can't eat it because, yes, it is a gluten product.
As a little girl back in them thar hollers of Southern West Virginia, Mom would make us cream of wheat often, especially in the winter, and she would put in it cacao making it chocolate cream of wheat. OMG, I loved that stuff, especially if it was nice and lumpy. Something about those littl' lumps that just tickled my palate!
Valor Chocolates
When I get the opportunity to taste test others' creations, I feel special. Valor Chocolate has this chocolate thing figured out. I mean they're been in business since 1881. And, their website chronicles the story of Valor over the decades as well as the process in making this luscious chocolate.
I landed upon several bars of their chocolate, milk and dark and sugar and non-sugar, so rather than just break off pieces of the chocolate and eat, well, I admit I did have to taste, and it was an 'ooohhhh aahhhhh' palate sensation, I decided to try them in a recipe. Chocolate cream of wheat!
Chocolates like Valor are perfect for recipes like this one, my bailey's espresso flourless chocolate tart!
If you want your cream of wheat even more chocolate, then put a little cacao powder in the mixture while it's cooking.
How to Make Cream of Wheat
On the back of the box, you'll see how to make cream of wheat. It's super simple. You can use water or milk. Sometimes I've even used pineapple juice. Interesting to say the least. And, there's also instant cream of wheat.
Cream of Wheat Instant
But, why would you make cream of wheat instant when the regular cream of wheat takes no time at all. Instant cream of wheat is a convenience that some folks want. But, for me, when it takes about five minutes to make, then that's pretty instant for me.
Recipes Cream of Wheat
Using the grated Valor dark chocolate with whole Spanish almonds was even better than adding cacao for several reasons. Each individual serving can regulate how much/little of the chocolate flavor, it melts instantly in the hot cream of wheat, the intensity of the chocolate is richer and more developed, and the almonds add another layer of unexpected flavor!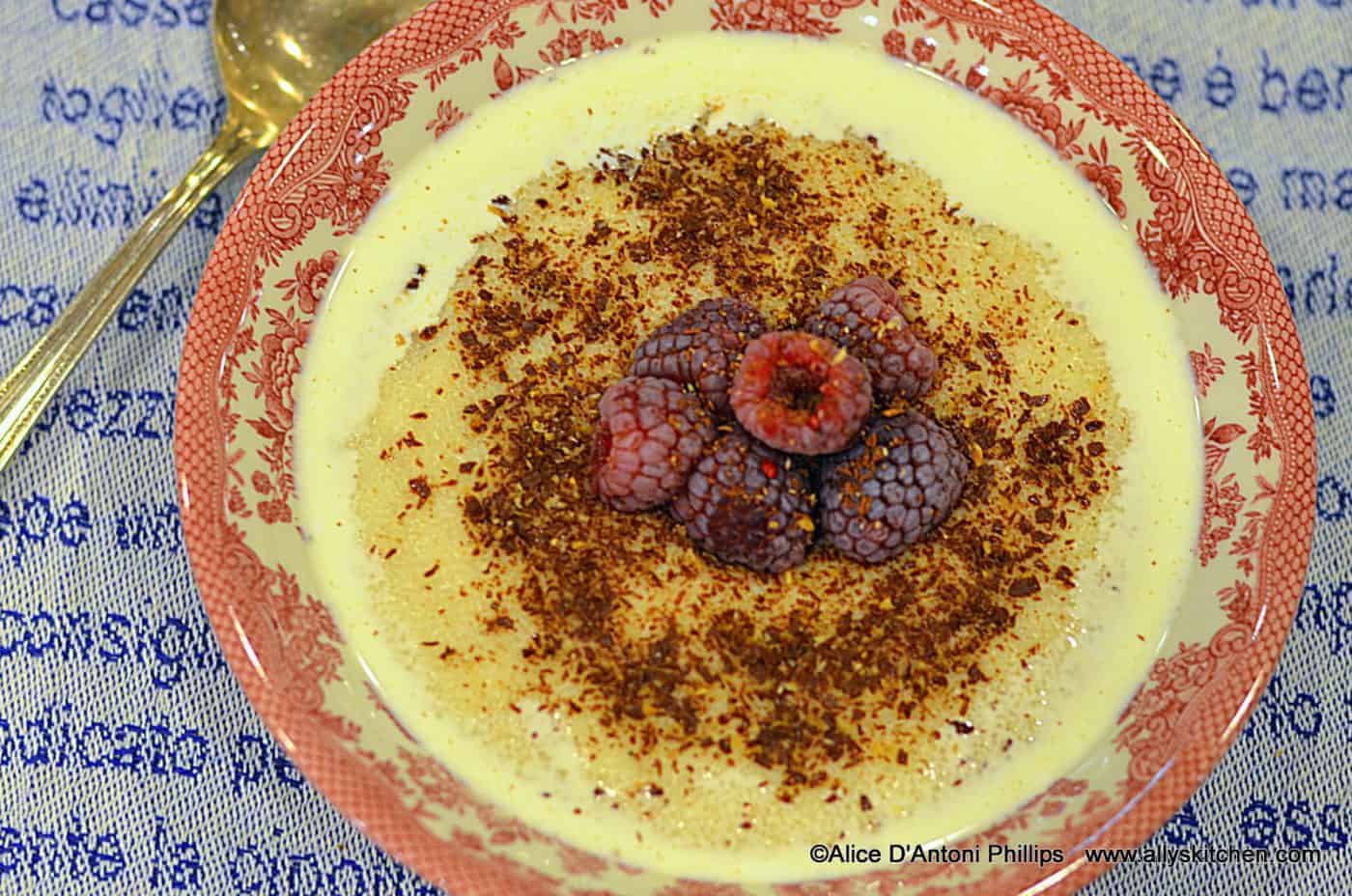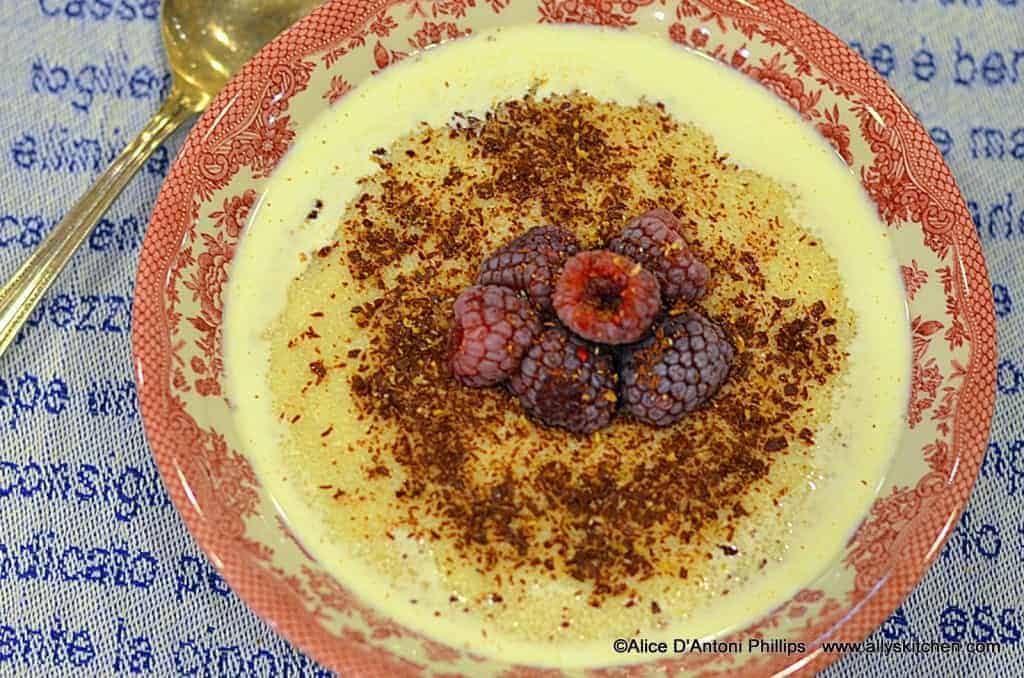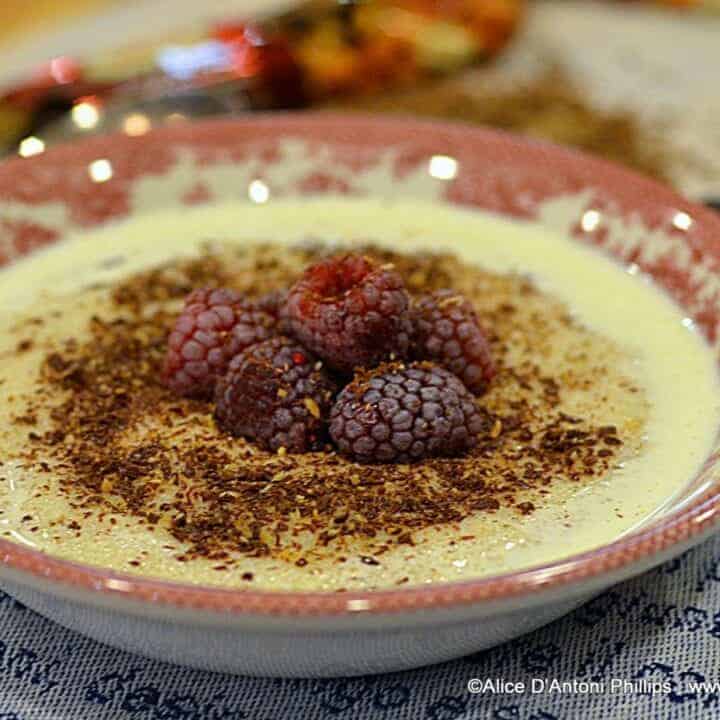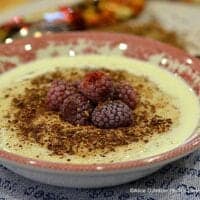 greek yogurt chocolate cream of wheat
Wanna be fueled for hours and hours? Then eat a bowl of this greek yogurt chocolate cream of wheat! It's gonna give you staying power!
Ingredients
Cream of Wheat prepared according to package directions for 2
3 Tbl. Greek Yogurt, plain
1 Tbl. honey
2 tsp. sugar
1 square Dark Chocolate with Almonds grated
½ cup fresh raspberries
1/3 cup coconut milk
Instructions
Prepare the cream of wheat according to package directions. Add Gree yogurt, honey and sugar and blend.

Pour into bowls. Sprinkle with grated Valor chocolate, top with raspberries, drizzle with cream (or milk) and serve!