dinner style french onion beef sandwich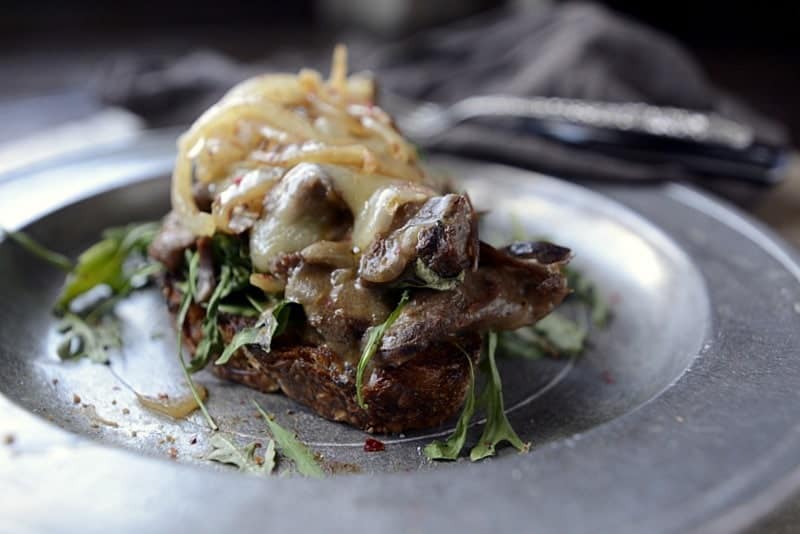 Best French Onion Soup
Are all beef sandwiches created equal? I think not! This dinner style french onion beef sandwich is in a class by itself! We'll call it a slider, too!
Think of the best French onion soup you've ever had, then add beef and put it on a bun. Yes, that's a beef sandwich, a beef sliced and the best you'll ever taste!
Beef Sliders
This is not your typical beef sandwich or beef slider! OK, I think I know someone's going to ask as you look at these pictures of this recipe, 'What are those little pink flicks on the onions?" Well, it's fresh ground All American Grilled Steak makes a perfect leftover for this recipe!
What is a Slider
OK, let's get around the issue of whether we're talking about a sandwich or a slider. Technically, it's not a slider, but it could be just by tweaking the bread. If you buy slider 'buns', the small ones about two inches in diameter, and use them with this recipe, then you have an authentic slider. But, hold on, sometimes even a small sandwich can be considered a slider. Oh, heck, who cares really? This is just a wonderful dinner meal!
A slider is an American term for a steam-grilled sandwich, typically around 2 inches (5 cm) across, made with a bun. … The term has since been appropriated by other restaurants, usually to describe a small hamburger, but sometimes used to describe any small sandwich made with a slider roll
French Dip Sandwich
Inspiration for this French dip sandwich came from having two small freezer bags leftover of wonderful grilled flank steak. Instead of doing something predictable, yeah, like steak and eggs, a beef vegetable soup, or making just steak hoagie sandwiches, I decided to elevate the beef, make it even more tender and flavorful by making a rich thick beef french onion gravy mixture.
And, that was super simple to do. Now, if you don't have the leftover beef, not to fret. You can start afresh with a tender cut of beef like rib eye or New York strip. Just pan sear it to a medium or medium rare, cut on the bias into slices and proceed from there with the recipe.
Best Sliders Recipe
Yes, this is like one of the best beef sliders recipe you'll find because it's so darn simple.
Interestingly, hubby Ben decided he didn't want the 'sandwich' concept, but wanted the rest of the toppings. So, here's what I did. Put the greens in the bottom of a nice dinner bowl, added some (pre-cooked) warm rice, then the meat/gravy mixture. Then I put the cheese on top, melted it and topped with the grilled onions. It was truly amazing, and he LOVED it! So easy to eat from the bowl making it almost like a 'bowlwich'!
French Onion Beef Sliders
I love serving these French onion beef slider sandwiches on metal or cast iron plates. That way you can slide them right in the oven, warm them and when you are melting the cheese, no problem with being in the oven! You also can place a small piece of parchment paper on the metal plate for the sandwich to sit on if you prefer!
You'll find links to products and more after the recipe! Easy to click and order from Amazon!
Pink Peppercorn
As an added gourmet touch that's super easy, pick up some pink peppercorn that you can grind. These pine peppercorns are the same as all peppercorns with a slight difference. Picked from the vine at a different stage of growth, these pine peppercorns haven't been fermented to turn them black. Milder in taste than black, they're also slightly sweet. I love grinding my pink peppercorn on so many things. It always adds flair to the presentation!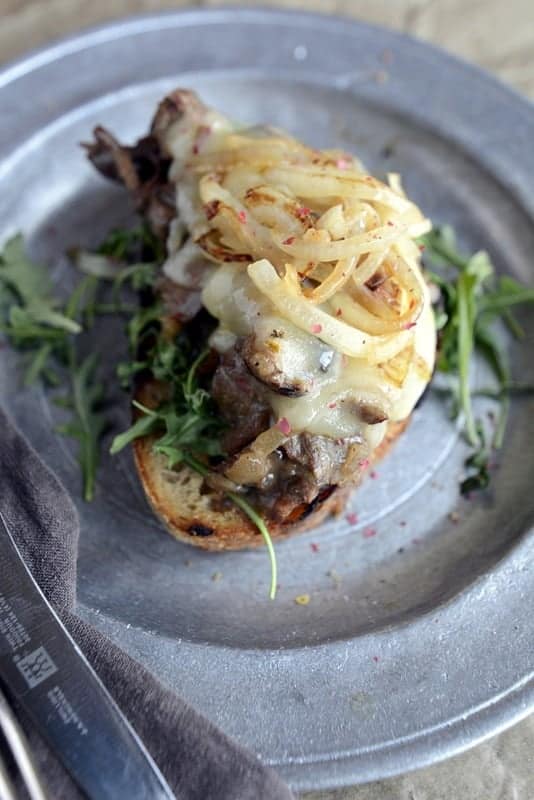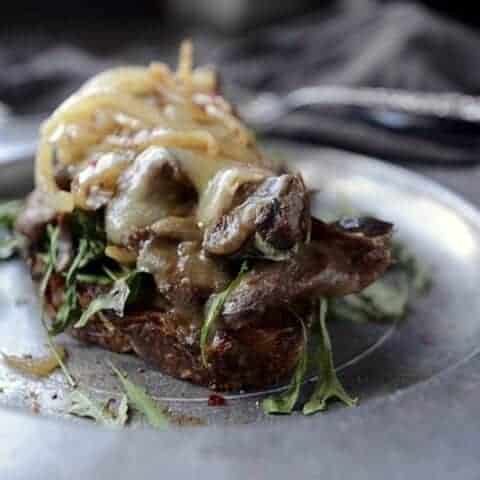 dinner style french onion beef sandwich
Are all beef sandwiches created equal? I think not! This dinner style french onion beef sandwich is in a class by itself! We'll call it a slider, too!
Ingredients
1 (2.2 oz.) packet beefy onion soup mix + 3 cups water
6 cups beef, i.e., flank, London broil, can be leftover, sliced thinly into strips, and strips cut into 2-3 pieces
2 large sweet onions, French cut, thin slices, divided
1 Tbl.Braggs Nutritional Yeast
1 box (12 oz.) Pacific brand organic cream of mushroom soup
2 Tbl. Cornstarch + 2 Tbl. Water, whisked into slurry
6-8 slices artisan bread, thick slice (appx. 1 ½")
8 Tbl. Butter, salted and room temperature, divided
8 slices pepperjack cheese
6-8 cups arugula and spinach blend fresh greens
Instructions
Put the soup mix and water in a Dutch oven pot over medium heat. Blend well. Add the meat, one of the sliced onions, nutritional yeast and mushroom soup. Bring to a simmering slow bubbly boil, uncovered, and cook for about 30 minutes.

Slow drizzle in the cornstarch slurry to thicken. Reduce heat to medium low, cover and cook another 30 minutes into a thick.

Put a medium skillet on medium heat. Melt two tablespoons of butter. Put in the remaining onions and grill to a golden brown. Set aside.

To build the dinner sandwich, butter both sides of the bread and grill in a skillet.

Move to an oven-safe plate (or pie pan) and add some of the greens on the bread. Using a slotted spoon, scoop a nice portion of meat on to the greens. Tear into pieces one slice of the pepperjack cheese and put on top the meat.

Put under the broiler (about 10-12" from broil) and melt the cheese. Remove and top with some of the grilled onions.

Serve with a small side bowl of some additional 'gravy' for the sandwich. Repeat with the remaining bread or ever how many sandwiches you're making. Serve immediately.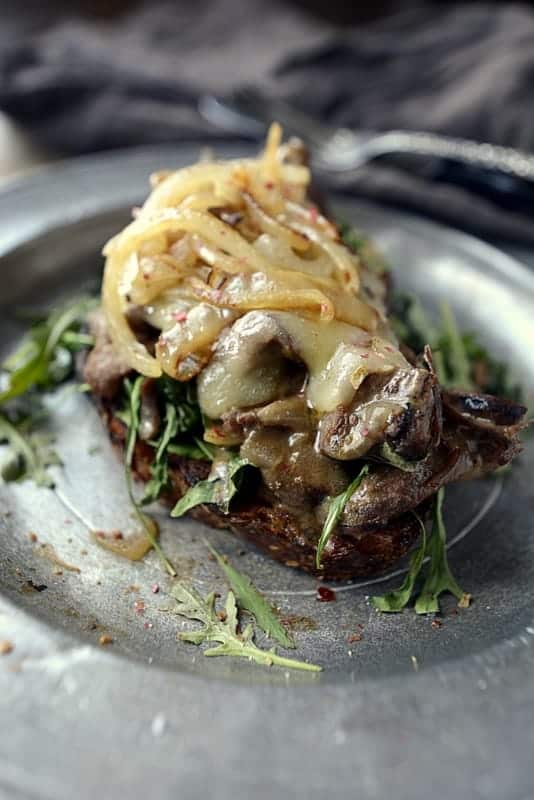 Another great recipe to check out!