Quick French Onion Mushroom Soup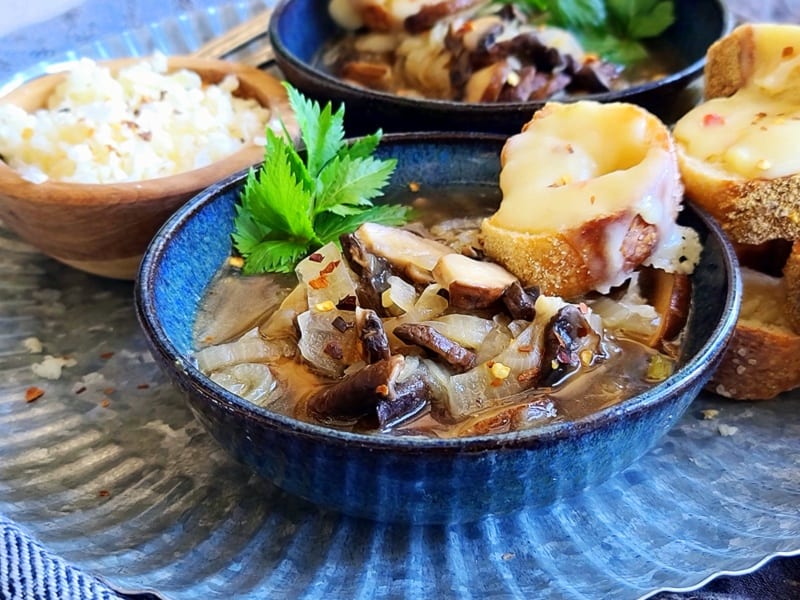 Quick French onion mushroom soup happens like magic when you have the right ingredients! And, a rich depth of flavor beef bone broth counts!
Healthy Mushroom Onion Soup
There's absolutely no reason why you can't make this healthy mushroom onion soup! Once you watch the video, you'll say 'Yes! I can!'
The type of mushroom best for this soup is the baby bella. If you can't source that mushroom, then regular mushrooms work. You'll want the mushrooms to vary in size, some large, medium and small. Also, another option is to use a mushroom blend like shitake, oyster, beech, baby bellas.
Now if you want to top this soup with the ultimate croutons, yes, homemade, then you must look at my recipe for big garlicky crunchy croutons!
Caramelized Onion and Mushroom Soup
The most time consuming part of this recipe? Caramelizing the onions for the soup. Just take a deep breath. It takes some time. Great caramelized onions don't happen in a flash.
But, once those onions are caramelized, well, it's all down hill from there!
Mushroom and Onion Soup No Cream
Now, I'm not using heavy cream in my soup. You can certainly add if you wish for more creaminess. But, I wanted the earthy simple flavor of the onions and the mushrooms. And, yep, that's what we have.
Mushroom Broth French Onion Soup
You can't get the best result nor depth of flavors without using a really high-quality beef bone broth.
If you'd like to check out Kettle and Fire, then take a look. And, if you decide to buy, then use my discount code ALLYSKITCHEN at checkout for 20% off your order. And, as a full disclosure, I do receive a small commission from your purchase. Believe me, I appreciate it, and it helps pay the overhead here in the kitchen. Nonetheless, rest assured, that all the opinions regarding this brand of bone broth are totally my own.
Oh, yes, I know very well that you can make your own beef bone broth or purchase less expensive brands, but the reactions you'll see in the video of Candice and me eating this soup for lunch, well, it's in large part because of the excellent beef bone broth.
French Onion Soup Recipe Easy
I suppose one of my trademarks in this world of cooking is that I want to make it easy and fun for you.
There's no reason to get bogged down in the kitchen, spend hours and hours, and have a ton of clean up.
This recipe like others that I've created are just that. Easy and quick. Minimal clean up.
French Onion Soup Ingredients
The ingredients in this soup are absolutely earth-friendly and delicious. Mushrooms, lots of them. I bought the big container at Costco. That's a great buy.
Remove the stems. Put them in about a cup of water and simmer to extract some fabulous mushroom flavoring for your soup. And, then onions, lots of sweet onions that are almost as sweet as candy after carmalizing!
Best French Onion Mushroom Soup
Besides soup, I've got one killer recipe for French Onion Beef Sliders! Oh, yes, you WILL be happy! Serve with fluffy soft billowy Hawaiian rolls. That first bite? Heaven!
And, finally you'll notice that I didn't melt the cheese atop the soup. I mean, why be predictable. So the pepperjack cheese, yes, a kick of heat, is melted on the baguette slices that are served with the soup. Believe me, it's the real deal!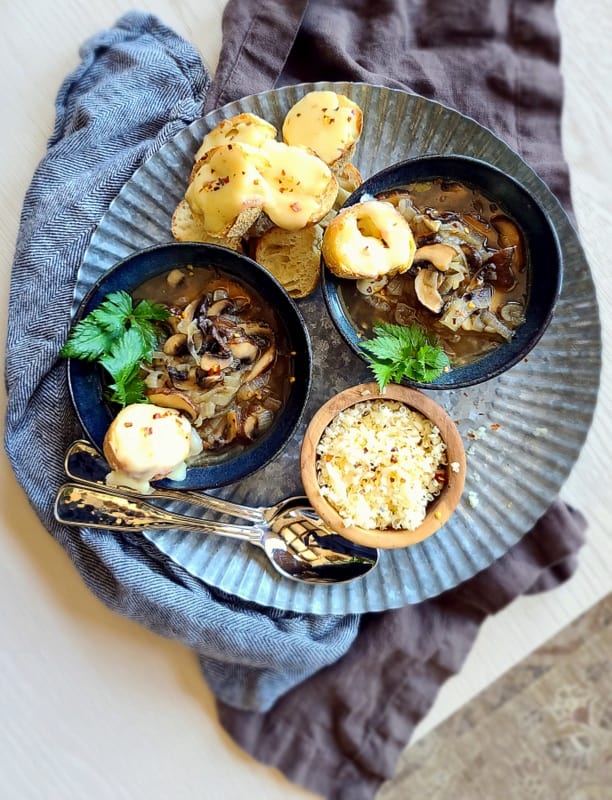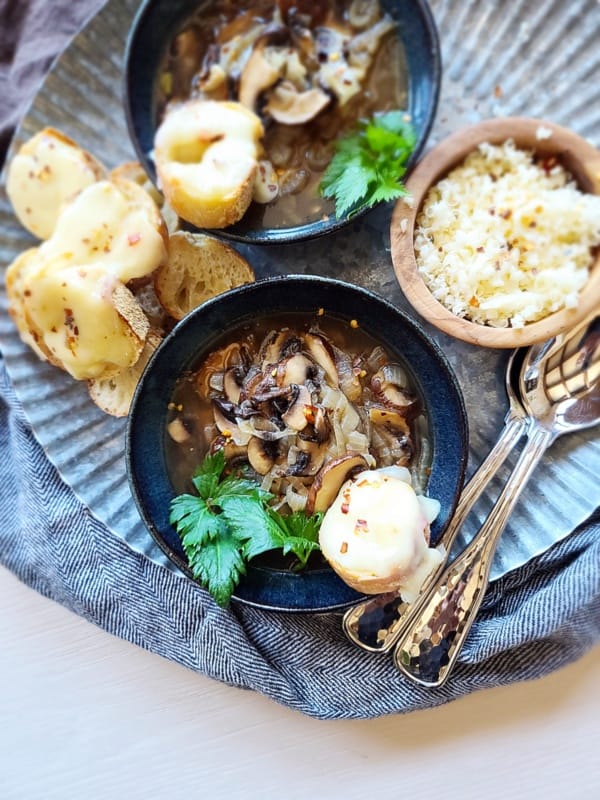 Quick French Onion Mushroom Soup
Ingredients
¼ cup avocado oil
6-7 cups sweet onions, French slice, thin
4 Tbl. Garlic, minced
6-7 cups mushrooms, heads only sliced, reserve stems to simmer in about a cup of water, 3 bay leaves for broth
2 Tbl. Arrowroot, can use flour or corn starch as thickening agent
½ cup marsala cooking wine
32 oz. beef bone broth, cooking broth
Sea Salt and Pepper to taste
Fresh celery leaves for garnish, can use fresh thyme sprigs
SERVING:
12 slices baguette
8 oz. pepperjack cheese, small slices to put atop the baguette slices
Red Chili Flakes
Freshly grated parmesan regianno cheese
Instructions
Heat a large stock pot (8 quart) on medium high heat. When hot, add the oil. Let it get hot, then add the onions. Stir, cover and cook about 7-8 minutes.
Remove lid. Reduce heat to medium low and cook about 20 minutes stirring occasionally so as not to burn. Add the garlic and blend. Continue cooking the onions until they're exceptionally tender and golden brown. Add the mushroom stem broth, mushroom, blend and add the arrowroot and stir/blend well.
Stir in the marsala cooking wine. Add the bay leaves from the stem broth. Add the beef bone broth and blend. Taste for salt and pepper. Cover and cook on medium low for another about 15-20 minutes.
Serve hot with a sprig of celery leaves or fresh thyme and toasted cheese baguette slices.