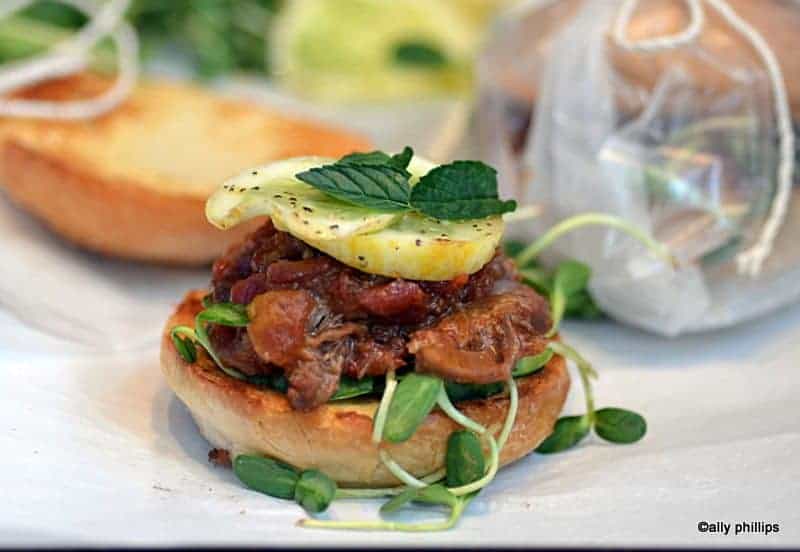 Lamb Sliders
Berbere lamb sliders, an easy weeknight dinner or lunch recipe, can be made ahead of time with the lamb shank seasoned with Ethiopian spice mixture!
I want to challenge you to do something. Each week or even once a month, buy and try at least one ingredient that you've never used before. Life is so full of culinary abundance, and it's yours for the taking. So what am I suggesting now that you try? Berbere lamb sliders!
What's Berbere?
Berbere. Such an exotic Ethiopian spice mixture that you can make yourself. I use it like I'd use an Italian or Greek blend spice mixture. What I love about this mixture is that there're hints of warm and spicy. Now the best, yes very best, recipe for berbere can be found in my cookbook,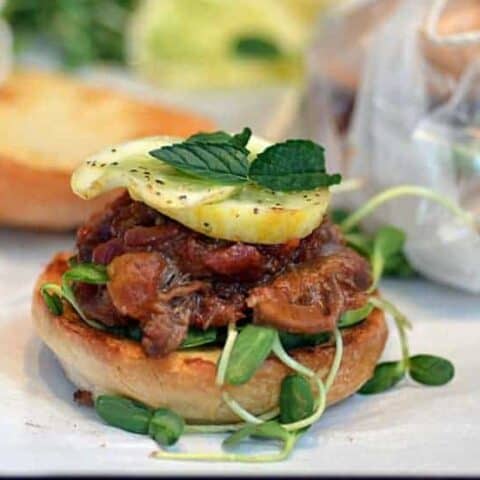 berbere lamb sliders
Ingredients
Preheat oven to 400
2 to 3 lamb shanks (total weight about 3 ½ to 4 lbs.)
2 tsp. sea salt
2 Tbl. Berbere spice mixture (My cookbook/page 3)
3 (15 oz.) cans chopped tomatoes (divided)
32 oz. chicken broth (divided)
Whole head of garlic (most of paper skins peeled off the bulb)
3 sprigs of fresh mint & 5 sprigs of fresh thyme tied with cooking twine
Water
8+ slider (or regular) buns
*Garnish & Serving:*
Fresh Mint leaves
2 Tbl. Fresh lemon juice
2 Tbl. Olive Oil
1 cup Cucumber slices, very thinly sliced
Sea salt/Pepper (to taste)
1 cup Baby Greens (i.e., arugula, European, sunflower greens, etc.)
Instructions
In a large heavy dutch oven pot, put one can of the tomatoes. Fill the can with chicken broth and add to the tomatoes then add one can of water. Put the lamb shanks in. Sprinkle with the salt and berbere spice mixture. Add the second can of tomatoes on top.!
Add the garlic bulb to the side then put the mint/thyme bouquet in. Cover tightly with a lid. Cook for about 4 1/2-5 hours and continue to add water and the remaining broth (check about every 45-60 minutes). After this time, pull the pot out and using a fork start tearing the meat from the bone. Discard any fat but leave the bone(s). Remove the bouquet stems and pull the garlic cloves from the bulb. Add more water if needed and cook another 30-45 minutes.!
Remove from the oven and put on a blaze that's on simmer heat. Discard the bones and add the final can of tomatoes, blend, and keep warm until ready to serve.
When serving, place some greens on the bun. Add the berbere lamb meat. Mix the cucumber slices in a bowl with the lemon juice, olive oil, salt and pepper. Put a couple of slices on top the meat. Garnish with fresh mint and a squeeze of lemon juice.!
This meat will freeze nicely, so any extra can be put in doubled freezer bag(s) and used later!
Notes
When covering the Dutch oven for cooking, put a layer of doubled foil and then the lid. Just makes for a tighter fit!

This recipe could be done in a slow cooker. It would take more time since 'high' on a slow cooker is about 300 degrees.