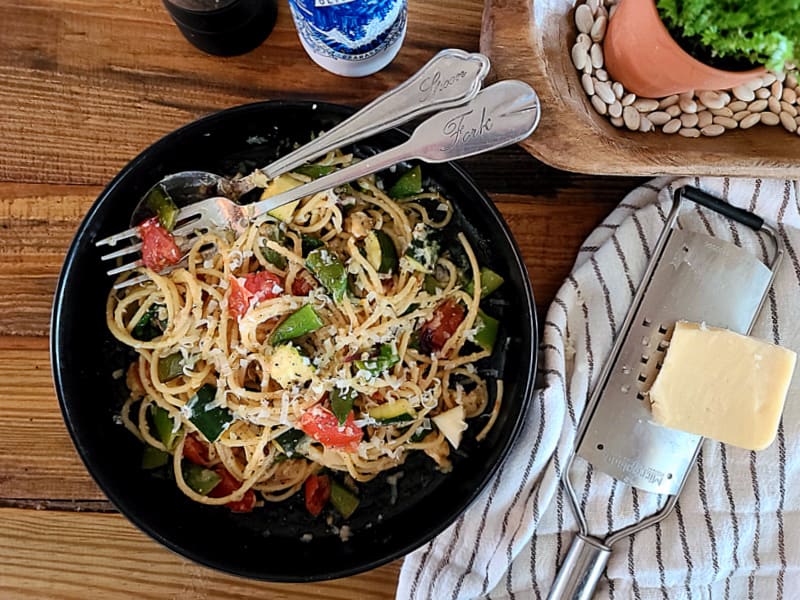 Fresh veggies are wonderful, but make this easy pasta primavera year round with frozen and/or fresh! So versatile. Adding a protein is EZ PZ!
Primavera Pasta
Pasta primavera! It literally means in Italian 'Springtime'! And, this pasta dish is like tasting Spring and Summer.
Pasta Primavera Recipe
This recipe for pasta primavera is about as easy as you get. It's all completed in about 30 minutes and is a winner!
Spicy Pasta Primavera
Now you can make this dish as spicy as you want. All you'll need to do is add some red chili flakes or your favorite hot sauce. The great thing about this dish is that each person can stylize to their own palate in the spice department. So, put some hot sauce and red chili flakes on the table when serving this dish.
What is in Pasta Primavera
This dish is basically two things. Pasta and fresh vegetables. The fresh vegetables can be your choice. Use up things in your refrigerator crisper, odds and ends. It's a great recipe to clean out the refrig.
Vegetarian Pasta Primavera
This recipe is basically vegetarian. Well, for those who eat cheese. Or you can omit the real cheese and use a cheese substitute. My goodness, when I'm eating pasta, I want the real thing. Real cheese!
Fettucine Pasta Primavera
Any type of pasta will work with this recipe. I chose spaghetti. But, you could use fettucine, linguine, penne pasta, rigatoni. The thing about a long noodle pasta is that you want to ensure that you have the cooking pan large enough in diameter in order to accommodate the longer pasta. And, you'll need to spend some time gently swishing and separating the strands as it's cooking in the liquid. Less swishing and separating is needed with other types of pasta.
Pasta Primavera Chicken
It's perfectly fine to add a protein to this primavera. It's again, your choice! That's the great thing about food. No hard and fast rules. It's all up to you and your palate. Chicken. Shrimp. Scallops. Slices of steak. Veal. Salmon. And, more. Just add it if you want it.
Easy Pasta Primavera Frozen Vegetables
If you can't get your hands on fresh vegetables, then frozen veggies are the next best thing. Be sure to get veggies that aren't drenched in sauces. Simply veggies. You know what you like. Maybe it's broccoli spears, cauliflower, peas, carrots, green beans, etc. And, there's always fresh tomatoes!
Best Pasta Primavera Recipe
So, I think this is one of those very best and easy recipes for a refreshing and tasty dish. Serve it year-round. And, it's one of those pasta dishes that can be served at room temperature or even like a chilled pasta salad. Sooooooooo many opportunities to show off your culinary prowess!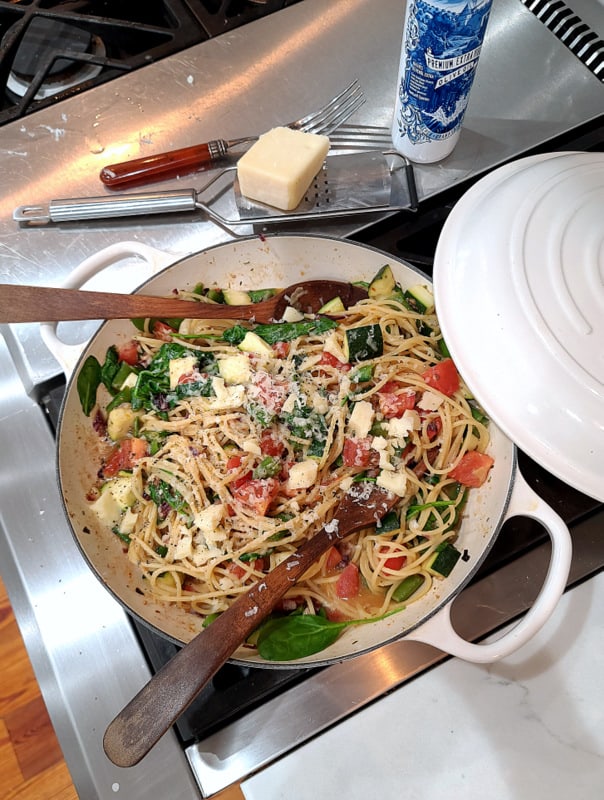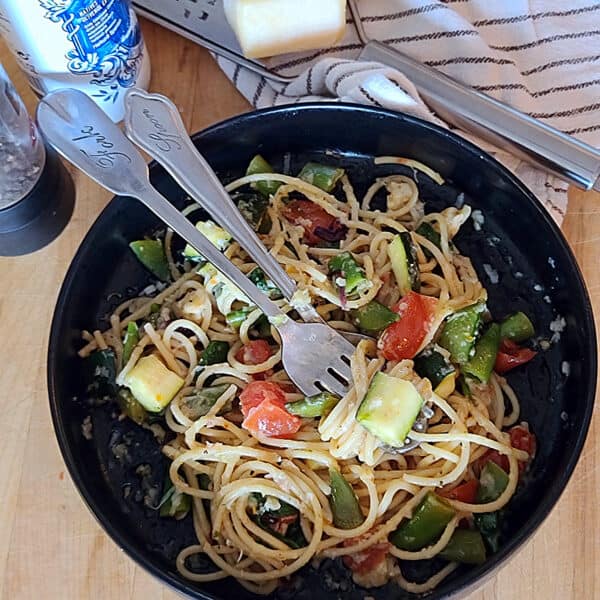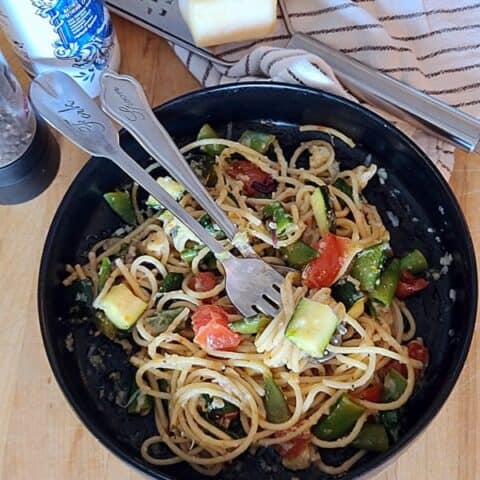 easy pasta primavera
Ingredients
4 Tbl. extra virgin olive oil + more for serving
2 tsp. garlic paste
2 tsp. anchovy paste
3 Roma tomatoes, medium dice
1 zucchini, medium dice
2 cups sugar snap peas, cut into 3 smaller bites each
1 cup radicchio, thin slice
2 cups fresh baby spinach leaves, put in medium size bowl
2 tsp. Italian seasoning mixture
1 tsp. sea salt
3 cups chicken stock
1 Tbl. nutritional yeast
8-10 oz. pasta, your choice
Asiago Cheese for grating
Fresh cracked pepper for serving
Instructions
In a large skillet over medium heat, put the olive oil garlic paste and anchovy paste. Blend together and infuse into the oil.

Add the tomatoes, zucchini, snap peas and radicchio. Sauté about five minutes. Use a spatula and remove these veggies and put on top the fresh spinach leaves. Set aside.
Combine the chicken stock and nutritional yeast. Blend together.

In the same skillet over medium heat, add the chicken stock. Put the pasta in. Blend, separate and more around. Cover with a lid and cook until al dente. Check a few times to stir and blend.
When the pasta is al dente, add the sauteed vegetables/spinach and toss and blend. Grate fresh cheese on top. Add cracked pepper and a few drizzles of olive oil. Turn off heat. Cover and let this mixture steam for a few minutes.

Serve immediately or remove from heat if serving later.