You may be wondering how I got this chicken so golden brown in a slow cooker. Well, just hold on, and I'll explain in the instructions. It's worth the extra step, I think, because it adds just a visually stunning look.

Preparing and eating meals like this remind me of being somewhere around the world like in an old shabby chic farm house in France or an olive orchard farm in Italy. Maybe even somewhere in Croatia in a small elegant old village home.

As you can see from the pictures, it's got a rich deeply flavored broth and the vegetables are just perfectly suited with the chicken. And, it's truly one of those simple easy recipes that you can do during the week when you're slammed and busy! Just load up your slow cooker at the beginning of the day and by the time you're ready for dinner, the aromas will be driving you crazy as they waft through the house!

Here's another great chicken recipe using lemongrass! Ohhhhhhhhhhhhhhh, the flavors! But, if you want something a tad more sassy and spicy then try this Kung Pao Chicken! xo ~ally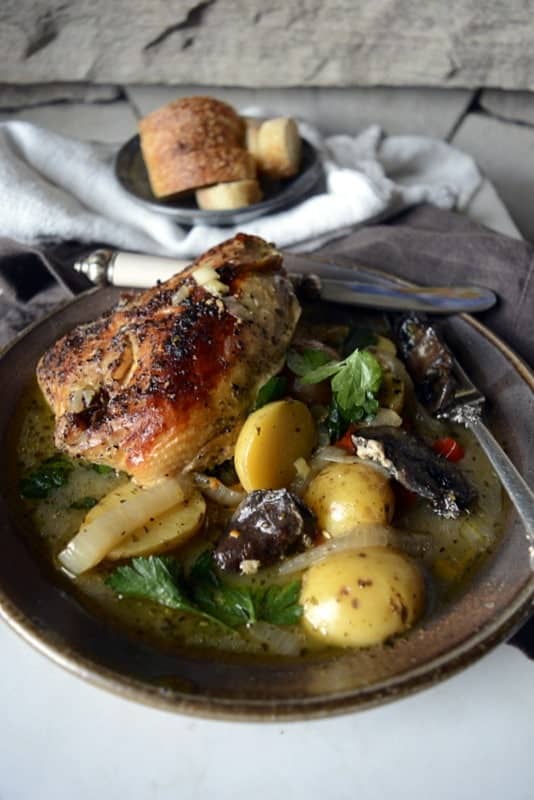 farm house slow cooker chicken and vegetables
Ingredients
¼ cup + 2 Tbl. Extra virgin olive oil, divided
3 cups sweet onions, cut in half moon rounds
3 cups mini sweet multi-colored peppers, sliced in rounds
1 tsp. ground cumin
3 cups baby potatoes, white and red, sliced lengthwise in halves
12 oz. baby bella mushrooms, sliced
2 tsp. Italian dried seasoning
1 ½ tsp. sea salt, divided
1 (12 oz.) box Pacific brand organic cream of chicken soup
1 ¼ cups white wine, can substitute chicken broth
1 tsp. Litehouse dried basil, can substitute 2 teaspoons of minced fresh basil
4 organic chicken breasts, bone in, skin on, rinsed and patted dry
1 tsp. coarse ground pepper
Instructions
Turn the slow cooker to high. Drizzle one-fourth cup of olive oil in the bottom. Add the onions. Scatter the peppers on the onions. Sprinkle on the cumin.
Add the potato layer then the mushrooms. Sprinkle on the Italian seasoning and one-half teaspoon of salt.
Dollop on the cream of chicken soup and pour the wine in and around the slow cooker. Sprinkle on the basil. Lay the chicken breasts on top. Drizzle with the remaining olive oil. Sprinkle on the salt and pepper.
Cook for 3 ½ hours on high. Use tongs and remove the chicken to a pie plate. Place about 8-10" under a broiler for about 3-5 minutes or until golden brown and crisp.
Return to the slow cooker and gently lay the chicken on top. Leave cooker on 'warm' until ready to serve.
https://allyskitchen.com/farm-house-slow-cooker-chicken-and-vegetables/
©ally's kitchen intellectual property