kung pao pineapple chicken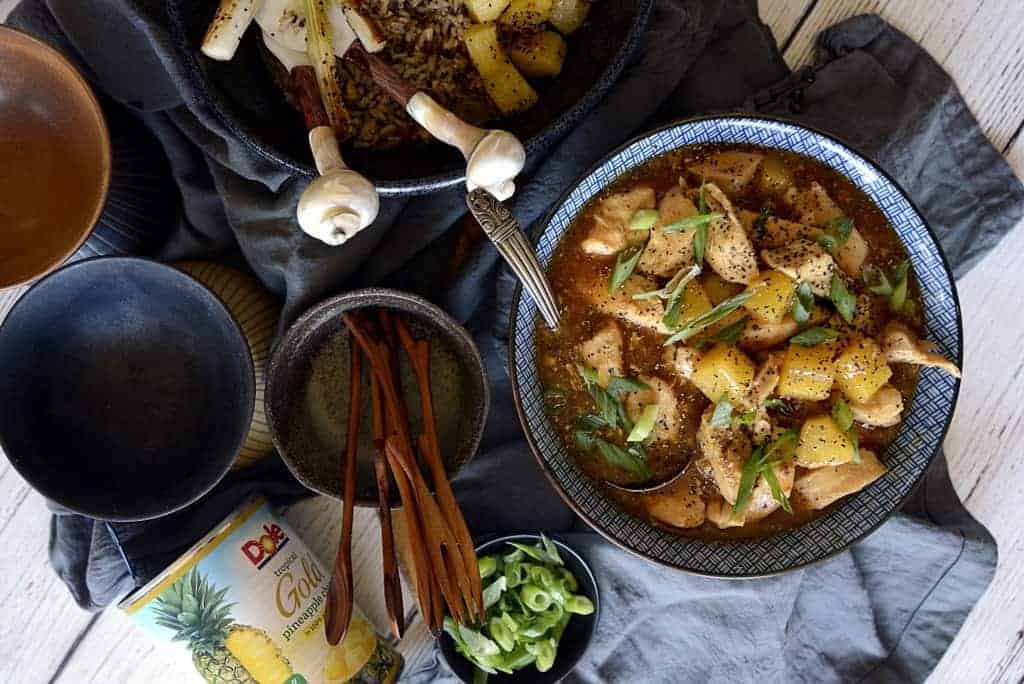 Thanks to Dole Packaged Foods for partnering with me for this kung pao pineapple chicken! I am the creator of this recipe and for the description and information that follows. For a full disclosure, click here!
Whenever I go to PF Chang's, yeah, I don't go often, but when I do, it's always tasty, I order the Kung Pao Chicken. This dish is traditionally a spicy, stir-fried Chinese dish made with chicken, peanuts, vegetables, and chili peppers. It's classic Sichuan cuisine originating in the Sichuan Province of south-western China and it typically includes Sichuan peppercorns. Being the non-traditionalist I am with food, I wanted to make my own version of Kung Pao Chicken adding a distinctive flavor. Pineapples!
Who doesn't love spicy and sweet? And, this recipe is super simple and easy because you're making it in your slow cooker. Once you have the few ingredients, and you can add more hot spice and peanuts if you like, you just put them in the slow cooker, and the rest is just waiting for the goodliness to come.
To elevate more of the healthy factor, I'm teaming this with Seeds of Change Quinoa and Brown Rice. It's pre-packaged and relative simple to heat up and serve with your kung pao pineapple chicken. There's even a link below to order it from Amazon! I aim to please and make things convenient for you! And, you're going to get that original PF Chang's Kung Pao sauce flavor because it's now available at the grocery store. Yet another link below that you can order from Amazon! xoxo ~ally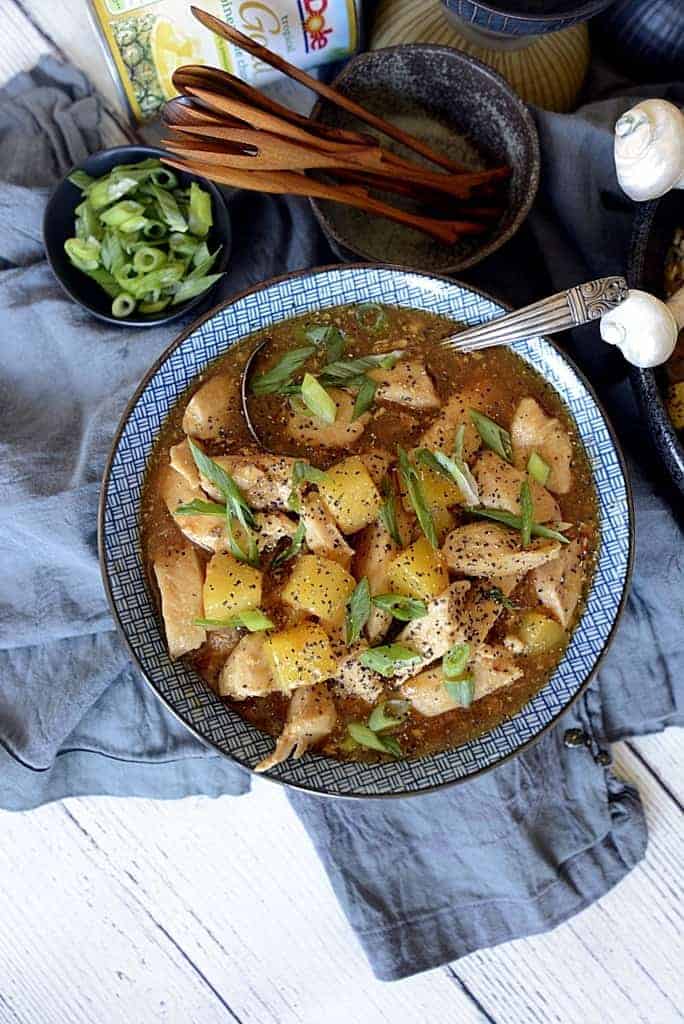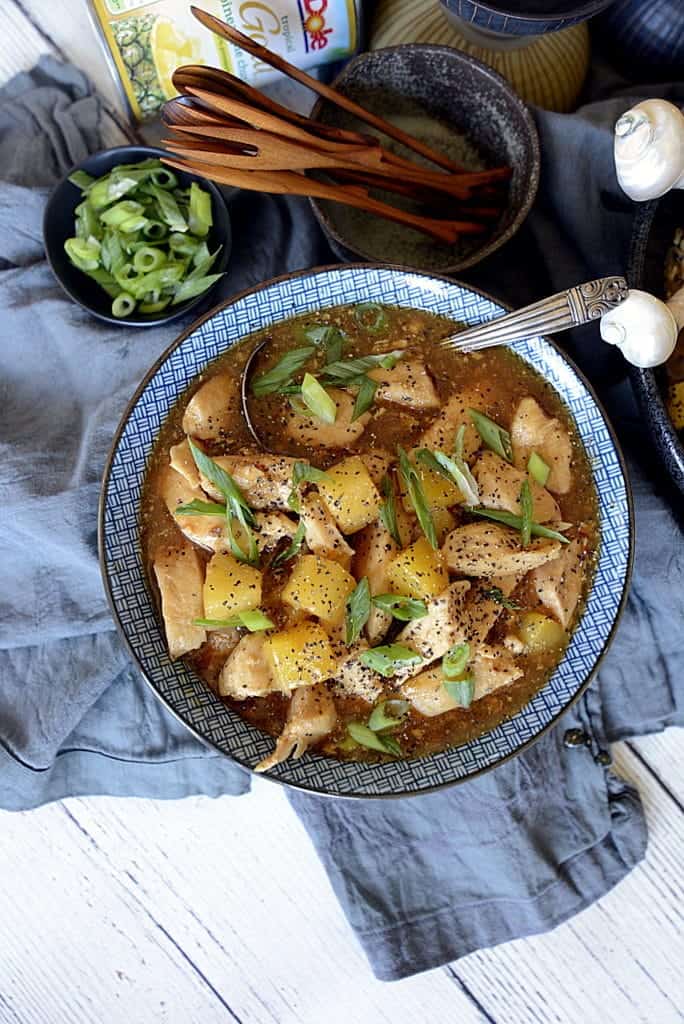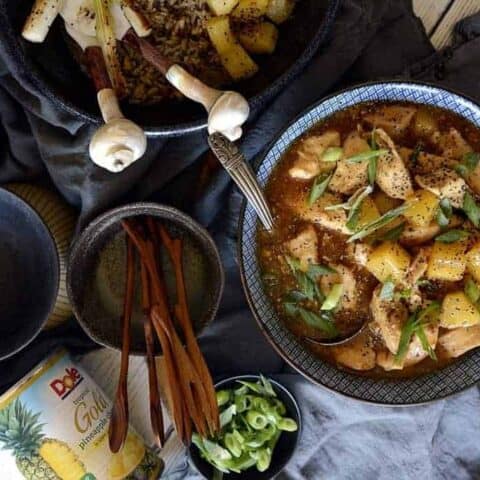 kung pao pineapple chicken
Ingredients
¼ cup + 2 Tbl. oil, sesame, divided
2 to 2 ½ lbs. chicken, boneless skinless, cut in about ¾ to 1" strips
1 (20 oz.) can Dole Packaged Foods Pineapple Chunks, liquid drained/reserved, chunks divided
1 tsp. sea salt + 1/8 tsp., divided
1 tsp. coarse ground pepper + 1/8 tsp., divided
1 (14 oz.) jar P.F. Chang's Kung Pao Sauce, available at WalMart
6-8 green onions, chiffonade ½ cup green tops leaving some green on onions, divided
1 pkg. (8.5 oz.) rice, prepared (I used Seeds of Change Quinoa & Brown Rice)
Instructions
Put one-fourth cup of oil in the multicooker. Add the chicken, one half of the pineapple chunks, one teaspoon salt, one teaspoon pepper and the Kung Pao Sauce.
Blend together. Close lid. Set to [Slow Cook] on high for 90 minutes.
Meanwhile, turn oven to broil. Put the green onions and remaining pineapple chunks on a parchment paper covered cookie sheet. Drizzle on the remaining sesame oil, salt and pepper (one-eighth teaspoon). Place about eight inches from the broiler and brown the onions and pineapple chunks about 8-10 minutes or to your desired golden brown. Remove and set aside.
Put the prepared rice in a serving bowl. (Heat in microwave per directions.) Add the broiled onions and pineapple chunks to the sides of the rice bowl. Drizzle on about about one-half cup of the chicken kung pao/pineapple juices.
When the kung pao pineapple chicken is done, remove to a serving bowl.
Serve with additional pineapple chunks and green onions.
Notes
It is optional to leave spring onions whole or chop after broiling.

If you prefer not to broil the green onions, skip that step.

If you prefer more spice, then add some red chili flakes or sriracha.

Think about other garnishes that add texture and flavor, salted peanuts, chow mein noodles, fried onions.